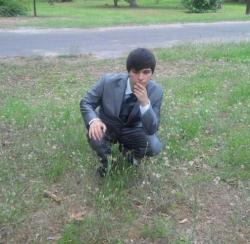 Latest posts by Cody Perez
(see all)
Roblox is one of the most social games in existence with the entirety of the game being built around the community and playing together. As such, it has become rife for some of the biggest content creators in the world. The most famous Roblox streamers include some of the most successful YouTube and Twitch creators of all time.
We have compiled the most famous Roblox streamers into a list including the 20 that we think that you should know about. If you are looking for a new person to follow and watch their videos, both live and pre-recorded, we have you covered with the 20 Roblox content creators that you should know about.
Bottom Line Up Front
While Roblox is one of the largest video games on the planet, regularly having millions of players online at once, it does not have a ton of consistently huge streamers that play it. Instead, it has found a lot of success on YouTube with produced and edited videos. That said, there is still an impressive and large community of the most famous Roblox streamers around. We have compiled them into the 20 that we think you should know about below, including one hidden gem smaller creator that you should check out:
Thicky Nicky/Larray
Homyatol
Gamer Girl
Kindly Keyin
MeganPlays
Inquistormaster
Leah Ashe
Thinknoodles
Tofuu
Flamingo
ItsFunneh
Denis
TTVJohnSino
Squeezie
CherryAhrizona
McLaren Shadow Esports Team
RezReel
Bigmamaash
Mahchii_
Hidden Gem: Sasseh
Most Famous Roblox Streamers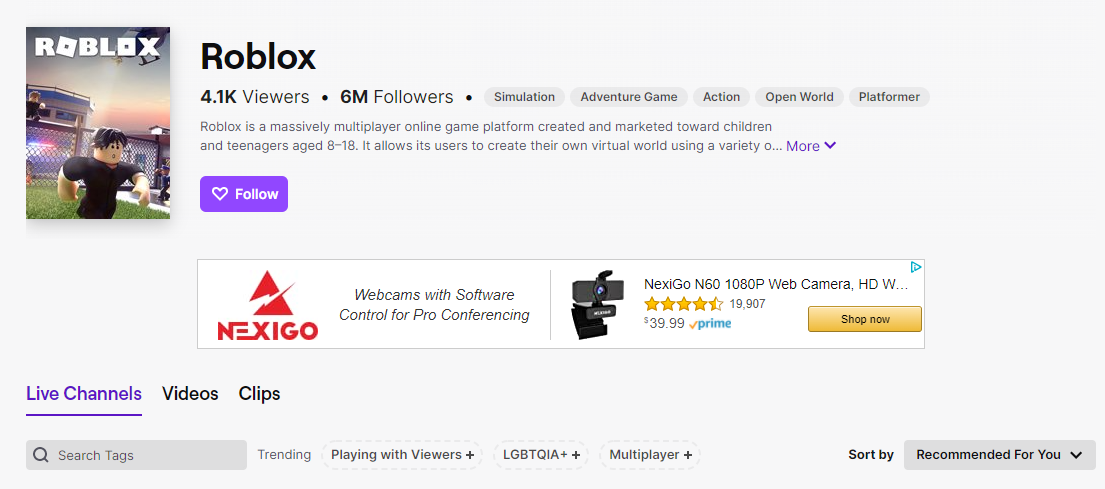 What is interesting when it comes to the most famous Roblox streamers is that it is surprisingly difficult to find Twitch, Facebook, and YouTube streamers who broadcast the game live as they play it. There is an interesting precedent that has been set in the community where Roblox videos are typically edited ones posted on YouTube rather than live streams.
This could come down to the legacy of the game and its long history of dominating some of the more kid-friendly parts of YouTube but it has remained like this for a long time. It is so much to the point where there are very few larger streamers that Livestream it on Twitch.
Other similar games like Minecraft and Fortnite dominate Twitch way more so, despite Roblox being one of the largest multiplayer games in the world. As such, I considered this when making this list, ensuring that I included not just some of the streamers on Twitch but the Roblox YouTubers that you should know about as well.
Roblox thrives on YouTube with many massive channels that have subscribers in the millions and hundreds of thousands of views on each of their videos. For this list, you will find a nice mix between those who are on Twitch and the ones who create videos for YouTube.
When coming up with this list, I tried to create one that was filled with very different personalities so that you can find someone that fits your style. Some of them focus on making you laugh while others are super serious about their roleplaying while others still might create their own stories in the game.
Some of these content creators are geared towards everyone, with more of a focus on kids given the style of Roblox, while some have humor and content that is not at all for children. I think there is someone on this list for just about everyone to watch and I will be sure to let you know the people that I like to watch myself as a Roblox and YouTube fan.
When it comes to the criteria for how this list is assembled, it is in no particular order. I just listed them in a random-like order, except for the beginning and the end where I focused on some spotlighted content creators that you should for sure know about.
Thicky Nicky/Larray
When it comes to the most popular Roblox content creators in the world, we could not start this list without including Thicky Nicky herself, Larray. Larray is one of the most successful influencers in the world right now, dominating everything from TikTok to YouTube to even Netflix.
Hailing from Compton, Los Angeles, California, Larray is an outspoken, hilarious, and charming content creator who just so happens to occasionally do Roblox videos on YouTube. It is worth noting that Roblox is not his primary source of entertainment but it is what has made him hugely successful in some regards.
When he plays Roblox, he takes on the persona of Thicky Nicky, a hilarious girl who is playing the game to have fun, roleplay, and essentially mess with everyone that comes across her. Larray is one of the funniest Roblox creators around, constantly getting into fights online and poking fun at anyone that he encounters.
While Larray does not specialize in Roblox the way that others on this list do, there is no way that we can ignore the success he has found in the Roblox community. Without him, there would not be so many memes and other hilarious moments that he created. And there would not be any copycat Thicky Nicky's of the Roblox community, either.
In that way, we have Larray to thank for what he has done for the Roblox community while acknowledging that he is also one of the strongest personalities around. You should know what you are signing up for when it comes to enjoying Larray's content as he is controversial and caught up in drama almost nonstop.
There is plenty of drama surrounding Larray in regards to COVID-19 and his handling of that to the friends that he surrounds himself with. And then there is the fact that he has transcended most content creators to even have a Netflix show with the Hype House crew as part of living there. That said, trouble and fun follow Larray at all times so he is a fantastic Roblox streamer to follow if you know what you're getting into.
Homyatol
Homyatol is a Twitch streamer who is from Italy. What you will find is that there are not a lot of streamers on Twitch for Roblox as much of the content for the game is found on YouTube. That said, one of the largest Twitch streamers that play Roblox is Homyatol.
The Italian streamer is growing his channel constantly with more than 750,000 thousand followers at the time of this list. He also has a thriving YouTube channel where he posts videos if that is more your thing. Homyatol is frequently online on Twitch, though, if you want some of the more live-streaming sides of Roblox.
The Twitch streamer can be found playing various Roblox experiences, including survival ones that are a bit hardcore. If you like to watch someone try the more difficult games in Roblox and perhaps learn some tips in the process, Homyatol might be worth checking out.
Gamer Girl
GamerGirl is one of the most popular Roblox-focused YouTubers in existence with nearly six million subscribers and counting. What is interesting about GamerGirl is that she began her journey on YouTube as a Roblox content creator at an early age and she has grown since then.
She is a bit older now and, therefore, plays some more mature games at times like Grand Theft Auto but GamerGirl remains one of the more kid-friendly experiences that you can find on YouTube most of the time. She plays various games like Squid Game, Natural Disaster, and Murder Mystery 2.
What is odd is that GamerGirl was previously one of the most consistent Roblox YouTubers with regular videos that would get hundreds of thousands of views. However, she has gone a few months now without a new video but there is still plenty of older content to check out.
Kindly Keyin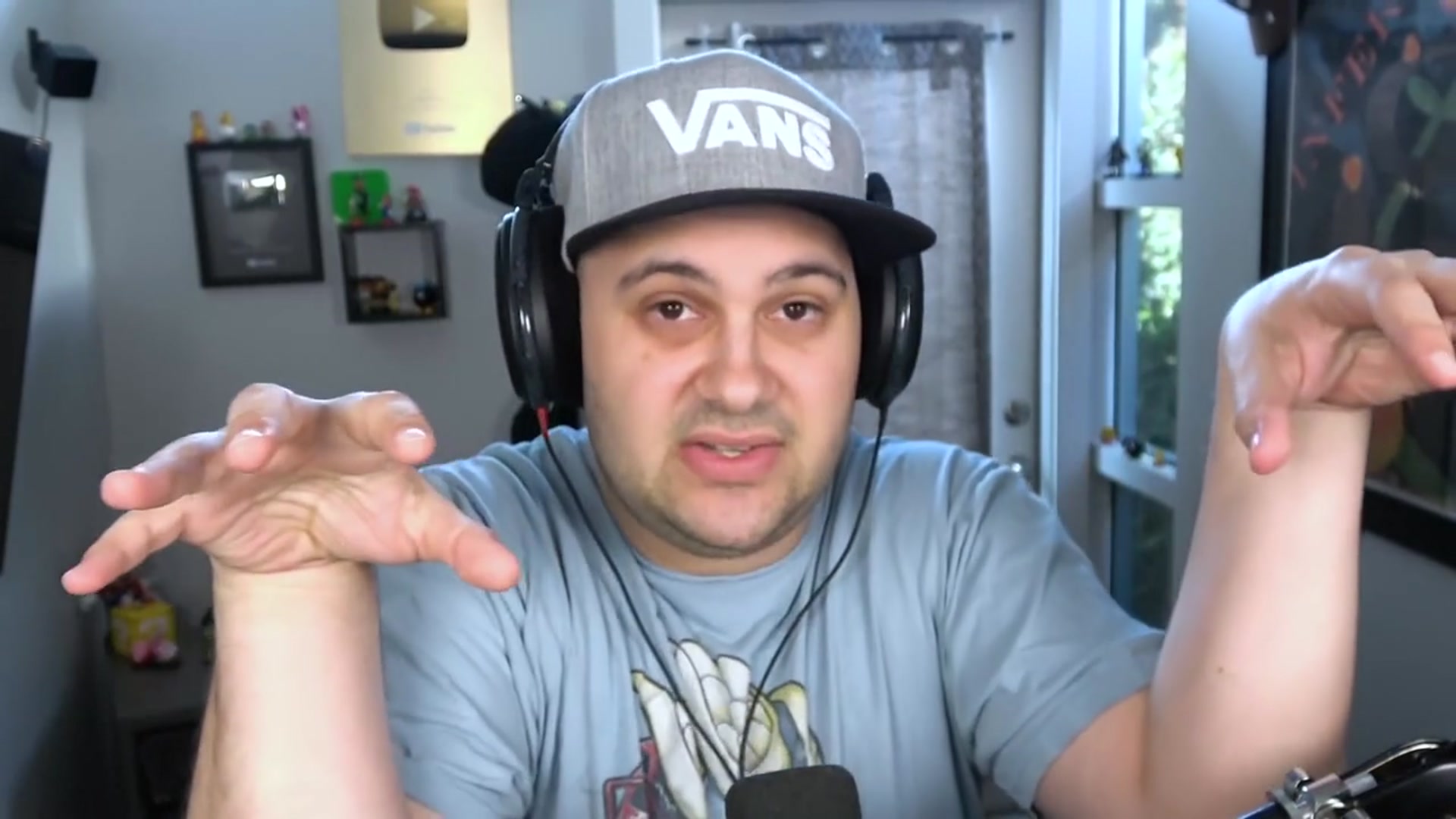 Kindly Keyin is a YouTuber who is well worth watching no matter who you are. Whether you are a kid or an adult, there is pure enjoyment to be found with Kindly Keyin and it is seen in the very name of his YouTube channel. He is a kind guy and he makes sure to embellish all of his videos with that ideal.
With more than four million subscribers at this time, I would even go so far as to say that Kindly Keyin is more geared towards younger audiences than adults. Many of the videos that he makes are about Roblox events and situations that kids would be more into like the horrifying and controversial character Baldi, for instance.
He also makes content outside of his steady stream of Roblox videos, such as drawing video game characters as criminals or working at a video game nail salon.
MeganPlays
At about 3.5 million subscribers at this time, MeganPlays is one of the most prolific YouTubers out there for Roblox, especially when it comes to roleplaying content. MeganPlays is centered around younger audiences with her cutesy voices and the dress-ups that she employs.
Megan focuses on games like Royale High where she will show off her fancy outfits and strut her stuff around the school or even other games like Adopt Me where she role-plays. The characters that she pretends to be and the attitude that she has in her videos is more of a kid-friendly vibe.
As such, there is the chance that she might be annoying or even cringey for some older teenagers and adults out there who watch her videos. That said, if you want some new ideas for your wardrobe in some of the flashier Roblox games out there, you might want to consider joining her community known as the #PeachySquad.
See also: Who Was lizzy_winkle? – Remembering Royale High's Legendary Developer
Inquistormaster
Inquistormaster has one of the largest communities of followers on YouTube out of any of the Roblox content creators out there with more than nine million subscribers. Much of the reason behind this is the unique premise that this YouTube is built around.
Instead of just having one person that the YouTube channel focuses on, there is a "Squad" that composes the Inquistormaster group. They play games together and make content, much of which is based around Roblox and other games.
The Squad has a good bit of variation when it comes to content, too, ranging from original stories that they have come up with on their own to lighthearted videos to even some more serious games that they play.
See also: MeepCity Explained: School, Meeps, Best Alternatives & More — Classic
Leah Ashe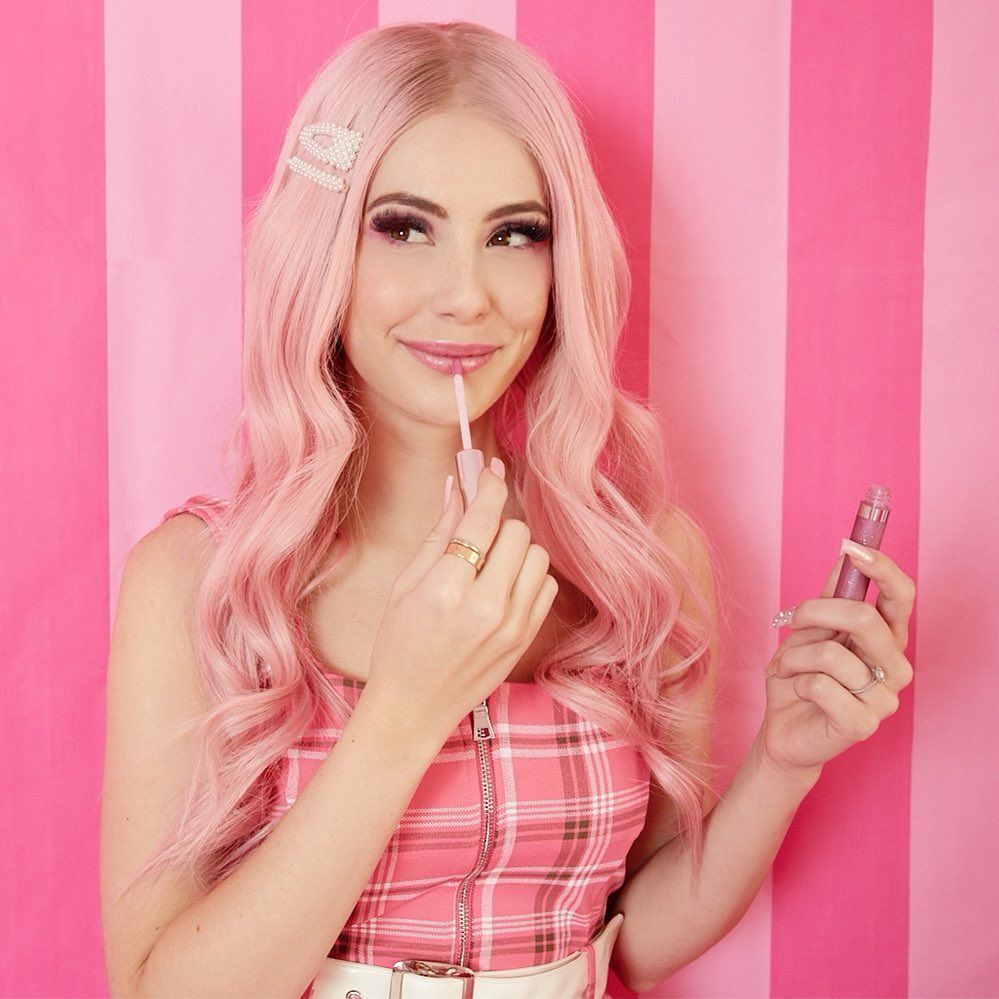 Leah Ashe is an almost exclusively Roblox-focused YouTuber who loves the color pink. Seriously, just take a glimpse at any of her thumbnails on YouTube and you are sure to find pink somewhere, if not everywhere on her channel.
Leah focuses mostly on Roblox and, specifically, games that are like Royale High and Bloxburg. With almost five million subscribers on her channel, it is clear that she is one of the most popular content creators around for the game.
We recommend Leah to anyone who loves the color pink or certain Roblox games like Bloxburg and Royale High. Bloxburg, in particular, is a great one as she is a solid inspiration when it comes to building out your dream mansion. She has some fun ideas for houses, ranging from cheaper small ones to gigantic estates.
Thinknoodles
Thinknoodles is an interesting YouTuber who focuses almost entirely on Roblox with around eight million subscribers. What is fascinating about this YouTuber is the content that they create has the style and wording to it as if it is meant for younger kids like many of the others on this list.
However, the actual content itself is quite dark and even creepy at times, making it a hard recommendation for anyone younger than a teenager. This is because Thinknoodles plays a lot of the scarier games that are available in Roblox, some of which are not preferred by parents.
There are games like Piggy, Granny, and many more that the YouTuber plays that you should be wary of, especially if you are a parent. If you do not want your child playing this sort of game, then you will not likely find the content that Thinknoodles makes appropriate for them, either. But for everyone else, Thinknoodles makes some great creepy videos.
See also: Piggy Explained: How to Play, Best Alternatives
Tofuu
Tofuu is another large YouTuber who focuses on making Roblox videos. Unlike the last entry, this is a content creator that we highly recommend to anyone of all ages as it is kid-friendly. For anything from checking out fun Roblox moments to playing certain scenarios in games, there is a lot to like about Tofuu.
It helps, too, that Tofuu is one of the most successful content creators out there so they can show off what happens when someone spends 100,000 Robux in a single game and so on. If you've always wanted to know what it is like to have unlimited Roblox currency, this is the place to be.
In addition to Roblox content, Tofuu is also pretty big on making Minecraft videos so if you are a fan of that game as well, you can find some great content to enjoy with that.
Flamingo
When it comes to the biggest Roblox YouTuber of all time, that honor will likely go to Flamingo. No one else can claim more than 10 million subscribers on the platform and hundreds of thousands to millions of views on nearly every single video that he makes.
The reason behind this is the fact that Flamingo has figured out his audience and knows just what videos to make. Flamingo has a fairly open channel that is appropriate for just about every age and he has a good sense of humor that is immediately enjoyable.
Some of the videos that Flamingo makes in Roblox include playing Flee the Facility with his friends or finding a disturbing Thomas the Train in the game. Flaming almost exclusively plays Roblox games alone so there is frequent new content for you to watch on his channel.
ItsFunneh
ItsFunneh is a huge channel with more than eight million subscribers. What is great about this channel that is you typically know what to expect from the crew here as they are consistent in bringing about a single new video a day on their channel.
ItsFunneh has an active community, too, with many of its videos hitting a million views in just a couple of days upon release, which is astounding. For the most part, this group does Roblox videos about escaping a certain place or trying out disaster games.
What you can come and expect, though, is usually a group of players who stick together and are represented by cutesy avatars that hide their real faces while allowing them to still show you who is talking. This is a channel that is usually for everyone, though they have dipped into some more mature games at times recently.
See also: A Universal Time Explained
Denis
Denis is a fun and hilarious guy who is appropriate for all ages with a YouTube channel of more than eight million videos. They are almost entirely themed around Roblox so there is a lot of content for you to find with new videos being uploaded regularly.
What is awesome about Denis is that he will try to offer some videos that are almost unlike anything else that other players are doing. He will try out games that you have never heard of, like fan games based on his channel, and share the results with the fans to see without playing them themselves.
At the same time, he will have some instructional videos in a way, showing you how to do things like getting free Robux and so on. Some of these are, admittedly, a bit more clickbaity than others but you can just ignore those and stick to the entertainment side of Denis.
TTVJohnSino
TTVJohnSino is one of the largest and few Twitch streamers that you will find on that platform. He is a laidback guy who plays Roblox quite a lot in English. The draw for him is that he has a persona that he has created a la the Twitch greats where he wears sunglasses and slick outfits inside his house just to play video games.
Squeezie
Squeezie is a massive French Twitch star with more than three million followers on the platform. He plays Roblox sometimes in French but plays a lot of other games, too. If you want a huge community to follow (and possibly under French), this is the place to be.
CherryAhrizona
CherryAhrizona is a smaller Twitch channel with 88,000 followers and a growing community who watches her play Roblox and other games with a fun, engaging personality.
McLaren Shadow Esports Team
Yes, the McLaren car racing company has its esports team. And to make matters even more interesting, they are one of the few active Roblox streamers these days. I know that it sounds crazy but this is seriously the case as the esports racing team will play Roblox pretty often.
Some of it is playing McLaren-inspired racing games on Roblox while others are chilling on Twitch with the community. Regardless, it is wild to say that the McLaren Shadow Esports Team is one of the Roblox streamers but that is the case.
RezReel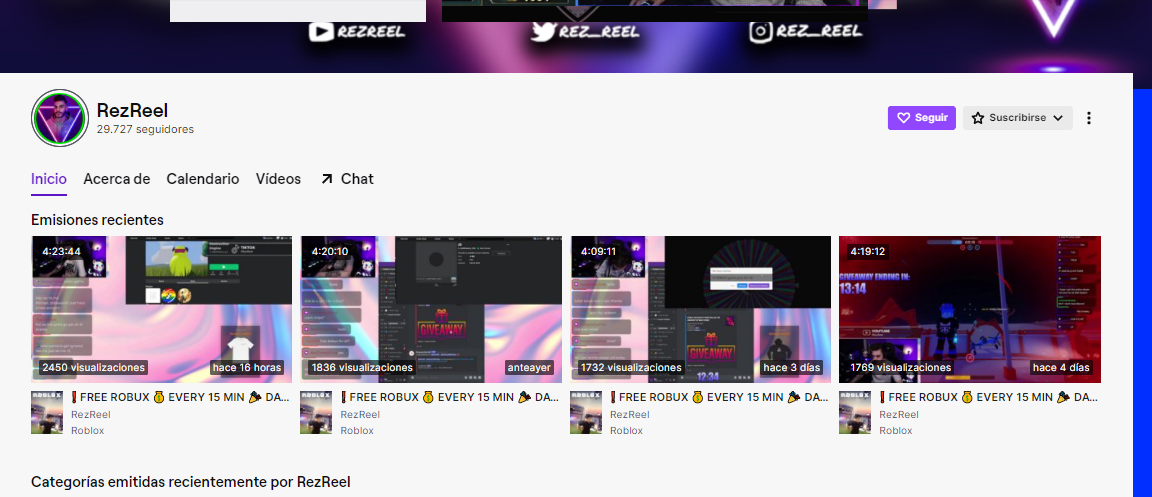 RezReel is a pretty clean and outgoing Twitch Roblox streamer who usually just plays Arsenal. He has a lot of talent but the best part is that he frequently gives away Robux to his community.
Bigmamaash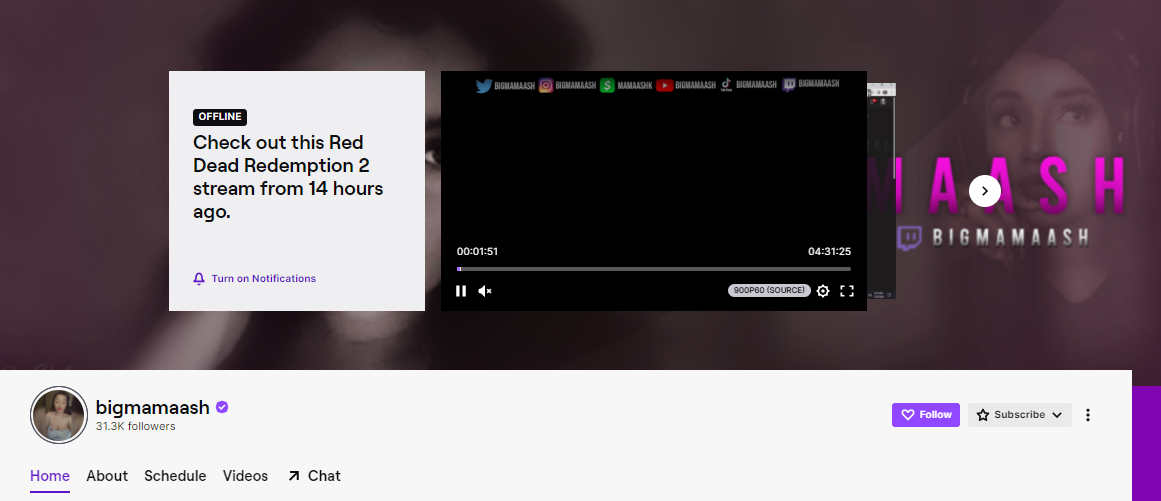 Bigmamaash is a growing Twitch streamer who plays Roblox and other games like GTA Online. She has a focus on roleplaying in both of those games so she is great to watch for fans of that side of Roblox.
Mahchii_

Mahchii_ is one of my new favorites since researching this list. He is a Twitch Roblox streamer with a twist: he is a teacher. This means that he has a friendly and outgoing personality while also being suitable for all ages. Mahchii_ is growing his Twitch channel and I recommend checking out his fun streams; I know I will be!
Hidden Gem Spotlight: Sasseh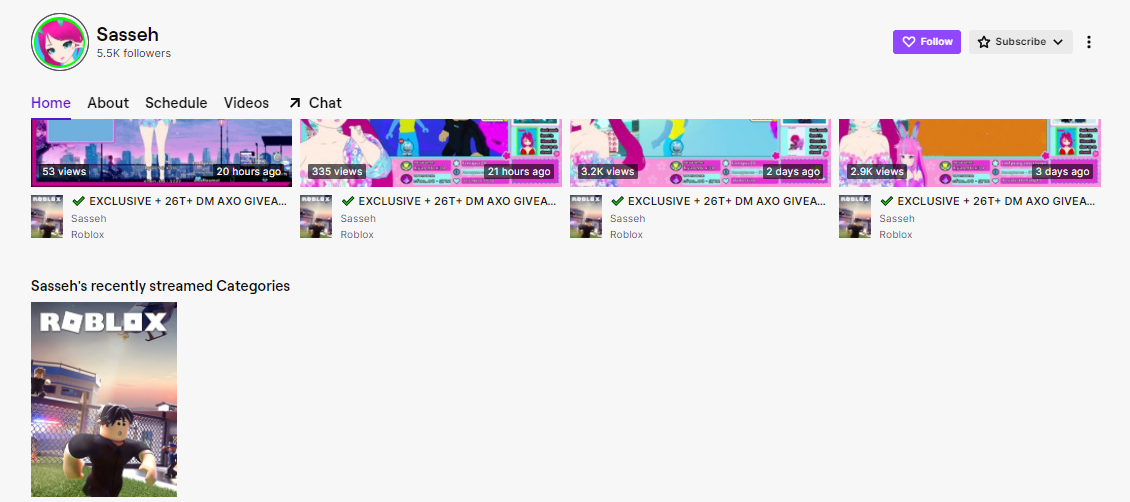 To conclude our list of the 20 most famous Roblox streamers, we wanted to end with one that is not technically that famous and this is Sasseh. What I like to do with lists like these that I have done in the past is spotlight one person in the community who is not that famous.
When scouring the few live streamers on Twitch recently for Roblox, Sasseh is one that caught my eye. They are virtual tuber, or VTuber, who is represented by fake anime-style avatar. They use that fake avatar to show off their emotions and reactions in the game.
It is pretty well done and Sasseh has a lot of fun playing Roblox games online. There is a level of professionalism and quality to Sasseh from the time I have spent watching them that makes me recommend them as a hidden gem that you should know about.
FAQs
Question: Who is the most popular Roblox streamer?
 
Answer: The most popular Roblox streamer is hard to pin down exactly. One of the issues with this is that many of the most popular Twitch and other platform streamers that have been associated with Roblox no longer play the game or rarely even touch it. In this way, it invalidates them.
That said, there are a few popular Roblox streamers who do play the game regularly that are worth noting that we included in this list. Two of the biggest ones are TTVJohnSino and the McLaren Shadow Esports Team. Both of these Twitch streamers have fairly modest follower counts, which is indicative of the smaller number of Roblox streamers on that platform.
That said, both of them are moderately popular enough on Twitch and they regularly play Roblox each. Both of them will also garner a couple of thousand viewers at once while streaming, which is a considerable amount given the smaller communities that they have at this time.
If someone can consistently stream with thousands of viewers and they only have a few thousand followers themselves, that is unbelievably impressive and a showcase of not just how popular and great of a streamer they are but how much demand for Roblox live-streaming is currently available on Twitch.
Question: Who is the most popular YouTuber in Roblox?
Answer: On the other hand, when it comes to the most popular YouTuber in Roblox, this is much easier to figure out the situation. That is because YouTube is where the game thrives with seemingly countless content creators who are making videos about the game with millions of views and subscribers.
When it comes to determining the most popular YouTuber for Roblox, it comes down to a couple of people who are on this list. There is the argument for Thicky Nicky aka Larray but the problem here is that Larray does not mainly focus on Roblox. He can go months without posting a new video.
But when he does post a new Roblox video, it is an event in the community with each one nearly breaking records for Roblox YouTube video views. As for the actual most popular YouTuber for Roblox, we have to give this one to Flamingo. With more than 10 million subscribers and hundreds of thousands, if not millions, of views on each video, there is no comparison. It helps, too, that Flamingo focuses so much on making Roblox content.
Question: Who is the most skilled Roblox player?
 
Answer: What is intriguing about this question is the fact that Roblox is not a game that is necessarily built for competition, at least in the traditional multiplayer sense. It comes down to the experiences that you are playing whether or not there is a level of skill and competition involved in it.
You could even argue that being skilled in Roblox can mean being an excellent Bloxburg builder who can create the best houses fast or one of the best platformers out there. Because of the wide variety of gameplay experiences in Roblox and the skillsets necessary for them, answering this question is all but impossible.
That said, it would not be satisfied without at least someone as an answer and we have that person to be TanqR. A popular YouTuber who focuses quite a bit on Roblox, TanqR is seen to be one of the most skilled Roblox players in the world.
The few games that TanqR plays in Roblox are dominated by him and they are usually competitive multiplayer ones like Arsenal. TanqR has a lot of raw talent that could work in other multiplayer shooters or more traditional multiplayer experiences but chooses to excel in Roblox in particular, possibly making him one of the most skilled players around.
However, not all is well with this particular content creator. TanqR's status as possibly the best streamer around is tainted by the history of this player. There are numerous accusations of cheating, hacking, and stream sniping (watching someone else's Livestream to find them and easily kill them) that TanqR has received over the years. In the end, it is difficult to say whether or not any, or all, of them, are true but the numerous accusations leave a bad mark on his record nonetheless.
Conclusion
That is it for the most famous Roblox streamers that I think you should know about. These are 20 of the biggest content creators on Twitch and YouTube so this leaves out dozens of other wonderful personalities who are well worth watching themselves. It also means that your favorite may not have made the list.
Speaking of Roblox lists, we have another list of the best Roblox games that you should know about in the game. If you are a newer Roblox player or just someone on this page looking for some new experiences to check out, we recommend viewing that list, too. It will introduce you to some of the biggest Roblox experiences across various genres and audiences.
Recommended Reads: