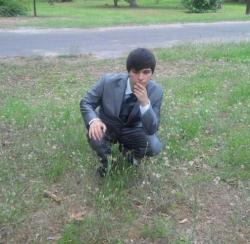 Latest posts by Cody Perez
(see all)
One of the most beloved aspects of Roblox is the ability to create your avatar using the top Roblox accessories. Countless combinations are available in the game.
Every player on the planet could pick their own outfits, and many of them would be drastically different from one another. This is mainly due to the sheer number of top Roblox accessories that exist out there.
The top Roblox accessories are a collection of the very best in this category that you can find. While accessories may not be as large of a feature for your avatar as your clothes, they can undoubtedly be the most glamorous and sometimes even the most attractive parts.
If you've always wanted to know the best and most popular accessories in Roblox, you are in the right place.
Bottom Line Up Front
The top Roblox accessories are composed of various criteria. There are several different types of accessories, ranging from the hats you wear on your head to the back items you can wear.
These can be seen in bandanas, masks, wings, and more. Accessories can radically change, complete, or even define your entire look in the game. That is why it is essential that you go about carefully picking the accessories for your avatar.
Many of these items are more important to some players than the actual outfits, hair, and face they have, and for a good reason. Accessories are some of the most popular and expensive items in the Roblox catalog.
My Top Picks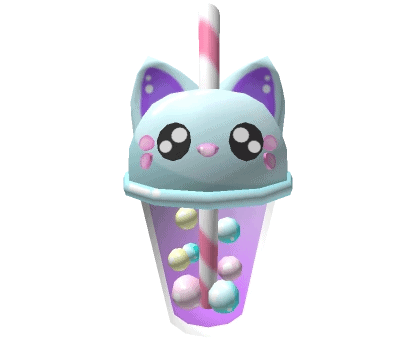 Here are the things that we consider the top Roblox accessories around:
Cat Cup Drink: An adorable drink accessory that features a cat on top of a cup. You are able to look like you just left the trendiest cafe around.
Black Flame Wings: These sinister wings are terrific and awe-inspiring. They are in the shape of flames, which is already cool, but the black aesthetic adds to the style.
Pink Heart Bow Wings: These cutesy wings are all things pink and hearts. The symmetrical shaping of them is welcome.
Usagi Mask: While looking more like a fox mask than a bunny one, the Usagi Mask is a solid way of looking mysterious and cool.
Fluffy Bunny Ears: These are some of the most iconic accessories that you can get. Bunny ears are a classic and there are multiple colors to choose from.
Cold Stare Skateboard: Carrying a skateboard around will make your Roblox character look more interesting. But it helps that the design on it is great, too.
Fluffy Aesthetic Bunny Hat: This bunny hat is unique in that it features a bunny aesthetic while being a hat rather than ears.
Cartoony Rainbow Bandana: The Cartoony Rainbow series of accessories is just the best. The bandana version will let you have a mysterious aura while also looking like you're ready for the club.
Gaming Kitty Headphones: There is not much else to say about these other than if you like wearing kitty headphones while you game, these will help your avatar to match your real life persona.
Pink Iconic Fancy Bows: These double bows are a subtle but nice touch to finish any cute outfit.
White Head Bow: This massive bow is the star of your outfit if you wear it, letting you look like a doll come to life.
Kawaii Bunny Plushie: This plushie is an adorable companion that you can have accompany you in your trips across Bloxburg, Shindo Life, and more.
Cursed Flames: If you like Yokai Watch or Pokemon, you can give your character the effects of one of those monsters with this accessory.
Black Pleated Skirt: This skirt is almost too perfectly designed but can be a great centerpiece for a new outfit idea.
Gamer Wings: The colorful nature of these wings will make RGB fans everywhere go nuts.
Bear Face Mask: If you want a mask to wear that is great to look at, this Bear Face Mask is a great choice.
Banana Suit: The Banana Suit is iconic for a reason and this allows you to run around as a massive banana.
Cartoony Rainbow Sword: If you're looking to mix a bit of neon with medieval knight for whatever reason, this sword will make it happen.
Cartoony Rainbow Crown: The Cartoony Rainbow Crown floats above your head while having a terrific colorful but tasteful nature to it.
Royal Crown: The Royal Crown is the quintessential medieval crown. If you want to take your place on the throne at Royale High and other games, it starts with equipping your crown.
See also: Royale High Explained: Campuses, Sunset Island, Trading, Much More
Roblox Accessory Types Explained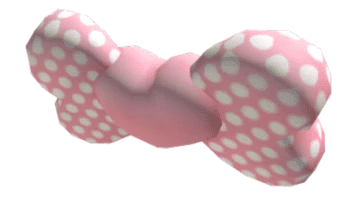 Before we dive too deep into the various accessories you can find in Roblox, it is worth giving more details about this category. Within Roblox, you will find countless items in the catalog that you can purchase for your avatar.
Of these items, accessories make up a large portion of the items. This is due to the fact that this is the most versatile group of items in the entire game. There are many different types of accessories that you can get within the game, and they come down to several sub-categories.
For instance, there is the head. These items can optionally wear on your head to enhance your look. This has nothing to do with hair necessarily but other items that go on top of your head. This could mean something as simple as a hat, but it could also mean an elaborate helmet or interesting headpiece.
There is also the face accessory type. This one is all about shaping the look of your actual face. You are able to change the animated face look that you have to be cutesy or goofy or just downright sinister. If you want to have a unique look to your character's expression, this is the place to look.
From there, we have the neck items. These accessories are some of the flashiest in the game as these are your gold chains, lanyards, and other items that you are able to wear around your neck. If you want to stand out in the crowd and look like a rich Roblox player, this is one of the best categories for you.
There is also the shoulder category, which I would consider one of the most underrated and underused in the accessories group.
This one is all about pets and other items that you are able to equip to go on your shoulder. You can get a bull or other companion to ride around on your shoulder as your partner, for example.
The front accessory group is going to be one of the most popular in this part of the catalog. The front may sound weirdly vague at a glance, but it includes the items you would wear on the front of your characters, like a handbag, a small satchel, or even a sash.
If the front is not the most iconic part of the accessories group, then the back is. These are where you get some of the most beloved Roblox items of all time, like the wings, backpacks, and other flashy items. As you may have seen in some of my Roblox screenshots before, I am a massive fan of the back group.
You will regularly see my character wearing some wings or other back accessories, even if I may not be wearing any other items of this type. The back accessories are also among the most expensive items in the entire game that you are able to find.
But they are still not all that you can go through. There is also the waist category, which is a catch-all term for a lot of items that are also in the game. These include the obvious ones like belts and waist accessories, but there are some bizarre ones, too.
This includes weapons that you can have at your waist, rubber duckies that you can wear like you are at the pool, or even a massive fox tail that goes behind the character. And last but not least, there is one final group that you are able to find in the Roblox catalog for accessories, and that is gear.
Gear items include the ones that you are able to hold in your hands. Some are weapons like shuriken, while others are coffee cups or a nice can of refreshing Bloxy Cola. This is one of the less critical groups, in my opinion, since your character's hands are likely to be occupied in most game modes anyway.
See also: Roblox Prison Life Explained: Most Important Elements Simplified
Top Roblox Accessories Criteria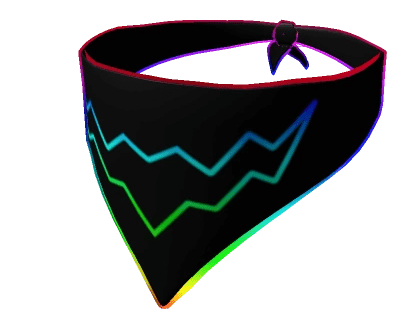 To help choose the right accessories for your character, we have come up with the top Roblox items that we think you should know about from this group. When it came to deciding which items made a list, I made sure to include ones that fit at least one of the significant attributes.
They need to be either massively popular on their own, successful as one of the most purchased items, amazing to look at, one of the best items in the game, or a mix of any of those criteria. Do bear in mind that much of this list comes from my personal preferences, so your favorites might not have made it.
Here are the 20 Roblox accessories that I think are at the top of the game. It is worth noting that they are in no particular order as it is not a ranking list for this guide. I will go over the look of the item, a bit of why I picked it, and so on.
Cat Cup Drink
Starting off this list, we have the most essential item in Roblox with the Cat Cup Drink. Walk around with this purple bubble teacup with a cute little cat on top as the lid. With a straw to finish off the look, you have a drink accessory that will make many players jealous.
Black Flame Wings
Then there are the Black Flame Wings. The first of several wings that you will see on this list are some of the most popular item types in the game. This particular variant is a sinister variety that looks amazing and does not break the bank.
The Black Flame Wings are a stunningly designed set of two black wings and have a slick design to them. While I would not say that they necessarily look like flames to me, the design is nonetheless amazing. It costs about 100 Robux to grab the Black Flame Wings, and it's certainly worth it.
Pink Heart Bow Wings
Speaking of wings, the Pink Heart Bow Wings could not be further from the previous entry. If the darker nature of the last accessory is not your style, perhaps this one will be. These wings include an elegant and extravagant design that will be behind the avatar.
If you like hearts and the color pink, the chances are that you will love these wings. While behind the player, they have two massive wings, one on either side of their body. They are sort of transparent for the most part, with the centers of the wings containing a few heart shapes while the outer border is also heart-shaped.
There is a large pink bow right in the middle that nicely finishes the idea. It costs around 100 Robux to purchase this particular item.
Usagi Mask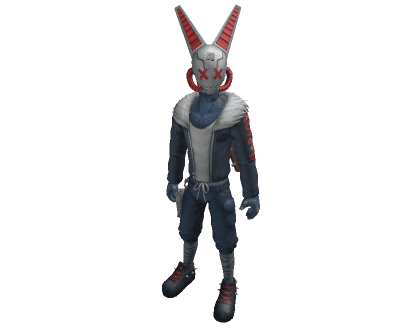 One of the most common Roblox accessories that I notice quite often is the Usagi Mask. This mask is a Japanese-style one that covers the entire face and makes you look like a strange sort of bunny.
I, personally, do not think you look like a bunny in this mask but more like a fox in a way, despite being named after the rabbit in Japanese.
This is especially the case in the form of the red markings across the mask's face. That said, it is still a great mask and one that is quite good for how cheap it is to purchase. You only have to spend a measly 25 Robux to buy the Usagi Mask. It is an excellent choice for games like Shindo Life.
Fluffy Bunny Ears
The Fluffy Bunny Ears are one of the most straightforward designs for a Roblox accessory on this list. Just picture some bunny ears in the game, and you have this iconic item. There are several different colors of bunny ears that you can find in the catalog to wear on your head.
Cold Stare Skateboard
Some of the accessories are ones that you can carry around with you wherever you go in games. One of the more exceptional accessory items like this is the Cold Stare Skateboard. Having a skateboard is already lovely enough on its own, but it does help that this one has an excellent design and is quite flexible for matching outfits.
The design is entirely black-and-white, making the Cold Stare Skateboard a great choice for those players looking to have a coordinated outfit. Not to mention, the anime-style girl on the deck has a cold stare that will likely steal the hearts of many players who see her face.
See also: Superhuman Blox Fruits Guide
Fluffy Aesthetic Bunny Hat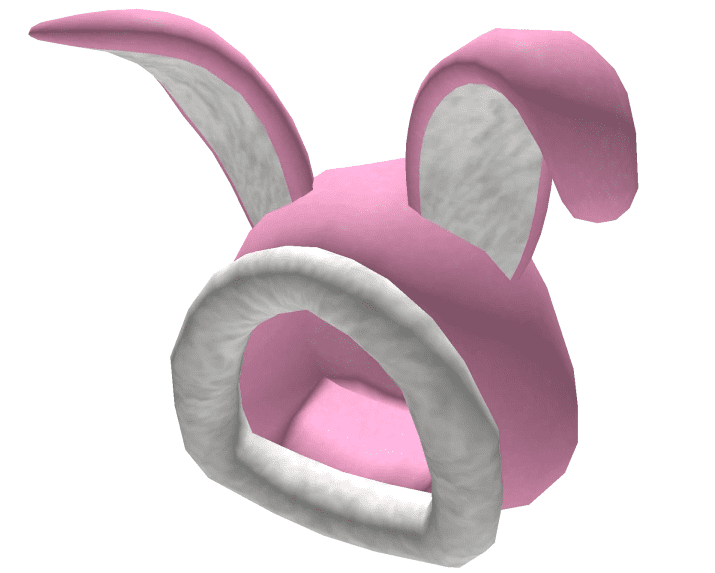 Another in the trend of fluffy items, we have the Fluffy Aesthetic Bunny Hat. This one is a goofy and cute addition to the arsenal of accessory items.
This hat is in the shape of a bunny and it sits directly atop the player's head. There are long bunny ears that go down the sides and cute bow arms that go around the head. It comes in multiple colors as well.
See also: Tower of Hell Explained
Cartoony Rainbow Bandana
If you want to wear a bandana around your face, the Cartoony Rainbow Bandana is the best. Its glowing rainbow color is fantastic.
Gaming Kitty Headphones
What you have likely noticed with a lot of kids these days is that they will want to imitate streamers and content creators. This is no surprise since content creation is the literal definition of trending right now. As such, even within a game like Roblox, a player might want to look like their favorite streamers.
Many content creators have cute or charming headsets that they wear during their streams. The Gaming Kitty Headphones embody that idea in just the right way. Overall, they are rather simplistic in design. There are two large earpieces and a band that goes on top of the head.
But what makes it stand out are the two little kitty ears that are on top of the headset. It comes in multiple color options, like pink, purple, white, black, and blue. And it only costs 50 Robux to purchase.
Pink Iconic Fancy Bows
The Pink Iconic Fancy Bows is one of the cutest accessories that you can find in Roblox. It is also one of the simplest designs that you will find on this list. The Iconic Fancy Bows are literally just two bows that the player wears on their head.
That said, there is no denying how "iconic" these bows can be. They are rather large in size and are immediately noticeable to any person wearing them. They come in a variety of colors, too, not just the pink variety.
However, I do think that this is another situation where the pink version of the bows is the best. It costs 75 Robux for this item.
Head Bow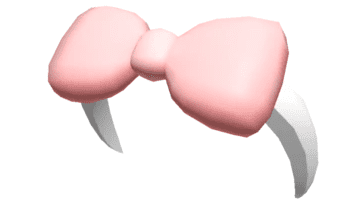 If you find yourself not wanting two bows after the last entry, perhaps a single bow will do nicely? Enter the Head Bow, a single bow that is absolutely massive in size. It is called a Head Bow for a reason as it sits atop your head and takes up most of the space.
Overall, the Head Bow is a chill design. The large bow is tied in the middle with four little sections to it. It only costs 50 Robux to walk around with this juggernaut on your head and it comes in a variety of colors. You can take a look around and see which color works best for you or buy them all to mix and match with various outfits.
Kawaii Bunny Plushie
The Kawaii Bunny Plushie is one of the best accessories that you can find if you are looking for that "kawaii" factor. The cute nature of this item just exudes from every inch of it. The plushie is in the shape of a bunny's head and there is no denying just how adorable this item is.
The bunny has blue eyes that stick out quite nicely and contrast the pink areas of the face. The blush on the cheeks, the ears, and the lips are all pink, adding a nice touch. The Kawaii Bunny Plushie is one of the standout items for someone going for that almost Hello Kitty-style avatar.
Cursed Flames
The Cursed Flames is a front accessory that has little flame wisps that float around the character. It can be both creepy and cool to see.
Black Pleated Skirt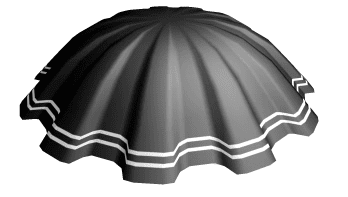 The Black Pleated Skirt is one of the most unique on this list since its look and name would seem to indicate it being a bottom clothing option. However, that is not the case at all as it is considered a waist accessory. This is part of what I was talking about before with the waist group being the strangest.
The Black Pleated Skirt is another popular item in the community with many players owning it. It is a black skirt with two white lines that go around the edges at the bottom.
It almost looks like an umbrella in its shape but it is fashionable and goes with a lot of other nice clothing items. Plus, you can still wear a bottom clothing item if you want since it does not occupy that slot.
Gamer Wings
If you liked the style of the Cartoony Rainbow series and want something in a similar vein, the Gamer Wings are your go-to back accessory.
These wings are some of my favorites in the entire game, having a glowing rainbow aesthetic with a black base. The techno vibes to these wings make them my favorite ones in all of Roblox.
Bear Face Mask
There are some items that are on this list, not necessarily just for their designs, but for their top placement in the community. The Bear Face Mask is one of these items, being among the most popular of all time. There are likely a few reasons for this, one of which is possibly the pandemic going on.
The Bear Face Mask appears to be a cloth mask that covers the nose and mouth while going around the entire back of the head rather than only the ears. A small design is printed on the mask in the front, showcasing the little mouth of a bear. It is, understandably, one of the most favorited items of all time in Roblox.
Banana Suit
The Banana Suit is a classic ridiculous costume from across real-life and games. So, what if you were able to wear that in Roblox, too? That is exactly what happens with this accessory item. Oddly enough, the Banana Suit is a back accessory item but it functions nothing like that.
This accessory takes over the entire player's outfit and covers you from head to toe. If you want to wear a Banana Suit on your character, look no further.
Cartoony Rainbow Sword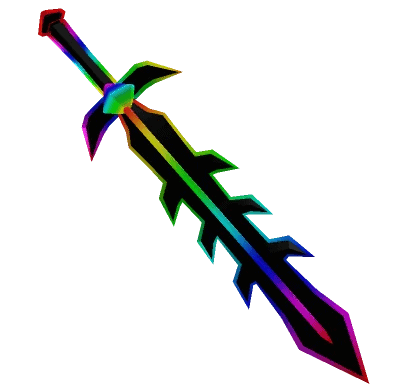 The Cartoony Rainbow Sword is one of the best in terms of gear. I like to suggest only a few weapons to players since they are a bit redundant at times.
One such exception is the Cartoony Rainbow Sword. It is a fantastic item with an edgy design to it that lets the rainbow colors sweep through its blade nicely.
Cartoony Rainbow Crown
The Cartoony Rainbow Crown is the best of its series and one of the best crowns in the game period. If I had to pick a favorite from this list, it would be this one. The rainbow crown looks fantastic and the fact that it floats above your head is a neat little touch that seals the deal for me.
Royal Crown
Finishing off this list, we have the Royal Crown. I have mentioned the Royal Crown on this site before and for good reason. It is one of the most expensive and best items that you are able to get in Roblox. Though this list was technically not in any particular order, I saved the best for last for some.
The Royal Crown is an exceedingly difficult item to get these days, mostly because of the limited nature that it had when it was first sold. The Royal Crown is an intricate head accessory that is mostly red and gold. There is also a little bit of black on the symbol atop the crown. It is very detailed in its design and looks fantastic as the go-to for any royal Roblox players out there.
FAQs
Question: What is the Most Popular Item on Roblox?
Answer: When it comes to the absolute most popular item of all time in Roblox, this is always going to be a highly debated topic. Some players will say one item while another group says another and still a third group will lay claim to a totally different item.
At the end of the day, though, the most confusing part is that it is possible that all of them are correct. This is due to the fact that Roblox has so many different items that are among the most popular around, hence why we went over 20 of the top accessories in the business to give you a decent idea.
That said, a few immensely popular Roblox items are worth mentioning in this answer. It appears that the most popular item in Roblox is possibly the Beautiful Hair for Beautiful People item. The freckles item follows this.
As for the most popular item that is actually on our list of accessories, though, we have to give it to the Bear Face Mask. It is a decently cheap item that is very popular in the community.
At the end of the day, though, there are some items that likely beat out all of these. After all, this disregards the free items that you are able to get in the Roblox catalog.
While they are few and far between at times, the free avatars, accessories, hairstyles, and so on are available to everyone. As such, it is likely that they are much more popular than anything else.
Question: What are the Most Popular Roblox Shirts?
Answer: Though this guide is all about the top accessories in Roblox, there are other item categories out there, too. One such category is clothing items and that includes shirts among other items. When it comes to the most popular Roblox shirts out there, a few worth mentioning.
Besides the obvious free items that everyone is able to get in the catalog, there are a few shirt items that are quite popular. They are among the most favorited items in the game, meaning that players are interested in them but may not have necessarily purchased them yet.
The Roblox Jacket is the most favored item of all time among the clothing items. It is simplistic and represents your support for the game. The runner-up would also be the Big Robux shirt. While this shirt is a bit lame in design, in my opinion, it does not stop it from being popular with players.
Question: Can You Make Accessories in Roblox?
Answer: Technically, yes, you can make accessories in Roblox. While this is possible, the likelihood of most players getting around to doing that is slim. This is due to the requirements that must be met before you are able to make accessories in the game.
Roblox is built on user-created content and that is seen in the experiences out there. Players are able to build their own games and share them online.
The same goes for the items that you can use to customize your character. However, you must be a verified creator, which is its own subject for another time, and spend your hard-earned Robux to make them.
There is also a limit to the number of accessories that you are able to share on the game itself every week. This is to limit users from creating endless amounts of accessories to dominate the market.
While it is a bit unrealistic to think that most players will be able to make their own accessories in the game, it does at least mean that it is easy to find what someone else has made. The minimum price for user-created accessories is going to be at least 120 Robux.
Conclusion
The top Roblox accessories are the defining items of the game's catalog that you should consider for your own avatar. They will allow you to create the Roblox character of your dreams.
If I had to pick one item on this list for creating my dream character, I would have to go with the Cartoony Rainbow Crown. It's stylish, sleek, and its neon aesthetic is unrivaled. Better yet, you are able to show this accessory off to your family, friends, and, of course, strangers that you might wish to intimidate.
Speaking of games that are perfect for intimidation, there is Royale High. Royale High is one of the best Roblox games around and the number one place to be if you would like to strut your stuff.
It even has its own set of unique items and accessories to its game. There is also the pageant where you can reveal just how great your tastes are. Any fan of Roblox fan fashion should definitely play Royale High.
Recommended Reads: