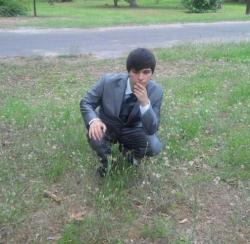 Latest posts by Cody Perez
(see all)
Royale High is among the greats in Roblox, and this is in no small part due to the sheer amount of freedom that the game gives you when it comes to outfits. Our Royale High outfits guide relieves some of the stress and breaks down just how clothing works in this game. Surprisingly enough, Royale High operates a bit differently from other games.
The Royale High outfits guide is about finding out about the various outfit categories in the experience. We will also reveal details about getting more clothing items in this game and how it differs from other Roblox titles. There is a lot to cover surrounding this clothing-centric Roblox experience so let's get started.
Bottom Line Up Front
Royale High is known for its various elements, one of which is how it handles your outfit. Royale High is a game meant for dressing up, so it is quick and easy to edit your avatar. But it can be overwhelming since Royale High has its own set of clothing options that is separate from the main Roblox catalog.
You can unlock these unique items in various ways, like purchasing it in the shop. There are five main outfit options that you will find in Royale High, including the hairstyle, face, outfit, body changes, and crowns.
Picking the right look for your character is imperative if you wish to engage in roleplaying across the many areas, such as the pageants and balls.
Royale High Outfits Explained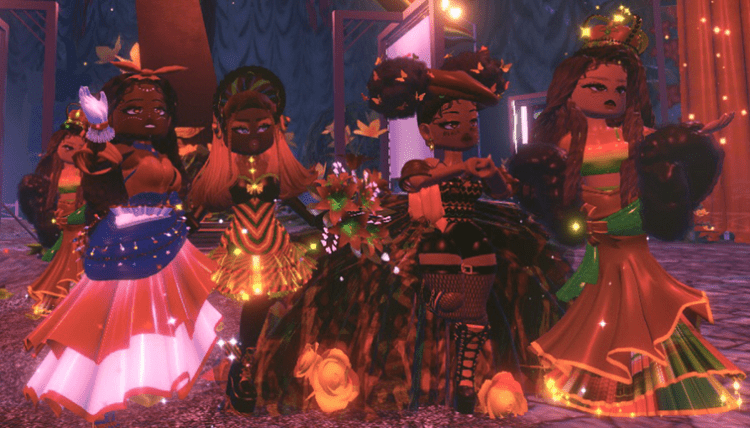 Royale High is a Roblox experience designed for roleplaying with friends. The setting of a high school with various areas to explore is all about maintaining your look. The outfits are a significant part of the game. Several parts of Royale High emphasize your appearance.
You can dress up at any point in the game whenever you want and wherever you are. This feature is very convenient given the importance of your look. After all, your appearance is a crucial part of how you play the game.
There are even minigames, like the pageant, that involve your character's outfit. Royale High is the place to go to in Roblox if you are a fan of dressing up. This Roblox experience takes the idea of clothing quite seriously to the point where it centers around this entire idea.
As such, there are a lot of exciting features that Royale High outfits have compared to other experiences. You can create a preset outfit that you like and save it for later occasions. This feature lets you switch between outfits at will and be flexible in any situation that you find yourself in.
How Royale High Clothing Can Differ From Other Roblox Games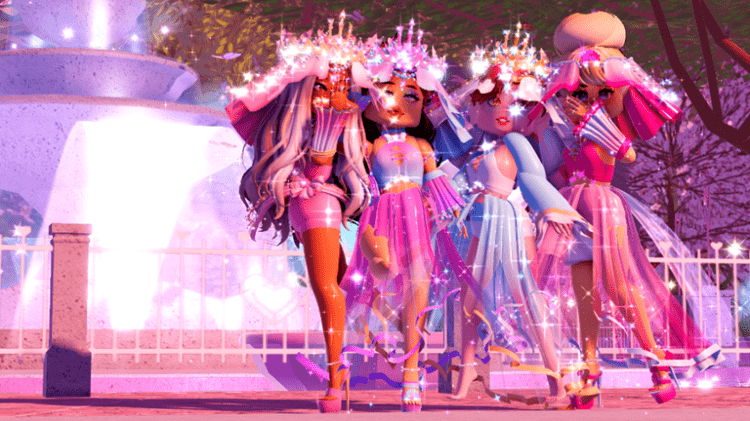 Given that Royale High is all about your outfit, it should be no surprise that there are some major differences between how it handles clothing compared to other Roblox games. One of the most intriguing parts that you will notice when you first boot up the game is that it has its own set of clothing.
Sure, you can have your standard avatar's look when you load into Royale High. But you do not have to stick with just that look if you do not want to. You can start customizing your character with the various items that exist exclusively within Royale High.
What is unique about these clothing items in Royale High is that they are specific to only this game. Developers created many of them, so you will not be able to find them in other Roblox experiences.
The problem with this is that you will only be able to see your character wearing them in this game. If you obtain these items, equip them, and then join another game like Welcome to Bloxburg, you will not find them on your character.
Instead, your avatar will look how you have customized them on the main Roblox lobby screen. Thankfully, though, going back to Royale High will automatically retain your appearance there and will not require you to change back and forth every time you play it.
Different Clothing Categories Explained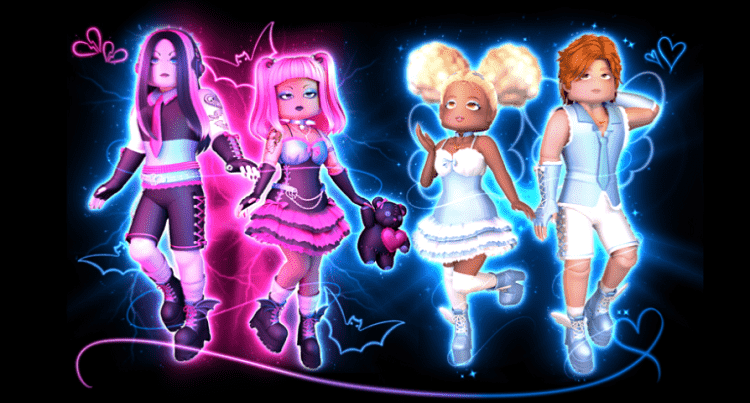 Given that many items are unique to Royale High, that means that it can be a little bit overwhelming at first. Thankfully, that is why we have broken down the different categories of items in the game. There are five main ones that you will find when customizing your character.
Anywhere and anytime in the game, you can select the dress-up option on the right side of the screen. When you do so, you will be taken to the avatar customization area, where you can find these five distinct categories: hairstyle, outfit, face, body, and crown. Here's what you should know about each of them.
Hairstyle
First and foremost, there is your hairstyle. When you look at someone, their hair is likely one of the first areas you notice. It is, therefore, a great place to begin customizing your look. There are various hairstyles that you can find in Royale High, and they are divided up into a few categories.
First, you will want to decide if you are going for a more feminine hairstyle or a more masculine one. Once you have chosen that, you will be able to narrow down your hairstyle options more. There are a lot of options, which is why you should filter through as much as you can.
You can pick options like long hair, short hair, styles that have no bangs, buns, etc. There are several of these smaller categories, and you can use them to find the right hairstyle for you. This streamlining is especially crucial for minigames where you do not have a lot of time to pick.
Lastly, there is the hair color. Once you have a hairstyle picked out, you can instantly change the color at will. There are numerous free hair color options available, but it is possible to unlock more through a particular paid option that I will cover below.
Outfit
Your outfit is the area where many players will spend the most time within Royale High customizing. Your appearance is a vast area that includes all of the main clothing options that you can choose in-game. This area includes options such as upper body clothing items (shirts) to bottom ones (skirts and pants).
There are also dresses and other items that you are able to equip in the game. The outfit feature is a massive one, and there are far too many items to spend going through each of them. This spot is another one where you should filter down to the right things that you would prefer to use.
There are several of these filters that you can choose from, like different colors, style, or even seasonal gear. These filters are especially helpful when you are trying to create a particular theme. You can easily find items that are centered around the same idea.
Face
The face is one of the less flashy parts of the character that you are able to customize. However, that does not change the fact that it is one of the most important. It can be the cherry on top of your outfit. The face area includes a few different sub-categories for it.
The central part of the face is the character's expression on their face. This can affect the eyes, too, which can drastically change how your avatar looks. There are cutesy eyes, scary ones, tear-filled eyes — like my character currently has — and so on.
Another part of the face category is makeup. This is where you are able to apply blush, eyeliner, and other cosmetics to your character's face. This helps to complete the looks that you have going on. There are both feminine and masculine makeup and facial expressions for you to choose from.
Body Changes
The body is another massive part of the outfit options in Royale High. As you might expect, this is where you can find selections for your skin type and animations.
Animations affect how your character looks when they are walking or even flying in the game. You have the ability to show your wings off at all times or only when you fly, for instance. And then, there is the overall shape of your body that you can customize as well.
Here, you will be able to change your body shape in an interesting way. It works because you are actually choosing a preset outfit that you can then equip. This will change your body shape to be bigger, smaller, more muscular, taller, and so on.
The secret part of this is that this is a great way to select a preset outfit that you do not have to make yourself. There are knights, Santa Claus, and other random options that already exist. If you do not know what outfit to wear, this feature can be a great starting point for some players.
Crown
Finally, we have the crown area. This is Royale High, after all, so it should come as no shock that you are able to wear crowns in the game. And they take a huge role in the game when it comes to picking your outfit. Royale High takes its crowns quite seriously, which is why they have its own dedicated category.
All of the crowns you currently have available in the game will be found here to choose from. That said, you will start out the game without any crowns to your name. Fortunately, most players are given a free roll for one of these when they first play the game.
You are able to roll for a crown that will be randomly given to you. They each have different colors that you are able to collect. My first crown was a baby blue one, while there are also black, white, and other various crowns that you can collect.
See also: Royale High Explained: Campuses, Sunset Island, Trading, Much More
How to Get New Clothing Items in Royale High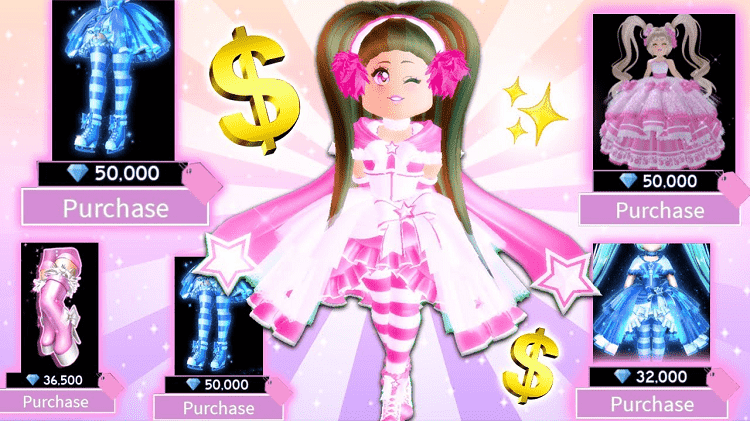 While the crowns in Royale High are found through the RNG system, that is not how other items are handled. While the game does give you plenty of clothing items by default in the game to choose from, it locks some of the best and most attractive ones for you. To get these items, you need to head to the shop.
Shopping and Diamonds Explained
The shop in Royale High is the place to go if you want to upgrade your avatar to some fresh new threads. Like the dress-up option, you can access the shop from almost anywhere in the game. When you go shopping, you will be taken to a separate screen where you will find all of the currently available clothing items.
To unlock them, you will have to purchase them, and then they will become permanent options for you to equip. This means that you will need some form of currency to unlock the new clothing items in the shop. The shop uses diamonds as its currency, which is the main money in Royale High.
No, Royale High does not use Robux directly for its items, and it is possible to buy stuff in the shop without needing the premium Roblox currency. This is because it is very much possible to earn diamonds in Royale High without spending any real-world money.
You are able to get diamonds just from playing the game itself over time. If you do well in your classes and spend time grinding out the various components of the game, you are able to earn diamonds quite often.
However, there is one main area where you are able to earn diamonds the most, and that is with the pageant. Winners of the pageant are able to get 1000 diamonds each time that they do.
This is helpful when items in the shop can cost around 5000 diamonds each for some of the best ones. Of course, there is also the instantaneous option of spending Robux to purchase some diamonds in the game, but that is not necessary.
In fact, I think it is actually a waste of your precious money because the exchange rates are not the best, in my opinion, with many items costing $5 or more in terms of Robux.
You are better off just spending time playing the game and earning your diamonds the cheaper way. What you will find in the shop, whether you are looking to purchase or just window shopping, is that it only has four main categories of items.
This is actually far more limited than the dress-up area. The shopping categories are wings, skirts, shoes, and accessories.
Wings
When it comes to the parts of an outfit that will really make a person stand out, there are few that can compare to wings. It should come as no surprise then that Royale High dedicates much of the store to this single type of accessory.
The other reason why it is so essential is due to the fact that Royale High is built on the idea of flying around. Originally a Winx Club-themed roleplaying game, it was created to allow the player to roleplay as their favorite Winx characters.
With the ability to fly comes the ability to customize your very own wings. Wings already exist in Roblox proper, but Royale High takes it to a whole new level. The amount of wings and the different looks for them is astounding. You could spend a lot of time (and possibly money) just trying to find the best wings to fly around the maps.
See also: Tower of Hell Explained
Skirts
One of the odder parts of the shop is that of the few categories that exist; skirts are a significant one. After all, skirts are not necessarily the most common clothing item for players to wear. Even for those players who want a more feminine-looking avatar, there is so much more to clothing than just skirts.
That said, the name of this category is a bit misleading in that it leaves out some of the items that you can get. While skirts are usually not considered the same as dresses, dresses are also included in this group.
Again, not really sure why the category is named skirts when there are dresses and other items available here, but such is the case. In fact, it is far from the only type in the shop to do this. There is another one down below that has a similarly strange nature to it.
Shoes
With the shoe category in the shop, what you see is what you get. What you will find here are the various shoes that you are able to wear on your character's feet. They vary considerably, and there are shoes for every type of occasion out there that you can find in this group.
There are boots that you can wear that are intimidating. There are slippers that you could wear to channel your inner Cinderella. Even still, there are other shoes like ones that come with knee-high socks and the like that you are able to find.
As with any other category, you can filter through the shoes and find the ones that best fit the outfit you are trying to make. If you want to get your own virtual shoe closet so to speak by owning countless pairs, you can certainly do that in Royale High.
The most varied and interesting group of items that you can purchase in the shop are accessories. As mentioned in the main clothing options that you have for customization, accessories are what will complete your look. This is due to how flexible they are, ranging from small to big and simple to sophisticated.
Within the accessories category, you can find items that are meant for your head like a hat. There are others that are sunglasses to wear over your eyes. There are bandanas and masks to cover your mouth and nose. Even still, there are accessories that have nothing to do with the head at all.
There are gear accessories that will make you look like a knight with a sword at your side. This is the most diverse set of items in the game and you can spend a lot of time finding great items here to buy with diamonds. Check out the top Roblox accessories here!
Gamepass Exclusives
Of course, if you want the most out of your clothing options and outfits in Royale High, you may want to consider buying one of the many game passes. Like other games, there are passes that you can buy in Royale High for Robux.
These permanent purchases will enhance your gameplay experience but are optional. However, if you want to have the most choice at your disposal for creating the best look for your avatar, you may want to consider these passes.
The first one that you should know about is the fabric design. With this one, you will be able to unlock more than 500 new designs that you can use to customize your skirts and heels. It costs only 50 Robux. There is also a game pass for gaining more than 120 new hair color options and the glowing colors feature as well for your hairstyle. It also costs 50 Robux.
Sunset Island Pageant and Ball Explained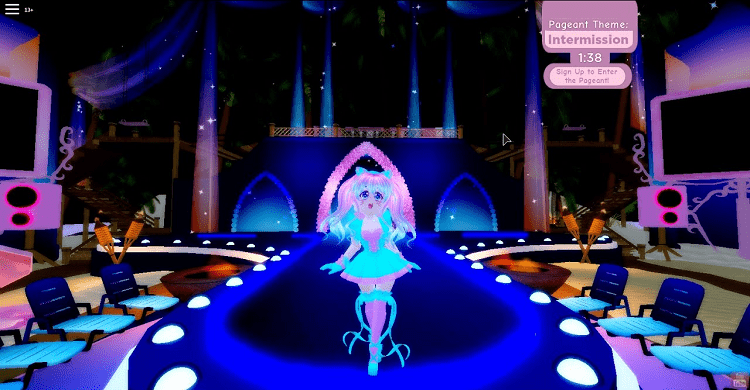 All of this customization and creating your own Royale High outfits have more purpose than just looking good for your roleplaying sessions. If you head to Sunset Island, you will find the pageant minigame that is going on here endlessly.
This minigame allows you to dress up according to a theme every few minutes. After time has passed, all the participants are gathered together and everyone votes on the players with the best look for the theme.
In addition, there is the ball that happens at school each night. You want to dress for the occasion in hopes of being crowned the winner of the ball. Both of these instances will grant you some sweet diamond rewards to further your outfit selections.
FAQs
Question: What is the Outfit Limit in Royale High?
 
Answer: Believe it or not, you cannot just keep creating outfits and saving them as presets endlessly. There is ultimately a limit to how many saved outfits you can have, which makes the process a bit frustrating since you can only have so many outfits ready to go at a moment's notice.
To make matters worse, the limit for saved outfits in Royale High is not made abundantly clear while you are playing the game. In fact, there is not even a set number like 20 or 100. It is actually seemingly random and this is possibly due to the way that the save data works in the game.
Instead of saying that you can make like 10 saved outfits and that is it, there is an allotment of data that your character is able to use for saved outfits. Once you use that save data, you cannot make more preset outfits until you delete your previous ones.
The problem with this is that some saved outfits are going to take up a lot more data space than others. As such, your limit for outfits might be different from someone else's. We have seen players who have a limit of 30 while others are in their 40s.
Thankfully, the game will at least warn you when you are nearing your limit for the outfits. At this point in time, you need to either stop making new ones or delete some of your old ones. Some players have even noted that updates for Royale High have deleted older saved outfits due to having too many so please keep that in mind.
Question: How do you Make a Cute Outfit in Royale High?
Answer: This is going to differ for each person. First, you need to define what cute is to you. Is it something that is full of nothing but pink all over the outfit, for example? Or is it sparkly and princess-like? Once you know what style of cute you prefer, it is time to start looking into all of the clothing options you have.
The goal of making a cute outfit and any saved outfit at all is going to be to match everything together nicely. You want to figure out a theme or idea that you have for your outfit. It could be a purple princess, a space queen, or some other interesting idea. And then you want to shape your outfit pieces around that theme. Filters can help with doing that.
Question: What does my Outfit Change when I Talk in Royale High?
Answer: This is actually not a glitch like some players think it is. This is an intended feature of the game. Whenever you save an outfit to your avatar's collection, you see a name that you can give it. You can name it whatever you like, such as Pageant Princess, so that you know what it is for and so on.
The problem with this is that there is a really easy way to swap to these preset outfits. This is by, you guessed it, typing the name of the outfit into the game itself.
So, if you pick a name that is quite common like "love", then saying love in the chat at any point will change your character's look to that particular outfit. This can make the game quite frustrating at times so be sure to be a little bit more specific in your outfit names to avoid this problem.
Conclusion
As you can see in our Royale High outfits guide, there is a lot more to this experience than just showing up with your typical Roblox avatar look. Royale High is all about dressing up and looking the part for any roleplaying and events. This can be overwhelming, especially since it is only one part of the overall experience.
If you would like to know more about Royale High, be sure to take a look at our general overview guide. We go over these already mentioned parts like dressing up in the game but a lot more.
We also give a quick look at the different areas that exist in Royale High and how to participate in them. It is the best place to look if you are a newcomer to this Roblox experience.
Recommended Reads: