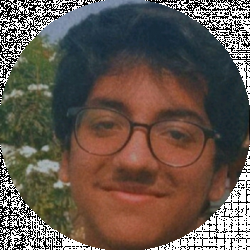 Latest posts by Nishant Thakkar
(see all)
A wide range of unique experiences is available on Roblox, and they branch out into various genres. Shooters are one of the most popular genres among community members, as they are pretty fun to play. I personally enjoy Roblox games that include fast-paced action and shooting, given that Overwatch and Valorant are two of my most-played titles recently. 
The passage of time has brought us many kinds of shooters with different features. You may feel overwhelmed by the variety of options available when deciding which Shooter to choose. Don't worry; I'm here to assist you!
If you want to learn more about the best Roblox shooter games to play, check out the list I've compiled below based on my personal experiences and preferences.
Selection Criteria
Choosing anything in life is challenging, and picking out the best shooters was no exception, considering the sheer number of available options in the market. I had to carefully analyze the different characteristics of the various options to evaluate the best ones.
The following is a rundown of the many criteria for selection that I took into consideration when putting together the list:
Active Players
When considering the many possibilities, one of the most important considerations I gave weight to was the number of active players. Playing a game with a small user count isn't inherently a bad thing to do. However, in order to have fun in shooter games, you typically need a large and active player count.
Total number of visits
The games that are considered to be the best also happen to be the most popular within the community, and as a result, they attract a good number of visits. Accordingly, this was another thing I took into notice while listing the different games in the upcoming list.
Features
Unique features make the games distinct from all the other prevalent options. Because of this, I needed to keep all of the games' features in mind and pick the ones that offered the best experience.
Best Roblox Shooter Games
The thing you've been looking forward to is here. From my own point of view, here is a list of the best Roblox Shooter games:
1) Phantom Forces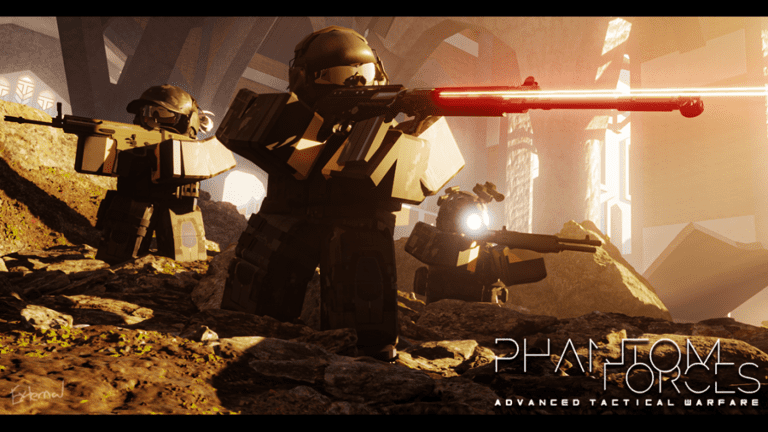 Developer: Developed by StyLiS Studios
Visits: Over 1.3 billion visits
Release date: Created on 8/31/2015
Favorites: Favorited by more than 5.5 million users
Phantom Forces takes the top spot and is a popular game you might have already heard of. It is heavily influenced by Battlefield 4 and is quite advanced compared to all the other alternatives due to its weapon physics. 
Over the years, the game has been successful in attracting a large number of players. Its consistent growth can be attributed to the different maps and game modes like TDM, Capture the Flag, and King of the Hill.
Furthermore, the weapon choices are immense, with hundreds of different firearms accessible at your disposal. The variety of firearms in this Shooter is what drew me to it the most, and you will undoubtedly find it intriguing as well.
2) Arsenal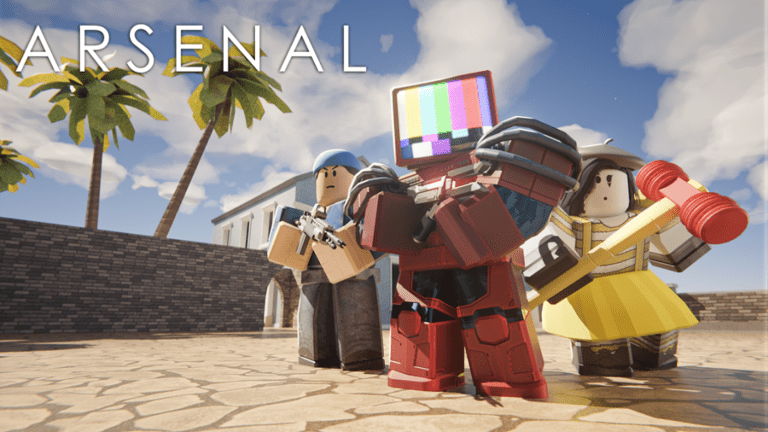 Developer: Developed by ROLVe Community
Visits: Over 4.4 billion visits
Release date: Created on 8/18/2015
Favorites: Favorited by more than 10.1 million users
Arsenal is enjoyable to play and ranks second on this list of the best Shooter games to play on Roblox. As the name indicates, it provides you with a vast arsenal of weapons that you can utilize to decimate your enemies.
Simply put, if you don't understand what you're doing in Arsenal, you're just playing a Gun Game. As you rack up kills, you will move through the different weapons. The winner is determined by who is the first to get through all the possible weapons and complete the objective.
I spent around 10-15 hours on Arsenal, and I can say the game gets addictive after a while. It's a fun way to pass the time, and you may drop into the server whenever the mood strikes you.
3) BIG Paintball!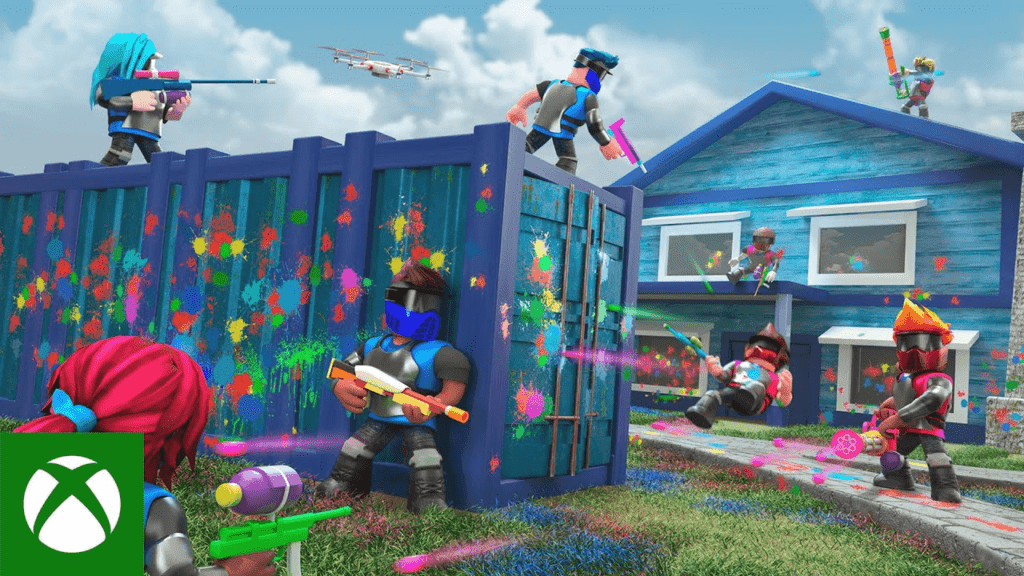 Developer: Developed by BIG Games™
Visits: Over 1.3 billion visits
Release date: Created on 7/24/2019
Favorites: Favorited by more than 4.6 million users
Big Paintball! is arguably among the greatest Roblox Shooters you can end up playing. The FPS title has a very distinctive visual style and is pretty vibrant.
There are modes like TDM available, and you will have to tag other players to get kills and also the in-game currency. You will later be able to use the currency accumulated to unlock the wide range of weapons. At first, you could find it challenging to progress through the guns; however, it will get better once you get going. 
Moreover, just like in Call of Duty, numerous killstreaks are present. These add another exciting layer, which has contributed to my growing fondness for the game.
4) No-Scope Arcade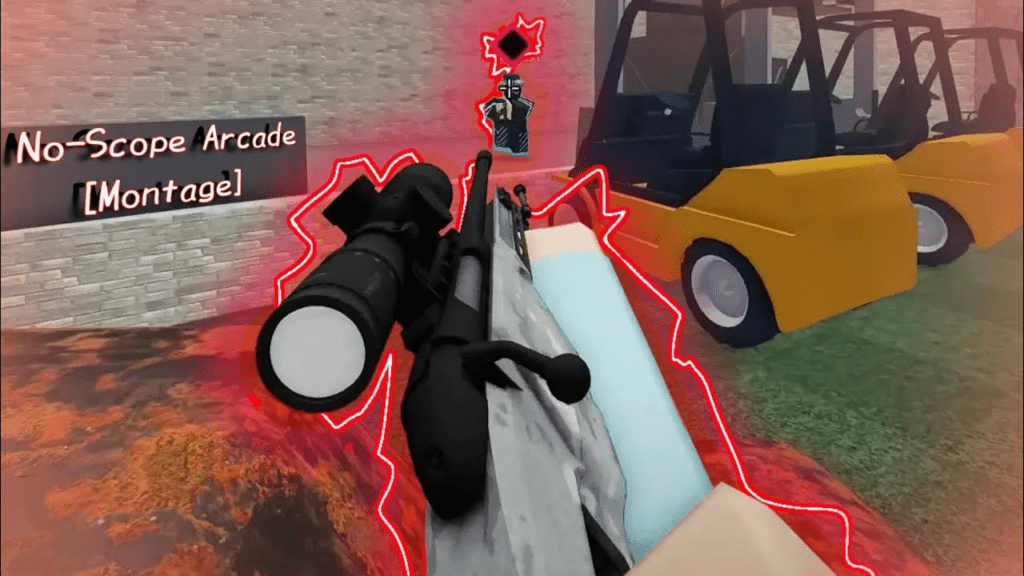 Developer: Developed by Iconic Gaming Studios
Visits: Over 88.3 million visits
Release date: Created on 2/17/2021
Favorites: Favorited by more than 304,000 users
No-Scope Arcade is the perfect choice for those searching for arcade and quick-paced gameplay. It features five different weapons: AWP, SSG-08, G3SG1, R2MI, and KAR98K. You will receive any of these at random at the beginning of each round, and to win the game, you must be the last player standing.
The overall gunplay and the map are top-notch, but you'll need to have good aim to take down the opponents. I would recommend playing this game if you want to relax, have some fun, and hit some no-scopes in the process.
5) Counter Blox: Reimagined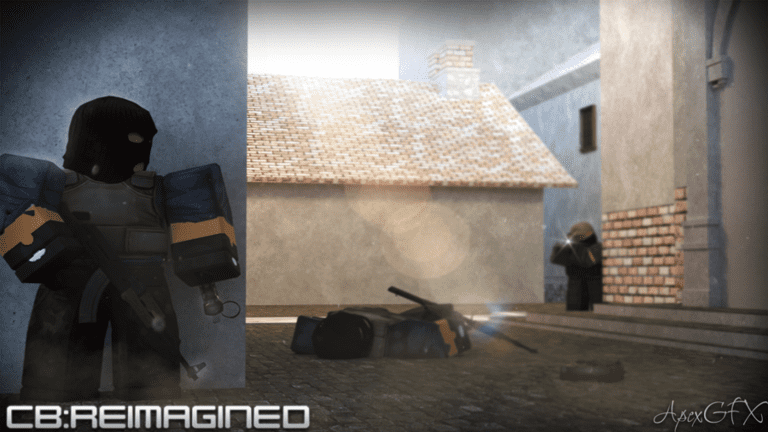 Developer: Developed by Based Games
Visits: Over 17.6 million visits
Release date: Created on 6/22/2022
Favorites: Favorited by more than 75,000 users
You may also try your hand at Counter Blox: Reimagined, which is another excellent Shooter game. It's basically Counter-Strike: Global Offensive playable on Roblox, and it offers very much the same experience in every way, including weaponry, game modes, and more.
Terrorists and Counter-Terrorists are the two sides who compete against one another in this 5 vs. 5 tactical shooter. The former is tasked with planting the bomb at the designated sites, while the latter must eliminate all terrorists and defuse the bomb before it ends up detonating.
You additionally have access to a wide variety of weapon skins. This ability to customize the appearance of your weapons adds a unique spin to the game's overall aesthetic. My experience with the game was relatively positive, and I would surely suggest you try it out.
6) Bad Business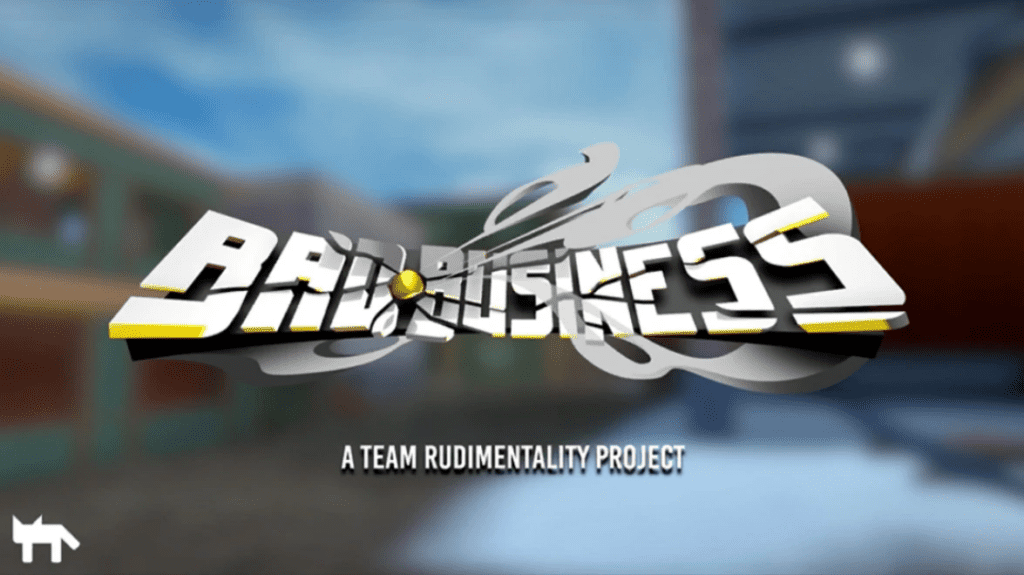 Developer: Developed by Bad Business
Visits: Over 353.3 million visits
Release date: Created on 5/29/2019
Favorites: Favorited by more than 1.8 million users
One more excellent choice is Bad Business, a game that draws heavily on the aesthetic and gameplay of Call of Duty: Modern Warfare. In addition to having excellent shooting mechanics, this game offers a wide variety of customization options for your character's appearance.
The Shooter has further received a Mobile Overhaul, resulting in enhanced controls, settings, a layout editor, and mobile servers. As a result, if you enjoy Roblox on mobile, this game is perfect for you.
To speak for myself, I had the most fun engaging in the TDM Mode; nevertheless, you can also access other amazing possibilities, such as the King of the Hill and Gun Game.
7) Project Lazarus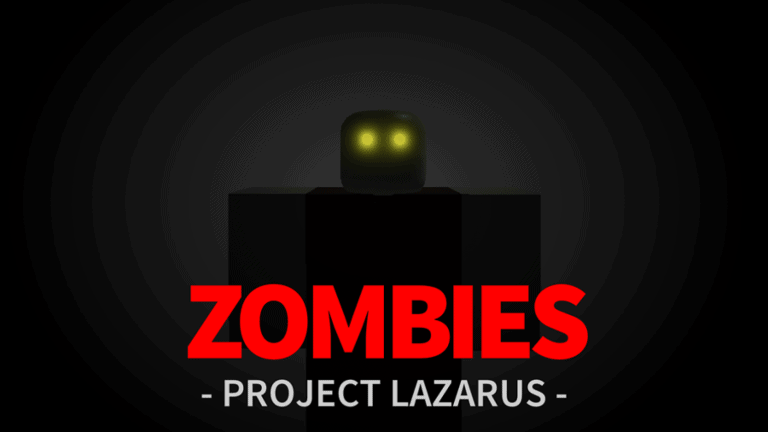 Developer: Developed by @logitech101
Visits: Over 142.8 million visits
Release date: Created on 6/28/2016
Favorites: Favorited by more than 1.5 million users
Project Lazarus is a first-person survival shooter, and if you like games of this genre, you should definitely give it a whirl. The primary objective you have in the game is to stay alive through as many waves of zombies as possible.
This title is essentially influenced by the Zombie mode of the famous Call of Duty series. It features heavily identical things such as perks, the point system, and more. Since I grew up playing the Zombie mode, I enjoyed Project Lazarus.
However, since it is a PvE game, it is possible that not everyone would enjoy it because the vast majority of people generally prefer PvP games instead.
8) Energy Assault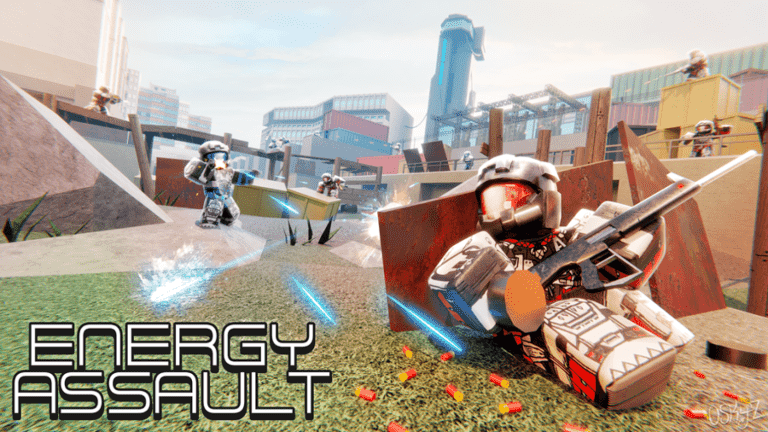 Developer: Developed by Typical Games
Visits: Over 180.3 million visits
Release date: Created on 1/1/2021
Favorites: Favorited by more than 781,000 users
Energy Assault is among the more recent Shooter games, and it has seen a positive response from the Roblox community. Its numbers have steadily increased since it was first made available last year.
In essence, each match in the experience lasts 10 minutes, and the side with the most points gets the win. Hill Control, Team Deathmatch, Free for All, Domination, Artifact, and Capture the Flag are the different game modes you have access to, and I had a great time playing them all.
Another exciting thing about Energy Assault is that it supports VR. Hence, if you own a VR headset, you can have loads of fun playing this shooter.
9) TRENCHES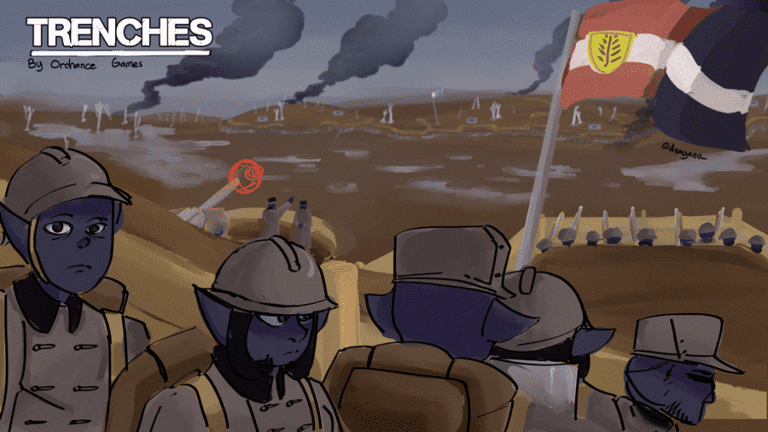 Developer: Developed by DYNΑMIC STUDIOS
Visits: Over 10.9 million visits
Release date: Created on 9/24/2020
Favorites: Favorited by more than 115,000 users
TRENCHES is an excellent example of a good third-person shooter, and it transports us to the World War I era. Each match in the experience pits two teams against one another in a potentially chaotic clash that might reach a scale of 25 vs. 25.
The numerous maps and the diverse arsenal of historical weaponry are two aspects of this shooter I liked the most. Also, the level of authenticity with which they portrayed the environment of the game was extremely impressive to me.
Nevertheless, the shooting mechanics can sometimes be imprecise, and aiming can be difficult. This was the primary reason I had to lower its position on the list.
10) POLYBATTLE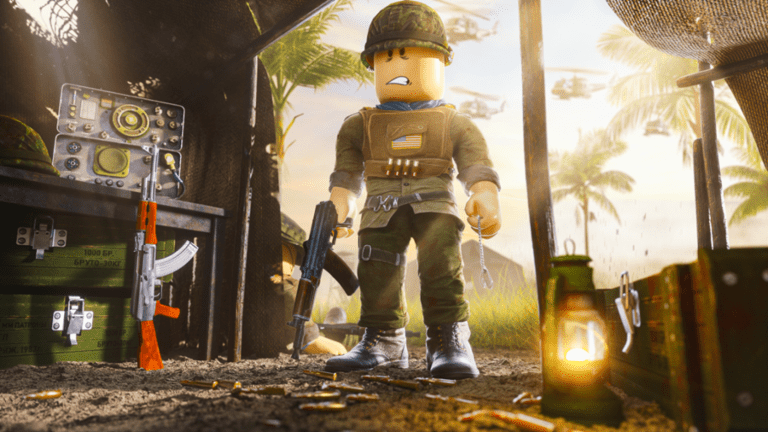 Developer: Developed by Moonlight Interactive
Visits: Over 176.9 million visits
Release date: Created on 2/22/2020
Favorites: Favorited by more than 904,000 users
The last game on this list is POLYBATTLE, and if you've played any Battlefield games, you'll probably find that it's pretty similar to them. The central premise of this Roblox Shooter features two opposing forces competing for control over different objectives.
There are many different kinds of vehicles, like tanks and helicopters, that you can use to take control. My favorite aspect of the experience was the range of soldier classes that each player could have.
In addition to all these, the extensive library of weapons and maps is remarkable and contributes to the overall entertaining nature of the game.
Honorable Mentions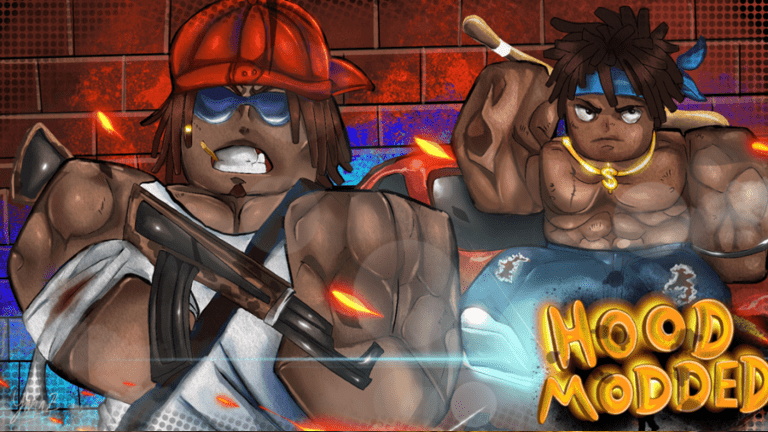 The following video games did not make the cut, but they are all worthy of an honorable mention and are fantastic options you can surely try playing:
Hood Modded
The Wild West
Notoriety
Combat Warriors
Military Combat Tycoon
It's possible that you'll end up loving some of these better than the ones that were listed before.
FAQs – Best Roblox Shooter Games
Question: What is the best Roblox Shooter game?
Answer: At the end of the day, the choice of which Roblox Shooter game is the best will come down to your own individual interests and tastes. The fact that "Phantom Force" has such fluid gameplay, in addition to its features, leads me to believe that it is the best choice.
I suggest you try out all the different shooters mentioned in the list above. Then you may choose the one that best suits your gameplay and playing style.
Question: How to make Roblox Shooter?
Answer: Creating a Roblox Shooter wouldn't be an easy task and would take considerable effort from your side. Regardless, the straightforward response to the question is that it is possible to create a Roblox Shooter by employing the Roblox Studio.
You will need to focus on the design, view models, and several other aspects to make the game distinctive compared to all the alternatives.
Question: How to choose the best Roblox Shooter?
Answer: When it came time for me to compile a list of the top Roblox Shooters, I examined the many selection criteria.
Similarly, suppose you want to choose the option most suited to your needs. In that case, you are recommended to set your own selection criteria. Once you have done so, you can check which games meet the profile and would be the best fit for you.
Conclusion
Hopefully, after reading through the list provided above, you were able to get a broad idea of the finest Shooters, their specifics, and other characteristics. Although it is never an easy call, you will surely be able to decide on the best one after studying the many alternatives.
If you found this list helpful, you can also check out the other listicles and guides on our website to dive deeper into Roblox-related content. Doing so will help you learn more about different popular experiences, merchandise, and more.