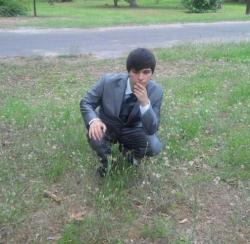 Latest posts by Cody Perez
(see all)
Roblox is a game where you can customize your avatar to your liking. Though they might look ridiculous in the end, you can even customize their socks and pick out the right pair for them. What I love about Roblox is that your passion for the game (and socks) doesn't have to stick with just your avatar. You can also bring it to the real world, if you'd like. That is where these cool Roblox socks come into play.
I have compiled together a list of some of the best Roblox socks and ideas that I have been able to find online. Roblox socks are notoriously a little bit challenging when it comes to finding them online as they aren't the most popular items, nor are they as common as something like a themed shirt or backpack. That said, I've had to scour the internet for these socks anyway to get some ideas for the upcoming holiday shopping I'll do, so I thought I'd go ahead and share with you some of the cool Roblox socks I found.
Bottom Line Up Front
The best Roblox socks ideas have to do with a few different factors. Price is always going to be essential but there is the nature of representing the game on the socks themselves. That isn't easy since the space on the socks isn't that large, so you have to pick wisely when it comes to the design you go with. Sure, you could buy from online retailers, or you could think of a design and then tweak it to have a custom socks seller create that special pair just for you or your loved one.
Selection Criteria
I'm pretty picky when it comes to buying clothing items for myself or my family, but the general rule of thumb is that I wouldn't share anything on this list that I wouldn't buy for myself or my family. The weird thing about socks is that they are just strange.
The shape of them and how the designs look aren't always the best, so I made some concessions with this list as even the best, most officially licensed socks out there usually don't look that great compared to other clothing items. That compromise quality is a massive part of why I recommend custom socks.
That said, I still required these socks to have some theme of Roblox and at least try to tie back to the game in some way. And they had to look good enough that I don't think someone would feel ashamed or disappointed wearing them.
Cool Roblox Socks Ideas
Without further ado, let's go ahead and take a look at the cool Roblox socks ideas that I came up with. There are roughly 16 in total, so I made sure to give plenty of choices for you to pick between. Honestly, though, you won't find any other socks on the internet that are worth your time other than these. This is about as good as it gets for Roblox socks.
This first entry is precisely the issue that I am talking about when it comes to socks and their designs. The World of Roblox design is a classic, taking one of the best key arts from the game and turning it into a clothing item version. This art works wonderfully for shirts, backpacks, and hoodies.
But in sock form, I'll be honest that the scrunched-up design looks pretty messy now. That said, it is still one of the better socks you can find with what you can see of the World of Roblox design looking colorful and detailed. It features a group of Roblox avatars hanging out in space in front of a planet.
When you can see the design better, you'll be able to tell that it captures the idea of there being an entire world for you to explore in Roblox.
I appreciate what these two socks did in this case. Knowing full well that you can't show an entire design on a single sock successfully, they divided it in half and showed part of it on one sock and the rest of the design on the other sock.
In this case, the design is seemingly unofficially Murder Mystery 2-based as we see two avatars with one coming up behind the other one with a knife to stab them. This feels like a Murder Mystery 2 scenario here, which is one of the best Roblox games around. The smart idea of having one character on one sock and the second on the other was brilliant.
Speaking of game-specific socks, this next pair includes two socks that are themed around the also popular and quickly rising Pet Simulator X. This is the prime example of how to make the design work in sock form. Instead of doing something wild and massive, there are tiny little pets that appear all throughout the socks.
You have some pets that are cute pink bunnies, some adorable little cats (I think?), and more. They appear to mostly comprise the starting pets you can have in the game. This is just too adorable and absolutely a must-have for fans of Pet Simulator X or any other pet-themed Roblox game. I wish there was more customization in terms of the sock colors because this weird pale yellow color isn't for everyone.
Where would this list be without the most giant Roblox game of all time not having some representation on it? These socks are similar to the previous ones, honing in on the types of pets that you can collect in Adopt Me. The little chibi versions of the dog, fox, cow, and dragon are so adorable.
They perfectly captured the look and feel of the Adopt Me pets, with them repeating all throughout the socks. Again, though, this is another situation where you can take this idea and hand it off to someone else because these sock colors are once again a little bit disappointing for me.
This trend of eating, sleeping, playing Roblox, and repeating is everywhere when it comes to Roblox clothing items. In this particular case, I think it is the strongest location for this trend. It's a little bit weird to me when you find this design on a shirt or hoodie, but it works surprisingly well in sock form.
These are just long, plain black socks that have the words Eat, Sleep, Roblox, and Repeat on them. Each of the words use a different color to differentiate between them. I think these would be solid holiday socks for a winter vacation for a kid to lounge around in as they literally only eat, sleep, and play Roblox all day long.
This is one of the most original designs on this list and perhaps the most impressive socks in that way. These Roblox socks have an artistic approach, simply showing off a mosaic of various Roblox avatar faces throughout them.
It is a more reserved approach, not clearly revealing that this is based on Roblox but also showing some love for the game in the form of the different smiley bloxy faces. I appreciate all the random colors for the heads and the squares alike that add a nice touch of personality to these smartly designed socks.
These particular socks are for a specific player out there who connects with and loves this avatar's design. The avatar appears to be a blonde female character, and we can see her cutesy anime facial expression and the long single ponytail braid that she has.
I have seen a lot of Roblox players who literally look like this girl in the game itself, so I imagine that they will appreciate it. The most important part of this sock is what I said about personalizing it. You could take this idea and mold it to whatever avatar your loved one uses and then turn that into a similarly designed pair of socks.
In the case that the last pair of socks might not be for your loved one who plays female characters, this pink squad might be, instead. This is for the room's pink lovers who also like Roblox. Everything about this sock is pink from top to bottom, including even the background of the socks and the tweaked Roblox logo.
Well, that is except for the four girls who are in the design of this sock, as they are mostly wearing blue jeans and darker clothing. But they are all different designs so that they can appeal to a broader set of players. If you're looking for a sock that can appeal to possibly your daughter or other loved one who adores wearing everything pink, this is the sock to go with.
This particular sock design is, by and large, the same as the last entry on this list. That said, I want to point out how it is similar but changed enough to give off its personalized vibes. You have the same group of four Roblox girls hanging out with one another.
But, instead of appealing to the pink fans in the crowd, this one is for those who might be a bit emo, like I was back in the day, and is all black. This even includes the logos that are now white instead of pink to match the overall color scheme. These minor changes are enough to make this feel like a totally different pair of socks, even though they have the same design. This an excellent example of how switching up someone else's design can have a dramatic effect.
Adopt Me is back once more for the millions of fans of this game, and this time we have a more focused approach. Instead of spreading out and showing off many different pet designs, this one is all about the single dragon pet that is so iconic in Adopt Me.
You have the chibi little red dragon with a rainbow and a gorgeous, playful grassy area behind it. There is the Adopt Me logo and some base black socks. I think the mix of the darker colors of the socks and the colorful dragon design is a bit weird and almost clashing, so this might be one place where you take the idea and apply it to your own custom socks.
This is one of the cutest socks that I have ever seen for Roblox, and I can tell you right now that I am very much considering buying these, not for a kid, but for an adult loved one I know who absolutely adores Axolotls. If that is you, you are in the right place for these socks.
Though it isn't abundantly clear, it seems that these socks are based on the Axolotl pet design from Adopt Me but with some minor changes. The pet itself is highly detailed, from the ears to the cutesy anime-style eyes to the heart it holds. After all, it is true that this beautiful creature is definitely stealing the hearts of anyone and everyone who sees it. This is actually a unique case of mixing black and pink together, and it strangely works super well.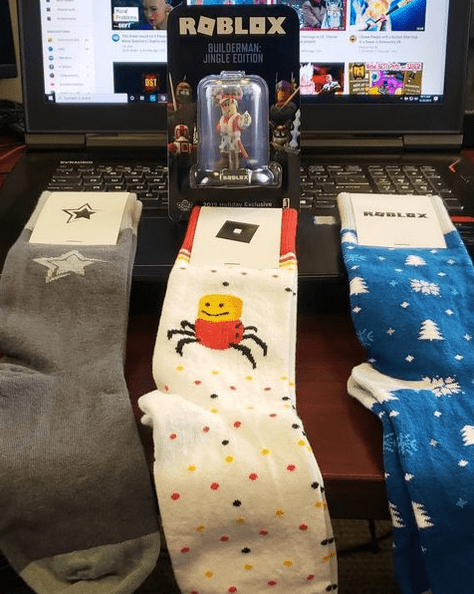 When it comes to quirky and bizarre socks out there, these spider man (not that Spider-Man) Roblox socks are as strange as they come. As you can see, this Instagram post shows off several official Roblox socks, but for this particular entry, we're focusing on the Roblox spider man socks first.
There isn't much happening here, but you have the little default Roblox avatar that happens to have spider arms and legs instead of normal ones. This is cute and slightly terrifying all at the same time, with the focus solely on this design. Not much else is happening on these plain white socks, other than a few polka dots here and there. There are likely some kids you know that would appreciate this odd-sock design.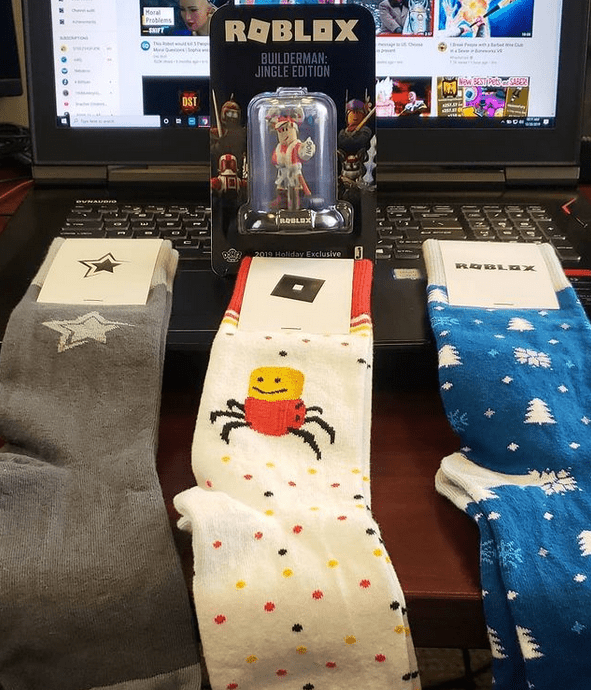 Continuing from the same Instagram post, the Roblox Corporation also sent this content creator a pair of socks that are themed around the winter. Now, ignoring the fact that I didn't receive any back then, these winter socks are ones that are not just great for the colder months but for just about anyone.
Whether you are a kid or an adult Roblox fan, these socks are plain and simple enough to appeal to a wide range of people. In fact, it is honestly hard to tell that these blue and white socks are even Roblox-themed outside of the logo that we can see. But if you're someone who wants a more subtle design that doesn't make someone go "oof" when they see your socks, these socks might be for you.
It is time for the rare entry on this list that finally gets the idea of what I've been talking about when it comes to personalizing your socks. These socks are as straightforward as they come. The only Roblox motif here is the single image of the classic shining teeth Jack Roblox character who gives Chip Skylark a run for his money.
The main idea here is to personalize these socks by picking which color you want them to be. AliExpress offers about 12 different colors, ranging from black to yellow and just about everything in between. I'm a fan of the light blue, green, and black socks, personally, but a lot of them work.
You could even take this idea and apply it to your own avatar's face with a custom design company. It's simple enough that it shouldn't break the bank to make a custom pair like these.
For this final entry on here, it is a five-in-one situation. These official Roblox socks from Kohl's include five different pairs in a single purchase. That is an impressive deal considering that this is roughly priced the same as some single pairs of socks on this list. Since there are five in total, here are some quick thoughts I have on them:
Each pair has a different character focused on it, which gives some nice variation and almost an entire week's worth of Roblox goodness
The character-focused nature is impressive with the large avatar styles
The artwork is gorgeous and reminds me of Star Wars
You have different characters ranging from an astronaut or robot to a suave Han Solo-like person
I highly recommend these socks as a gift for a kid you might know who wants to wear Roblox socks all week long. It might even help them to change their socks every day, too.
FAQs – Cool Roblox Socks
Question: How much are the Mismatched Socks in Royale High worth? 
Answer: When the Mismatched Socks in Roblox Royale High first came out, they would cost around 2500 diamonds. Nowadays, they are worth around 3000, but you can sometimes find someone who goes for less.
Question: What are the best Roblox socks? 
Answer: The best Roblox socks will be subjective to every person's differing opinion. However, I would give it to the Roblox Pop Art socks or the Axolotl ones. The former is fantastic for being colorful but unique. However, if that is too much color for you, I could see the simplistic Axolotl ones working as well.
Question: How to make leggings in Royale High? 
Answer: For those who want leggings and the ability to still wear bottoms or socks if they wish to, there is a weird Royale High hack. What you want to do is change the avatar's skin color to that of the leggings you want, then put on boots, change them to match the color of your leggings, and then switch your skin color back. Your legs should appear like leggings now.
The Roblox Merch You Need Next
What I love the most about socks is that they remind me of those winter months. My favorite season of the year, plus the fall, which is also quite good, are the best times to wear some cozy socks and play video games like Roblox all day long. So, once you've settled on some socks to purchase, there are other clothing items that go well with socks.
For instance, there are the best Roblox hoodies that you could buy to add to your clothing collection. Hoodies are also a nice fit for those colder times of the year since they will add some layers on and keep you warm. They also give off that cozy feel that socks do, and, thankfully, there are a fair number of Roblox hoodies you can find to match the socks you just bought. For kids, in particular, these could go quite well together as a package deal for a birthday or holiday present.
Recommended Reads: