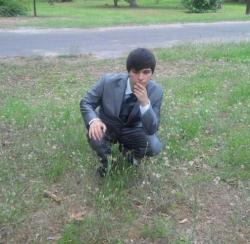 Latest posts by Cody Perez
(see all)
The struggle is real in Bloxburg when it comes to creating your house. The sky (or, well, the sixth floor) is the limit in this Roblox experience. I have always adored Bloxburg for its freedom but I will be the first to admit that my creativity has stalled at times when building my house. If you're ever like me, I have some of the best Bloxburg family house ideas to help you out.
I know that some of my family members that I play with always want us to create a house for everyone to hang out and roleplay in. I'm not a professional builder by any means so meeting their expectations has been a struggle in the past. That is why I have used other houses that people have built-in Bloxburg and even real-world houses in the past as inspiration. That exact inspiration is what I will be sharing with you today with these best Bloxburg family house ideas.
Bottom Line Up Front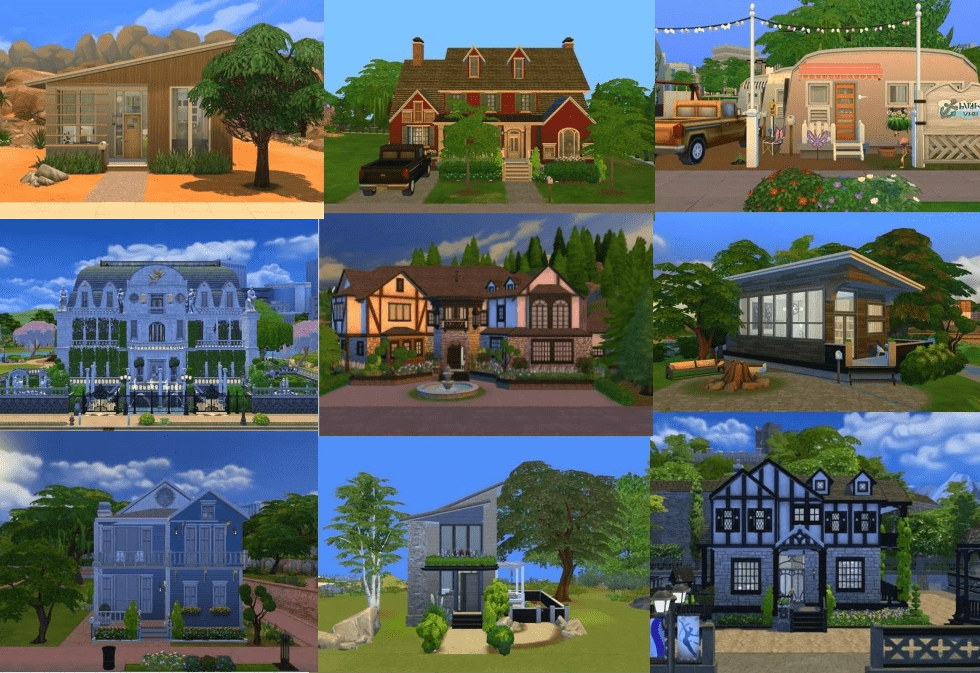 The best Bloxburg family house ideas are the ones that are wildly different from one another. I've come up with ten of the best house ideas I have found, including real-world houses that someone has built and those that other Bloxburg players have made.
Again, these are ideas, though, so players should always strive to take inspiration from someone else but not copy it exactly. You should always put your own spin and twist on whatever idea you take. This way, you will have some originality in your Bloxburg and build upon your creative skills to get better at building gameplay.
Bloxburg Family House Tips
I will be the first to admit that I am not an architect and building a house in Bloxburg is always a daunting task for me. In fact, this is why I made a single mansion estate in the game and have only adjusted it since. This is because it was such a hassle and obstacle for me to overcome.
With that in mind, here are some of the best tips I have come up with over the years since starting Bloxburg. These are the tips you should keep in mind to have the most effective building:
Take inspiration from real-world houses and houses other Bloxburg players have made. The reason for this is that you can mash two ideas at once. Perhaps you like the large, transparent windows on the wall of one house but the central courtyard of another. Take the two ideas and mash them together.
Feel free to take actual floor plans and use them as inspiration. You won't see me share images of floor plans on our site for legal reasons but bear in mind that floor plans are sometimes public photos you can see. This makes it an exact science of building your Bloxburg house, rather than guessing from a picture alone.
While our money might be scarce in the real world, that isn't the case in Bloxburg. Feel free to build whatever you want and imagine. Do you want that mansion? Go for it!
Try not to let others dictate your house too much. Your friends and family who play may want to give their input but it's your house in the end. Make it your own.
Lastly, you're going to need money for these houses. Be sure to grind those pizza deliveries as much as possible since this is the best way to earn cash in the Roblox game.
Selection Criteria
Let's be real: you could use countless house ideas for Bloxburg. Heck, just go on Facebook or Instagram and see your friends' pictures of their houses, and you can recreate them if you want. But that doesn't necessarily make a home the best house idea to use.
As such, I have some criteria that I used to come up with the best housing ideas for Bloxburg. This is what sets apart a special home from the random cookie-cutter house ideas:
Originality: This is by far the most crucial aspect for me. If I don't find a house to be unique in some way, I'm going to look elsewhere.
Style: In the same vein, I find a lot of homes today are nondescript copycats of one another. In fact, I've seen entire neighborhoods that are all the same house over and over. I need a unique style that is wholly the house's owner.
Difficulty: As mentioned, I am not the best builder in the world, so difficulty matters to me. I am going to include houses that anyone can make and some that are only for the building masters to appeal to all sorts of Bloxburg players.
Budget: In the same vein, I tried to include houses of all sizes and budget types here, too. These are all quality houses, but some are cheaper than others to make so you don't have to spend weeks in the real world grinding for cash.
Family theme: This is all about the best Bloxburg houses for families. As such, we aren't going to be making some single person's lavish pad to hang out. These are going to be homes with multiple bedrooms to accommodate parent(s), kids, and other relatives.
Best Bloxburg Family House Ideas
Without further ado, let's dive into the best Bloxburg family house ideas. I have come up with ten Bloxburg family homes that you should check out. These are in no particular order as these are simply ideas. This article isn't to rank the best Bloxburg homes of all time. That is for another time.
Let's dive in and find some inspiration!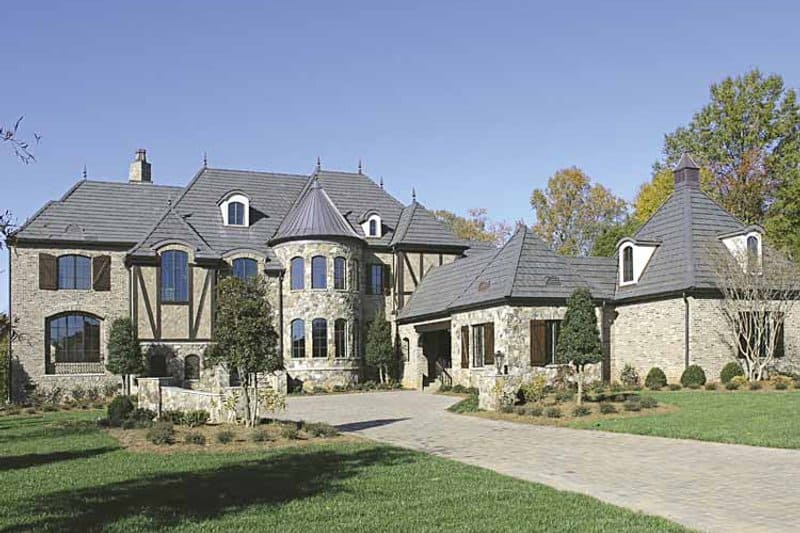 Building Costs: $500,000-$750,000
Building Difficulty: 7/10
This European-style modern mansion is one of the most stunning homes you could use for inspiration in Bloxburg. I appreciate that it falls into this excellent category of being a decent challenge but not too wild that you could struggle with it.
If you are looking for a starter mansion to begin with, this home is the right one. It will cost you a lot in the long run, but it has such a simplified structure. The only part that will stretch your creativity is the beautiful centerpiece castle tower-like central area.
If you can replicate the driveway, that would be fantastic and add to your plot. In addition, I love the extra garage and housing area that is off to the side of the driveway. This could be perfect as a guesthouse for your friends and family.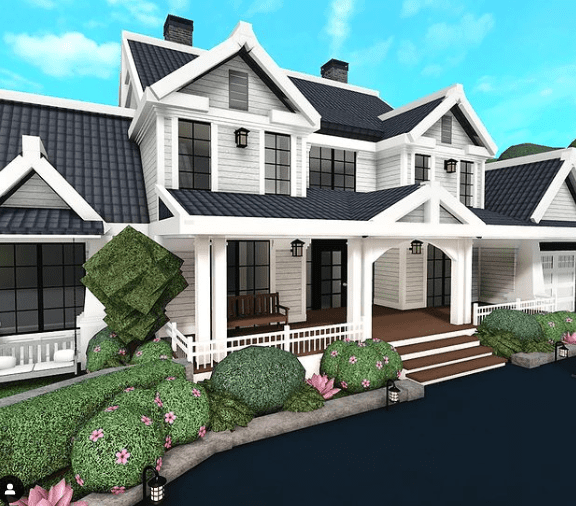 Building Costs: $300,000-$500,000
Building Difficulty: 6/10
The farmhouse style is one that is shooting off in popularity these days, even if I'm not a massive fan of it myself. That said, if you want one of the best-looking farmhouse-style homes in Bloxburg, take some inspiration from the always impressive and stylish thymen_builds.
This is a nice basis for building your own home, which I recommend. Take the idea, maybe spruce it up with some different paint and framing, and make it your own. The cozy nature of the home is accentuated by the lovely greenery in front and the cute patio area.
If you want a great starter home for your entire server to hang out at, this is the one.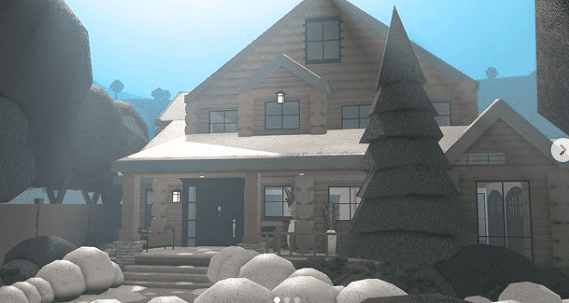 Building Costs: $150,000-$300,000
Building Difficulty: 5/10
Imagine for a moment that you aren't in the middle of a small town in suburbia Bloxburg. Instead, you are in the middle of the woods with no one else around for miles. That is the atmosphere that this luxury log cabin gives off. Making a log cabin is quite easy in Bloxburg.
But in this case, we have a luxury one with numerous bedrooms and plenty of space for everyone to hang out. Heck, if you want to make it creepier, you can even make it into a horror log cabin to roleplay murder mysteries and the like. Or it could simply be a wonderful wintery home to spend time by the fireplace, both in-game and in real life.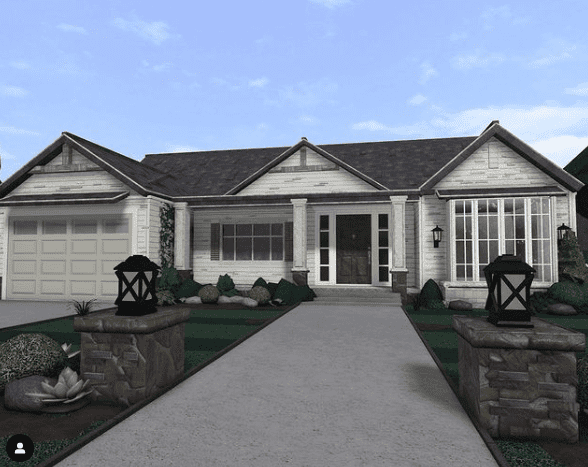 Building Costs: $75,000-$200,000
Building Difficulty: 4.5/10
I understand that earning money in Bloxburg can be challenging, but at the same time, you want to juggle having a wonderful home. So, for newer Bloxburg players, it can be insanely tough to try and have a lovely home that you've built with your own hands while still leveling up your jobs.
In this case, I recommend this single-family one-floor modern suburban home. This is the type of home you might see in a neighborhood with classic middle-class family vibes. It might even be a home that you really grew up in.
The idea here is to use this home as a template to make your own. I know if I were making this one, I would change up the border colors, likely the material used for the outside, and turn it into a double garage instead of a single one. But there is something to love about the simplicity of its beautiful and clean nature, as seen in the driveway.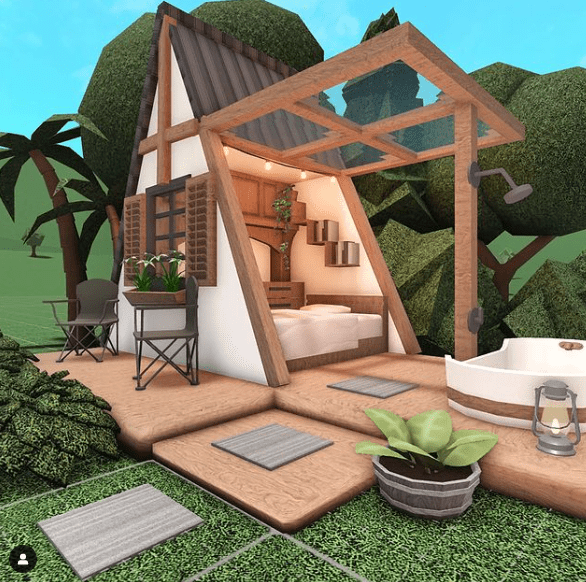 Building Costs: $25,000-$100,000
Building Difficulty: 4/10
There is something to love about the creativity and what people come up with in Bloxburg. You can take any idea and make it beautiful, as seen in this insanely cheap but luxurious-feeling outdoor home. It is basically like a massive tent cabin home for one to hang out in.
It has an outdoor vibe to it, with the bedroom exposed in this triangular-style house. There is a bathtub on the patio area, likely for bathing purposes. There are some chairs for lounging around, giving off some glamorous camping vibes.
If it were me, I might take this idea and change it up some. Make the tent-style house a little larger with a full kitchen and extra bathroom behind the bedroom. I would probably close off the bedroom space but with some large windows so that you can still see outside well.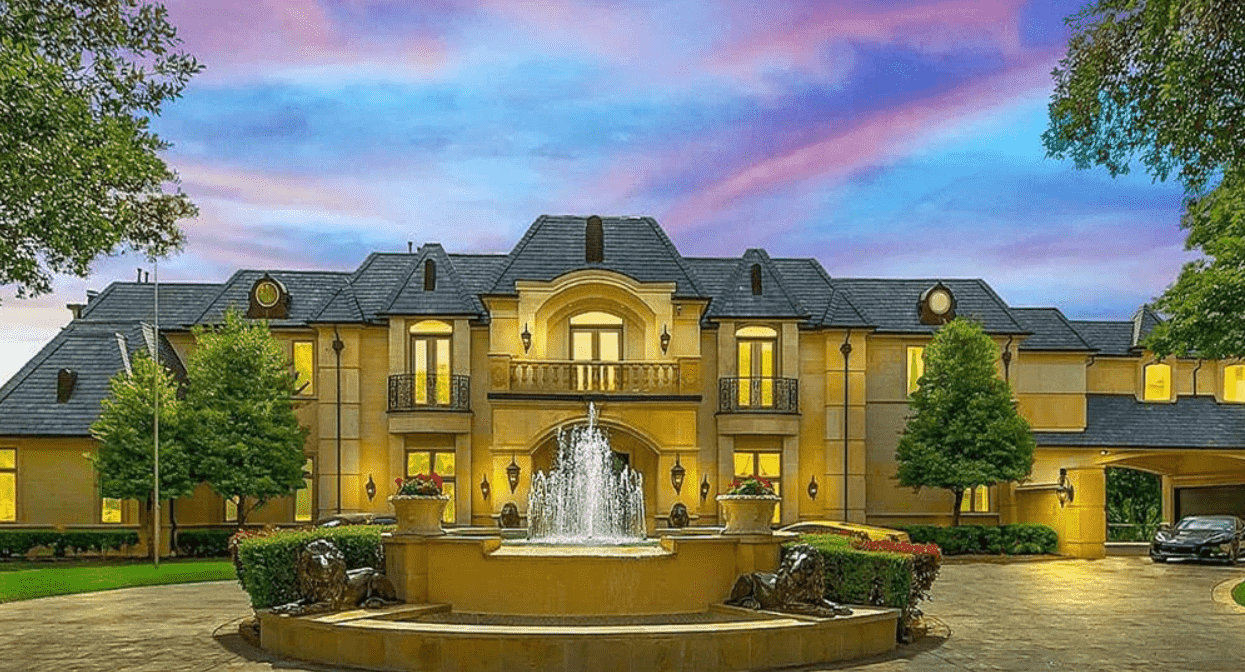 Building Costs: $1.5 million-$3 million
Building Difficulty: 10/10
Now it is time for a life of luxury to the utmost extent. The sky is the limit in Bloxburg, and if your cash in the game says the same, you could go for the most expensive house on this list with this Villa Valente-style home. This is a real home with an actual floor plan attached to it.
Now I will put a disclaimer that you shouldn't use the floor plan that is included at the above link as you are supposed to buy it if you're building a real home, but what you do from here digitally is up to you (wink wink). This is an upscale, unmatched villa estate with more than eight bedrooms, 12 bathrooms, and more.
There is an entire courtyard, some pool areas, an outdoor patio, and so much that is happening here. This is a long-term project, but if you can finish it off, you'll rank up there with the very best Bloxburg homes of all time. This is a challenge that I almost want to take on myself.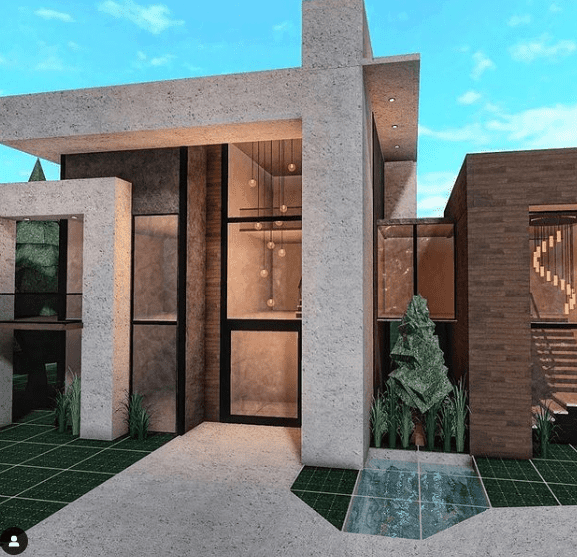 Building Costs: $200,000-$500,000
Building Difficulty: 5.5/10
The modern home style with the large windows that let you see into the house well is one that I am all about. These gorgeous homes are a style that I would love to have someday, so I have to fulfill my desires through Bloxburg. This example home from a real Bloxburg player is a prime version of it.
I would consider this an essential modern home with the structure and style as a foundation for making your own unique version. It nails the idea of having an open space with plenty of natural lighting and warm fixtures in place.
I appreciate the mix of materials, too, with the stone pillars mixing with the concrete and then also mixing with the reddish brick style. I would probably even out some of the architecture to not have so many loose pieces hanging out and deal with the staircase situation on the side.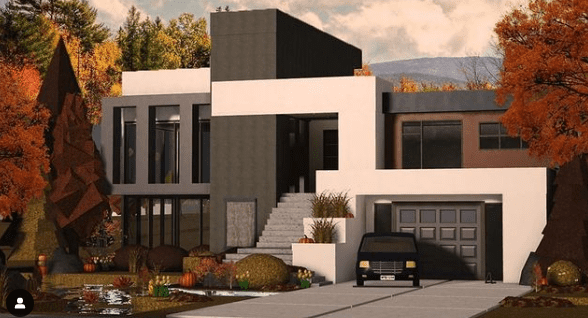 Building Costs: $300,000-$750,000
Building Difficulty: 6/10
If the last modern home was the basic one, this is the home that is the luxury version of it. It will cost a lot more but also give you a lot more space in the end. What I appreciate about this one is that it goes for a darker, more relaxed theme for those of you who enjoy that style.
You have a nice mix of the closed-off privacy of an estate but with some areas, like on the left side, having large windows for natural lighting. It also nails down the mix of materials and colors, along with a terrific entrance area and garage.
If it were me, I would probably change this one up with a better second floor, especially on the left side. I would open it up even more and offer a massive floor-to-ceiling window section for the living room there. I would also put a gigantic backyard and pool area in the back, maybe with a guesthouse.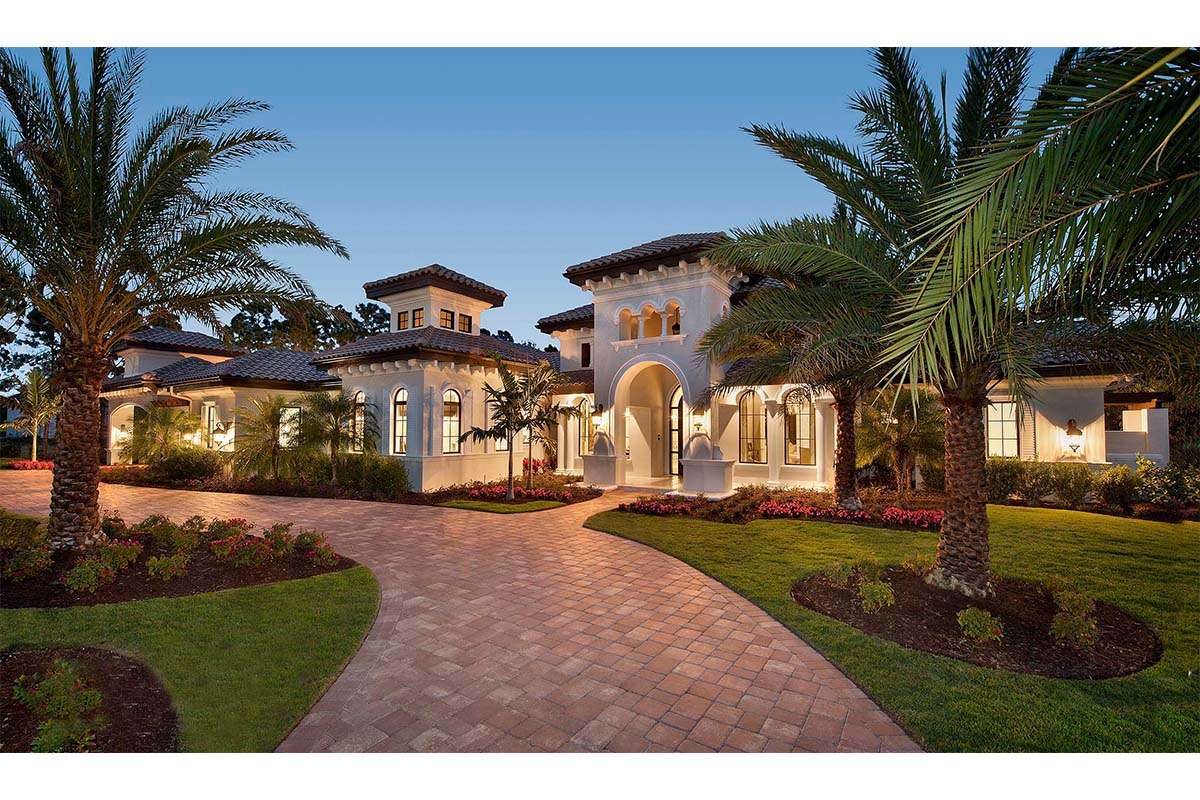 Building Costs: $750,000-$2 million
Building Difficulty: 8.5/10
I don't know about you, but I am a beach and coast lover. I grew up by the ocean and have always lived by the water, no matter if I was living in California, Texas, or Japan. It's part of my lifeblood, and this is something that I feel is missing far too much from the Bloxburg style.
This real-life home (with the plan included at the link) is a coastal beach mansion that I wouldn't mind retiring in if I were a millionaire. It has a nice mix of a mansion, estate, villa, and coastal style. You can see the palm trees around it, the circular entrance driveway, and the almost Spanish-style architecture.
All of this can be recreated in Bloxburg with your own touch. I would probably change the painting style and add more exterior lighting. I would also make the pool area much more prominent, as it feels pretty tiny compared to the rest of the home. Plus, it could give off a mini-beach feel this way. I also don't think I would put the garages so far off to the left.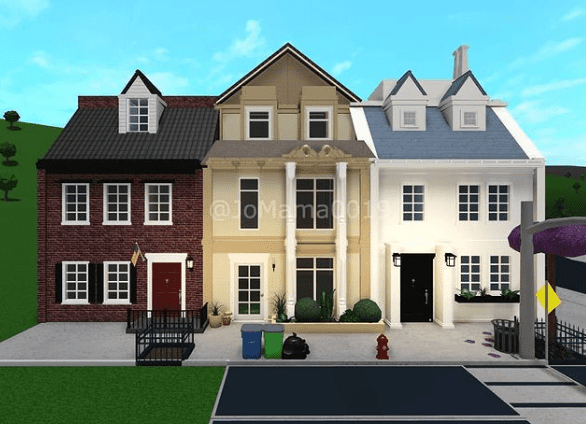 Building Costs: $100,000-$300,000
Building Difficulty: 5.5/10
How about this New York City-style townhome row for those who want to feel more like they are in the middle of the city? What I love about this set from jomama0019 (great name, by the way) is that it features not one but three townhomes in a row.
It gives some brilliant ideas for how you could create a mini-neighborhood within your single plot of land. I also appreciate how each townhome is radically different from one another. You have the red brick one, the yellow pillar home, and the standard one colonial-style one.
You could mix it up with your own styles and then rent them out to your friends or other players on the server. You could make far more than three and offer up a shared pool and other amenities for the residents. This also inspires me to make a luxury apartment complex, as that would be another brilliant idea. I love the community vibes of this Bloxburg multi-family style.
FAQs
Question: How do you Make a Family on Bloxburg? 
Answer: You can make a family in Bloxburg by interacting with the player you wish to add to your family. There will be a permission area where you can give them permission to access your house. If you want them to have full access, you can make them part of your family or just a roommate if you only want them to be able to come and go as they please.
Question: What are Good RP Ideas on Bloxburg? 
Answer: Many of the houses on this list are the best roleplaying ideas for Bloxburg. They offer several rooms for you to check out and divide between your friends and family. If you want one particular housing idea, I will give it to the townhome idea. It's cheap and lets you create multiple small homes on a single plot for everyone to share. It'd be like creating your own community and game within a game.
Question: Can you Donate 50k in Bloxburg? 
Answer: Yes, you can donate 50,000 in Bloxburg, but not everyone will be able to. By default, players are able to donate only up to 10,000 to another player at one time. But if you are a premium Bloxburg player, you'll be able to donate up to 50,000, which can be quite helpful for jumpstarting a housing project.
Time to Make Money for These Houses
Hopefully, this list was able to give you some inspiration for making the Bloxburg family home of your dreams. This can be a daunting task, but if there was one tip to take away from this, it is to start small. Begin with an entryway, bedroom, or garage, and go from there.
Make a cozy little room for you to sleep and get ready in every day, and then build on that as you earn money and can eventually achieve the dream estate for your family. In the meantime, the most challenging part about this situation is making enough money to build the Bloxburg family home of your dreams.
If you're struggling when it comes to grinding and making money in Welcome to Bloxburg, all you need to do is focus on grinding out the same job over and over. But what is the best job in all of Bloxburg? I'm glad you've asked. I previously ranked every job in Bloxburg to give you the best ones to grind.
Related read