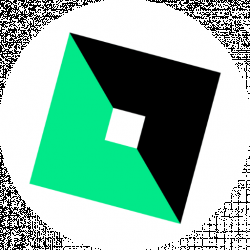 Latest posts by The Blox Club Team
(see all)
Role-playing games are a popular genre in the Roblox community, and many consider 'Welcome to Bloxburg,' generally known as 'Bloxburg,' to be one of the best options. Playing it is a great way to spend your time, especially if you want to discover new experiences on the platform that you can enjoy with your friends.
While in the city of Bloxburg, you have the opportunity to purchase unique homes and vehicles and engage in a vast array of other activities. Plus, the developers also allow you to modify and tweak many in-game aspects.
One of the things you can do is establish particular Bloxburg color schemes to match your aesthetics when designing your home. Accordingly, having unique ones can help you set yourself apart from regular users.
Roblox Bloxburg Color Schemes Up Front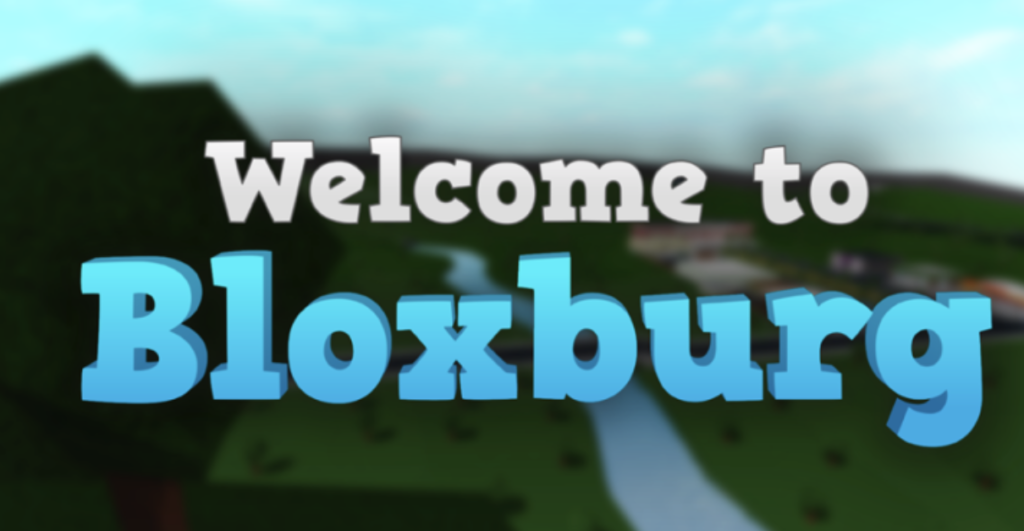 Bloxburg has many different colors to choose from, and color schemes are a vital facet to consider while building up your house in the game. Utilizing colors complimenting each other can help your build/design to look visually pleasing.
Although implementing these can depend on personal tastes, selecting an appropriate set of colors can significantly benefit you to stand out from the crowd. As a result, there is always much discussion in the Roblox community about finding color schemes.
Things to note
Before settling on a color scheme, you need to give careful consideration to several factors. The first and most crucial thing you need to do is make sure that you have enough money accessible in Bloxburg to purchase the colors you need for the build you are making.
Second, you have to decide which tones/shades of the color you want to use because every color has many different possible variations from which you may select one based on how you see their appearance. 
Later, you can dive into the build mode and use your creativity to design the best-looking home.
Build mode in Roblox Bloxburg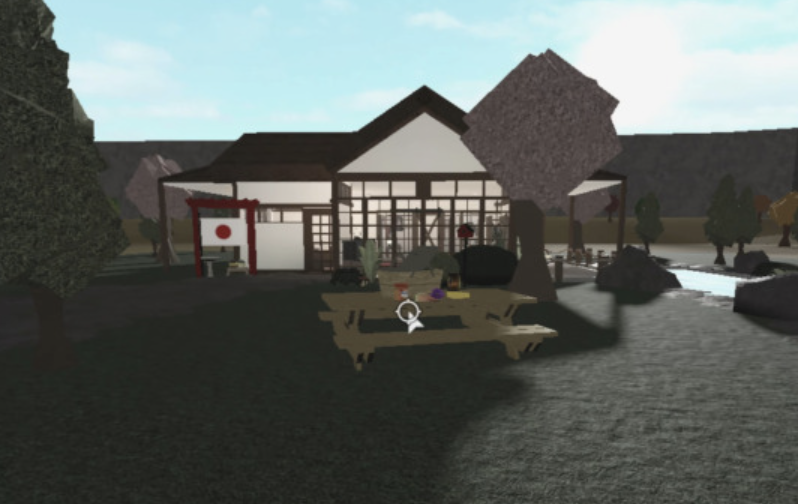 An advanced building system, which in Welcome to Bloxburg is referred to as Build Mode, is a feature that helps users in the process of designing homes. It offers basic building items like shapes, fences, mailboxes, roofs, stairs, vehicles, trash, pools, walls, paths, pillars, windows, etc.
Apart from that, you also have access to decoration items like appliances, carpets, lighting, household, tables, storage, comfort, electronics, curtains, instruments, and more. The list of things continues to grow as developers incorporate new updates of Bloxburg.
To acquire each item, you will have to spend the in-game currency attainable through various activities like working at a job, collecting daily rewards, growing and harvesting fruits, and more. 
Best color schemes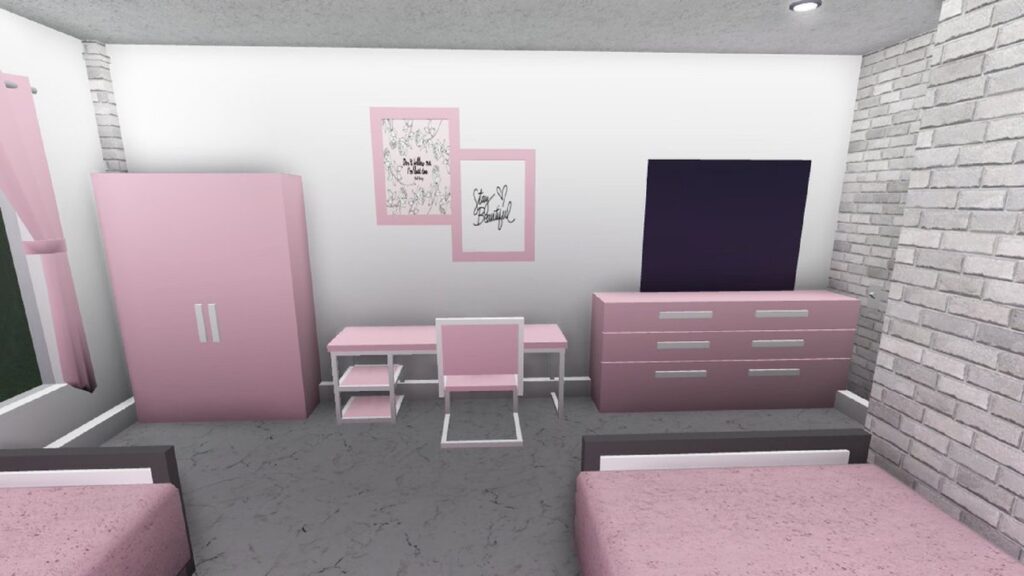 These, in my judgment, are some of the best Bloxburg color schemes that you may try out to give your Bloxburg house a distinct appearance:
1) White + Pastel blue-green + Black
Your home in Bloxburg might have a more futuristic feel with the help of this color scheme. To begin, the main hue, which would be white, would be scattered throughout the entirety of the home, with corner pieces being a pastel blue-green and black in some places.
If you choose these colors, you will also need to complement the interiors by making extensive use of products based on technology because this will improve the appearance as a whole. It is also recommended to use concrete as the flooring, as this would aid in matching the atmosphere of the entire space and make it look even better.
From my perspective, you can employ fancy furniture such as the Sleek Sofa, Sleek Armchair, and others to add to the aforementioned futuristic feel of the color scheme.
2) Blue + Institutional White + Grey
A color scheme consisting of blue, institutional white, and grey is one that you could use in your in-game house to give it a more modern appearance. These colors blend nicely with one another, and you can use them interchangeably to paint the walls as well as other items like the floor and more.
With the correct lighting, these colors may come out to be pleasantly bright and will be a view to admire at night time while also giving an elegant appearance during the daytime. Additionally, you are free to adjust the degree of blue and grey according to your taste; however, institutional white must be the main base.
I also propose that you include the Modern Dining Table, Modern Bookcase, and Modern Chair as furniture since they will enhance the aesthetic and make the entire design feel better.
3) Different shades of Pink + Brown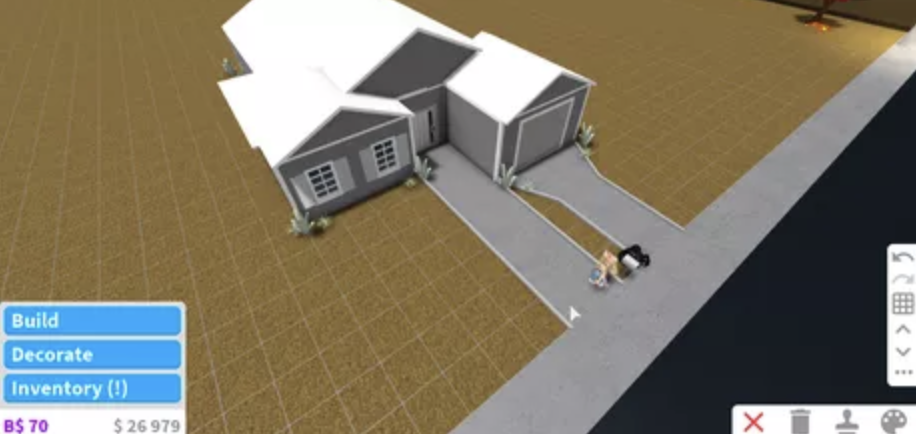 There are several varying shades of the pink present in the game, which is why this design has the potential to be an excellent option to go with. You can first make pink the dominant hue. After that, you may incorporate its different tones while also adding the brown color to give the impression of a wooden texture.
Even though an all-pink design might not suit everyone's taste, it can look absolutely gorgeous in Bloxburg. It is possible that the finished product may resemble a dollhouse, which can serve as a source of creative motivation for the interiors.
To complete the look, I personally believe that the character's clothing can be set to pink and similar tints to go together with the house's color scheme. Other than that, you are encouraged to incorporate whatever pink-colored furniture you would like.
4) Cadet Blue + Wheat + Gold
By using a color scheme that blends cadet blue and wheat, you can give your house in Bloxburg a magnificent appearance. These two colors create a relatively clean look, and you may opt to further enhance the overall aesthetics by adding gold, which, owing to its shininess, is likely to draw the viewers' notice and cause them to stop and stare.
This specific color combination will perform brilliantly while constructing a villa-style home within the game since it will meet the overall ambiance requirements. However, there can be alterations made by employing other bright color options to draw the public attention. As far as I know, a few brighter colors that would look better with this set would be orange, magenta, and white.
Meanwhile, when it comes to furniture, I think that things like the Elegant Counter and Elegant Sofa would match the aforementioned color scheme
5) Green + Linen + Pastel Yellow  
If you want to try something different from the typical users of the game, you may create a green-themed house while using linen and pastel yellow for the walls as they give a calm feel. This will surely provide a unique appearance, but you will have to put in a lot of effort to match the colors of the interiors to this distinctive design.
Also, because the main color is green, you can employ elements such as grass and others to fit the entire look appropriately. Moreover, in the event you do not prefer linen or think it is overused, you may incorporate Dark Stone Gray.
Another amazing idea I have for this green-themed design is to use plants like the Overgrowth Floor Plant and the Sapling Floor Plant to create an environment-symbolizing atmosphere.
FAQs
Question: How to enter Build mode and start building?
Answer: Because accessing the Build mode is a necessity for building, you will have to do so to start designing your house. It is possible to easily access it within the game by interacting with the mailbox automatically present at the front of your plot in Bloxburg.
You may also press the 'House' button, which is placed on the right side of the screen when standing on your plot. Subsequently, to paint/color your wall, simply press 'F' on your keyboard or click on the 'Paint' button to open the palette.
Question: Why do we need color schemes?
 
Answer: Color schemes are required for any architectural build since they are important in determining the entire aesthetics. Establishing them in your house in Bloxburg allows you to not only please your own eyes but also impress the other users that are playing alongside you on the server.
Subsequently, it is not hard to comprehend the rationale behind the large number of people that eagerly look to find the best color schemes they may implement. I generally concentrate on the color scheme as I wish to give a personal touch to my house within the game. 
Question: What is the size of builds in Bloxburg?
Answer: You might be curious about the dimensions of the Bloxburg plot you possess; in essence, the size of each one is 30 x 30, which translates to 900 units in-game. If you wish to make the plot even bigger, you may spend 250 Robux on a Large Plot game pass and do so.
As soon as the purchase is finalized, the dimensions of the house plot will increase to 50 x 50, leading to a total of 1500 units. You will have a significant amount of space as a result of this, which you can use to complete the construction of your house, develop extra content like having a backyard, and so on.
Question: Can we design houses with more than one floor?
Answer: The house in Bloxburg that you own comes with only one floor by default, and you have the power to customize that one floor in any way you choose. However, if you spend 300 Robux for the unique Multiple Floors game pass, you will unlock the ability to construct up to five floors within the game.
In addition, you can go ahead and purchase a basement game pass to construct a basement beneath the first level. That pass will cost you 100 Robux and, in my view, is a great option if you want to create multi-story houses in the game.
Question: How to choose the best colors in Bloxburg?
Answer: Completely copying the ideas for colors may not be the most outstanding choice for you, and the overall selection must be made based on your preference to match your entire vibe. You may essentially scroll through the different options prevalent in the game and select the desired one.
Apart from that, you can also search the internet to find gradients which fit well together. According to me, a few of the good options that you can incorporate include:
1) Blue + White
2) Black + Gold
3) Red + Blue
4) Orange + Yellow
5) Green + White
Conclusion
As shown above, color schemes play an essential role in the design of houses in Welcome to Bloxburg. Choosing them may be a challenging undertaking and would require a lot of ingenuity to come up with something unique. However, once accomplished, you can quickly proceed with your build.
If you want to learn more about the game, I would suggest you to read our general overview guide. There, you may learn about the numerous roleplay activities that you and your friends might participate in.
It also thoroughly defines the Bloxburg Universe, assisting you in comprehending the many facets of the game.
Recommended reads: