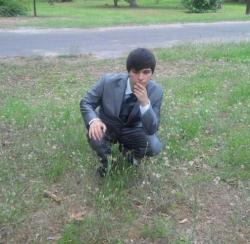 Latest posts by Cody Perez
(see all)
Welcome to Bloxburg gives the freedom for you to be whoever you want and do whatever you want in the small Robloxian town. You can build your house however you like or just run around roleplaying and annoying your neighbors. Either way, though, you'll probably want to earn some money to fund your exploits. This is where this Bloxburg best jobs guide comes into play.
The jobs in Bloxburg allow you to earn cash that you can then use to buy items, vehicles, and even materials to create the home of your dreams. This is the primary form of making money and arguably the third pillar of gameplay in the title, alongside building and roleplaying. But with so many jobs, some of which are confusing, it can be overwhelming to figure out what's best. Thankfully, I have the answer for you in this Bloxburg best jobs guide.
Bottom Line Up Front
The best Bloxburg job has to be the pizza delivery person. When it comes to the dozen or so jobs in Welcome to Bloxburg, the pizza delivery job excels in every category. Even at the lowest level, you're making a fair bit of money per delivery, but it only increases the more promotions you receive and if you have the game pass unlocked. This is the most profitable and arguably the most fun at the same time due to what it allows you to accomplish in-game.
Bloxburg Jobs Explained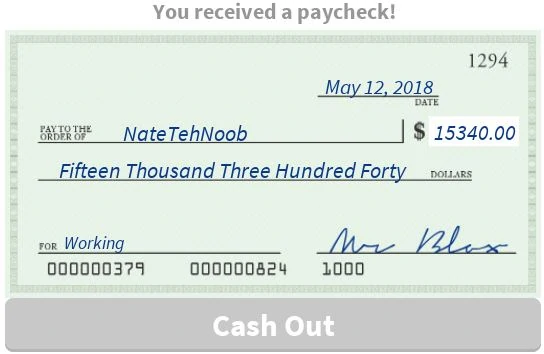 At the heart of Welcome to Bloxburg are three gameplay systems. The first of these is the more freeform in the case of communication and roleplaying. This is where you chat with other players and act out various scenarios, such as being siblings, parent and child, and so on.
There is also the building of your estate where you can literally make whatever house you want to in Bloxburg. But the third pillar is the one that I want to focus on here, which has to do with the jobs. You see, you don't just get large amounts of money for nothing in Bloxburg.
You have to earn it or happen to know someone with a lot of cash to spare. Regardless, someone has to earn money, and that involves working one of the 12 jobs that exist in the game. All 12 of these jobs are worth checking out, and they each have their own fans.
But the reality is, there are some jobs that excel over others when it comes to how profitable, fun, and worth your time they are. As such, if you are purely in it for the moolah, there are specific jobs that you should focus on. These are the best Bloxburg jobs that you need to know about.
Tips
Before we hop into revealing the best Bloxburg jobs out there, here are some of the best tips that I've learned in the last four or so years of checking out Bloxburg on a regular basis. These should help you save some time and learn the hard way as I did:
Don't overreach when it comes to your jobs in Bloxburg. Focus on a single job or maybe two that you really love to do, and only do those. The more time you spend on them, the more money you'll make because of promotions.
If you spread yourself too thin, though, you'll end up with a bunch of jobs you're doing that are all super low-level when you could have a high level already in a single job that you enjoy.
That brings me to my next point: stick to the jobs in Bloxburg that you love. If you don't love the best job on this list, pizza delivery, you don't have to do it! There are still some solid jobs out there that work well; find the one that best suits you.
In the same way, I also recommend doing the jobs you're good at. I'll chat a little about the stocker job below, but I can do this one in almost no time without even thinking about it. However, if I were to try the hairdresser job, I'd fail repeatedly. The better you are at a job, the easier it will be to grind for money.
Lastly, buy the game pass if you want to. It will boost your job earnings. However, I don't own this pass, and I've been able to make millions in Bloxburg over the years just through my sheer grinding of jobs. Basically, don't go out of your way to spend the money for the game pass unless you already have Robux to spare.
Selection Criteria
Here is what I used when it came to this list of the best jobs in all of Bloxburg. It was difficult to narrow down the jobs in a way that is somewhat subjective to my experiences but also based on objective notions like how much money you can make, etc. Here's what helped me to decide in the end:
Fun Factor: For many, the amount of money will be the number one factor, but that isn't to me. Fun and your enjoyment of a job is the most crucial element of jobs in Bloxburg. If you aren't enjoying a job, you won't spend the time necessary to grind it to earn enough money to fund your dream home.
Money: That brings us to the second-most important part, and that's the actual money. Some jobs inherently give you more potential to earn cash than others. This matters quite a bit since the whole point of the job is to make money, so faster is going to be much better in the long run.
Difficulty: Now, some people are gluttons for punishment and like high difficulty, but I imagine most people want an easy grind. Some jobs are much easier than others to do, which makes them more helpful when it comes to grinding since you don't have to think all that much.
Best Bloxburg Jobs List
Without further ado, let's dive right into the best Bloxburg jobs of all time. There are 12 in total that I'd like to talk about, but I'm going to switch it up this time around. Instead of just listing out the 12 jobs that you should do in Bloxburg, I'm actually going to rank them from worst to best on this list. This will give you a direct idea of where your favorite job(s) lands compared to the other ones.
You might also be interested in: Best Roblox RPGs: Loomian Legacy, Blox Fruits, and More 
12. Pizza Baker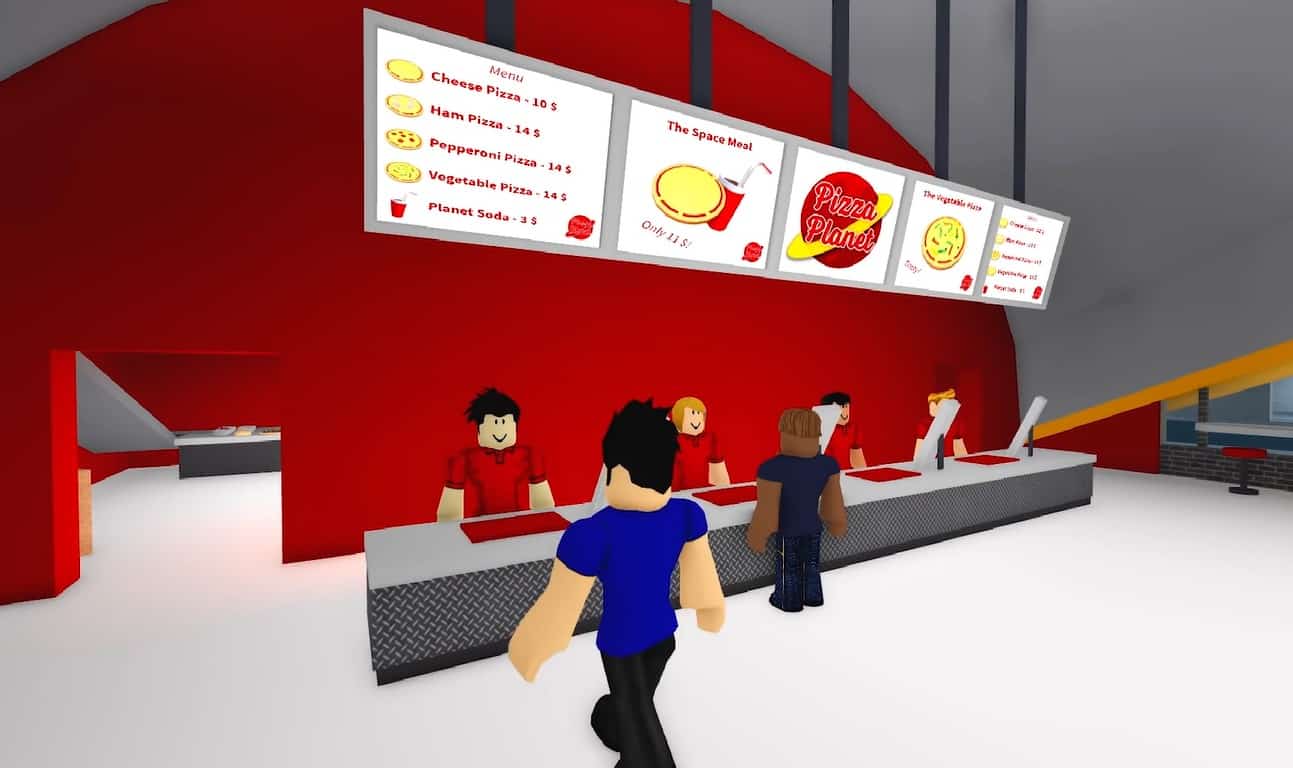 When you see the number one job in Bloxburg on this list, you'll find that it is pretty ironic that the other half of it, pizza baker, is the worst job on this list. There are those players who like pizza baker, which is fine, but it is the most underwhelming when it comes to the jobs here in Bloxburg.
The idea of the pizza baker is to gather the ingredients that each pizza order calls for and make it and then serve it. Pretty simple, right? Well, the problem comes from the wonky controls that pale in comparison to the actual food-making sim games on Roblox.
Worse still, the amount of money you make isn't the best, and it takes far too long to make a single pizza. You can learn to master pizza baker over time, but it takes so much effort to get there that it puts it at the bottom of this list.
Pros
The pizza-making part is surprisingly fun
You feel like you're contributing to what the pizza delivery people are doing
Cons
It takes way too long to make even a single pizza
Mastery of this job is more challenging than others
The money isn't always worth the effort
11. Janitor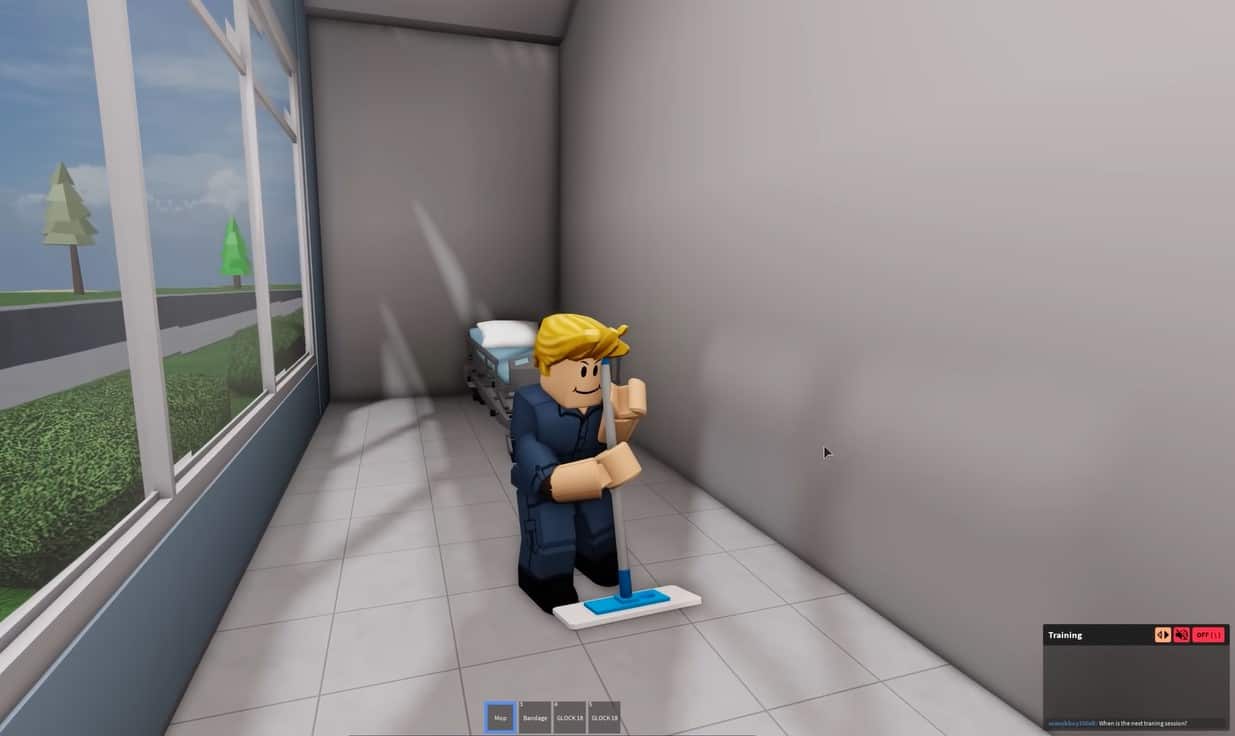 Being a janitor is honest work and one of the more middle-of-the-pack jobs for me in Bloxburg. It's pretty solid overall; the main issue comes from how average it is in every category. It's pretty fun, as the crux of the job revolves around picking up trash near the town's central district.
All you do is run around, and interact with garbage, and that's it. There isn't anything else to it, which can be fun or boring for some players. It is also fairly average when it comes to money-making as it only gives you so much for picking up trash, even at the higher levels. However, I would argue that it is one of the more fun jobs on this list, despite all of that.
Pros
Perhaps the most average job on this list (not necessarily a horrible thing)
Severely underrated
It's surprisingly fun and easy to pick up trash
Cons
The money is modest at best
It might be boring for some in long farming sessions
10. Ice Cream Maker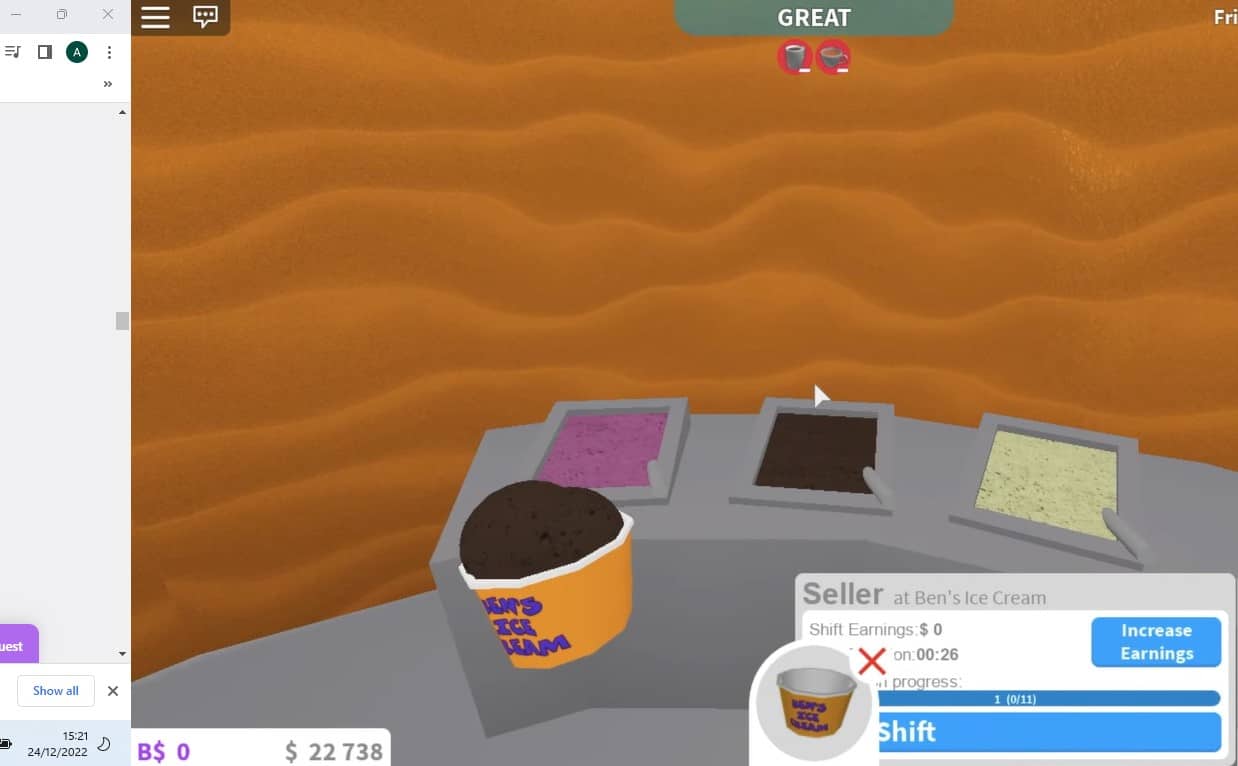 The first job I ever did in Bloxburg is still one of my personal favorites. There is an ice cream shop on the pier of town near the Ferris wheel, and you can work there as someone who makes ice cream. Unlike the pizza baker job, it is much more fun and easier to make ice cream as it involves just quick clicks or taps to nearly instantly put it together.
It is relatively easy to master this job, too, letting you make ice cream in no time, which means making money a lot faster. This is also one of those few jobs that is one of the best to do with your friends since you can work together and split the ice cream orders between you to make some cash, as there is plenty of work with this job.
However, the real issue with this job comes from the money factor. It is one of the lowest-paying jobs around, despite being so fun. If you can grind through those early job title levels, though, the promotions will eventually add up to some decent cash. But it takes a while to get there, and most other jobs still outpace the ice cream maker job in the long run.
Pros
Perhaps the most fun job in all of Bloxburg (for me, at least)
It's a blast to make ice cream with your friends
You can become a master ice cream seller easily
Cons
Some of the worst money you'll make with any job
9. Cashier (Bloxy Burgers)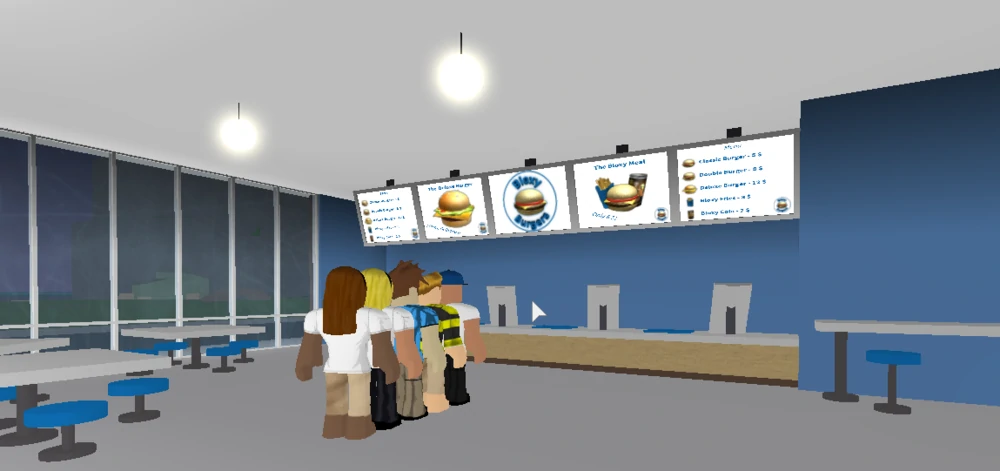 For the next couple of jobs, it is hard to split up the two cashier jobs, but they do differ some. First up is the Bloxy Burgers cashier job in the middle of town. You can work at this fast food joint and take the orders of the customers as they line up infinitely in front of your establishment.
In terms of simplicity, there isn't much here other than clicking the right buttons for the customer's orders and then ringing them up. It is one that you can certainly get into the groove of rather quickly and make some solid money from.
The scenery isn't the best, and the overall fun factor of being the cashier here is less than stellar. But this is one of the first jobs on this list that I can genuinely recommend to almost anyone since it is one of the most balanced jobs out there.
Pros
As simple as it gets for a Bloxburg job
One of the easiest to grind
Cons
Being a cashier at Bloxy Burgers is quite boring for me and likely some other players
8. Cashier (Supermarket)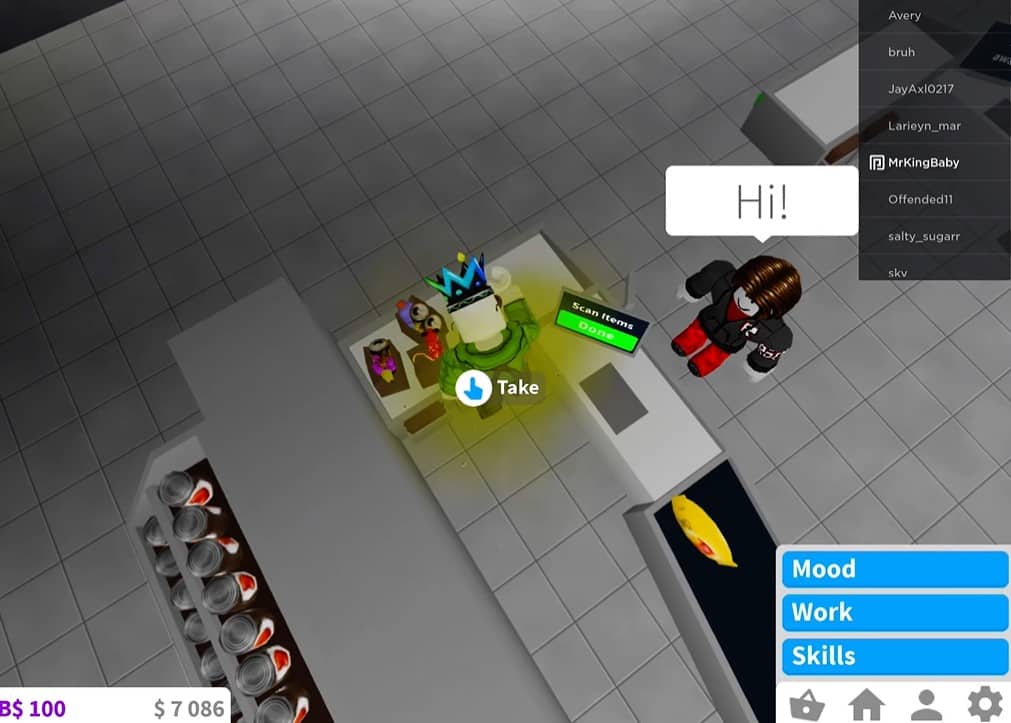 Edging out just barely is the other cashier job in Bloxburg, which is at the supermarket. Believe it or not, these two jobs couldn't be more different when it comes to execution. Pay and the farming capabilities between the two are almost identical, but the fun is where the supermarket cashier wins over Bloxy Burgers any day.
You actually have to think a little bit and pay attention to do this otherwise easy job. This keeps it engaging and fun as you stand at the supermarket register and ring up customers. They will bring you items, and you have to click on them to put them into a bag for the customer.
Occasionally, you'll have to bring out a new bag because that customer has a lot of items and when you're done scanning and bagging, you finish the transaction. It sounds like a lot, but you can do this in mere seconds, letting you grind for money pretty easily. The problem comes from the limited bag nature. I hate that the game forces you to collect more grocery bags every so often, which can kill your vibes.
Pros
A solid mix of fun and making money
One of my favorite job executions since you have to be slightly more engaged than in other jobs
Cons
When you run out of grocery bags, it truly kills your farming vibes. Plus, it's not good for the environment.
7. Woodcutter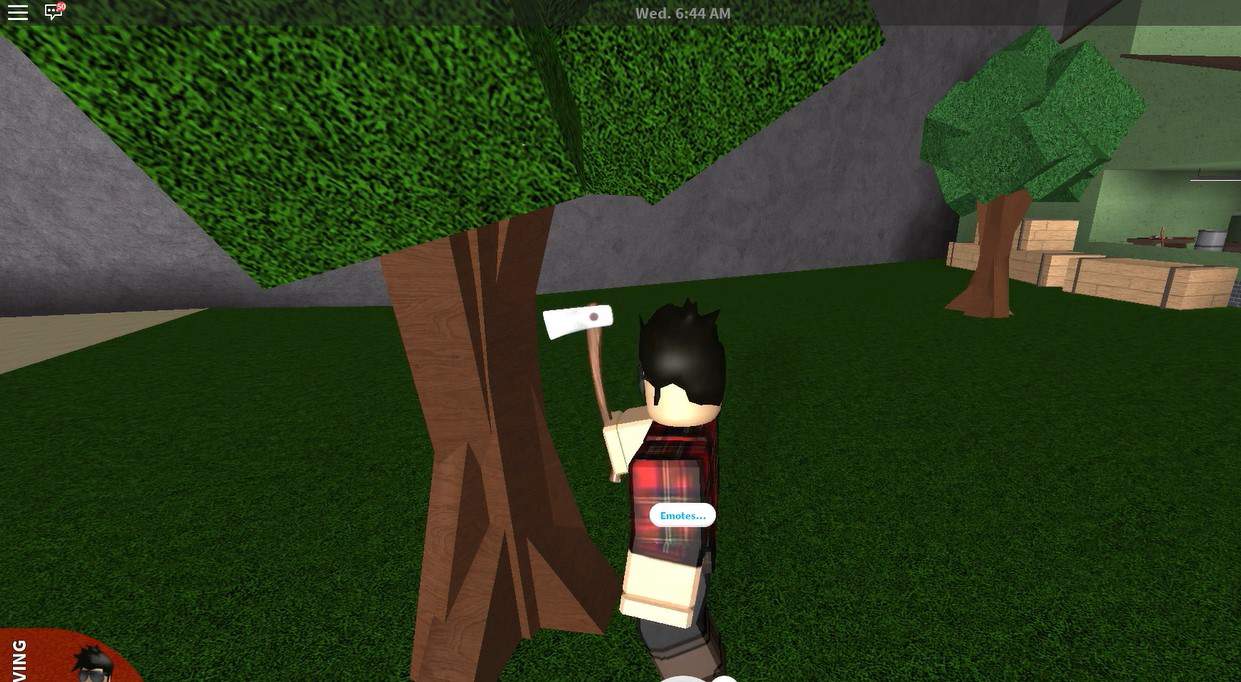 If you want one of the most profitable jobs in all of Bloxburg, look no further than the woodcutter position in town. You work at the local lumber mill, chopping up some wood to be used in various activities. In terms of farming methods, it is one of the easiest to accomplish. You pretty much stand there all day hacking away at trees.
However, the problem comes from that alone. It is one of the most mind-numbingly dull jobs on this entire list. Sure, it's easy, but it's not for everyone, as it can be almost too simple to do. But if you're looking for something that you don't have to think about and makes some solid money, you're in the right place with this position.
Pros
Woodcutting will earn some of the better-than-average money rates on this list
Extremely simple to do
Cons
It might be too simple for some players as one of the most boring jobs around
6. Hairstylist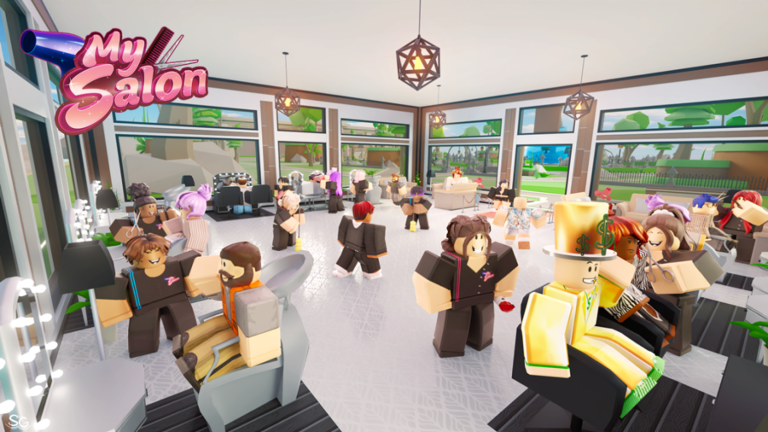 When it comes to the most complicated job on this list, the hairstylist is perhaps the number one winner. It sucks, too, because it also makes some of the best money in the game, especially when it comes to the higher promotion levels.
The crux of the hairstylist is to head to the hair salon, and you'll get customers at your station. They will ask for a specific hairstyle, including color, and you have to get all the options correct or no money for you. It is super easy to get the color or style just barely wrong and waste your time in the process.
But if you can master doing this, especially on PC, where it's easier to click through the options, this is one of the highest-pay jobs. Perhaps even the highest if you're fast at it. But for console and mobile players, this job is hard to do, and it takes way too long.
Pros
Perhaps the best money-making job in Bloxburg
The complexity of choosing the hair color and style is fun at times
You can get into the groove of things pretty well on a PC
Cons
This is the most complex job to do
Console and mobile players will have a hard time mastering this position
5. Fisherman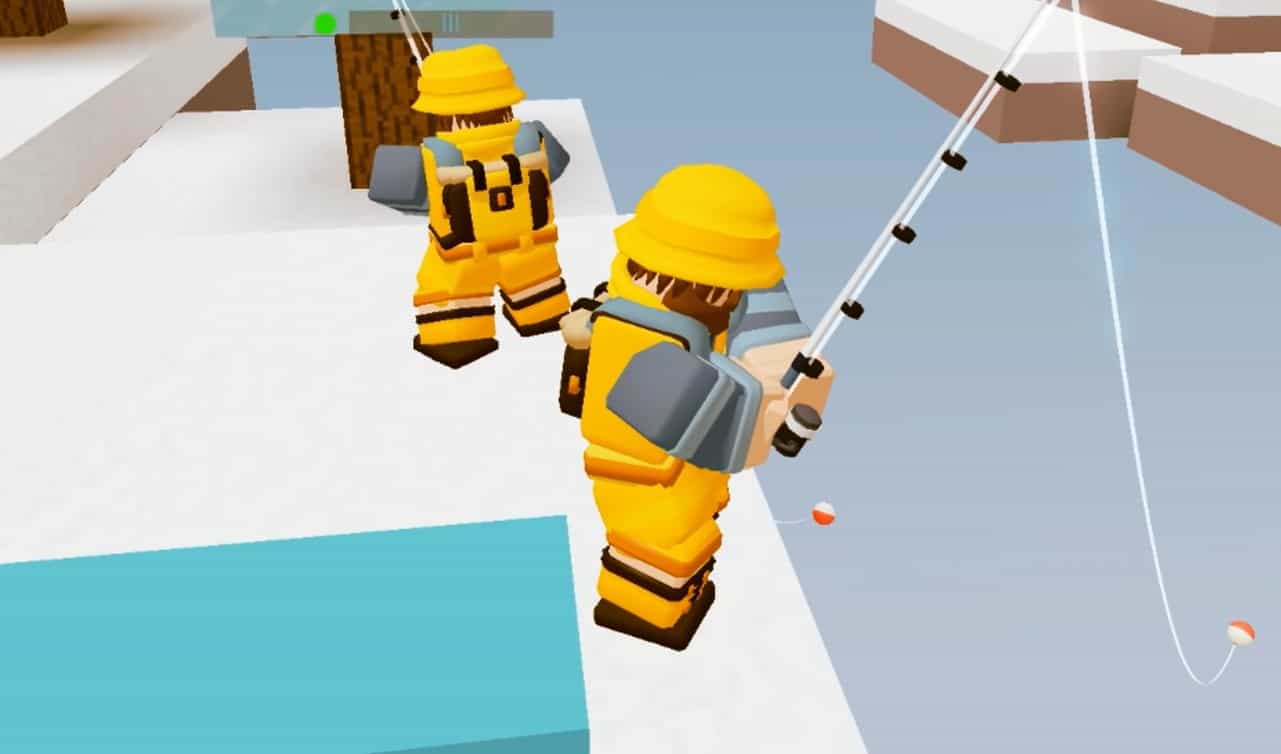 Have you ever fished before in other Roblox games or titles like Animal Crossing or the Story of Seasons series? If you love fishing in those games as much as I do, you'll likely enjoy the fishing mechanics in Bloxburg. It doesn't do anything too crazy, which is honestly for the best.
The fisherman job in Welcome to Bloxburg works largely how you might expect it to. You start the job at the pier with your fishing rod and then click to cast the fishing line into the water. When you see the bait go down into the water, you know that you have a catch, so then you click again to pull in the line and catch your fish.
The simplicity is bonkers with this job, but that's part of the fun, too, in my opinion. It makes you pay some attention but not a whole lot, so I can comfortably watch a movie or series while I grind. Plus, you get fish every few seconds, which makes this one of the fastest-earning jobs around. You have to grind to get to the higher levels, though, which takes a while. But if you are a higher-level fisher, you'll get oodles of money rather easily.
Pros
The right mix of simplicity and fun
Each fish is caught so quickly
You get a lot of money at higher levels
Cons
The grind takes a long time to reach the well-paying money
It might be too boring for some players (not me)
4. Miner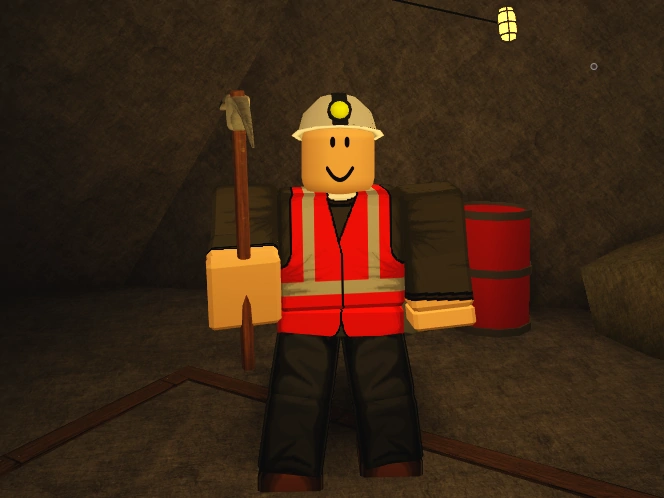 What is intriguing about the miner job in Bloxburg is that it demands your attention, unlike most of them on this list. This isn't one where you can just check out while you listen to a podcast and "wake up" an hour later with a ton of cash. Instead, the idea revolves around a light Minecraft minigame of sorts.
Head to the local mineshaft in town, and you'll get a pickaxe. Your job is to continuously dig deeper and deeper down the mineshaft, with each block you mine garnering you some cash. The rarer blocks like gems and jewels will, of course, earn you even more money, so you want to focus on those if you see them.
The problem with the miner job that requires your attention is the TNT blocks. If you hit these, you have to get out of there, or you will blow up, and your shift will end. You won't lose any money, but it will waste time since you'll have to restart the shift and all that. But there is an argument to be made about how fun and profitable this job can be.
Pros
One of the most engaging and exciting jobs in Bloxburg
There is so much money to be made
It feels like Minecraft-lite
Cons
The TNT blocks can genuinely kill your grind, unlike other jobs
3. Stocker (Supermarket)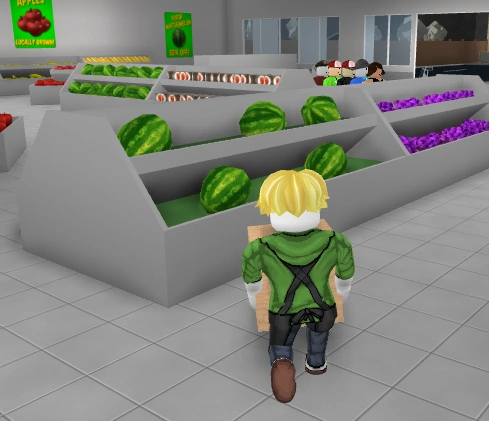 Without a doubt, the most underrated job in all of Bloxburg has to be the stocker at the supermarket. It's not the most glamorous work, without a doubt, but it makes a ton of money, especially in the later levels as you reach the max. The best part is that it's easy to make that money in this position.
How the stocker works is that you work in the back of the store and pick up any crate you find. Then take that crate to any of the empty shelves in the main store and interact with it to fill it back up immediately. There isn't a whole lot of thought needed for the process, making it one of the easiest to grind while you do something else.
But at the same time, it is extraordinarily fun to do, especially if you have a friend. I love queueing up with my friends and family, picking the stocker job, and dividing up duties between us. We can chat, watch a movie, and make a whole lot of money. There is a grind to get those promotion levels, and there is some RNG involved in the empty shelves, but it's about as straightforward as it gets.
Pros
One of the best jobs to play with others
The stocking mechanics are the solid balance of fun and stress-free work
One of the better-paying jobs, especially when you get to a higher level.
Cons
It's a bit slower to level up than others, and the best pay is later on in the job levels.
2. Mechanic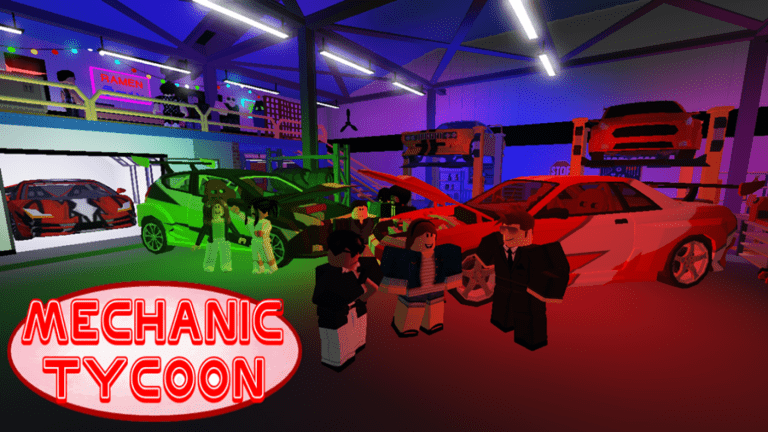 When it comes to possibly the best-paying job in all of Bloxburg, it is the mechanic position at the car shop. There have been many calculations over the years, but the mechanic is always near the top. Now, it isn't the best overall job, but it comes pretty darn close in the end.
You see, the mechanic is similar to the ice cream seller or hairstylist in a way where you have to make the proper selections. People will come in with their vehicles and ask for a particular paint job, tires, and so on. The requests are relatively simple, and it takes very little time to pick the right option for them.
Then you just apply it to the vehicle, hit done, and they'll be on your way while you'll get your money and get started on the next job. It's about as straightforward as it can get for this type of job gameplay. Sure, you can mess up, but it's rare, especially as you level up. Each job pays exceptionally well, especially considering how fast you can complete them. I'll be the first to admit it's not my favorite to play, though.
Pros
One of the better versions of the gameplay mechanic revolving around making the proper selection for the customer
The single best-paying job in Bloxburg
For some players, it'll be pretty fun.
Cons
It's not the most fun job for me.
You can mess up the jobs, but at least it's infrequent.
1. Pizza Delivery Person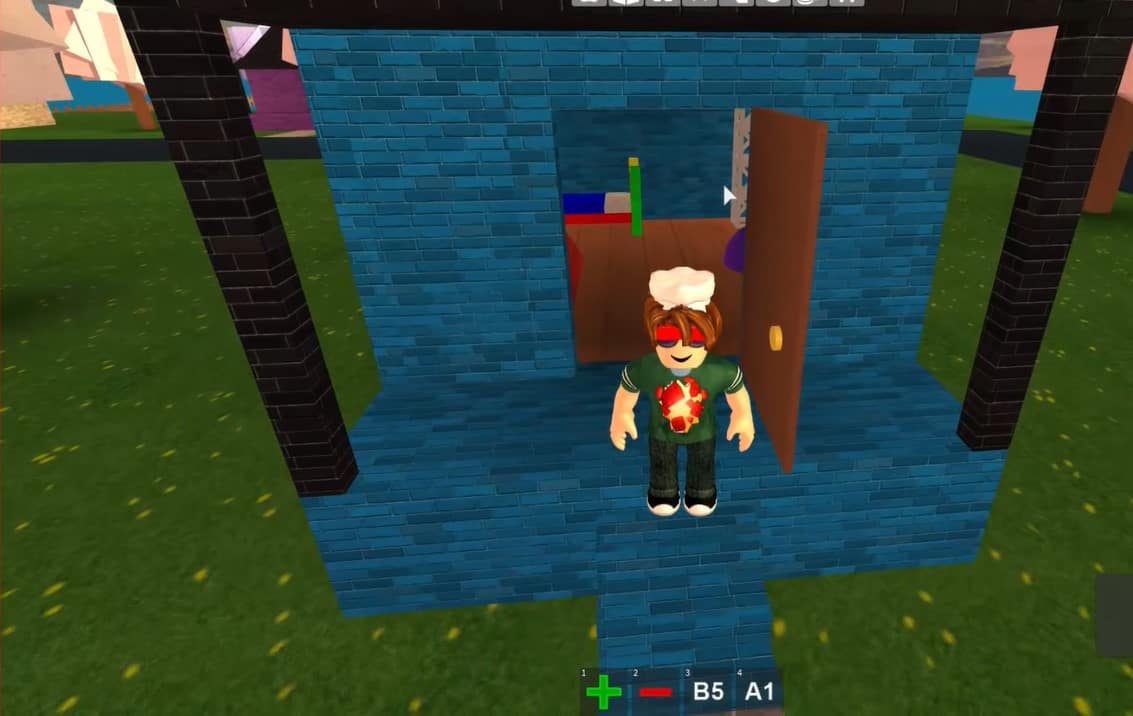 When it comes to the very best job in all of Bloxburg, the pizza delivery person wins time and time again. Let's start with the money. Even early on, the pay is relatively reasonable. Sure, other early levels of jobs will pay better faster, but it exponentially grows as you get promoted. And when you get to the max level, it's in the top three, at least in the game in terms of money.
Then there is the fun factor. For me, the pizza delivery job is one of the most fun since you get to drive around on a scooter and listen to music, podcast, TV series, and so on. The grind is really lovely, too, as you can even complete deliveries while still on the scooter if you get good enough.
For me, the pay is among the best, the fun factor is likely the second-best, and the grind is easily the best. I have spent countless hours farming this job in Bloxburg, literally making tens of millions due to this job alone. If you're looking for a job to play, I wouldn't recommend any other one.
Pros
The best job in all of Bloxburg
Tops the charts in terms of money, fun, and ease of grind
You get to ride a scooter all day!
Cons
There is some RNG involved with where your deliveries are located
FAQs
Question: What is the best-paying job in Roblox 2022? 
Answer: The best-paying job in Roblox right now will depend on a couple of factors. Initially, mechanics and hairstylists are some of the best. But in the long run, pizza delivery is likely the best-paying job.
Question: What is the 2nd highest-paid job in Bloxburg? 
Answer: The second-highest paid job in Bloxburg will likely be among the hairstylist or the pizza delivery person, initially. It ultimately depends on a few factors, though.
Question: What is the easiest/hardest job in Bloxburg? 
Answer: The easiest job in Bloxburg, in terms of difficulty, has to be the fisherman or woodcutter job. You just stand there all day, mashing the same buttons over and over without any real thinking necessary. On the other hand, the hardest job has to be the hairstylist one. The colors and styles required for each customer are specific and easy to mess up, which will net you zero dollars.
What to Use That Nice Cash for in Bloxburg
When you load up into Bloxburg and you have your dream house that you want to make, you'll need a lot of cash to make it happen. If there is only one job you focus on in the game (which is the best thing to do, anyways), it should be the pizza delivery person.
That job will grant you some of the best money in the long run while also being one of the easiest to grind for hours on end. When you're ready, it'll be time to take that money and turn it into something beautiful. Be sure to check out our overview of Bloxburg for more info on the building gameplay and all that.
Related read