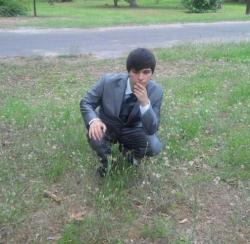 Latest posts by Cody Perez
(see all)
The purpose of Roblox is to offer countless user-generated experiences for players worldwide to enjoy. If you like building stuff, you can make your own games inside Roblox. However, what about when you aren't in the actual game itself? In that case, what if you want to build your own Roblox experiences and sets outside of it? That is where these LEGO Roblox build ideas come into play. You see, the joy of LEGO and Roblox is the idea of creating something from basically nothing and using your imagination along the way. So, the two properties naturally fit one another in the real world. For parents, this is great, too, since it will have your kids using their imagination for real-life play instead of with their faces glued to a screen all day long in Roblox itself. To help you develop some LEGO Roblox build ideas, I've compiled some recommendations of places and experiences I've loved over the last six years I've played Roblox.
Bottom Line Up Front
To be clear from the start, there is no such thing as an official LEGO Roblox set. That said, it doesn't stop players from coming up with their ideas for something that they would like to build themed around Roblox and Lego alike. There are two main types of ideas that you can use instead, as a replacement. First, there are buildable Roblox sets that don't use Lego blocks but still let you create. Secondly, there are places from Roblox itself that you can use as inspiration to turn around and create using your own LEGO blocks.
No Official LEGO Roblox Sets Exist
Before we go any further into the Lego Roblox build ideas I have for you, there is something that I should mention. At this point, there is no such thing as an official Lego Roblox set that you can run out and buy right now. This is a darn shame, too, since the two properties go hand-in-hand. Both are about using your imagination to build whatever you want, whether digitally or physically. They don't have to be in direct competition with one another, as it would make sense for Lego to release sets based around popular Roblox games and locales for players to build in the real world.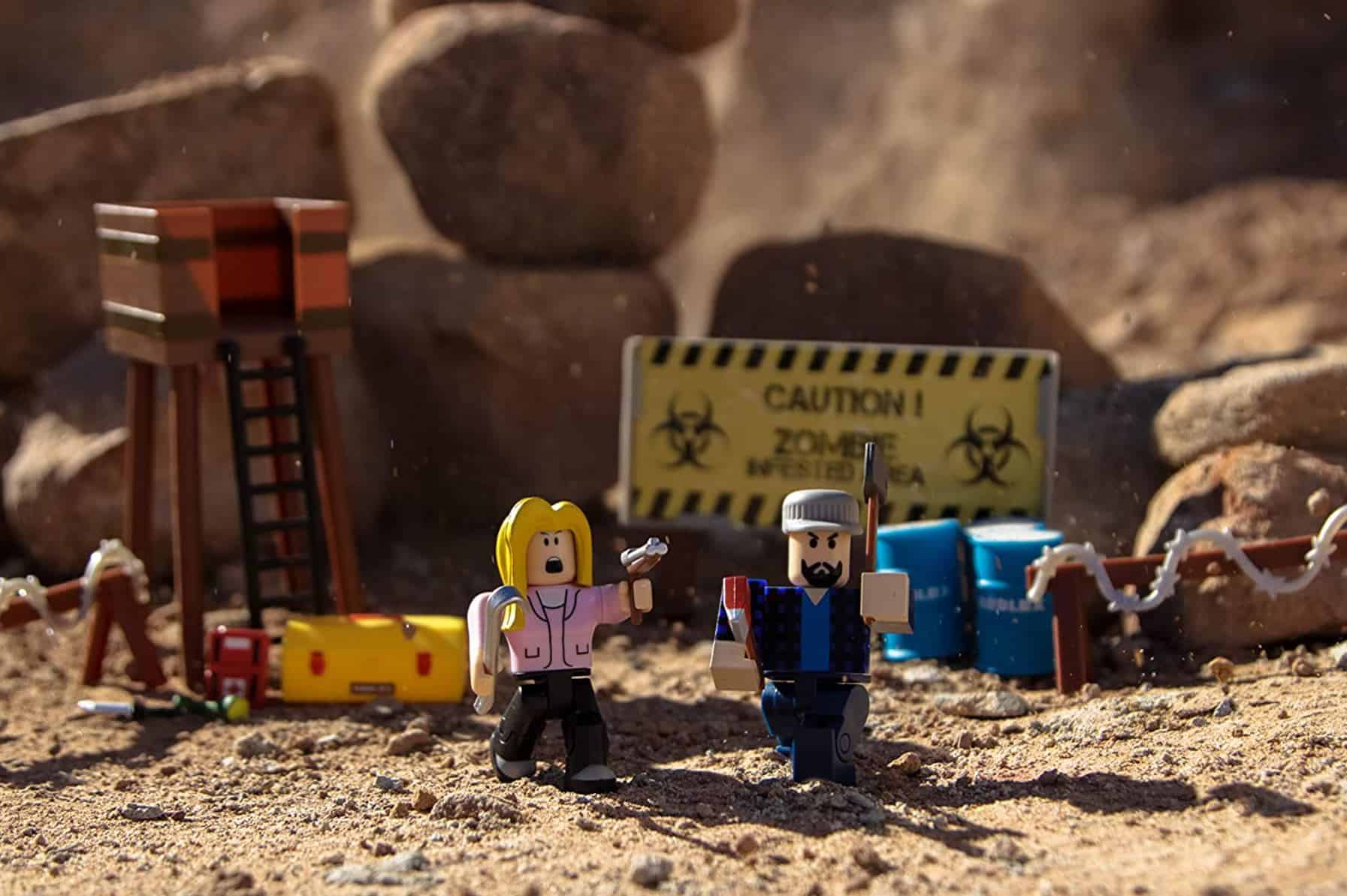 This works for similar games like Minecraft, so why hasn't it happened for Roblox yet? For better or worse, this is the situation right now. As such, I had to come up with some ideas that would satisfy those Roblox and Lego fans out there who want to be able to build something in the real world and blend the two. Hopefully, these ideas will be suitable replacements until Roblox and Lego get their acts together.
Selection Criteria
Here are the selection criteria I used when coming up with these Lego Roblox build ideas:
It had to meet one of two possible categories: either buildable Roblox sets that you can buy right now or locations from the game that you could recreate using Lego blocks
The buildable sets had to have a high-quality enough design and represent Roblox well
For locations from Roblox, they had to be memorable and possible within the confines of Lego blocks
I included a wide range of different build ideas for various age ranges and expert building levels to, hopefully, appeal to every builder out there.
The Lego Roblox build ideas had to be ripe with potential for play, be it roleplaying with friends, setting up action scenes, etc.
LEGO Roblox Build Ideas
Here are the 20 Lego Roblox build ideas that I came up with. Hopefully, there is something for everyone to try out and enjoy right now to flex your creative muscles.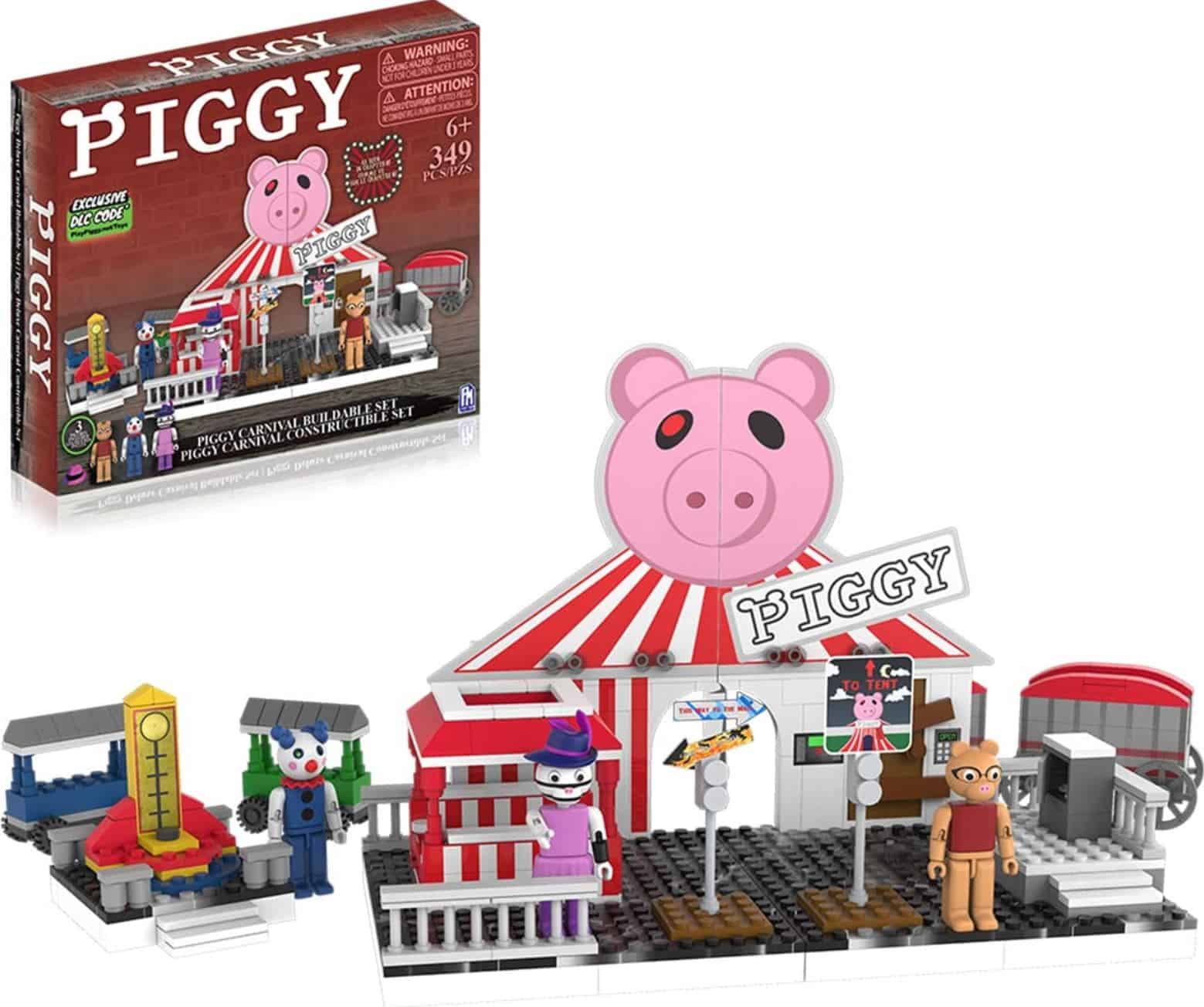 First on this list is a buildable set you can purchase right now and start creating for a reasonably minimal price, too. This Piggy Deluxe Carnival Construction Set features one of the most beloved horror games you'll ever find in Roblox. This comes with a fair warning that not every parent or guardian lets their kids play games like Piggy due to the spooky serial killer themes, but for those who do, there are few better buildable sets out there than this one. It takes the carnival map, which is the best and most iconic location from the game, and creates a play set out of it. The carnival area is well-recreated in this set, with about 356 blocks and pieces for you to assemble together. It even comes with a few characters so that, like proper Lego sets, you can start immediately acting out scenarios once you're finished building. As a bonus, it is relatively cheap considering how detailed and intricate this set is. See also: Piggy Merch Guide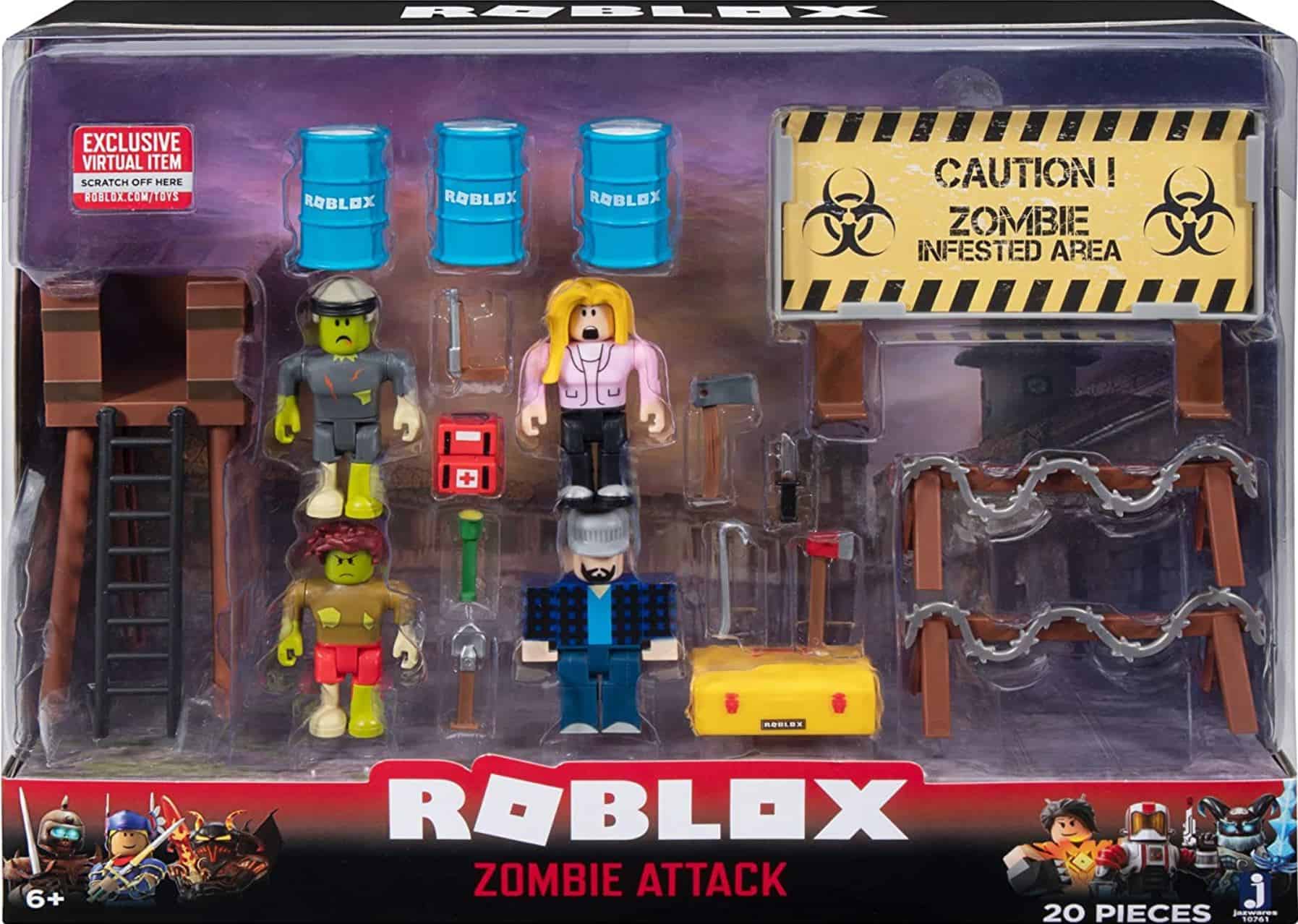 Keeping with the spooky vibes in this list, we have this Zombie Attack Playset. This official Roblox buildable set features a classic scene of the undead horde attacking a few innocent Roblox players. The set doesn't have too many parts to it, but the ones that it does have offer some intriguing scenarios. You have the caution sign warning of the zombies that have infected the area and the barbed wire fence to protect the safe zone. Plus, there is a lookout point for someone to watch over and a few different Roblox avatars, including zombie ones, for you to play with. It is a little pricey, especially given it isn't tied to any of the fantastic zombies Roblox games out there, but it makes up for that in the free DLC cosmetic item you get alongside this set. You can redeem the code in Roblox and get a free item to use on your avatar. As for what that item might be, the set doesn't tell you ahead of time.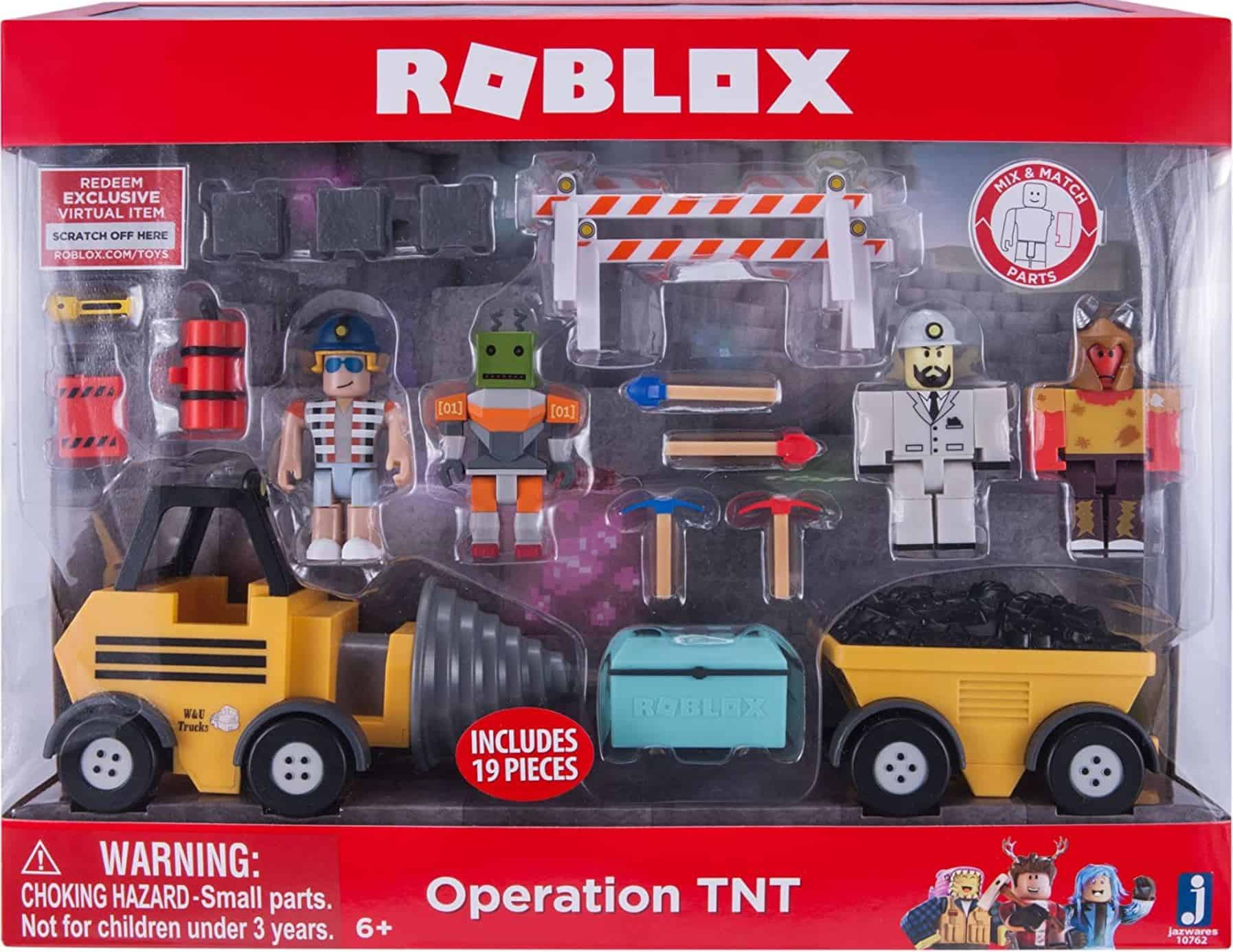 Construction areas are some of the standard locales ripe for Lego building. In this case, though, the Operation TNT Playset involves a Roblox-themed construction site for you to play around with. There aren't too many moving parts here to build, but you have enough to open the doorway for your imagination to take over the rest. There are several parts to the primary drill dozer vehicle that you have as the star of this set, including a trailer you can pull along with various rocks and materials on it. There are warning fences, other materials to transport around, and plenty of crew members come with the set. Remember, though, that this set is primarily out of circulation, so prices aren't that low these days.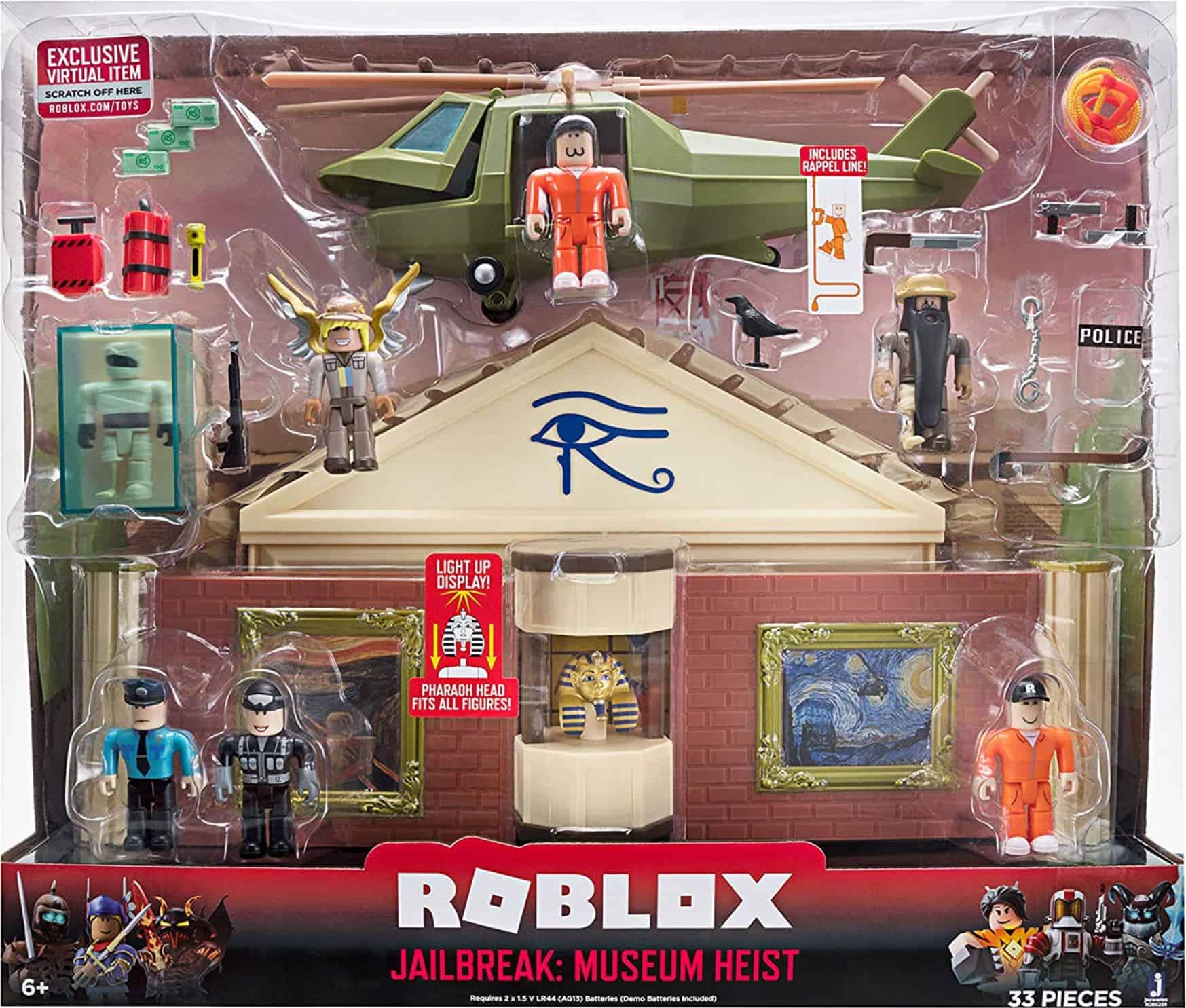 Easily one of the best sandboxes within Roblox itself for imaginative play is Jailbreak. This game encourages players to roleplay and come up with their unique in-game situations. With this particular playset, you can bring that entire idea to the real world and create something to play around in. The Museum Heist Playset takes the popular destination from the original Jailbreak game and lets you build it together yourself. There aren't many parts, to be honest, here, but they are large and have their puzzles requiring you to figure out how to assemble them best. Plus, you get several avatar characters, including security guards and criminals, to give you plenty of room to devise heist situations and various break-ins. You can use a helicopter for either side of the battle to give them the edge in the situation. Plus, this Museum Heist set pairs well with other ones on this list and beyond.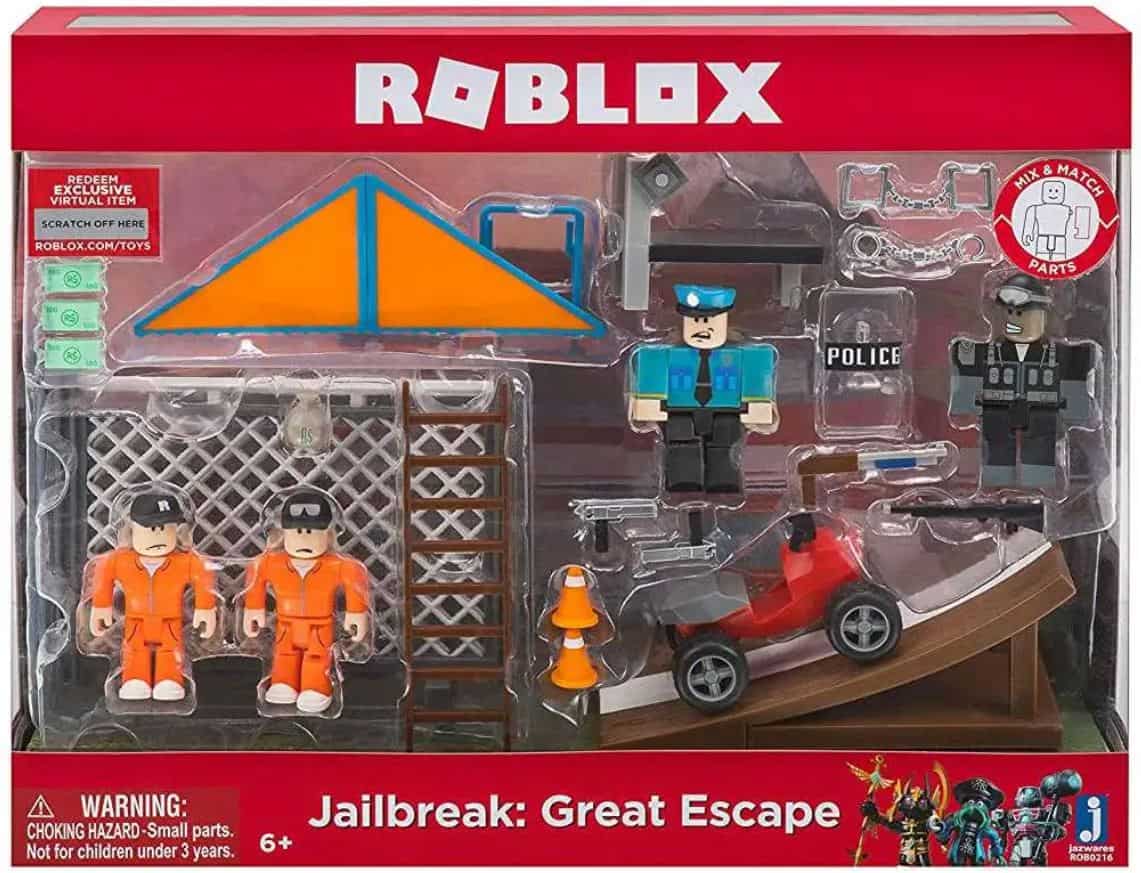 Keeping with the Jailbreak theme for a moment, we have the Great Escape Set. I appreciate that this one offers a simplistic roleplaying scenario, much like the amazing beginning of Jailbreak when you first join a lobby. This set has several moving parts that set the scene for the titular jail you are trying to break out of. It comes with many different items that let you come up with your own Jailbreak situations, such as riding a vehicle on a ramp over the fence or stealing equipment from the police to let yourself out, and so on. This even includes a couple of prisoners and police officers for maximum play. The best part is that you can take this Great Escape set and chain it together with others like the Museum Heist to create your own story of criminals breaking out of prison and then going on a heist or getting caught in a heist and being sent back to prison.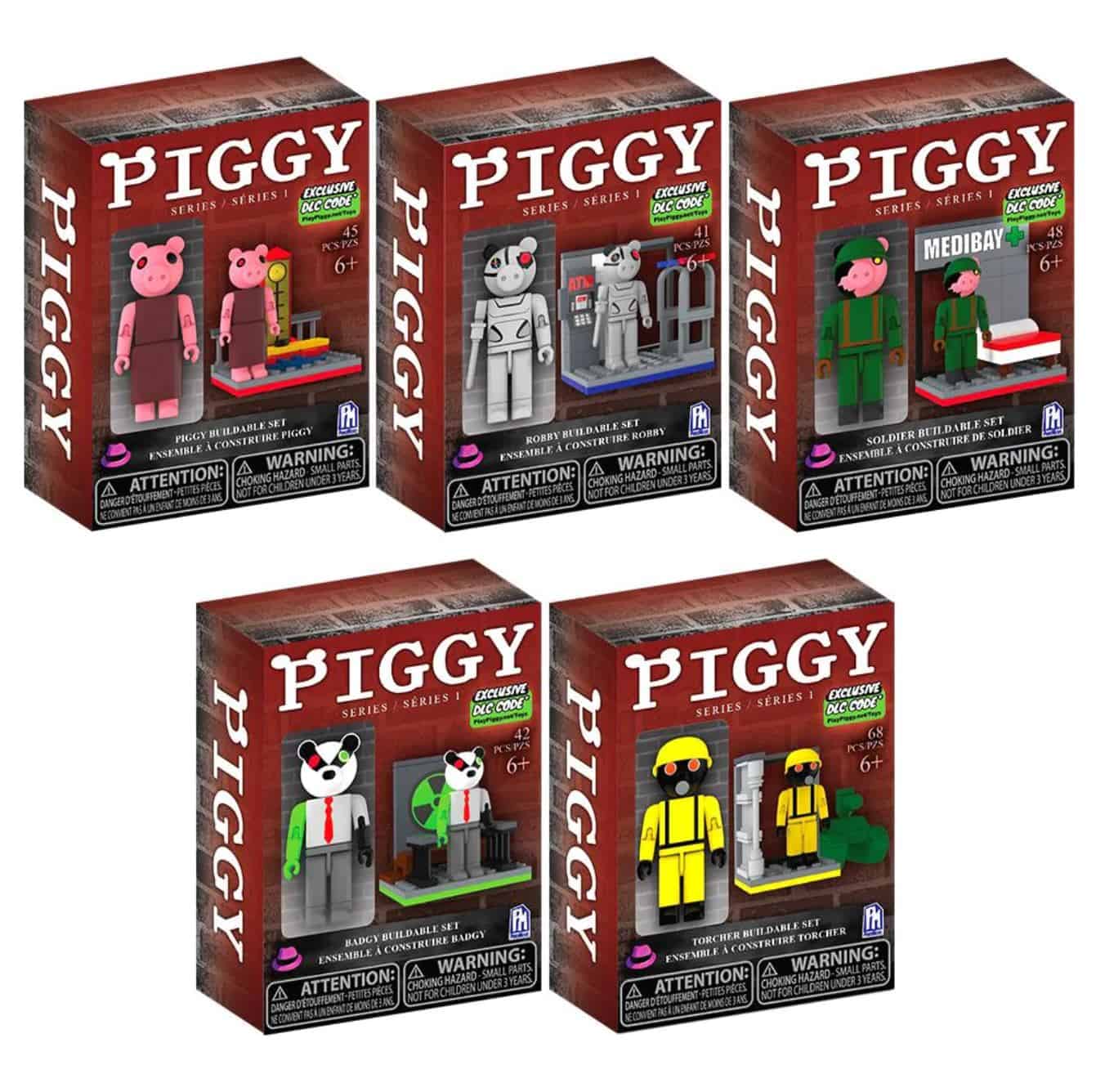 Piggy has a breadth of official playable sets that you can buy online, and one of the best is the Single Figure Buildable Sets from Series 1. With these sets, they are the perfect beginner's build ideas since they come with a single figure and just a handful of buildable parts. There isn't much to them, hence the inexpensive price for each one, but this makes them perfect for someone just starting out with building Roblox locations. You have locations like a radioactive plant, factory, and so on that, you can recreate from the actual Roblox game in these miniature forms. If that isn't enough, this is part of a series, so there are several versions to collect and possibly mix and match together. Plus, it is likely that more series will appear in the future for you to collect and build.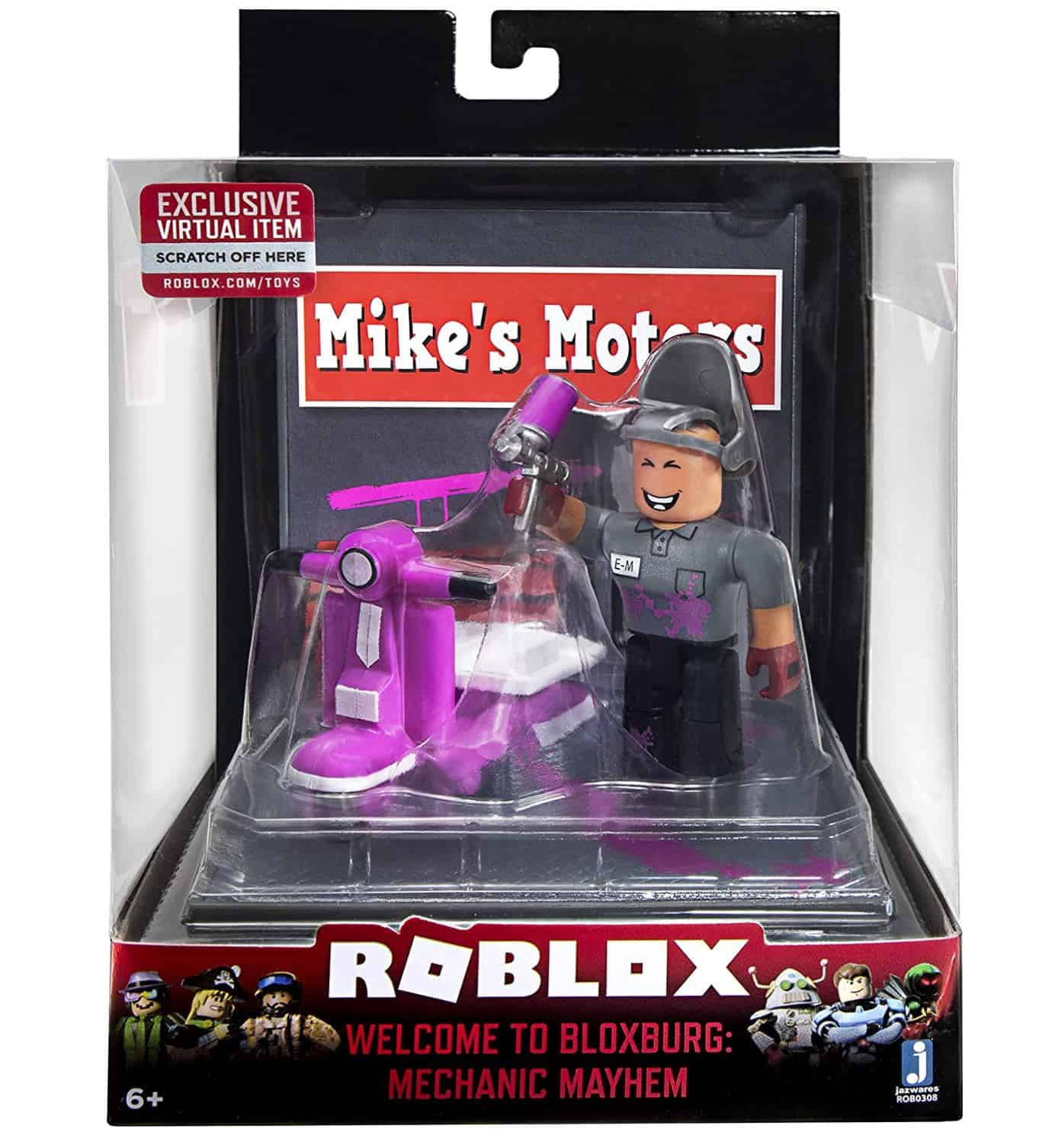 Bloxburg is one of the biggest and best Roblox games you'll ever find, and part of the allure of the game is the fact that you can be whoever you want and do whatever you want. One of the several careers you can take on in Bloxburg is the mechanic position, which is reflected in this Mechanic Mayhem Set. With this set, players have the chance to take on the role of the mechanic from Bloxburg in real life and act out working on vehicles. It is a small set that only comes with a few pieces, like a pink scooter to work on, a single mechanic avatar, a storefront set piece, and a large toolbox. This is meant to be mainly a starting beginner's set that can be paired together with others to recreate your Bloxburg town in real life possibly.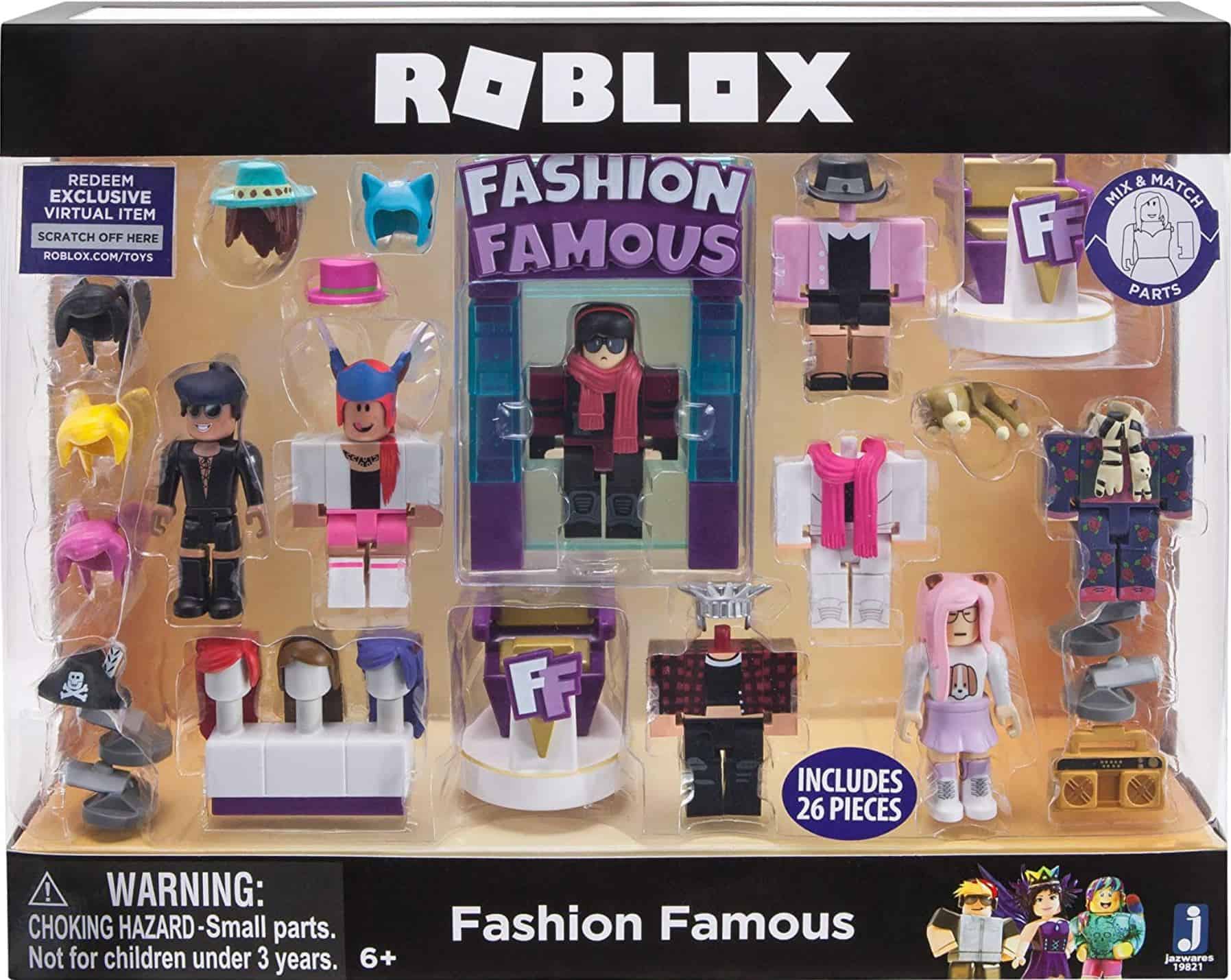 Another quite popular game in Roblox is Fashion Famous which is all about dressing up and ensuring your avatars can strut the runway in style. This premise makes for an ideal real-life buildable set, and this Fashion Famous Playset makes it happen with several large parts. You have the judge podiums to make where the Roblox avatars can sit, which will determine the contest's winner. There is also the runway itself and some customization options for clothing that you can swap out on the avatars this set comes with. This is another one that pairs well with other buildable sets out there.
This particular Instagram post is a bit of a weird idea that I found. I imagine there are a lot of players out there who love Roblox and Legos alike, which you could easily celebrate with a birthday party. This cake could be the centerpiece, too, striking a balance between the two. We have Jack, one of the faces of Roblox, at the top of the cake, with various Lego blocks that are both decorations and part of building together the base of the cake. Having edible Lego blocks like these and a Roblox motif makes for a fun activity you could do with the birthday kid before letting them devour the cake they helped build.
I'd be remiss if I didn't include the most popular Roblox game of all time, Adopt Me, on this list. With literally hundreds of millions of fans, Adopt Me understandably has some buildable sets you can enjoy. One such set focuses on the Pet Shop, one of the central locations you visit in the game to get your needs for your various pets. There is surprisingly a lot going on in this tiny Pet Shop with wall decorations, the ability to assemble the store however you like, a cash register area, and even some pets. There is a dragon, a unicorn bike, and a small yellow wagon with a red barn trailer to build and pull your pets along with. This is a cute addition to any Roblox town you're building out.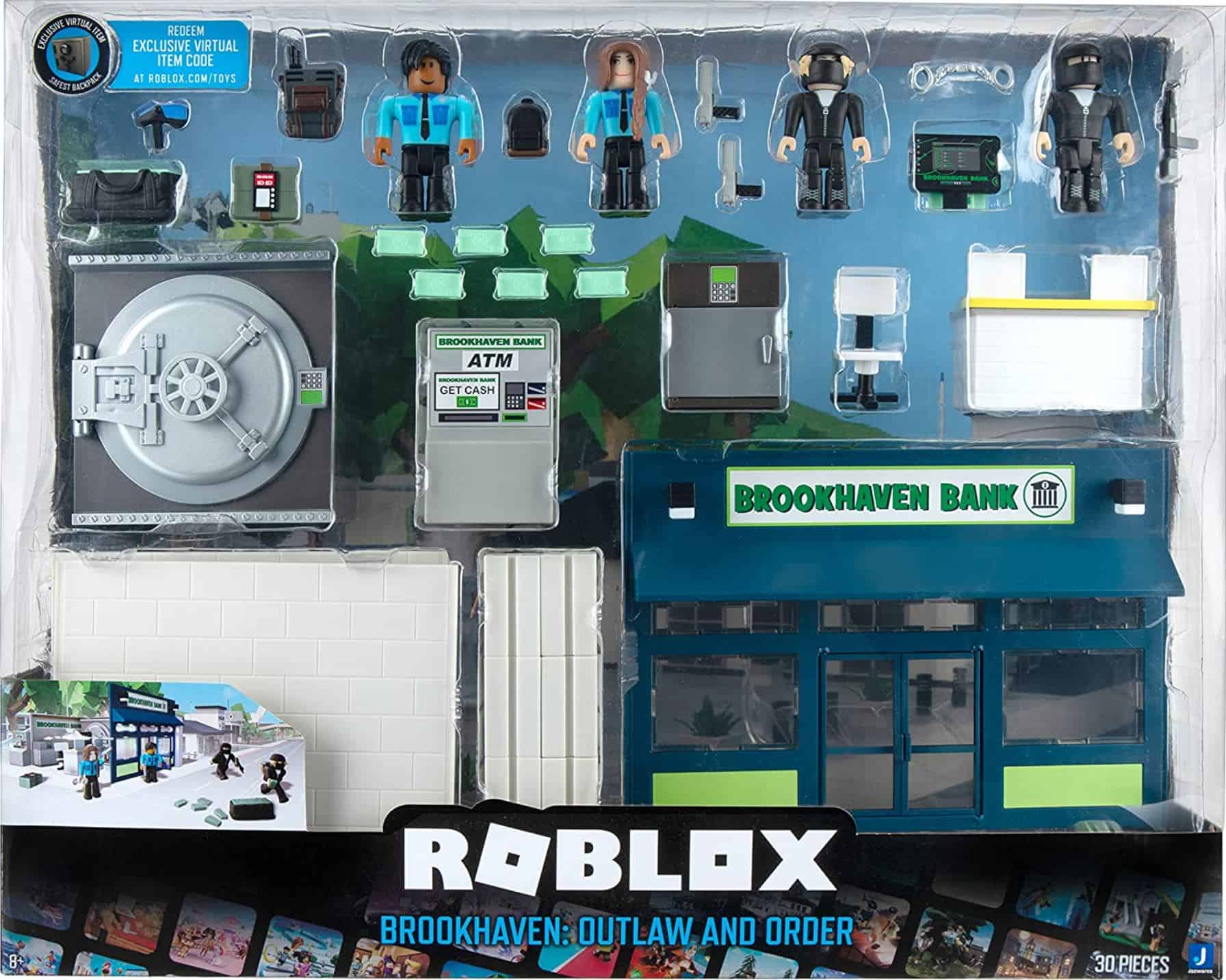 Brookhaven may not be Jailbreak, but that doesn't stop some players from treating it as such. This Outlaw and Order Deluxe Playset lets you bring the Brookhaven Bank to the real world for roleplaying. There are security guards and criminals alike that come with this set, letting you act out various high-stakes scenarios. There is a storefront, a main register area, and even a large silver vault that you can build in this set. What I like the most about the Brookhaven Outlaw and Order set is that it pairs nicely with some of the other ones on this list, like the Jailbreak ones. Despite coming from different games, they make a lot of sense with one another.
Moving away from the buildable sets we've gone over so far in this list, we now have the other half of these build ideas. Sure, you can build using official Roblox play sets, but you can also take places from Roblox itself and turn it into real-world locations using your existing Lego blocks. One of the favorite Lego building ideas that some more experienced builders prefer is intricate houses. Bloxburg is rife with those, and it is possible to take the house you built inside of Bloxburg and turn it into a real-life Lego set like this autumn-themed family home. The family home has a rich dark gray granite outside with wood borders that give off a striking Halloween-style feel. This darker modern home is large, with two floors and many windows throughout. In the right hands, this could be recreated using Lego blocks.
This particular Bloxburg home is a true challenge for Lego fans out there to build. It has a modern open aesthetic that involves massive windows that cover the house from top to bottom. This exposes the inside, letting you work hard on how you want the furniture and various rooms to look. If you could use a lot of window blocks to build the outside of this sharply designed house, you could let the inside be the show's real star. It's a challenge, for sure, but I think it would be an excellent way to live out your fantasies of living in a luxury estate like this.
If creating a massively open estate isn't enough of a challenge for you, how about an entire apartment building? This apartment building with five floors in total was enough of a mission for someone to create within the restrictions of Bloxburg, but they were able to do it in a wonderful fashion. So, I believe someone could do it with Lego blocks, too. The cornerstone of each floor of the apartment building is the large window that looks into the living room, with a smaller window next to it for the bedroom area. There is also a red brick finish on the right side where the windows aren't located, lending itself well to classic Lego blocks with their rigged rectangular shape.
Referencing the home of Lisa, one of the four members of Blackpink, you don't have to stick to living in a recreation of her house in Adopt Me or Bloxburg. You can make it in the real world using Legos to allow for a place to roleplay and perhaps pretend to be a K-Pop star yourself. This LaLisa House is rather simplistic, only having a single floor and being relatively small with its L-shaped design. The difficulty here will be the abundance of white blocks you would need and the occasional rainbow ones for decoration for the house. In addition, there is the cute little outdoor patio area that you would also need to make.
Natural Disaster Island Build Idea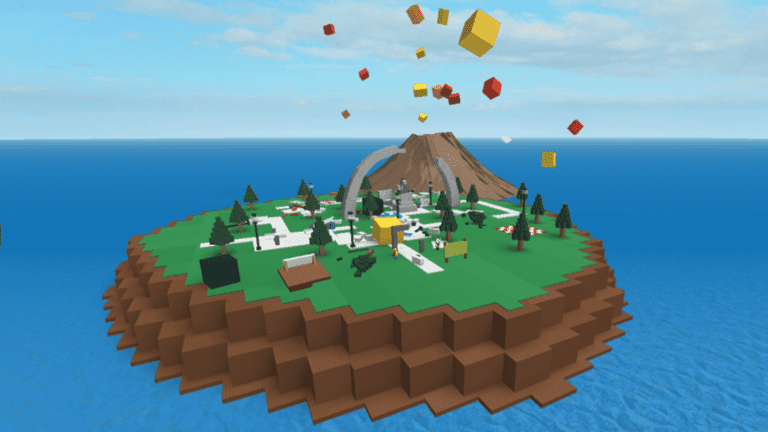 There are even entire Roblox games you can try to recreate with Legos, such as the easily buildable Natural Disaster Island. Sure, the island itself changes with each round to a new destination, such as the amusement park or prison, but the entire game is built around this blocky Lego style. This helps the places to fall apart when a volcano erupts on it, but it also helps to make it super easy to recreate with Legos. There is a lot of potential for fun here, too, like coming up with your own disasters and blasting the place to smithereens to rebuild it with a new place in mind.
Greenville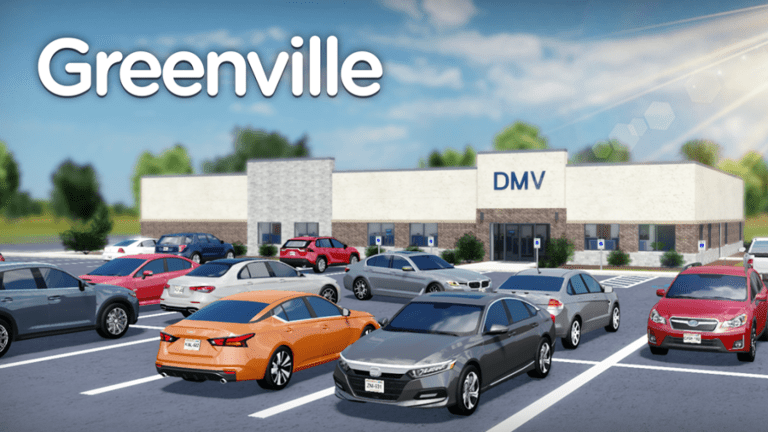 The entirety of the Greenville Roblox game is rife with countless ideas for building using Legos. The entire town, including its riff on Best Buy, the Ice Cream Parlor, and so on, are iconic places to recreate. However, there is always the auto store/DMV that might be the best starting point. This is where you spawn in the game and buy your new cars to add to your collection. There is plenty of potential in creating this focal point of the town and even throwing in some cars in the parking lot around it. This allows you to not only create a building but use your creativity to come up with some of your own Lego car ideas, too.
Theme Park Tycoon 2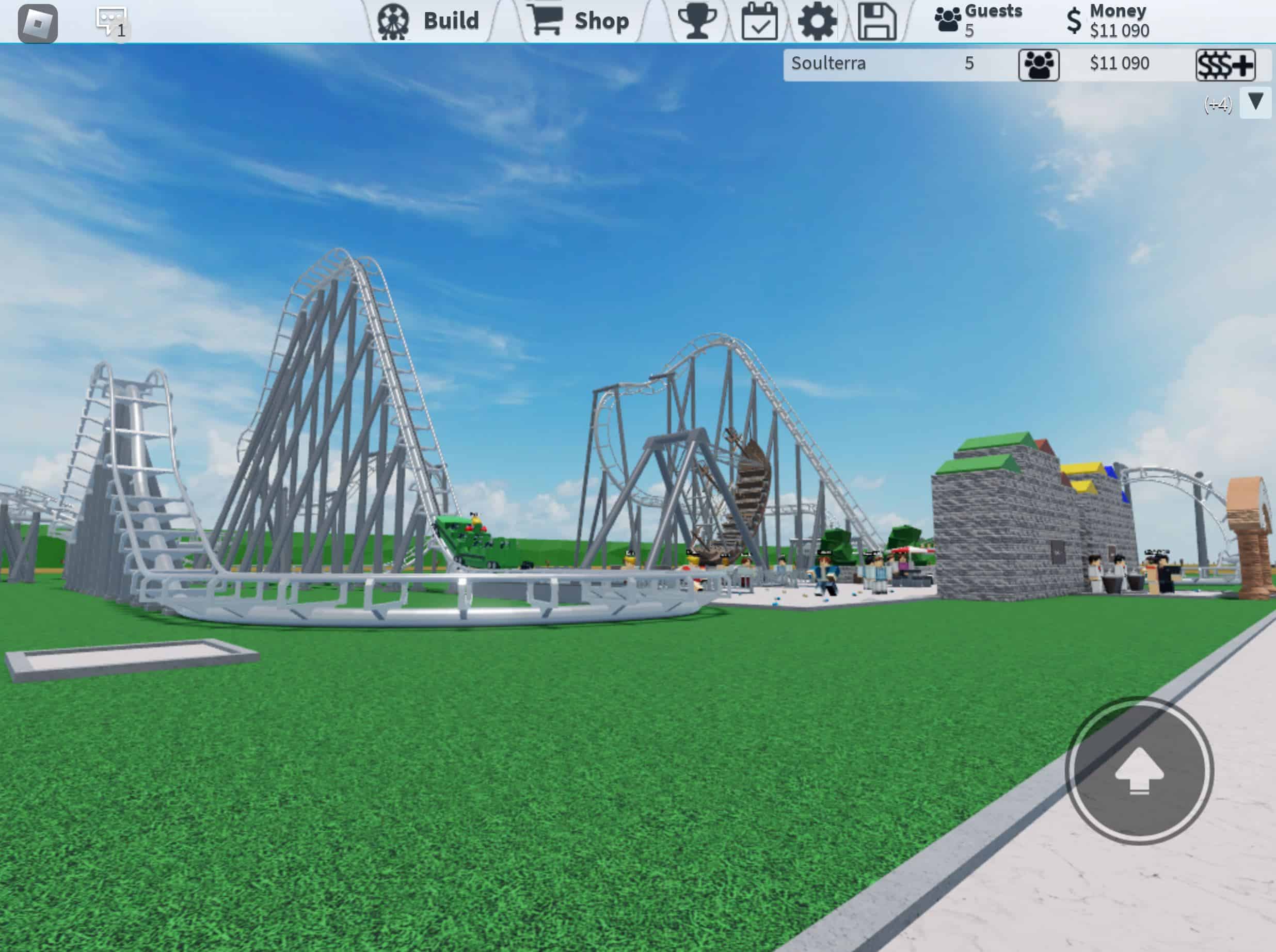 This is, admittedly, one of the harder Lego builds you could do based on Roblox but also one of the most fun. Theme Park Tycoon 2 is a fantastic simulator game where you create your own amusement park and then manage it, trying to get as many visitors as possible. The best part about it is that you make your own rides and rollercoasters for people to check out. What you can do in the real world is take the theme parks you made in the game and bring them to life. This will be a serious challenge to accomplish, but you can use existing Lego theme park sets to give you the pieces you'll need to make this happen.
Tornado Alley Ultimate Town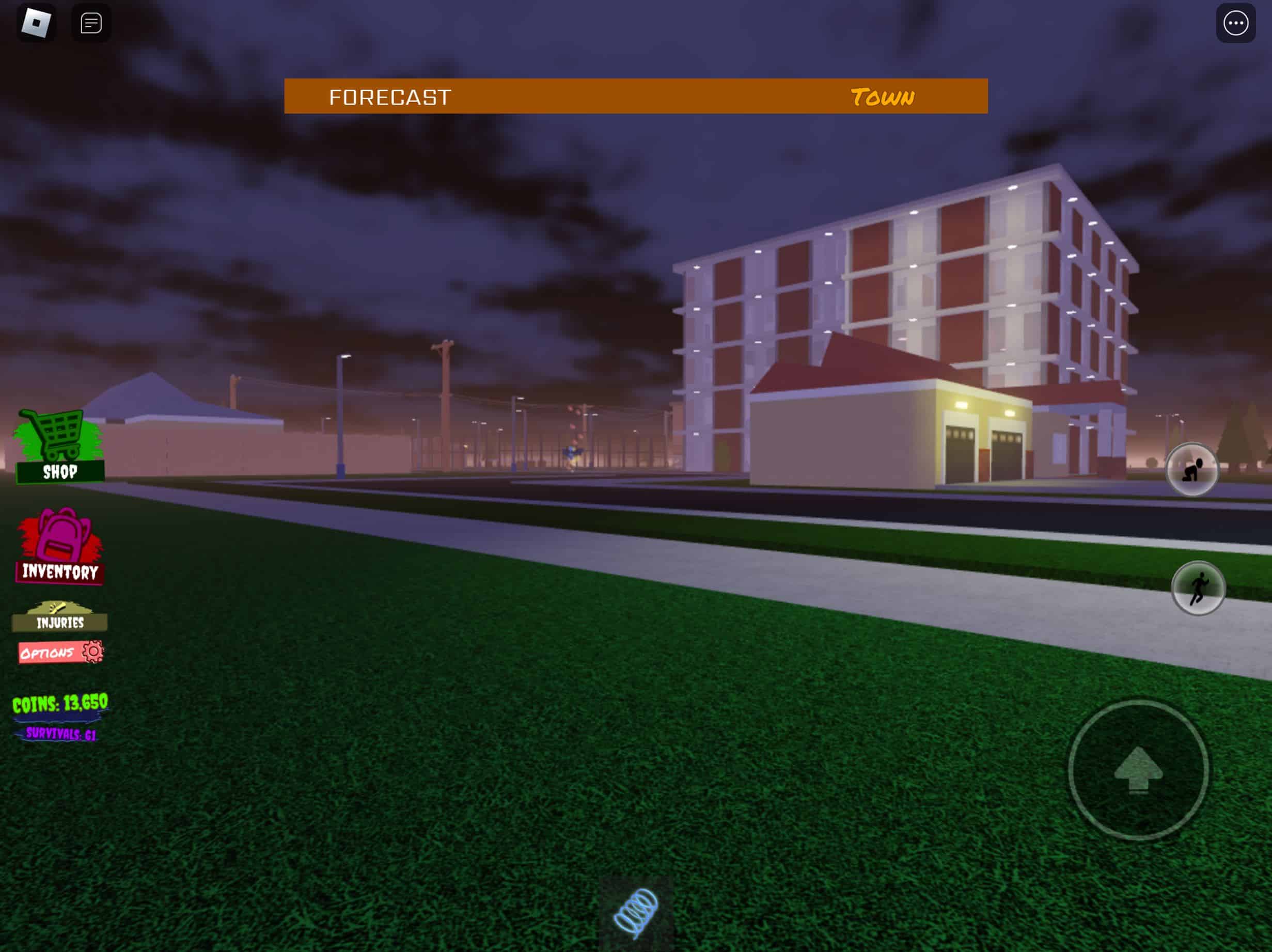 Like Disaster Survival Island, there are several maps used in Tornado Alley Ultimate to get across its tornado-centric disasters. The Roblox game is meant to be a playground to explore and survive in, and it makes for a natural place to turn into your own Lego sandbox in the real world. There are several maps, but one of the best ones would be the Town map, as seen in the screenshot I took above. Build all of the various houses, apartment buildings, parks, and more to then destroy with tornadoes or whatever you want afterward.
Murder Mystery 2 Maps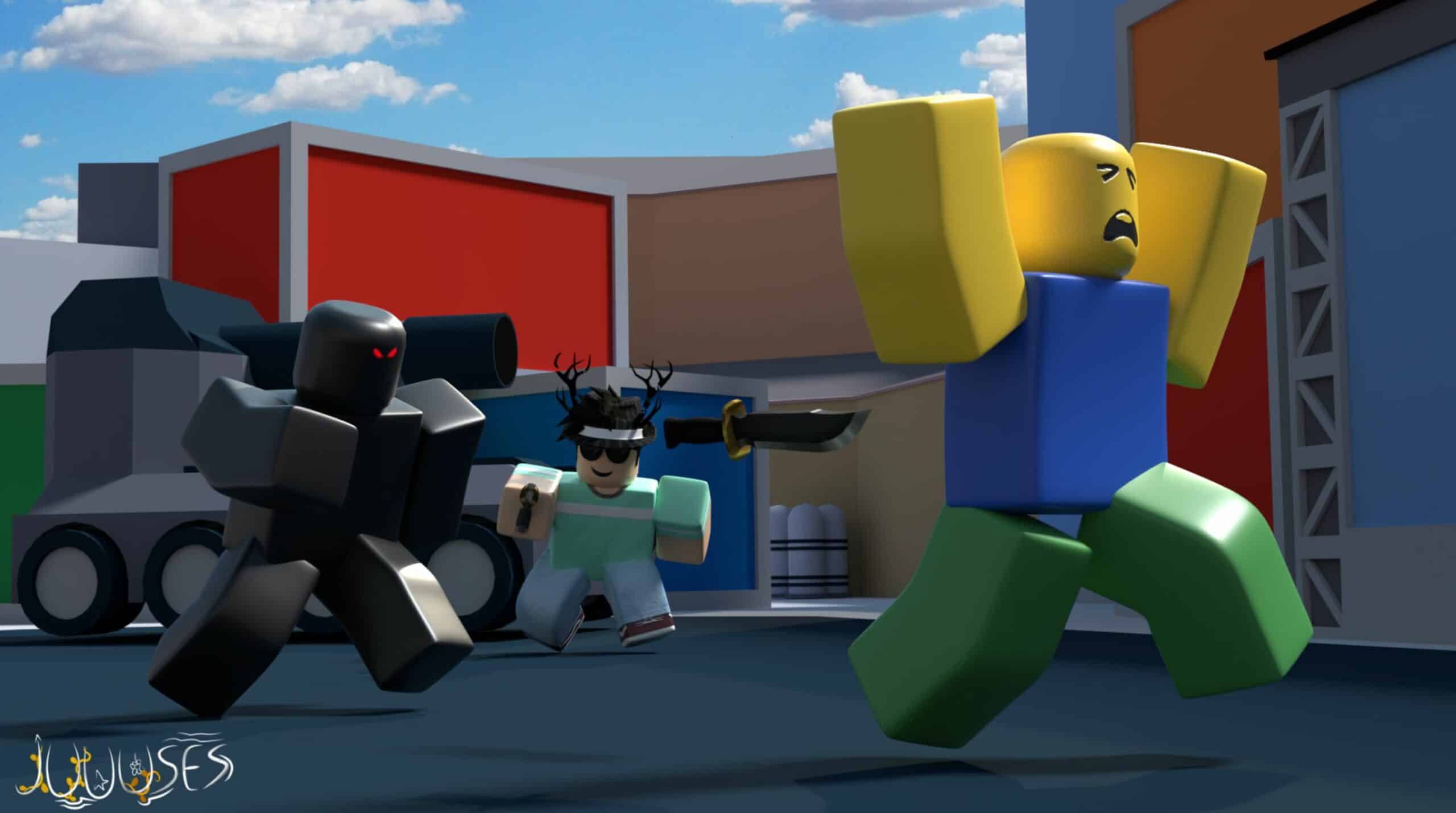 Murder Mystery 2 is one of the best Roblox games to build Lego sets around. Each of the maps in the murderous game is so tiny and intricately detailed, many of which have rectangular angles like the screenshot above. These make for easier to design Lego sets while also providing a clear blueprint to use. Creating some of the iconic locations from Murder Mystery 2 lets you then turn around and put your Lego characters on the maps to roleplay however you like. You could select a murderer, sheriff, and the various innocents who will then act out matches with you as the storyteller. Feel free to have as many twists and turns as you want, as it leads to whatever ending you think is best.
FAQs – LEGO Roblox Build Ideas
Question: What can you make out of Lego Roblox for beginners?
Answer: If you are a beginner, I recommend starting with the Lego-inspired Piggy single-figure buildable sets. These are cheap, so there are very few costs involved, and there are only a few moving parts, so even beginners won't need a lot of time to put it together. Plus, there are more of these where that came from if you like them.
Question: Are there Lego Roblox sets?
Answer: No, there are no official Lego Roblox sets at this time. Though I think there should be, they don't exist for now, so you'll have to make do with the ideas above.
Question: What is the coolest Roblox buildable set?
Answer: The coolest Roblox buildable set is easily the Piggy Carnival Buildable Set. There is nothing like this sweet map that provides such endless possibilities for what you can build and roleplay here. Plus, it helps that it is cheap to buy, which is relatively cool, I'd say.
Where to Find Actual Roblox Buildable Sets
If I had to pick a single Roblox idea that I think is the best for those of you who are Lego and Roblox fans, it would have to be the Piggy Carnival Deluxe Buildable Set. Piggy on its own is an iconic and beloved Roblox game, but then there is the fact that the carnival map also happens to be the best map in that game and one of the most famous in all of Roblox. You really can't go wrong with the Piggy Carnival Buildable Set, as it would allow you to bring that amazing place to real life. However, that is but one of the many Roblox buildable sets out there. If you want to find out more about those types of sets and some of the other Roblox merch items you can find in the real world, be sure to check out our complete Roblox merch guide for more info.
Recommended Reads: