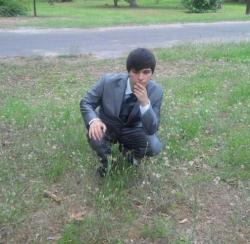 Latest posts by Cody Perez
(see all)
Roblox is so much more than a video game. It is a social platform for players to gather together and show off their fashion skills in crafting the best-looking (or most ridiculous) avatar in the game. Preparing such an avatar requires impressive use of the clothing, faces, and body options in Roblox. It also means that the best Roblox hair combos can help with this.
The best Roblox hair combos go a long way toward creating the best avatar for you. If you pick the right hair and combinations that go with your desired style, you can set yourself apart from the millions of other players in the crowd and feel good about how you look.
Just like in real life, feeling good about yourself online can be beneficial in so many ways. Ever since starting Roblox in 2016, I have spent so long trying to come up with the best hair combos for me, and I'm going to use that info to help you out.
Bottom Line Up Front
The best Roblox hair combos have to meet two distinct requirements. First, they need to be the best-looking hair combos on Roblox. This is subjective in a way but there are some general combos that I think most players can agree upon as some of the best in the entire game.
Furthermore, it has to be a combo that you are confident and comfortable in. If you are proud of how you look, everyone else will see that and be excited for you online. The best example of the Roblox hair combo that impresses me the most is the emo girl's long hair and pigtail combo. It is absolutely stunning, and well-organized and creates one of the most unique styles that aren't too present on Roblox.
Roblox Hair Customization Tips
Before I give you the best Roblox hair combos you need to know about, I have some general tips for you. Keep these in mind as you look through the hair combos below or come up with your own ideas for what your character should look like:
These best hair combos are merely suggestions. Sure, if you see one and adore it, go for it! But if you aren't entirely sold on one but appreciate it, make it your own.
There is nothing wrong with taking ideas from this list and other players you find in Roblox and tweaking them to make them unique to you. In fact, I think this is even more impressive.
Don't feel like you have to pay Robux. Money is a precious resource, and you don't have to unnecessarily spend it to get the best looks in Roblox if you don't want to.
In the same vein, use games like Royale High as your playground for creating the best hair combos in Roblox. It has its own hairstyles, and you don't always have to spend Robux to get them.
Start with the outfit when creating your avatar. Sure, this might be a best hair list, but I find that the outfit is the most essential part. Once you nail down what clothes you want to wear, it makes finding the right hair easier. There's nothing fun about finding hair you love and an outfit you love and then realizing they don't go together.
Selection Criteria
These are the selection criteria I used when coming up with this list. Keep in mind that it is ultimately subjective to my tastes and opinion, but I tried to run with some basic guidelines that can be helpful for you:
Quality: Not all hair is made equal in Roblox. Different creators made hairstyles, and some are much better than others. Only the best quality is on this list.
Uniqueness: Hair is unique to every human being so I prioritized the ones that stood out from the crowd as the most unique and impressive for Roblox avatars.
Variation: I tried to ensure that there was enough variation in hairstyles to appeal to a broad category of Roblox players. I made sure to include short hairstyles, long ones, and even some whacky ones. Hopefully, there is something for everyone here.
Budget: In addition to style variation, I tried to include budget variation, too. I put some of the best hair on this list that is affordable while also having some extravagant ones. There is even a free one for those on a tight Robloxian budget!
Hair Combos: Note that these are hair combos. This means mixing at least two hairstyles together. As such, you'll find some intriguing mixes you haven't thought of before below.
Avatar Shop: There is a temptation to include some hairstyles from games like Royale High, but I ignored that for this list. You'll only find hairstyles you can get in the avatar shop and, therefore, use in most Roblox games here.
Best Roblox Hair Combos List
Without further ado, let's dive in and take a look at the 10 best Roblox hair combos on the entire platform. These are the hairstyles that I find are the best across all of Roblox and work best together in a combo.
If you want to look your best when you're playing Adopt Me, Bloxburg, Shindo Life, Flee the Facility, Murder Mystery 2, and the like, these are the ones to consider in no particular order.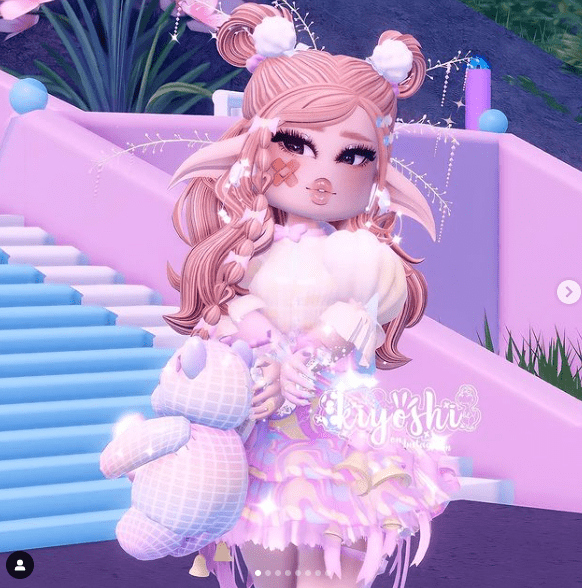 Combo items: Platinum Space Braid Bun (or similar style)
Blonde Cute Wavy Hair
Starting off this list, we have one of the more versatile long-hair looks that are generally for feminine avatars in Roblox. It takes a braid and bun hairstyle that is usually short and mixes it with a long wavy hairstyle. Together, this makes for a trifecta of fashionable sense.
You have the bangs parted to the side and the long locks that go well past the shoulders, but also the benefit of buns on top of the head. In this way, it is like having the best of both worlds in a way. This hair combo goes well with many different outfits, from formalwear to casual clothes. Either way, you'll look great in whatever Roblox game you're playing.
Pros
It takes three of the best hairstyles — dual buns, long wavy hair, and braids — and puts them together.
This is a hairstyle that goes well with most outfit types, though it favors more feminine, formal clothing.
There are some hair color options beyond the blonde in the screenshot
Cons
There aren't that many hair color options, but a few in the avatar shop
This will cost you some Robux
Though this is a versatile hair combo, it doesn't work as well with non-feminine clothing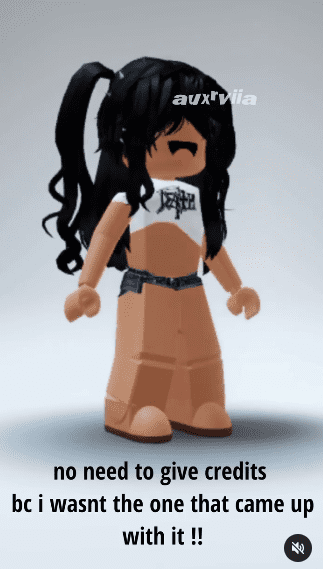 Black messy hair
Black mullet
I like to call this particular hair combo from this Roblox user the Doja Cat combo. This is because of the Doja Cat song in the background and the cutesy, almost pop anime style that is going on. It reminds me of dancing and singing to her music, being a mix of the black wavy hair item from the avatar shop and the black messy anime hair.
There are other hair color options for these particular items, so you are free to change these if you'd like to. Together, it makes an adorable hairstyle that looks like pigtails but with massive bangs that cover up the character's eyes. It's a messy but fun and exciting look.
Pros
One of the funnest hair combos for exploring Roblox games
The hairstyle is messy but in a good way
It has several color options to choose from
Great for casual clothes
Cons
This might be too messy of a hair combo for some players
If you aren't wearing t-shirts, tank tops, and the like on your avatar, this hairstyle probably won't look too good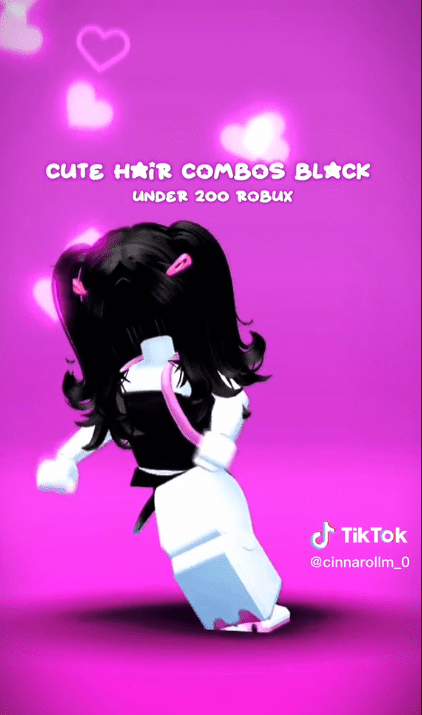 Cute darling ponytails
Long black hair
This particular anime black hair combo is quite similar to the last one, but I appreciate the cleaner version it has. You have the double bun style on top of the head, but not as prominent as the first style on this list, plus the long straight black hair that goes all the way to the waist.
These are two distinctly different hairstyles that somehow work well with one another, much like the last entry. But this won't look too bad if you want something that will look quite good with a dress or skirt. In fact, you could even have some solid cosplays with this hairstyle, such as Nico from the Love Live anime series.
Pros
This anime-style hair works well for avatar cosplays
It's similar to the previous combo but much cleaner and neater for those who prefer that
You don't have to stick to the black hair version since there are other options
Cons
Some fans might see this as a little bland compared to the last hairstyle combo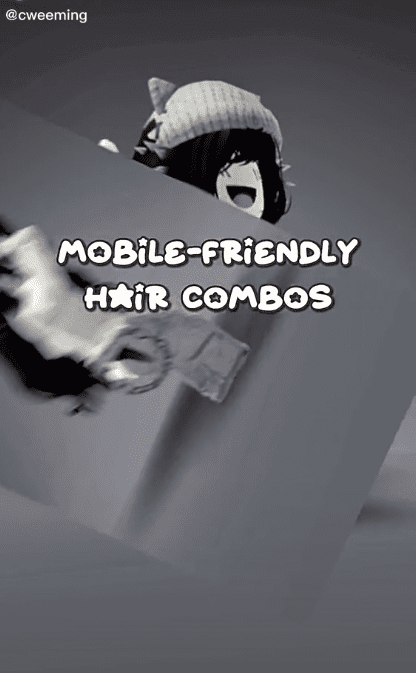 Cute full bangs (pink)
Pink anime flowy pigtails
I'm pretty sure a family member of mine has this exact hairstyle combo in Roblox right now. I like to consider this one the Hatsune Miku hairstyle since it is one of the best at giving you that classic vocaloid look. There are other hair color options, too, if you want to have the classic baby blue Hatsune Miku appearance.
Even if that isn't your thing, though, this is one of the most professional hairstyle combos on this list. Understandably, some of them look a little forced together, but this hairstyle looks so smooth I'd legitimately believe this is a single item. So, it's a shame that it isn't, but you can recreate it right now. Bonus: this TikTok has other great hairstyles to look at, but this is my favorite.
Pros
One of the smoothest hairstyles on this list
Hatsune Miku fans rejoice!
If you opt for the pink version, I love this pastel, muted shade
Cons
This might be a bit too bubblegum pop cutesy for some players
I feel like this hairstyle limits your outfit selection to equally cutesy and kawaii outfits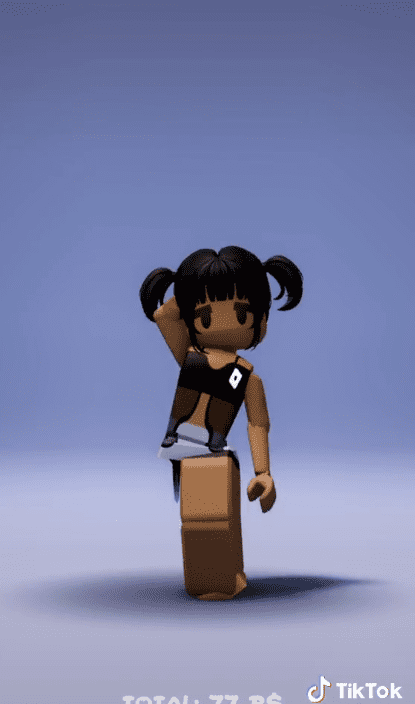 Kawaii heart-shaped
Wispy bangs
If you're looking for the ultimate anime Harajuku girl cutesy style, look no further. I mean, it even has kawaii (also known as cute in Japanese) in the name of one of the items. The heart-shaped hairstyle is like the beautiful extravagant version of some of the parted bangs and long pigtails from other entries.
But then you have the wispy bangs, which are the most underrated part of this list. On their own, the wispy bangs are almost entirely useless items. But when paired with this heart-shaped hairstyle, it adds the perfect touch to elevate the almost nonexistent bangs to some of the most stylish hair combos ever. I love what they do together for the avatar face.
Pros
This is the right mix of kawaii anime feel while being a bit more fashionable and approachable for a large group of players.
The wispy bangs make for the best bangs in all of Roblox
The heart-shaped structure wraps nicely around the avatar's face
Cons
The heart-shaped style of the hair won't work well for every facial structure
There is something about the tops of the pigtails that bother me a little bit, as they look somewhat messy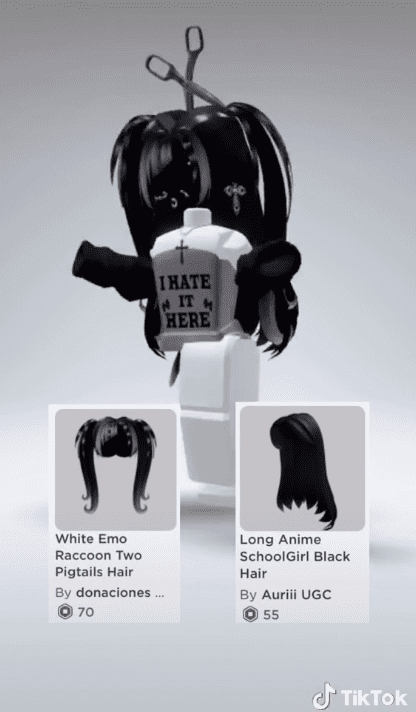 White emo raccoon two pigtails hair
Long anime school girl with black hair
The emo style is part of your very being if you're anything like me. As such, you probably want your Roblox character to look and seem the same. If that's the case, this particular emo-girl hair combo is going to be the one for you. It takes two simple and cheap hairstyles from the avatar shop and brings them together.
For a meager price of about 125 Robux, you can have one of the best emo girls looks in all of Roblox. The emo raccoon hair is underrated; already looks good on its own, but the long hair that you add to it completes it. It creates this extremely complicated look that balances emo, pigtails, and long flowing schoolgirl hair into one. I'm pretty sure one of my family members uses this hair combo.
Pros
It's good enough for one of my family members
There are going to be few better emo hairstyles in Roblox than this
The streaks of white and gray add a subtle but nice touch
This is surprisingly cheap to recreate
It works well with all sorts of clothing and accessories, such as the scissors in the TikTok
Cons
If you're not a fan of emo style, this may not be for you
The bangs could be overwhelming for some players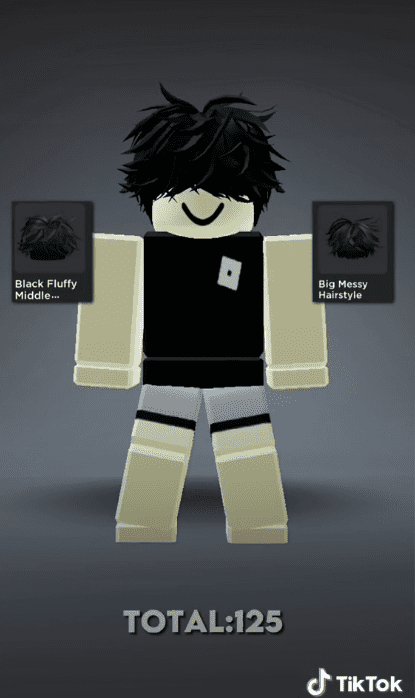 Black fluffy middle messy hair
Big messy hairstyle
I will admit that most of the best Roblox players are making some hairstyles for feminine characters, but there are some fantastic masculine combos, too. Enter this mix of emo and anime with this hair that I know a lot of dudes have in real life, including some of my friends.
It takes two messy styles and blends them together. While the changes aren't immediately noticeable from the original hair versions, subtlety is key here. The bangs are far more prominent and prevalent, while the messiness has an almost orderly chaotic nature to it. Overall, this is a great cheap option for masculine avatars in Roblox. Plus, there is another great style combo in this same video.
Pros
There is a strange sense of organization to the chaos with the messy double hairstyles
This is one of the few hair combos that work well for masculine characters
This is another hair combo that won't break the Robloxian bank
Cons
The messy hair combo may not be for everyone
You have to be alright with never seeing your eyes with this combo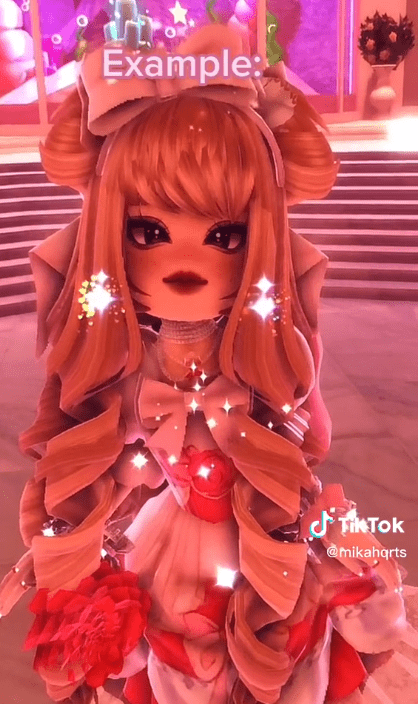 Royal curls
Lead guitarist bangs and buns
Are you that person who needs the most extravagant hairstyle in all of Roblox? Are you virtual royalty who needs to let everyone know it? Then this is the combo for you. The princess long flowing hair combo is one of my favorites on this entire list. This is precisely what a couple of my family members need to use.
After all, there are so many gorgeous dresses and unique clothing that you are able to wear in Roblox. But the problem is that the hair in the game doesn't always live up to the quality of the clothes. This is one hair combo that makes it work. This is the most luxurious hair I've seen in this game, but it will cost you.
Pros
The most extravagant and beautiful hair that you will ever find in Roblox
This is the perfect look for princesses and royalty across the platform
The two hairs mixed together is a surprising combination that works unbelievably well (kudos to Mika!)
There are a couple of other brilliant hair combos in the video, too
Cons
This complex and stunning style may be too much for some players
The priciness of this hair combo could be off-putting
You need the right clothes to make this work, which makes it even more expensive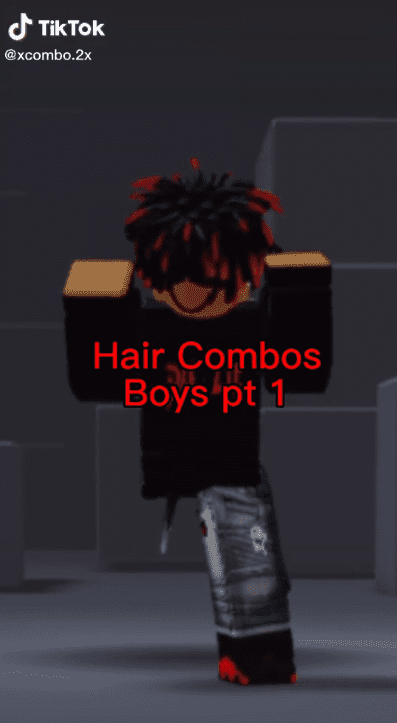 Black messy dreads
Black stylish dreads
Red messy dreads
Black styled dreads
Red dreads
This is by far my favorite hair combo for masculine characters in Roblox. It is pricey, though, costing around 414 Robux to get. It takes far too many items to make up this hair combo, but it is ultimately worth it. You get some of the best-looking dreads in all of Roblox.
If that is a hairstyle you want to have in this game, this is the one for you. It is fairly flexible, too, letting you change the colors if you want. That said, after going through the avatar shop, the red and black combo that the person came up with is the best version. But you can pick blue ones, green, blonde, and more.
Pros
The best hair combo for masculine characters
The best-looking dreads in all of Roblox
There is a lot of flexibility in terms of which hair colors to use
Cons
This is one of the most expensive hair combos
There are way too many hairstyles you need to make this work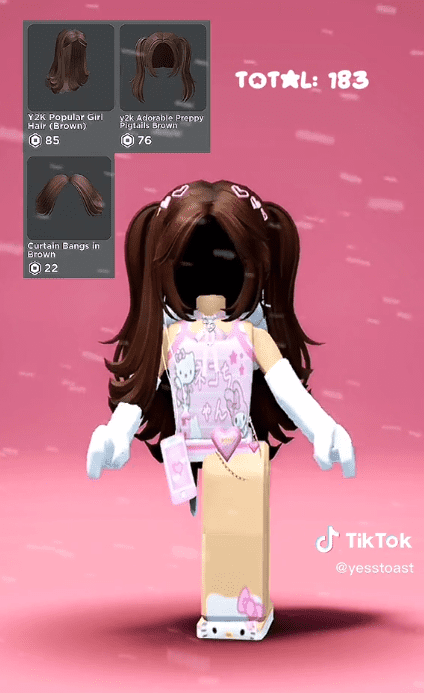 Braided raven updo in pink
Curly swoop drop back pigtails hair pink lavender (yes, that is the actual name; other players made these ridiculous names)
Curtain bangs in pink
There is something about nostalgia and taking a look at the styles of the past. That is precisely what this particular hair combo is all about. It takes three items to make it up, but the end result is fantastic. This is one of my favorite combos since it is another one that blends together seamlessly.
Altogether, it looks organized and almost like this is a single item in the Roblox avatar shop. However, it is actually three distinct items. Fortunately, they are rather cheap, so you'd only pay around 137 Robux for this combo. In turn, you get what I call the gorgeous Y2K It Girl style.
It has a nice blend of some stylish looks from the late 1990s and early 2000s, giving younger players a chance to try out this outdated look while older players can relive their childhood. It will honestly make your character look like a virtual Barbie doll, which is extraordinary in its own way. The only reason it isn't much higher is that this look is similar to the original curly swoop style.
Pros
This is perfect for a wide range of feminine characters and players, including younger ones and older ones.
It gives a nostalgic feel while also looking fantastic
The three hairstyles come together so well
You won't have to pay much for this one
Cons
Even with three different items, it still looks mostly the same as one of them, with only a few differences.
You either have to love pink, or this won't work for you
FAQs
Question: What are Some Hair Codes for Roblox?
Answer: There are no hair codes available for everyone in Roblox at this time. There are a few ways to find hair codes. Players can check social media and buy certain officially-licensed merch to get hair codes. This differs when it comes to games with unique hairstyles like Royale High; you'll potentially have to join their Discord groups or check socials.
Question: What are Good Hairstyles in Roblox?
Answer: This is subjective, ultimately, but some of the best hairstyles in Roblox will depend on what you're looking for. If you want a short hairstyle, look for something like the Black Trendy Messy Buns. But if you want a longer hairstyle, one of my favorites is the Popular Girl Blonde & Brown hairstyle.
Question: How to do a Hair Combo in Roblox?
Answer: Hair combos are only available on PC for Roblox. Mobile and Xbox players can no longer use this glitch, which isn't an intended feature and could be removed anytime. On PC, go to the avatar editor and select the first hair you want. Then go to the home page to refresh the screen and back to the avatar editor. You should be able to choose the second hair combo, then.
How to Customize Your Roblox Avatar to Look Even Better
The best Roblox hairstyle is only one part of the avatar creation experience. It is one of the most important, though, as your hairstyle can make you instantly stand out in the middle of playing a Roblox game like Greenville, or it can make you fade away into the crowd.
If you're looking for the absolute best Roblox hair, in my opinion, it has to be the emo-girl hair combo. This one takes two beautiful hairstyles and creates something chaotic but gorgeous in the process. It is also one of the only ways to truly have that emo look be so high quality in Roblox.
While that hairstyle and the others on this list will certainly assist you in making the best avatar for you, hair isn't enough on its own. You'll also need outfits, which are arguably even more critical. I recommend playing a game like Royale High and getting some of the best outfits there for your avatar.
Related Read