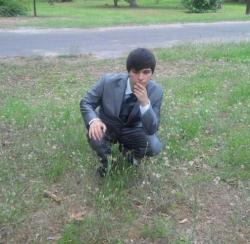 Latest posts by Cody Perez
(see all)
Roblox and Funko Pops have a lot more in common than they might initially seem, despite the former being a game and the latter being a brand of collectible figures. As a fan of both of these products for years now, they both align with my overall interests. Unfortunately, they don't precisely collaborate with one another at this time, as you will see in this Roblox Funko Pop guide.
You see, the problem is that Funko Pops might have collaborated with many other video games over the years, but Roblox is far from being one of them. This could be due to a number of factors that I will get into below, but even still, I have some hopeful news in this Roblox Funko Pop guide for fans of both companies. Thankfully, not all hope is lost.
Bottom Line Up Front
There is no such thing as an official Roblox Funko Pop at this time. Even though Roblox is one of the biggest video games on the planet with a massive audience of younger players, there are no Funko Pop figures you can get these days that represent your favorite Roblox experiences like Royale High, Bloxburg, Adopt Me, and so much more. That said, there are plenty of possible ideas for what some Roblox Funko Pops could like and some alternative collectible figures that could be a suitable replacement.
Roblox Funko Pop Overview
Funko Pop has been going for many years now, collaborating with seemingly countless video game brands, from the Persona series to Minecraft to even Five Nights at Freddy's. Minecraft is the most interesting one to me since there are a lot of similarities between it and Roblox, right down to the whole build your own experience idea.
The same goes for Fortnite, another massive friend of Funko Pops. Fortnite itself has Creative mode, which is, by and large quite similar to Roblox. Epic Games has never said it, but I think that Creative's various experiences resemble a lot of what Roblox has done for years.
With all of this said, you would think that Roblox and Funko Pop would have a phenomenal relationship with one another. Both are pretty popular, especially with younger audiences, so it seems like an absolute cash grab waiting to happen. Unfortunately, the actual circumstances are a little bit more complicated than they may seem to be.
There Are No Official Roblox Funko Pops
I will be upfront and clear with you from the start: there is no such thing as an official Roblox Funko Pop. At the time of writing this, you can't find an official Funko Pop for any Roblox game at all. They just don't exist, which is a huge missed business opportunity for both companies if you ask me.
Now, some players may be wondering why this is the case. We don't have official confirmation on why this is the situation with Roblox and Funko Pop, but I could hazard a couple of possible guesses. In my opinion, it comes down to the fact that Roblox is a slightly more complicated game to deal with than something like Fortnite.
In Fortnite, you have countless skins and all that, but they easily translate to a Funko Pop without any issue with licensing and those problems. Unfortunately, in Roblox, there are not too many standard avatars available across all games.
People just make their own characters, which doesn't bode well with the Funko Pop idea of making iconic characters into figures. Now, there still isn't anything stopping them from using some of the more famous default avatars, as you'll see in a little bit, but that still isn't the situation.
Furthermore, one of the best ways for Roblox Funko Pops to exist would be to use famous characters like George from Piggy, for instance. The problem with that is that you then have to deal with the developers of that game plus Roblox Corp.
This extra layer hasn't stopped other official Piggy and Roblox game toys from popping up, but that might be the reason why we have not seen any Funko Pops to date as of this guide's creation.
Roblox Funko Pop Ideas
With the negativity out of the way now, I want to focus more on the positive side of this situation. Though there are no Roblox Funko Pops at this time, that doesn't mean it will always be like that. In fact, it should happen sooner rather than later if both companies get their acts together and realize how valuable this venture is.
In the meantime, while we wait, here are a couple of Roblox Funko Pop ideas I found online that I would like to share with you. Feel free to take these ideas, Funko Pop and Roblox, for your own actual products. Just kidding because I didn't make these ideas and had no rights to them.
Default Character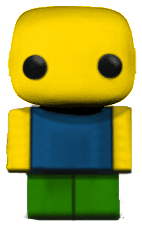 For starters, I want to begin with the default character from Roblox. When you think of starting in Roblox, what is the first character that you think of? More than likely, you think of the classic yellow Roblox character who wears a blue shirt and all that.
This is the default Roblox character for most players and what you start out as until you customize it yourself. DeviantArt user EveryWorld came up with their solid take on the idea of the classic Roblox default avatar as a Funko Pop.
The idea is easy, honestly, since the character is bald and their outfit is relatively simple. The translation is mostly well done, with only a couple of issues here. The outfit's colors are a bit off, like in the case of the way too dark blue shirt, but otherwise, I like this idea. The cute beady Funko Pop eyes match well with this avatar, giving it an adorable flair not seen in Roblox itself.
Other Avatars
While I don't mind the previous Funko Pop idea, this one is where it's at. Reddit user Minter766 shared not one but two different, surprisingly well-done Funko Pop ideas with fans on the social media platform. First off, the more intriguing one is the classic yellow basic avatar for Roblox.
I like this vastly more than the other similar Funko Pop; my bad, Deviant artist. I prefer that this version has more accurate coloring for the outfits and the cutesy smile that is so memorable for Roblox is something that I could very well see Funko Pop translate into an actual figure.
It isn't perfect, though, as there are some issues with the eyes that don't look realistic for a Funko Pop and the actual shape of the figure's head isn't something I think would be done. But the artist didn't stop there with another idea they came up with.
This second one is for the classic default smirking short brown-haired masculine avatar. This one is not a favorite of mine — the avatar, not the figure idea — but I'll give credit that the person did a fantastic job of turning it from a jagged edges Roblox character into a Funko Pop.
The hair is especially killer in this Pop with it looking so detailed and legit, how I think it would look in a Funko Pop version. Even the little dimple line is such a nice touch that it would, hopefully, be something that the real Funko Pop would go for. Again, not a Pop I would want or even buy, but I can't deny the artist nailed this idea.
Best Alternatives
It would be a shame if I left you with only some hope for what's to come and nothing else. Thankfully, there are some excellent figures that exist in the world that you can get right now as officially licensed Roblox items. I don't quite know why these were able to happen, but a deal has yet to be struck between Roblox and Funko, but here we are nonetheless.
Here are some of the best figures you can buy and collect to make up for the lack of actual Funko Pops these days.
For starters, there is the best one-to-one comparison of the Funko Pops to the actual Roblox figures you can buy. The Roblox Series 10 Mystery Figures are like a Gacha game in a way. If you know LOL Surprise Dolls, you know exactly what to expect here.
Series 10 Mystery Figures come in a small container with a single toy inside. You don't know what figure you'll get until you open it up. Half the fun of this figure is the surprise of what item you'll receive, while the other half is, of course, adding it to your collection or playing with it.
What I appreciate about the Series 10 Mystery Figures is that they include a wide variety of iconic avatars and characters from all across Roblox. In this way, they are essentially the Funko Pops without having the massive heads or being quite as large overall. This is your best alternative until the real deal arrives.
Tower Defense Simulator is one of the most popular Roblox games around, with strategic and action-packed gameplay causing it to grow day after day. But even if you aren't a fan of Tower Defense Simulator, there is something to love in these official figures.
The six-pack includes some of the best outfits, skins, and characters that you can find in the Roblox game. From the glorious angel to the highly detailed red outlaw, there is a lot to collect here in one rather reasonably priced set to boot.
Until we get Funko Pops (if we ever do), this sort of collection of figures from a particular game is the best way to show your love for the experience and the characters inside of it.
The joy of Funko Pops comes into two forms: finding your favorite characters in adorable little chibi figures and then amassing a collection of everyone that you love. Your collection is unique to you, and you define what is inside of it. In that similar vein, the Action Collection Collector's Toolbox helps you do the same for Roblox figures.
With so many Roblox figures to collect out there, you need somewhere to store them for safekeeping. That is what the otherwise not-so-glamorous toolbox is for. It can hold up to 32 total figures that are roughly around the same small size, meaning that this will go a long way and hold nearly all of the figures on this list. Plus, you can opt for a special version that comes with six figures already included.
One thing to note about Funko Pops is that they are sometimes rather simplistic. Even some of the fanciest and most elegant characters out there are streamlined to have a less detailed design that works within the strict confines of what a Funko Pop is. This can be both positive and negative at times.
Thankfully, that isn't the case with the Celebrity Collection Fashion Famous Playset. This is as luxurious as it gets when it comes to Roblox figures. You don't have to worry about less extravagant outfits or anything like that, as this embraces the idea of the Fashion Famous dress-up game.
While there is a lot to love about the simplicity of Funko Pops, this Fashion Famous Playset lets you collect some stunning models that you can even customize, something that Funko Pop doesn't offer enough of. For the pickier collectors out there, you can't go wrong with this one but note that it is a bit pricey.
One of the annoying parts about Funko Pops is that the newer, nicer ones can be pretty expensive when they come out, and that is for a single Pop. Want more? You'll have to shell out a lot of dough. The Roblox Celebrity 20 Figure Pack takes care of that issue in a couple of ways, making it a solid alternative for Funko Pop collectors out there.
The idea is that you get a whopping 20 figures in this pack that include an all-star cast of some of the most famous avatars, skins, and characters from across Roblox. This package is more expensive than most of the items on this list, but it's like shopping in bulk at Costco: you save money in the long run with these figures averaging at less than $3 each.
That is an absolute steal compared to other similar Roblox figures and a small fraction of what you would pay if actual Roblox Funko Pops were released.
The idea of Funko Pops is that they sit in this nice area between the cheap knockoff toys you'll find at the dollar store and the premium figmas and collectibles that will take a pretty penny. Of course, some Funko Pops are a little expensive themselves, with the 15th Anniversary Roblox Domez Collectibles also matching that pricier end.
These collectible figures are some of the most luxurious items that you will find in the Roblox merch world. There is nothing like the intense level of detail and vibrant colors that each of these three items has. If you're the collector out there, this is the one for you.
What I also appreciate about the Domez Collectibles is that they come with their dome stand, and they feature three of the most important characters ever from three of the biggest Roblox games. MeepCity, Adopt Me, and Royale High are all three represented here.
You'd be hard-pressed to find a collection of figures that matches the quality and expertise of these three, perhaps even rivaling anything that Funko Pops could ever put out.
When it comes to the Mystery Figures that I mentioned earlier, they aren't the cheapest, nor do they have any love for the pets in Roblox. Arguably more important for some players than the avatars are the pets you can collect in games like Bubble Gum Simulator.
These Bubble Gum Simulator Micro Plush Mystery pets are the Funko Pop alternatives for the pet collectors out there. These adorable pets are relatively tiny but have such detail and personality that they more than make up for their size.
Featuring animals like pigs, pandas, and so many others, you have a lot to collect in this group. You don't know what you'll get, either, with mystery eggs delivered to you for you to open. You won't find this element of surprise with Funko Pops, so this is a solid alternative.
FAQs
Question: How can you tell a fake Funko?
Answer: There are a few ways to tell a fake Funko Pop. For one, there are no official Roblox ones, so don't waste your time with that. In addition, pay attention to certain aspects of the Pop, like the price, where it's coming from, edited images, the serial code on the box, box art/borders, and anything that feels out of place. When in doubt, head to a dedicated toy store for verification.
Question: Do all Funkos get vaulted?
Answer: For better or for worse, all Funko Pops are inevitably going to be vaulted and discontinued. Even the most generic and least popular Funko Pops are going to end up in the bargain bin due to no longer being produced. This is why some Funko Pops become exceedingly expensive in the after-selling market.
Question: Are there Roblox Funko Pops?
Answer: No, there are sadly no Roblox Funko Pops in existence at this time, nor have they been announced. That doesn't mean we won't ever get any, but it could be a long time until we do and unlikely to be for every Roblox game, either.
Best Roblox Merch You Can Get
It could be a long time until Roblox, and Funko Pop finally get together to collaborate on some official Pops representing games like Adopt Me, Royale High, and more. In fact, it may honestly never happen, or else I think we would have heard something about it by now.
However, not all hope is lost in this situation. With the above merch items, there are plenty of alternative figures that you can find to fill the void that is left by the lack of Roblox Funko Pops. And if that isn't enough for you, there are even more fantastic merch items based around Roblox that you can get, ranging from backpacks to shirts to, heck, even a themed Monopoly board.
Recommended Reads: