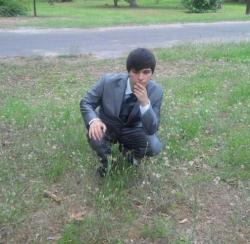 Latest posts by Cody Perez
(see all)
When you love something like a video game, it should show. And for those who don't mind, you should even show off your love for a game like Roblox to everyone you come across. One of the best ways to do this without ever saying a word is through the clothing that you wear. If everyone sees you wearing a Roblox-themed shirt, they'll know exactly what game you love the most. That is where these epic Roblox themed t-shirts come into play.
For many years now, since I started Roblox in 2016, I have bought plenty of merch for Roblox for my family and friends. That includes some t-shirts, of which there aren't as many high-quality ones as you might expect. These days, it is actually quite hard to find worthy Roblox shirts outside of some of the custom sellers out there. Thankfully, that is where I come into play with these epic Roblox themed t-shirts. I hand-picked these particular clothing items based on how much I liked them and would be willing to let my loved ones wear them. Let's get started.
Bottom Line Up Front
When it comes to the Roblox shirts that you need to know about, what you should know is that they are rather hard to find these days. The best online retailers for Roblox shirts include Amazon, Target, TeePublic, and many more. These are the sites that I recommend people head to if they would like to buy a Roblox shirt of their own. For picking the very best Roblox shirts, I made sure to include ones that have high-quality designs that are worthy of your time wearing it and your money.
Roblox T-Shirts Overview
Perhaps one of the most surprising parts about shopping around for Roblox merch is a point that I like to drive across all the time when covering this game: people are sleeping on Roblox. Despite being one of the most successful and popular games in the world, people continue to neglect showing some love for this game.
A case in point in this particular situation is that it is quite hard to find Roblox shirts on the internet. Or, at least, ones that are worthy of your time. Even though there are so many official figures out there, official Roblox shirts are hard to find on even some of the larger online retailers.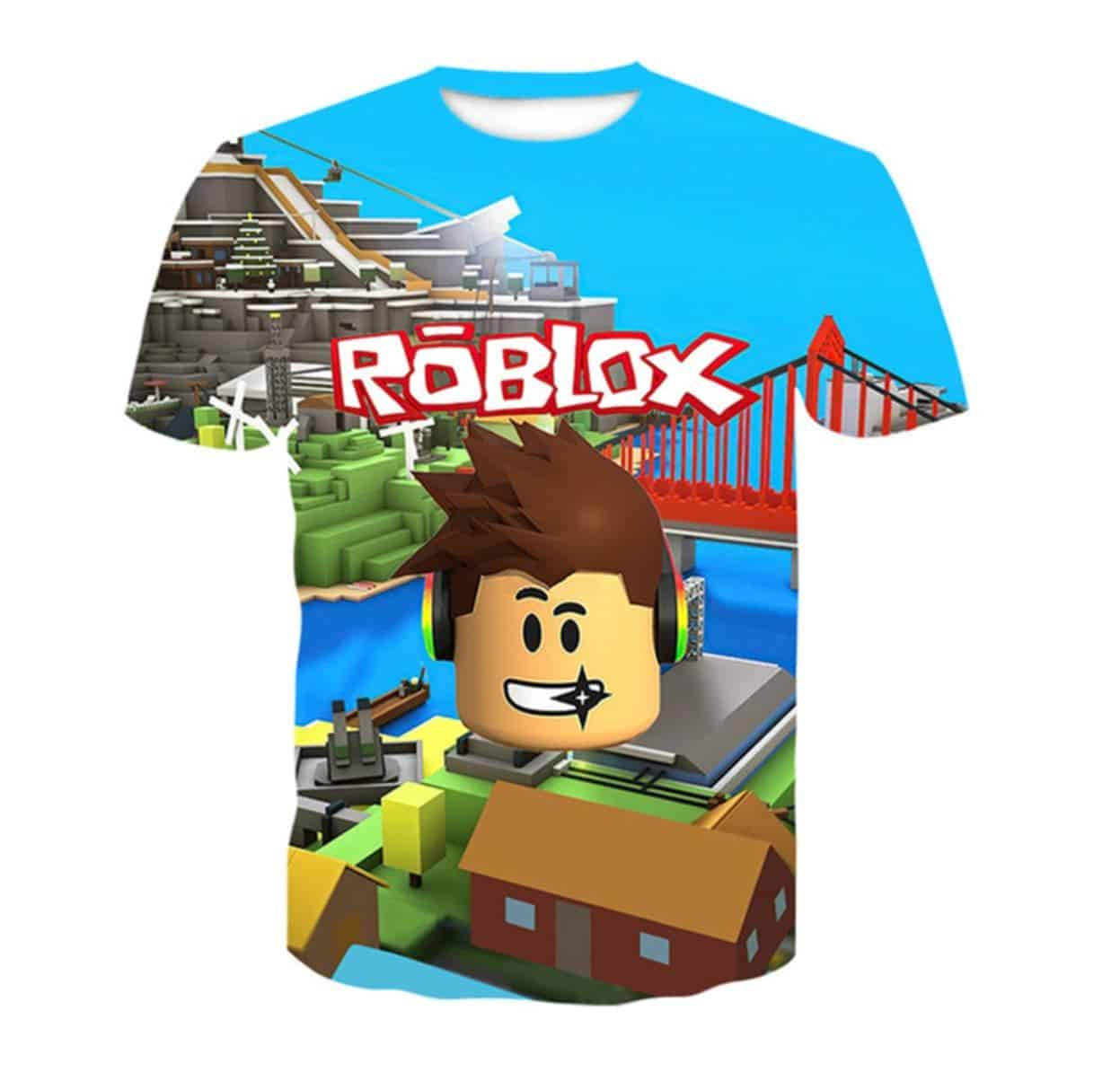 I know that I have a lot of family and friends who love this game, and I have purchased items in the past for them before. Shirts were quite hard for me to find, though, and usually required some random luck at a random store or scouring the internet for the right clothing that is good enough to be worthy of a purchase.
Thankfully, I've done the work for you and compiled together the best shirts that you need to know about that are worthy of your time and money.
Selection Criteria
When picking out these epic Roblox-themed t-shirts, there were a couple of points that I kept in mind. For one, it had to be a shirt that, if I wouldn't wear myself, I would be okay with someone I care about walking around with it on.
As I mentioned, there aren't many official Roblox shirts, so you have to rely on third-party sellers most of the time. Many of these shirts are honestly pretty bad and not worth a penny, and that's not even including how durable the shirt might be, just from looking at it online.
As such, the quality of the design must be high enough that I would be alright with you buying it and wearing that shirt. In addition, I tried to include a wide range of shirts that could appeal to different types of preferences and people.
I know some people prefer darker clothes (like my emo self) while others want something lighter and cuter. I made sure to address those different preferences and the budget issue, too, since some people might not have much money to spend. Thankfully, Roblox shirts aren't too expensive overall.
Epic Roblox Themed T-Shirts Ideas
There are 20 Roblox shirts that I came up with from scouring the internet for ideas. Some of these are official, but most of them come from independent sellers and artists who came up with these ideas themselves.
I should also note that these are not in any particular order. They're kind of random for the most part, with only a few minor exceptions. Without further ado, let's take a look at the shirts that are worthy of your time and money.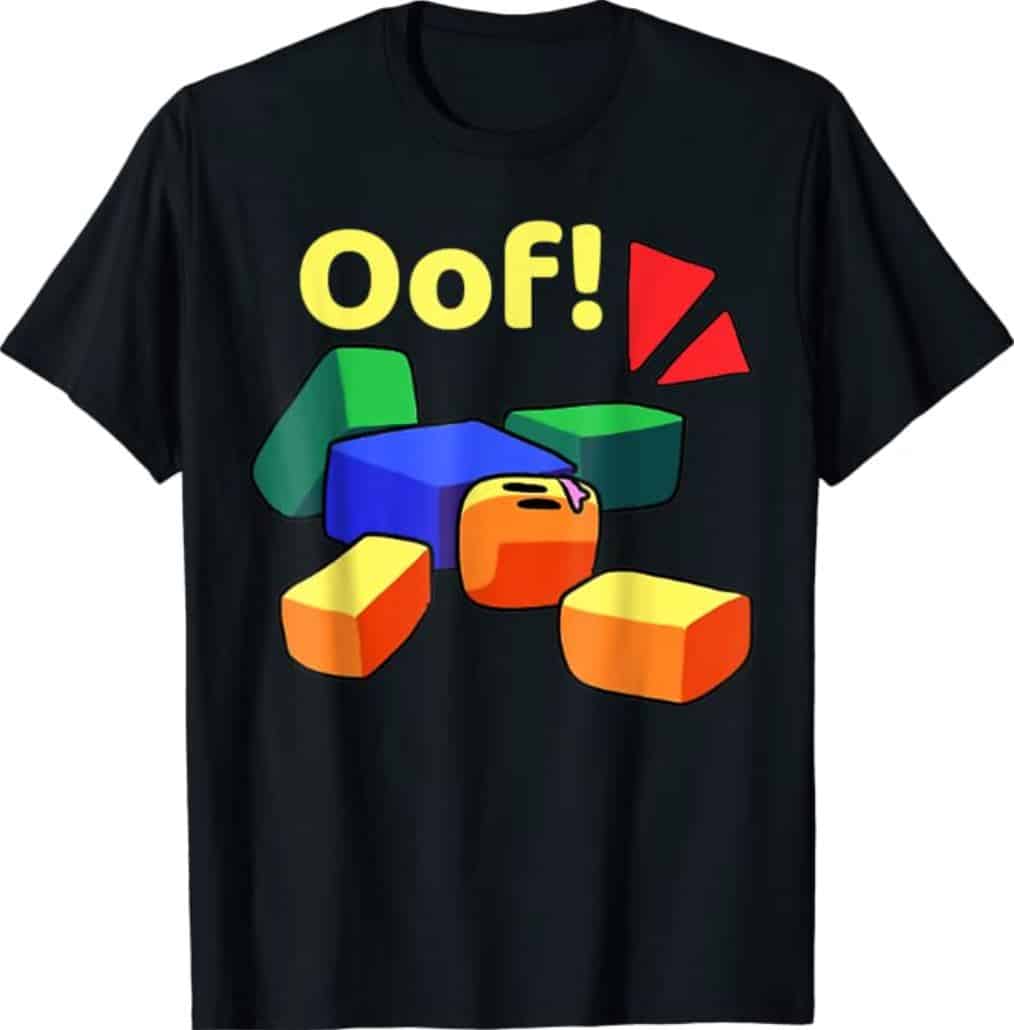 When you think of Roblox, what is the first thing you think of? For me, one of the first things that come to mind is the "oof" sound that characters make when they die. Or, well, they used to make when they died as that is no longer the situation these days in the game due to some legal issues.
Though the oof sound is mainly gone from Roblox forever, it will not die in our hearts and in our memes. If you want to remember the Roblox death sound well, this shirt is the one for you. The central part of this shirt is the oof sound effect that you can see near the top.
But they didn't stop with just that part, as they also added in a dead Roblox avatar in the center of the shirt. Their body parts and limbs have come separated, showing that they died somehow in the middle of a random Roblox game. It's hilarious and adorable and quite simple, too.
Perhaps my favorite part about this shirt is how versatile it is. The default is a black shirt, but you can get the same exact design in about ten different colors, including pink, blue, red, and more. And it's relatively cheap, too, available in many different sizes, including for kids and adults. I appreciate how flexible and fast this shirt is to get for Roblox fans. It's one of the best on this list, which is why I went over it first.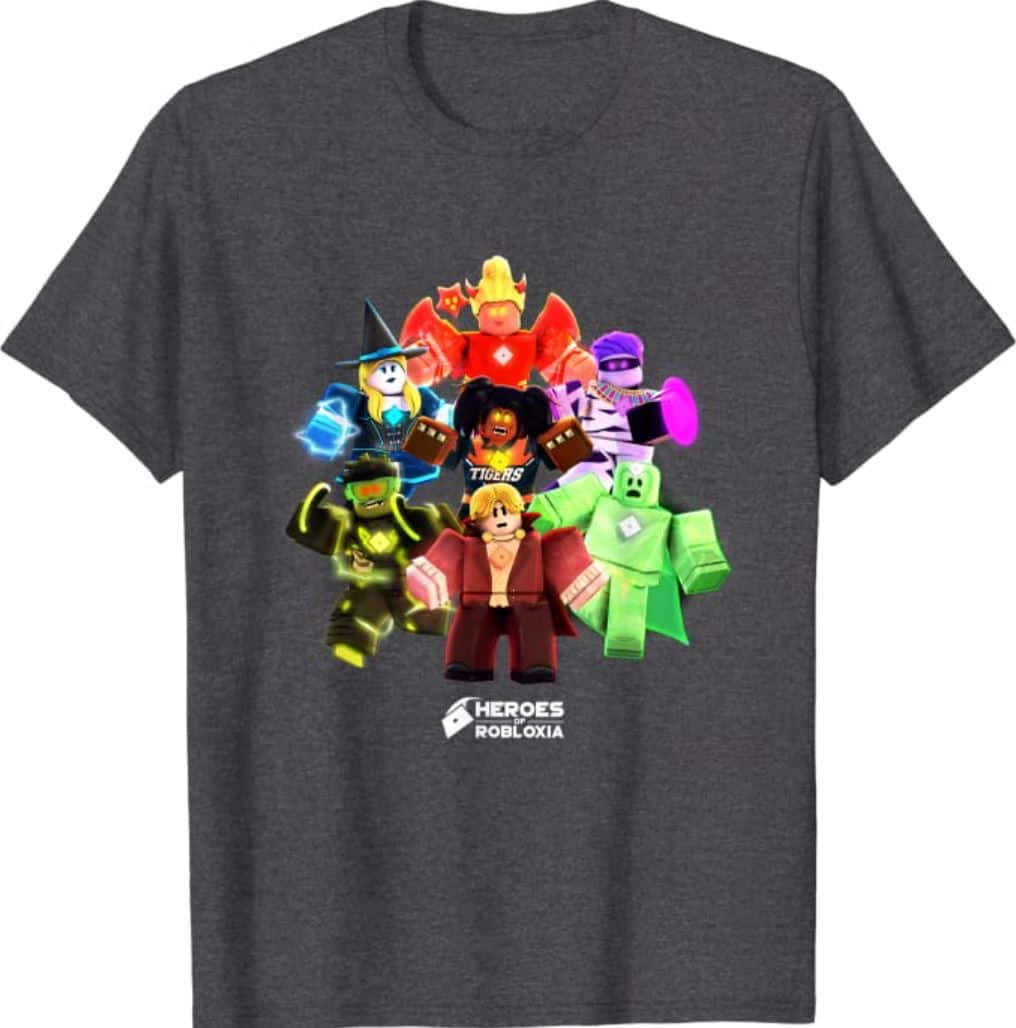 Not sure why Amazon categorized this as a Halloween shirt, but it is at least one of the few Roblox shirts on this list that is themed around a particular experience. Heroes of Robloxia is the star here, the classic Roblox game that involves picking from a few different superheroes to play as.
This relatively simple shirt features all of the main heroes from Heroes of Robloxia that you can play as in a single shirt. The art is very clean and distinct, with a tiny logo at the bottom of the characters. Overall, it focuses on what matters the most — the heroes — and that's it.
Like the last entry on this list, this is a shirt that is pretty versatile, too, when it comes to sizes and colors. There are only four primary shirt colors, but I especially like the purple and gray versions that you can pick.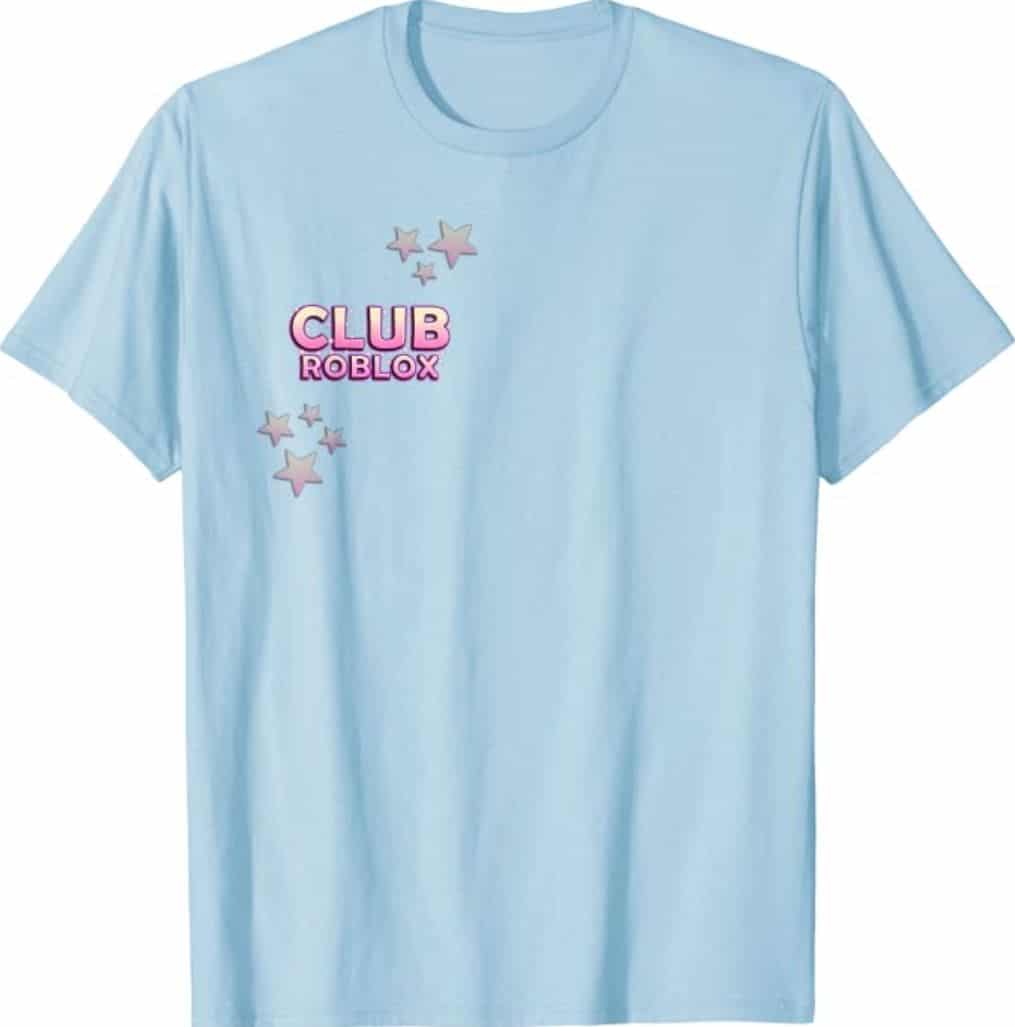 In terms of the plainest shirt on this list, it has to go to this one. This Club Roblox shirt doesn't have almost anything going on here other than the basic tee and the words Club Roblox on it. But even still, there is some charm to this shirt that I like, and I could definitely see not just one but a group of friends or family wearing this shirt together.
Besides the words, there are some sparkles around the letters that add a little accent but not much else. I just appreciate how clean this shirt is and how uniform it could be if a group of people bought this same shirt. The best part is that there are a lot of color options, so everyone could go for a Power Rangers, unique version situation.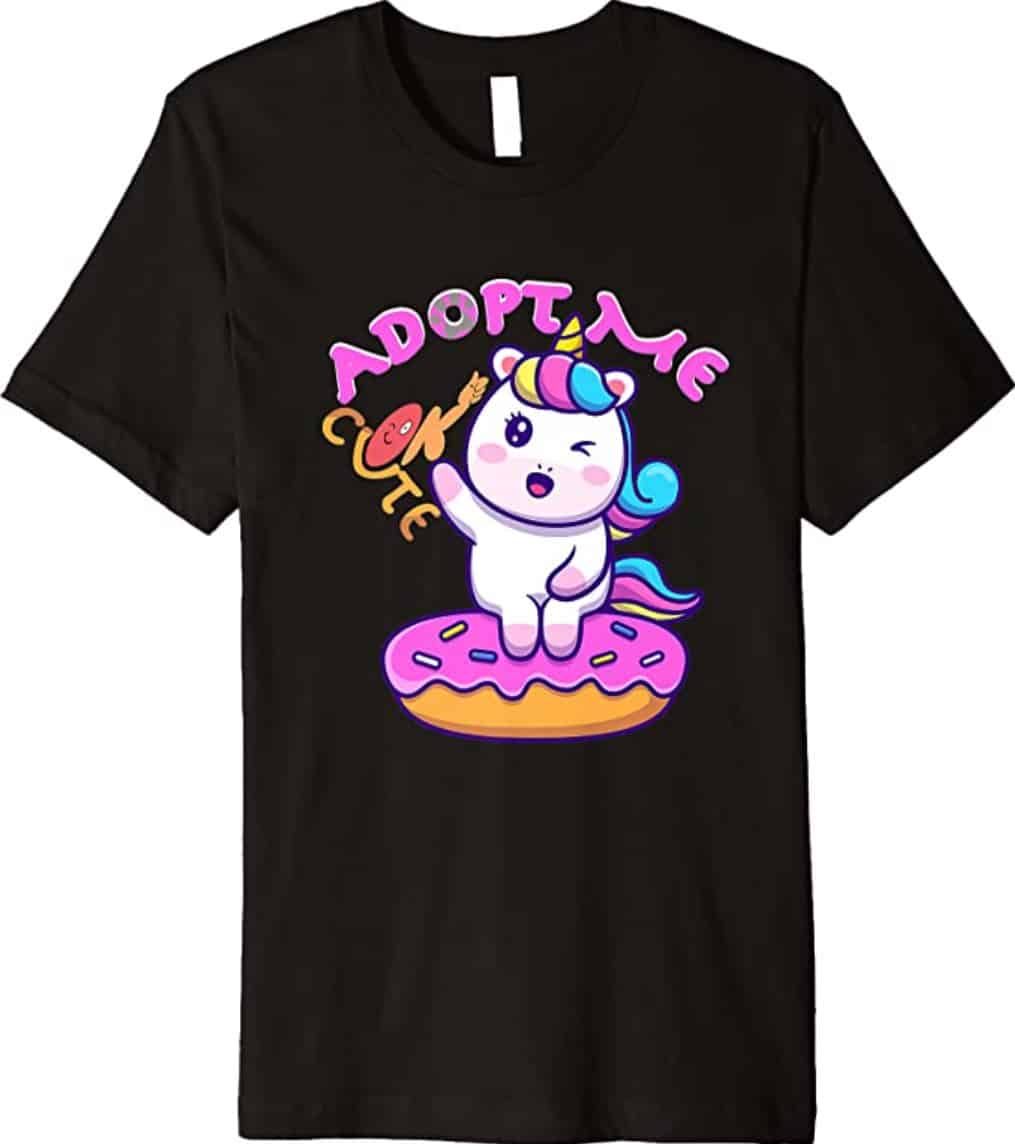 I'm not surprised that of the few Roblox experiences that do have shirts, Adopt Me is one of them. As the most successful and popular Roblox game of all time, Adopt Me has millions and millions of fans, so this next shirt is definitely for those of you who like that game.
This Adopt Me shirt features a classic rainbow unicorn that is acting all cute and adorable and stuff. The unicorn is sitting atop a donut for some odd reason, so fans of Adopt Me, unicorns, and donuts are in the right place with this shirt. What's rather funny is that the unicorn knows it's cute, too, with the literal word "cute" next to it.
Like the other shirts so far on this list, the best part is that you have plenty of variety when it comes to your shirt color. I especially like some of the harder-to-find shirt colors like the light pink, baby blue, and yellow that go together well with this tee.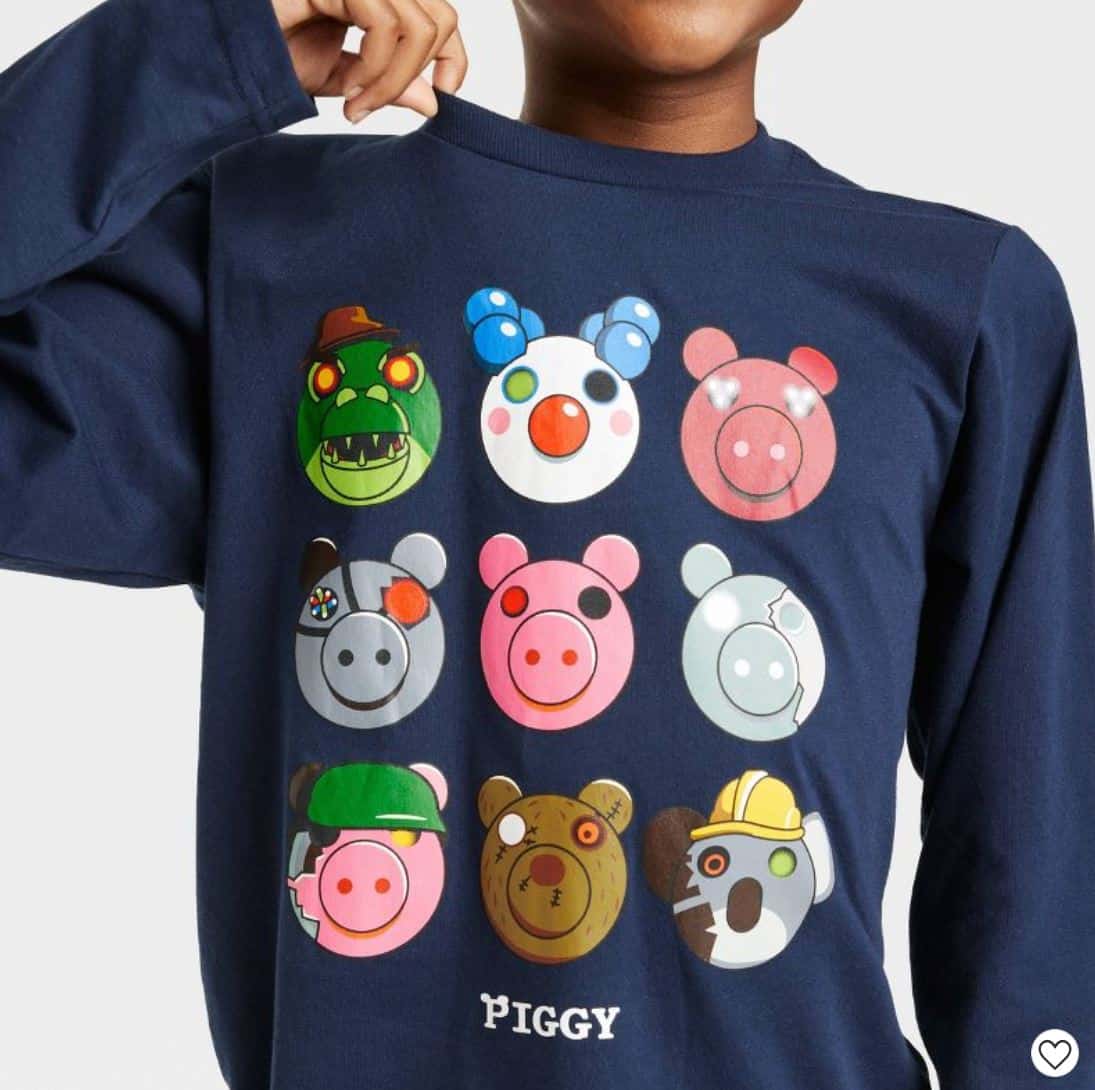 Piggy is another massively popular Roblox experience, for better or worse. Setting aside the fact that this is a horror game with some dark materials that might not be appropriate for all children, this shirt does a nice job of bringing the Piggy characters to life in a somewhat cute way.
There are nine different Piggy characters featured on this shirt, including mostly killers, and that is about it. Their heads are the only part of their bodies that are gathered on this shirt, and I appreciate the organized pattern that they are in, with three rows of three each.
I do think that this is a somewhat questionable shirt since the characters are clearly evil (well, infected), and you can even see the messed-up faces and eyes of some of them. This isn't exactly the most appropriate shirt for some kids, but the design is quite good at least, so I say decide what's best for your family here.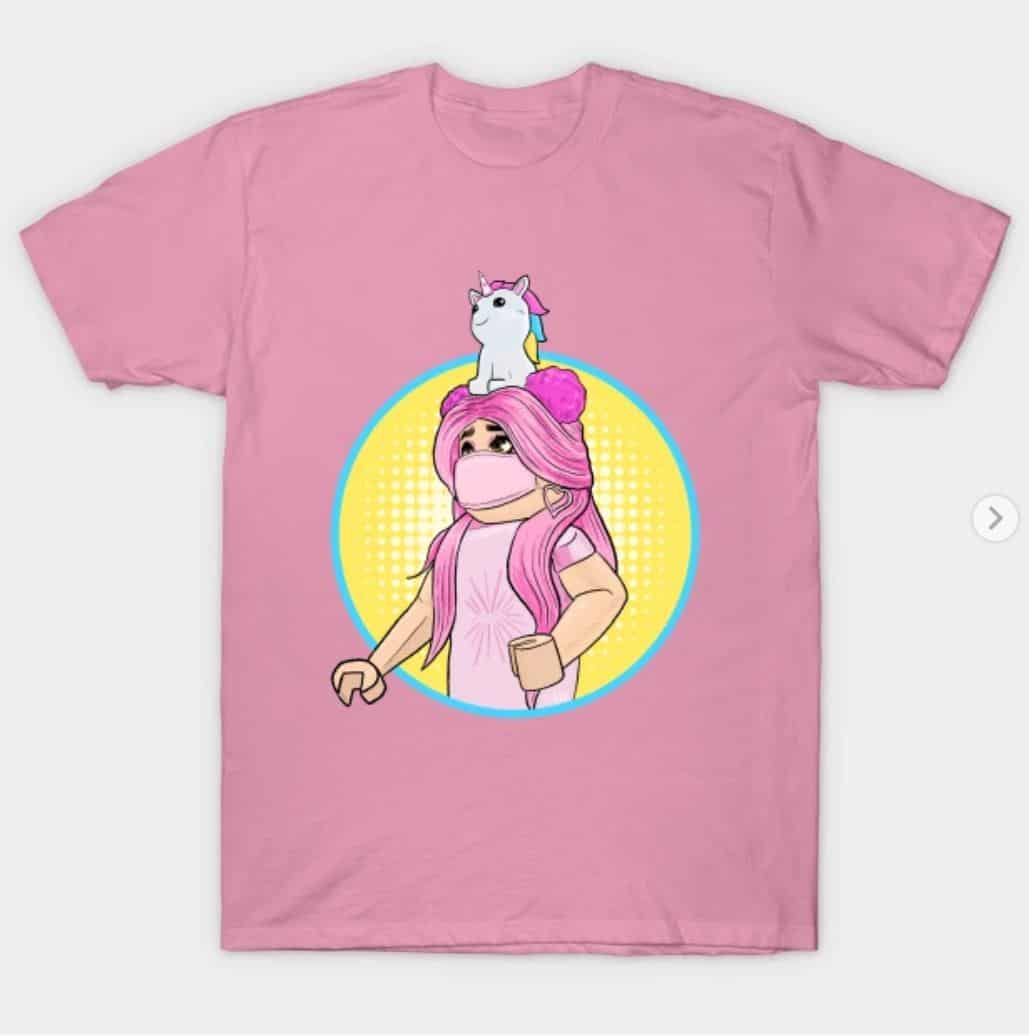 This next one is for the pink lovers out there. I'm not sure if this shirt is referencing a specific game like Adopt Me, but it gives off those vibes for sure. And a little bit of Royale High, too, with the outfit and how the avatar looks in general.
If you love pink and unicorns, you're in the right place. There is the adorable baby unicorn that is sitting on top of the avatar's head and smiling so cutely. What I appreciate is that this shirt features a unique Roblox avatar that isn't based on anyone in particular.
It's just a girl with pink hair, a shirt, and a mask who definitely loves a specific color if you couldn't tell. This shirt does come in colors other than soft pink, but you're almost doing it a disservice if you get a different one.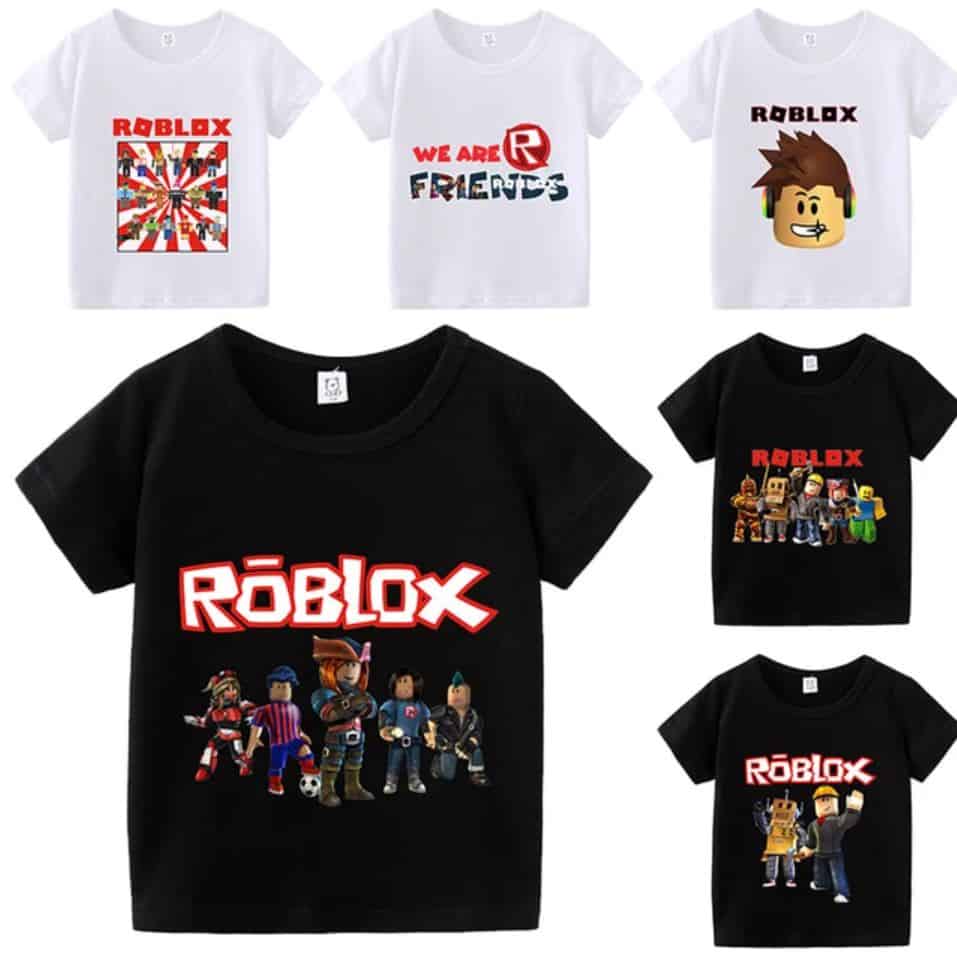 The veterans out there like myself who are getting far too old these days should appreciate this throwback shirt. We have a recreation of some of the key art that was used for Roblox several years ago, including the previous primary logo for the game.
I don't love the old Roblox logo, but I appreciate the nostalgia feel here with its whacky and weird red and white lettering. It also includes the five avatar character ideas that were used in some of the key art for the game for a long time. You can see a soccer player, biker, average person, and so on. I like that it gives you some ideas for what kind of avatars you can create.
What I would like to note here about this relatively inexpensive shirt is that there are other Roblox designs listed here. Some of them are alright, but I am mainly recommending this one. But feel free to look at some of the others, too.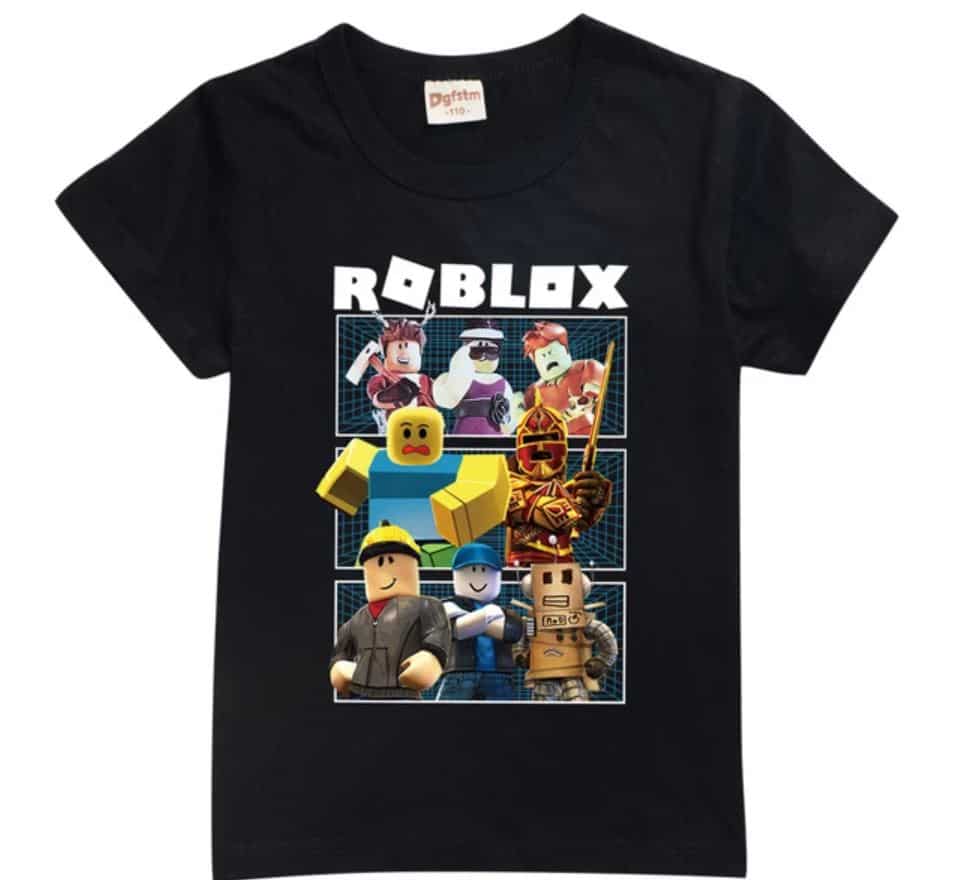 I appreciate that AliExpress calls this a Roblox cosplay shirt, even though that is not at all what this is for. That said, what this shirt includes is the standard modern Roblox logo, along with three boxes of two or three heroes that are shown off in it.
These different Roblox avatars are all so wildly different from one another. Sure, you could take these ideas and then turn them into real-life cosplays, but I see this more as a way to get some ideas for Roblox avatars that you could create inside of the game.
There are avatars that could appeal to different types of players, from a traditional knight to a cardboard robot to a default avatar and more.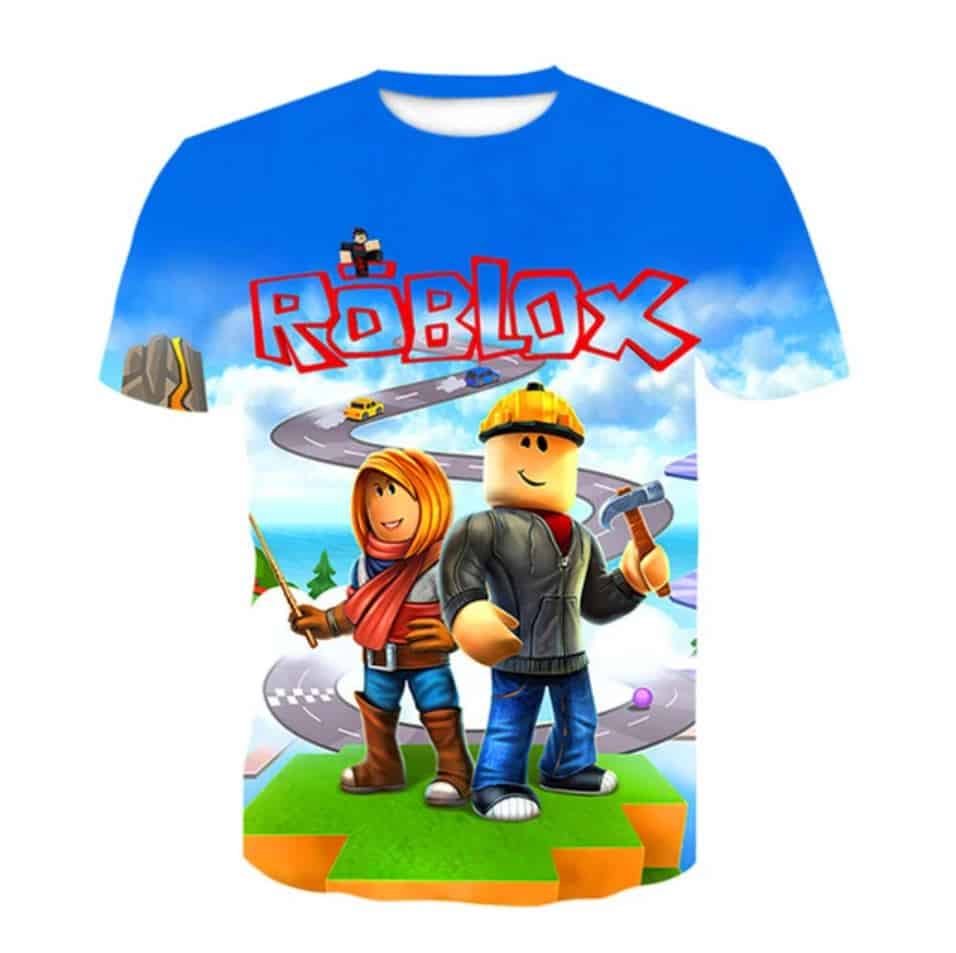 This is by far one of the most unique designs that I have ever seen for a Roblox shirt, hoodie, or anything else. This particular one is for the racing Roblox fans out there who spend their days playing games like Greenville and other car-related games.
The background is a bright sky full of beautiful clouds and a racetrack that is magically going through the sky somehow. There are cars racing all along the track, but the forefront of the shirt focuses on the two builders who presumably created this Roblox map.
If you're a building or racing fan of Roblox, this shirt is for you. The only part I would change about this otherwise unique tee would be the removal of the older Roblox logo that is sort of an eyesore almost here.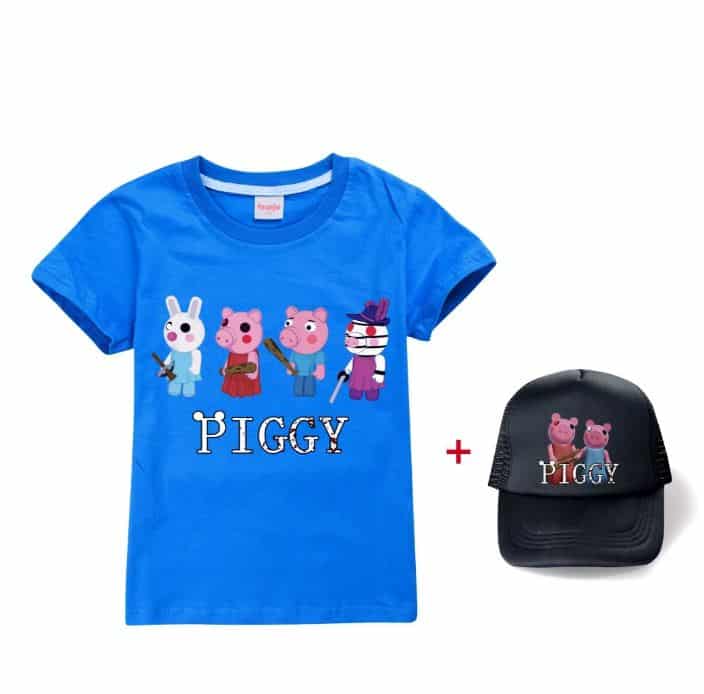 Yes, Piggy wasn't just featured in a single shirt this time around but a second one. This particular Piggy shirt isn't my preferred one over the other, but I still like what it does. In some ways, it is a little bit more cheerful than the other Piggy shirt.
There are four characters from the Roblox horror game that are gathered together here. They do have some creepy aspects to them, but I appreciate that they at least look not as horror-like as the other t-shirt did. The best part about this shirt is that it comes with a similar Piggy-themed hat as a bonus. This is good because this is one of the more expensive shirts on this list (but even then, still relatively cheap).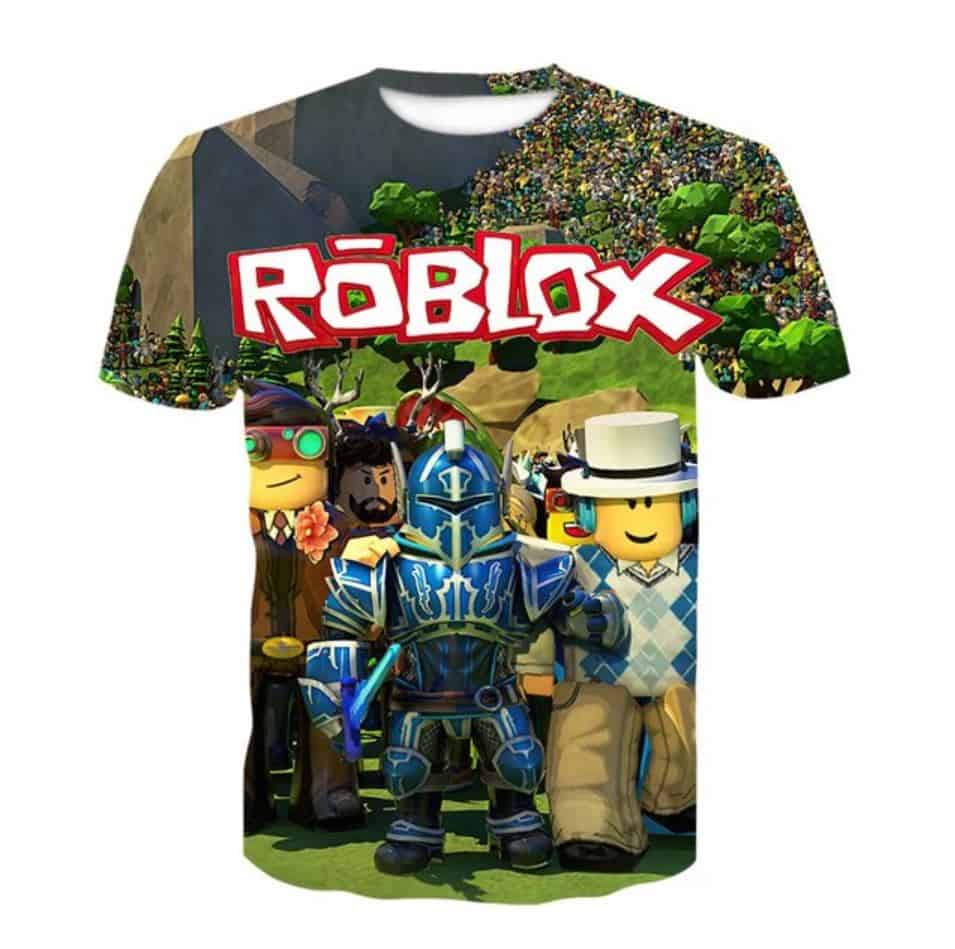 The theme of Roblox that I love the most is how open and free it is to hang out in any game you want and spend time with others online. This shirt is exactly that in clothing form, showing a few avatars like a knight and businessman at the front of it.
But if you look off in the distance of the shirt, you can see that there are many other characters that are in the background. Countless characters, in fact, with them numbering in the hundreds most likely. Sure, you can't see almost any of them besides the few in the very front, but this is such a nice representation of what makes Roblox so special.
Again, though, get rid of that older Roblox logo, please. If I were wanting this shirt, I'd probably take it to a custom place and have them either remove that logo or replace it with the modern one.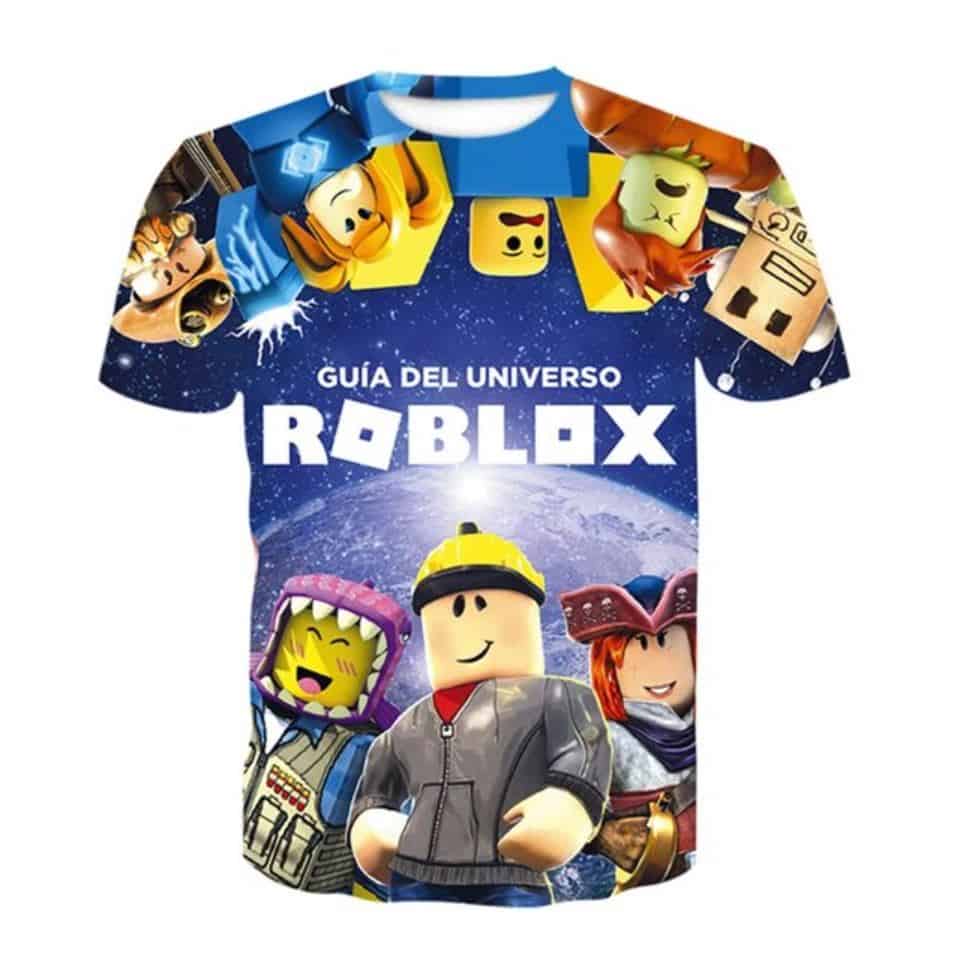 If you've seen some of my other Roblox merch guides, like the hoodies one, you will know this World of Roblox t-shirt design quite well. It was based on some key art that used to be one of the promotional images for Roblox.
I love this key art, and its best form ever is in the t-shirt version. This is where I think it has the space and ability to fully show off the art. There are some avatars that are standing in front of space and a planet below them. There are also other avatars that are upside down at the top of the shirt.
What I love about this design is that it features so many different avatars that you can clearly see, ranging from pirates to construction workers and so on. I love this design not just because I'm a fan of space, but it gives off the exact vibes that Roblox is going for of being this endless playground with whole worlds that await you.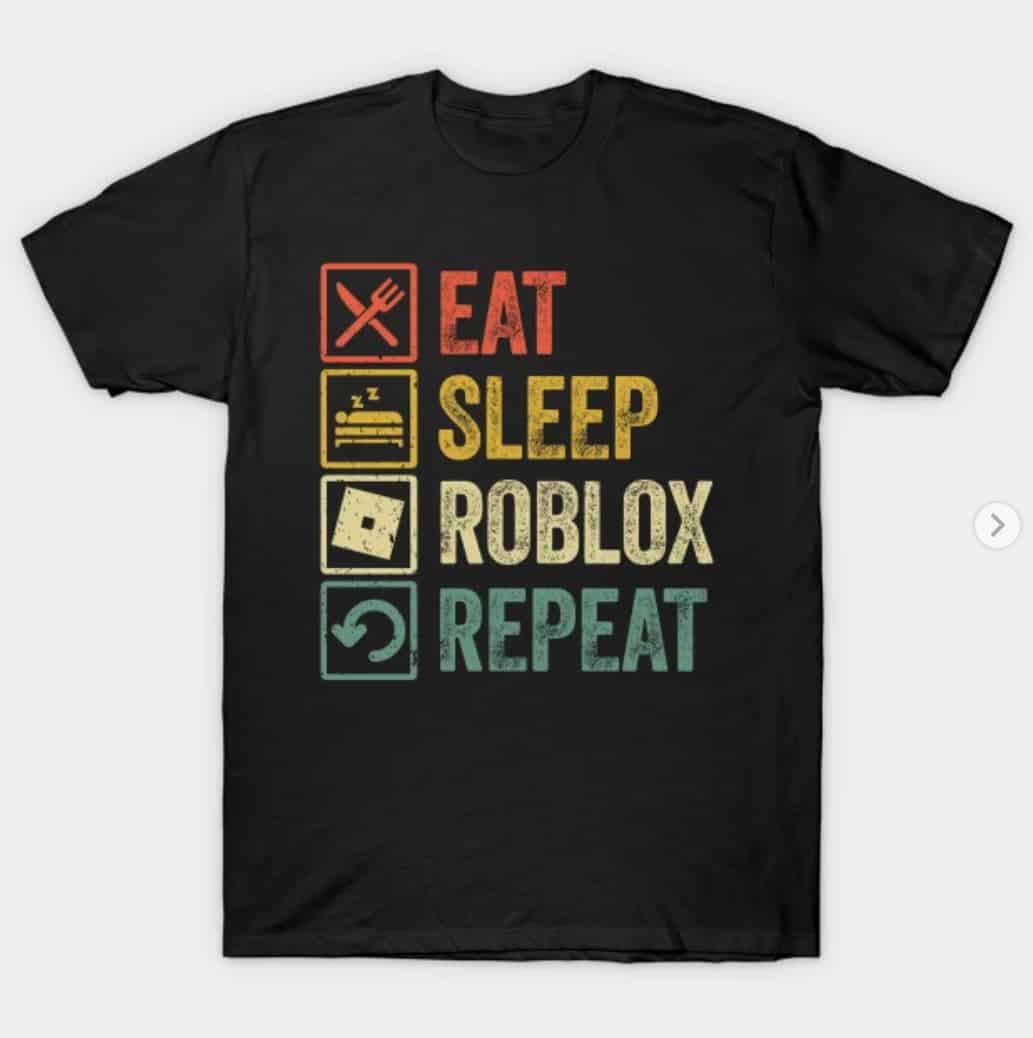 Another tried-and-true design right there that you will find on some of my other merch guides. There is the trendy t-shirt design of eating, sleeping, blank and repeat. In this case, it is showing that the person wearing the shirt only wants to eat, sleep, Roblox, and repeat.
There are a lot of players like that who want to eschew school and work and just focus on Roblox alone. This is a very popular t-shirt design with kids, and I think some younger Roblox players will appreciate it. What I like about this particular execution is that it has clean, colorful fonts for each of the four steps.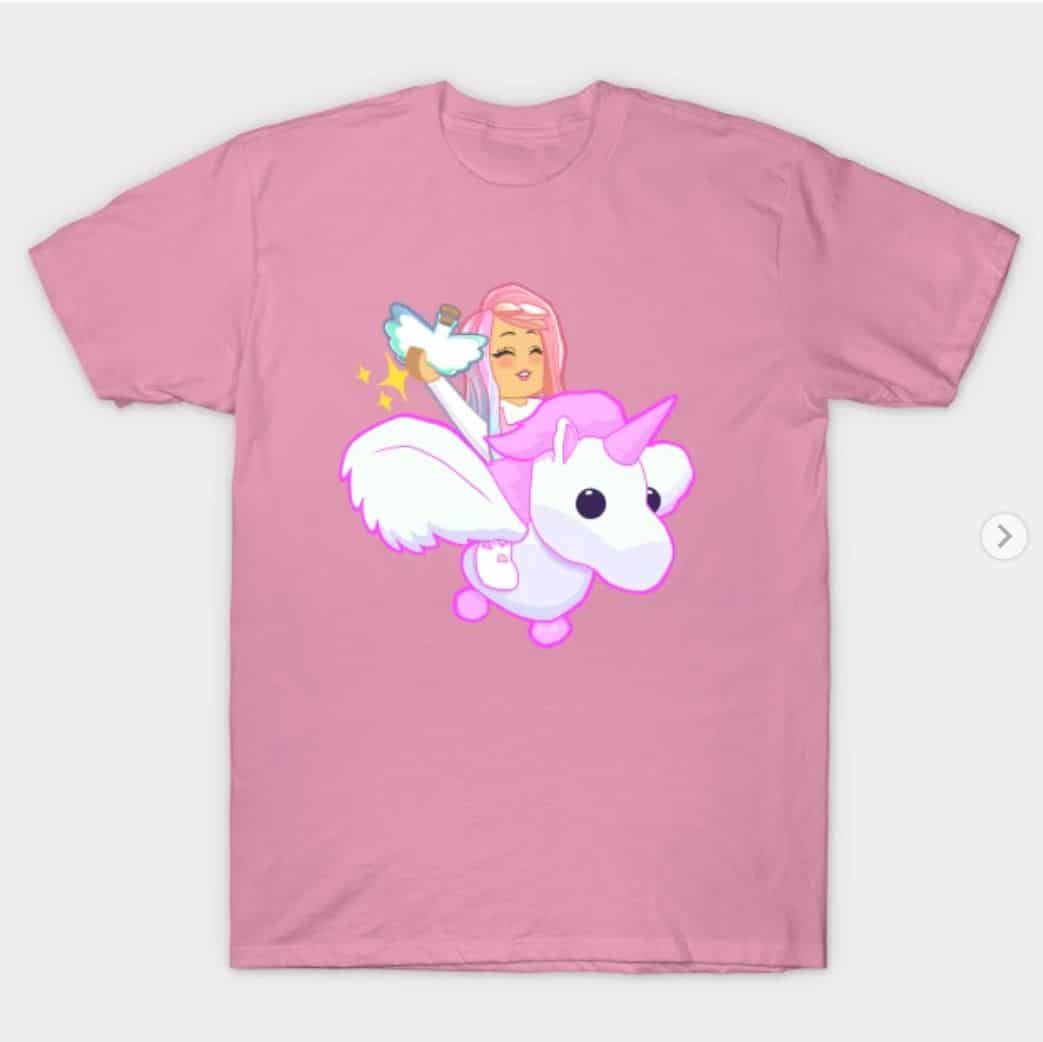 We are now back in the town of Adopt Me for yet another pink shirt. This time around, it is also featuring the unicorn but the special flying version of the beloved pet. As you might know, one of the main goals for your pet is to turn them into a flying version, though it usually costs some Robux to make it happen.
This shirt costs some real-life Robux (aka money) to purchase this adorable pink shirt that features an Adopt Me player flying along with their flying unicorn pet. The Roblox character has a lot of style, too, with some gorgeous pink hair and a nice pick for the facial expression.
This is a scenario you can literally recreate inside of Adopt Me, and I like that. There are some other t-shirt color options for this one, but few of them work for this design other than maybe the black or white ones.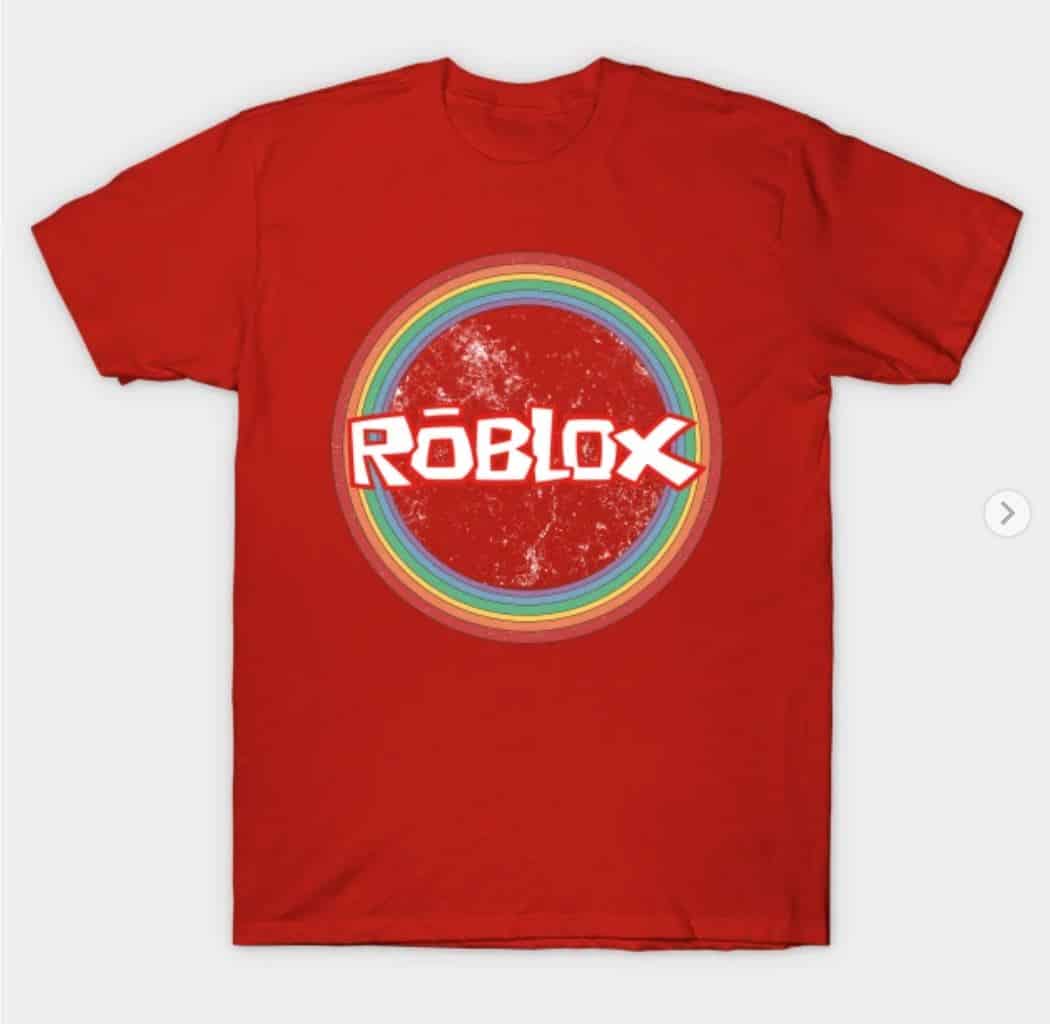 Now, I've dogged on the old-school Roblox logo a lot in this list, but there is some charm to it. In fact, this particular vintage rainbow shirt is the best that this logo has to offer, honestly. Unlike the other shirts on this list that would have been better off with a modern logo, at least this one goes all in on the whole nostalgia idea.
It feels like a shirt that is somehow older than even me, giving off these hardcore 1970s vibes. You had the standard red and white Roblox old-school logo that is surrounded by a circular rainbow and a starry sky of some kind in the background.
Altogether, it gives off such a nostalgic and peaceful atmosphere. The default is the red shirt, but you can pick other colors if you want. However, the red is canon in my mind as it works the best with this older logo and everything else.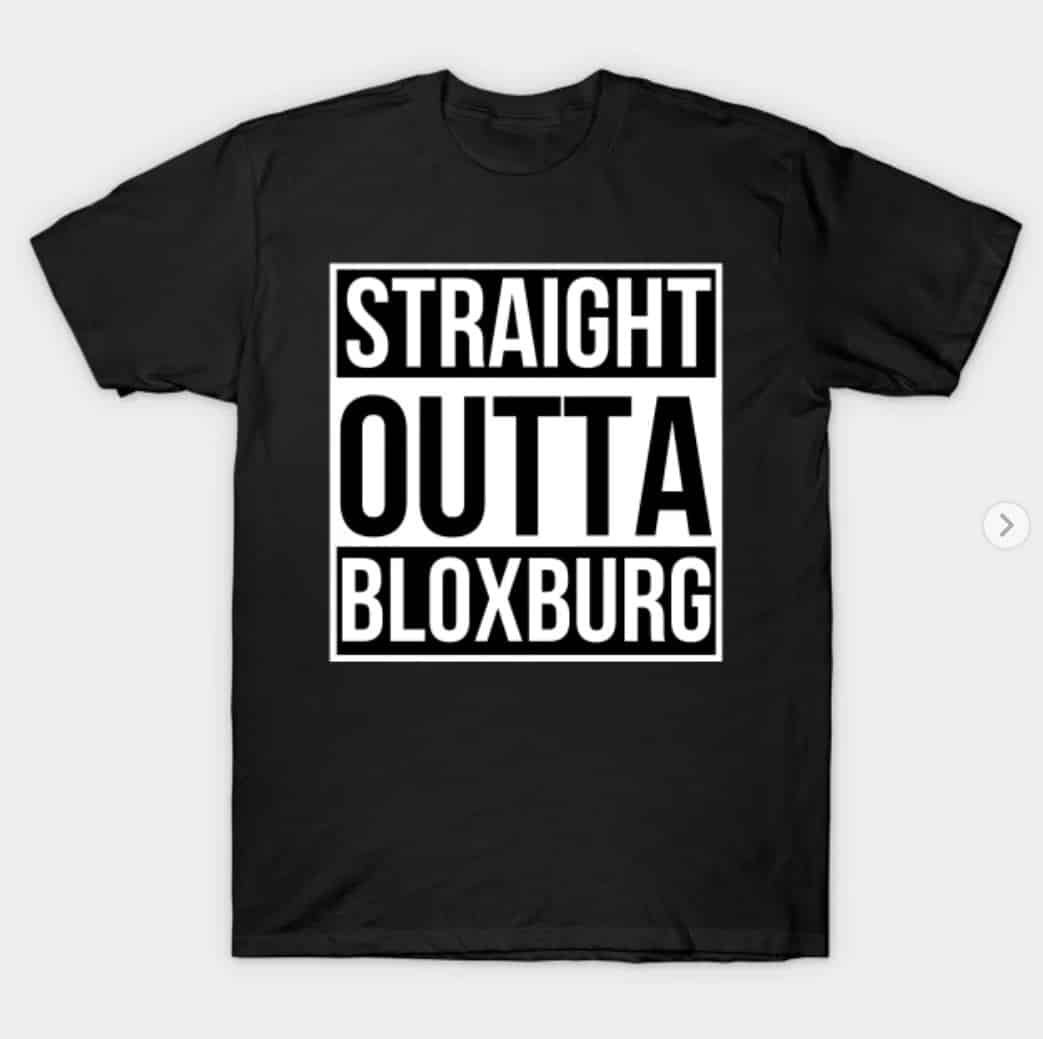 The Straight Outta Compton shirt trend has been resurrected, but this time with a Roblox twist. Straight Outta Bloxburg lets you take this otherwise simple shirt and lets you show your love for Bloxburg, arguably the greatest Roblox game ever to exist.
I highly recommend this shirt to anyone who like Bloxburg; just don't get any t-shirt color other than the default black one. This trend and design just don't work with any base shirt color.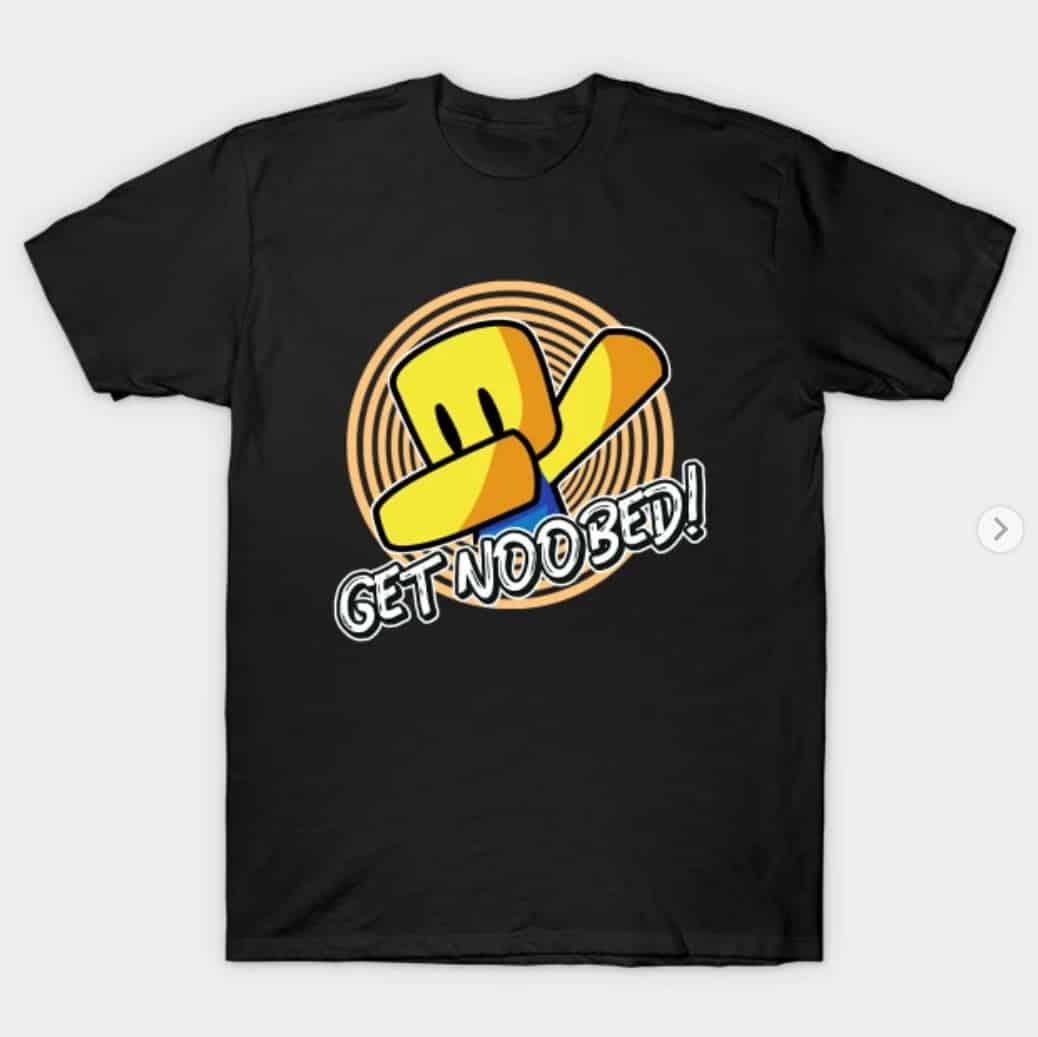 Don't waste your time with these annoying noobs telling them to get wrecked. Why do that when you can switch it up and tell them to get noobed? Yes, that is precisely what this t-shirt does here. It is just as ridiculous as it sounds and shouldn't be taken seriously in the slightest.
The shirt itself features the Get Noobed slogan plus a default Roblox avatar who is in a more chibi, almost Invader Zim character style. They are both surrounded by some weird spirals. I love the take on the Roblox avatar design and honestly wish the characters looked like that in-game. While I'm not personally a fan of the Get Noobed slogan, some kids will love this shirt.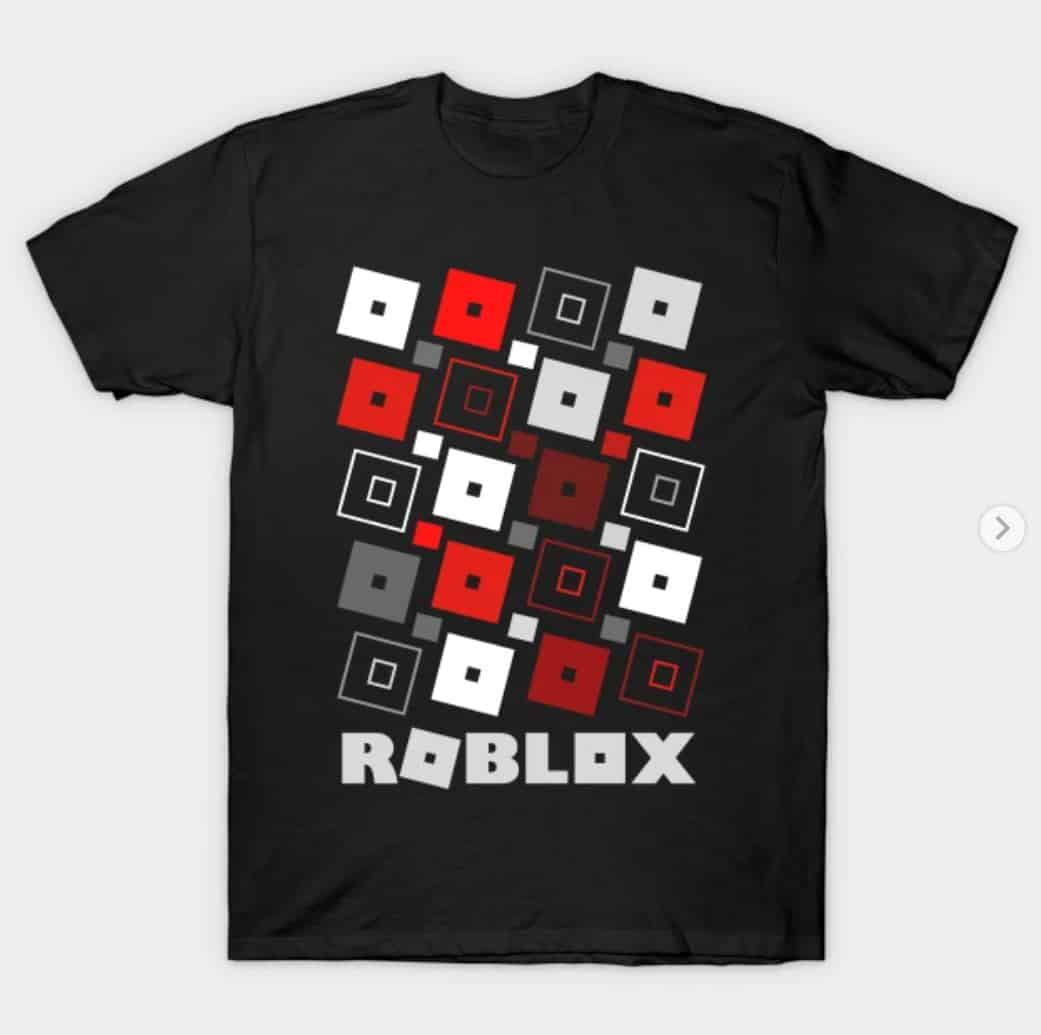 We all know the classic Roblox square icon. You can see it in the modern logo for the game, with the first "o" in the name of the game having a sideways square look to it. This shirt features that logo at the bottom of it, while the bulk of the sweater features just repeating Roblox squares.
Yes, that's literally all that this shirt has going on, but, to its credit, there is almost like a Picasso-level artistic piece that is going on here. Each of the squares is a different style with a different color, and there is virtually no rhyme or reason to how the squares are divided. Yet it all works together quite well somehow. This is another shirt that has multiple color options but sticks with the default black one here.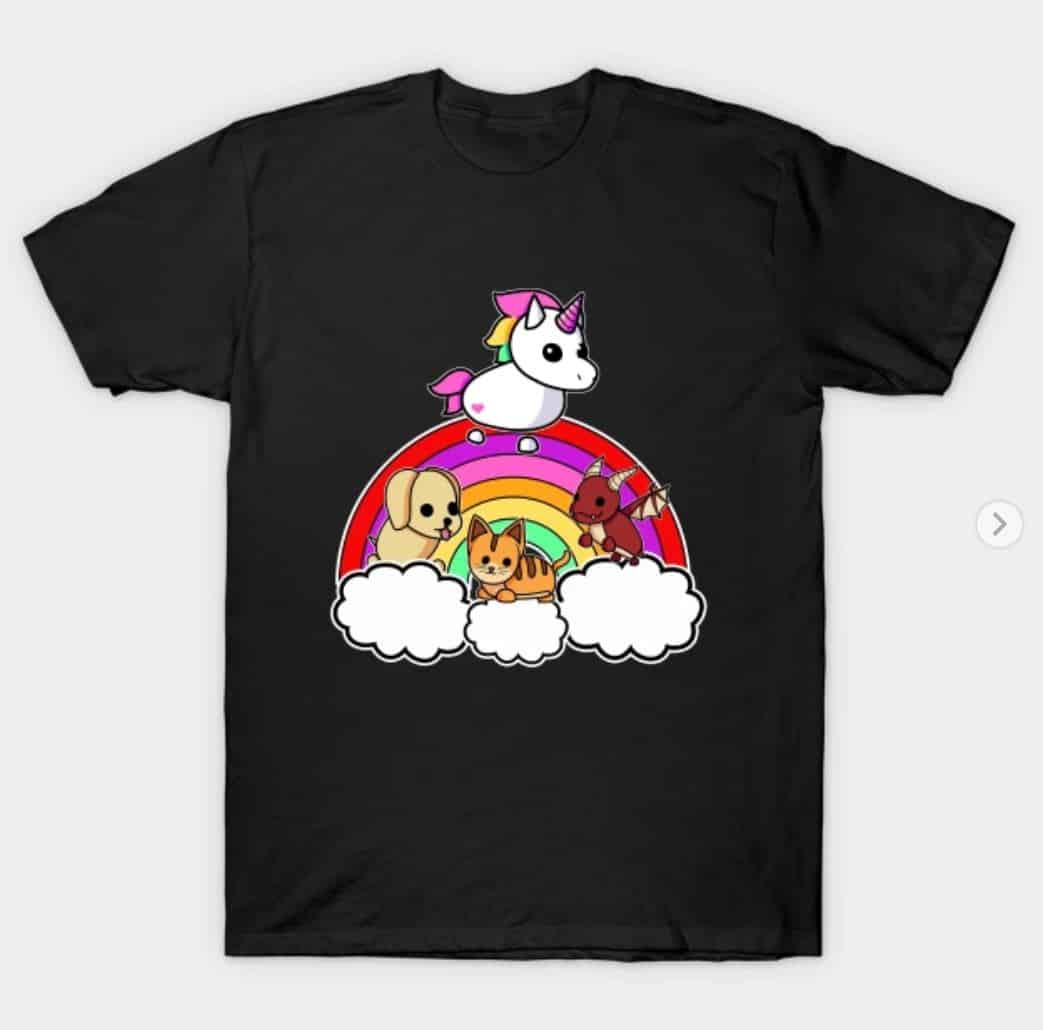 We return once more to the most popular Roblox game of all time with yet another Adopt Me shirt. This time around, this particular shirt features, yes, a unicorn (no surprises there) but a few other pets, too. There is the unicorn, a cute little puppy, an orange kitty, and a red dragon.
They are all hanging around this rainbow in the sky that they are chilling on. For the Adopt Me pet collectors out there, this is the shirt for you. It has many different t-shirt color options, so find the one that works for you. I, personally, like the white, gray, light pink, teal, and purple versions myself. But lots of options here to pick from.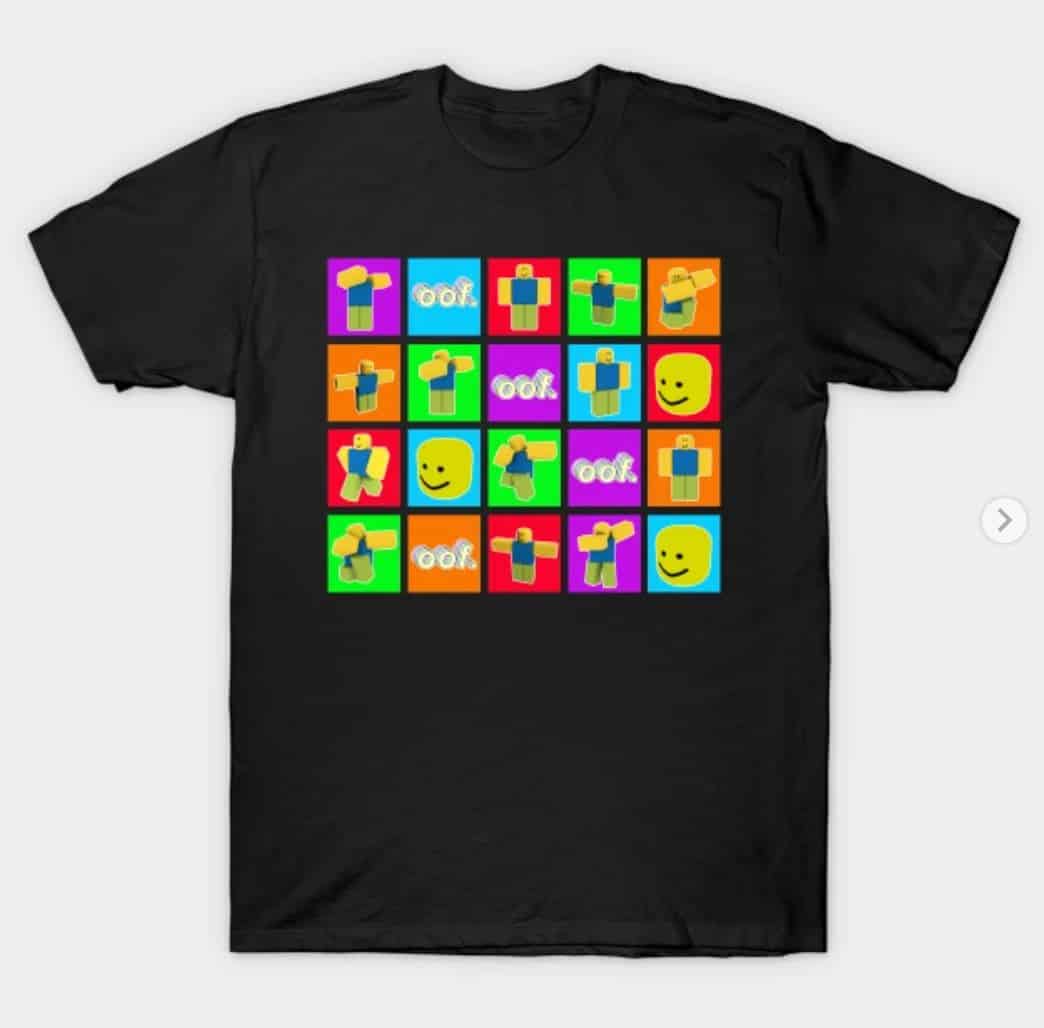 When you aren't oofing away in Roblox, you are probably running around dabbing on your enemies. That is how the true Roblox pros play the game, taunting and dying every few minutes. This shirt lets you show off your love for oof and dab in a surprisingly organized manner.
The shirt is composed of four rows of five squares each that show off different Roblox themes. There are avatars standing there creepily, others that are doing a dab, and then just oof. They are mixed together repeatedly through the rows, with each square being colorful and random.
Like other shirts from TeePublic, there are plenty of size and color options, so you can personalize this oof and dab shirt to your liking.
FAQs – Best Roblox Themed T-Shirts
Question: What is the best Roblox T-shirt for boys?
Answer: Every boy has different preferences, but one shirt that I think many will like is the Get Noobed shirt. It's just so funny and stupid in its ridiculousness.
Question: What is the best Roblox T-shirt for girls?
Answer: Again, not every girl will like the same shirts, but I think the baby unicorn and pink avatar shirt will work for most girls who love pink and Roblox.
Question: What is the best Roblox Shirt template?
Answer: The best Roblox shirt that works as a template for more to be added to it has to be the Club Roblox one. I love how simple it is, but you could add characters to the middle, a dance floor, disco balls, colorful environments, and more.
What Roblox Clothing to Buy Next
The time has come for you to decide what shirts you'll buy to show off your love for Roblox or give it to a loved one. It can be hard to determine what the best possible option is, but if I had to pick a single one to recommend to everyone, it would probably be the Oof Dab shirt. I know this one is weird, but I appreciate that it is so versatile and can fit anyone's preferences.
When you're done picking out a shirt for yourself or someone else, that isn't the end of your Roblox merch journey. There are still so many other items that you can pick up, like shoes, hoodies, backpacks, and many more. These items can complete your Roblox fan outfit and show everyone how much you love the game. For more on the other Roblox clothing items, be sure to check out our overall best Roblox merch items list.
Recommended Reads: