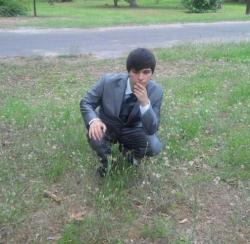 Latest posts by Cody Perez
(see all)
As one of the greatest Roblox horror games of all time, it should be no surprise that the developers behind Piggy try to monetize the game as much as possible. To this point, there is a breadth of merchandise you can officially get regarding the game and show off in the real world. Of these items, here are the very best Piggy action figures you could ever find on the market. This will, hopefully, help you determine what to get for you or your loved one.
Many of these best Piggy action figures come from the official Piggy store, where the developers directly sell their merch to players to buy online and have shipped to them. But others come from third-party retailers that sell various Piggy-themed figures. Regardless, I have tapped into my years of playing Piggy since its release to bring you the action figures that I believe are most worth your time. Without further ado, let's dive in and look at what you need.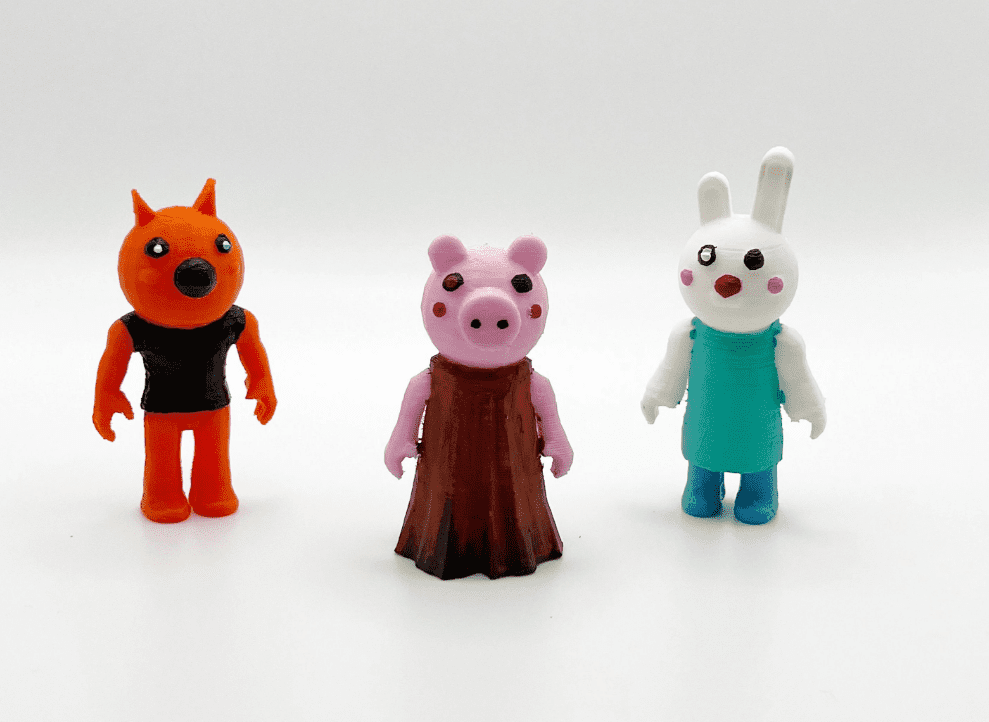 Bottom Line Up Front
The very best Piggy action figures include those from the official Piggy store and other online retailers.
There are different action figures, including ones based around the infected killers in the horror Roblox game and the heroes you meet in the lengthy storyline. In addition, some figures are smaller mini ones, others are standard action figures that you play with, and still, others are meant to be collectors' items that you don't necessarily play with as much. Among these various categories, these are the best you can find, including the amazing Piggy Head Bundle 30-Piece Set.
My Top Picks at a Glance
Before we dive too deep into all 15 of the picks that I came up with for the best Piggy action figures, here are my top three choices that I think you should absolutely know about:
Penny Piggy Series 1 Buildable Toy: One of the first action figures for Piggy is also the best, letting players collect the titular Penny Piggy. The most famous killer from the game is recreated nicely in a short but sweet 3.5-inch form. This bundle comes with her and many others.
Piggy Head Bundle 30 Piece Set: This set of three massive Piggy head bundles includes Zompiggy, Piggy, and more. The large heads aren't the toys, as they are simply the home for several action figures you get, making for some amazing bang for your buck.
MiniToon Action Figure: In Series 2, a MiniToon action figure was released, letting you play as the creator of Piggy in the complete recreation of his fantastic avatar. This is a true collector's item for the most dedicated Piggy and Roblox fans out there.
Selection Criteria
When coming up with the best Piggy action figures, I couldn't just select all of the various figures that are out there as much as I would like to. Here are the selection criteria I used to narrow down this list to only the items that you need to know about:
The figures must be of the highest quality possible
My go-to criteria with Roblox items is always that if I wouldn't buy the action figure for myself or someone I love, I wouldn't dare recommend it to you.
Diversity is critical: I included plenty of different figures of varying price ranges and types, including for play only or mainly for collectors.
Lastly, I stuck to almost entirely officially licensed Piggy products for this list. While official items don't matter much for posters or shirts, you should never risk it when it comes to action figures, as you can clearly see the difference between the real deal and third-party figure creators.
Best Piggy Action Figures List
Below, you'll find the 15 different Piggy action figures that I ended up selecting for this list. They are in no particular order, so no need to worry about ranking or anything at all like that. It's more of a random order if anything. Let's go ahead and take a look.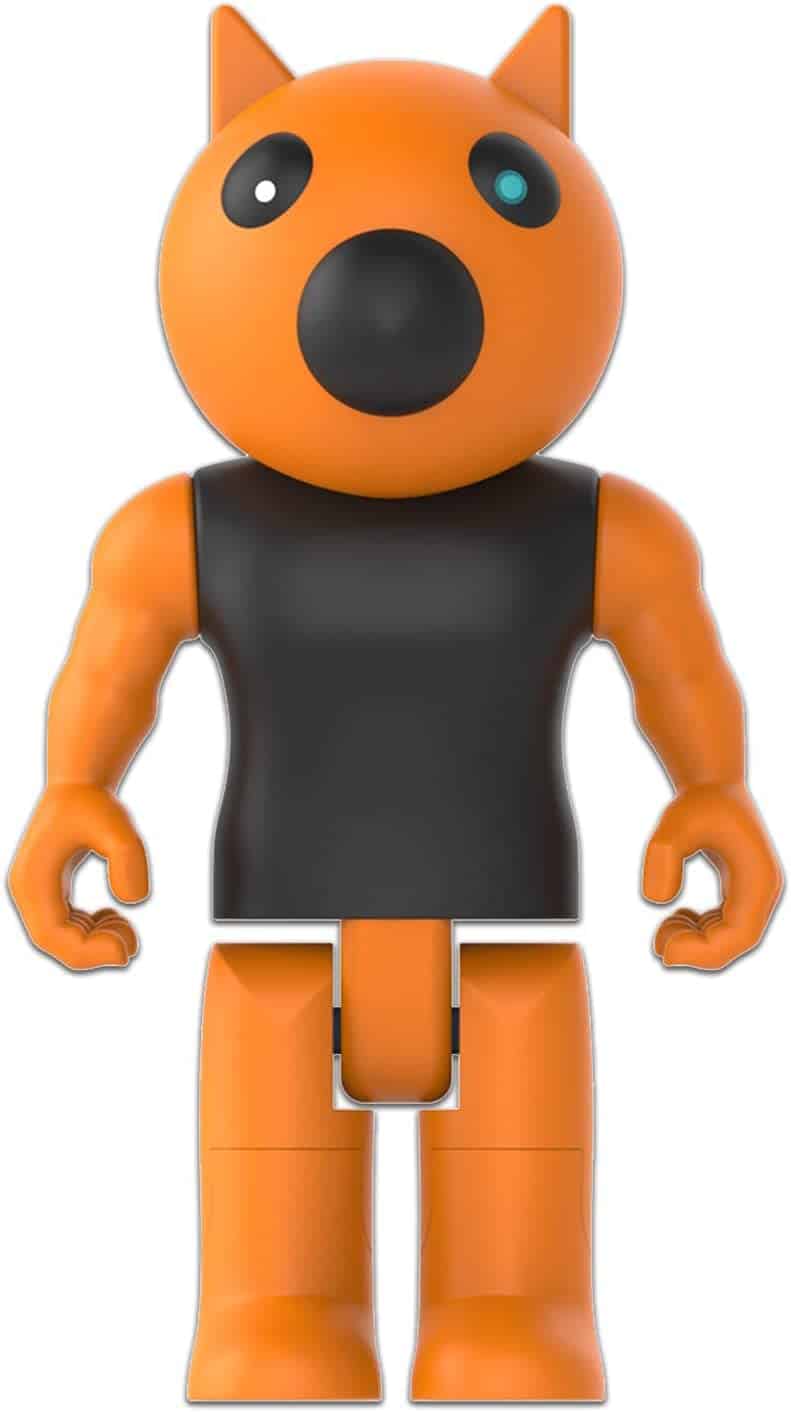 Kicking off this list, we have a classic with Foxy, one of the most famous and beloved characters you meet in the Piggy storyline. This action figure recreates the fan-favorite character pretty well, with the fox-like humanoid person looking quite a lot like the Roblox version of them.
The outfit is essentially the same, and that is pretty much it for this basic first-series official action figure. The only notable bonuses here are the sword accessory you get so you can reenact various scenes from the game itself and the DLC code that comes along with it. The latter, though, is something that most of the items on this list include, so that's nothing too special.
Pros
Foxy is a fan-favorite character, so this is a solid choice for a gift
It comes with Foxy's sword
DLC codes are always a nice bonus for players
Cons
This is one of the earlier Piggy toys, so it doesn't have as much detail as some later ones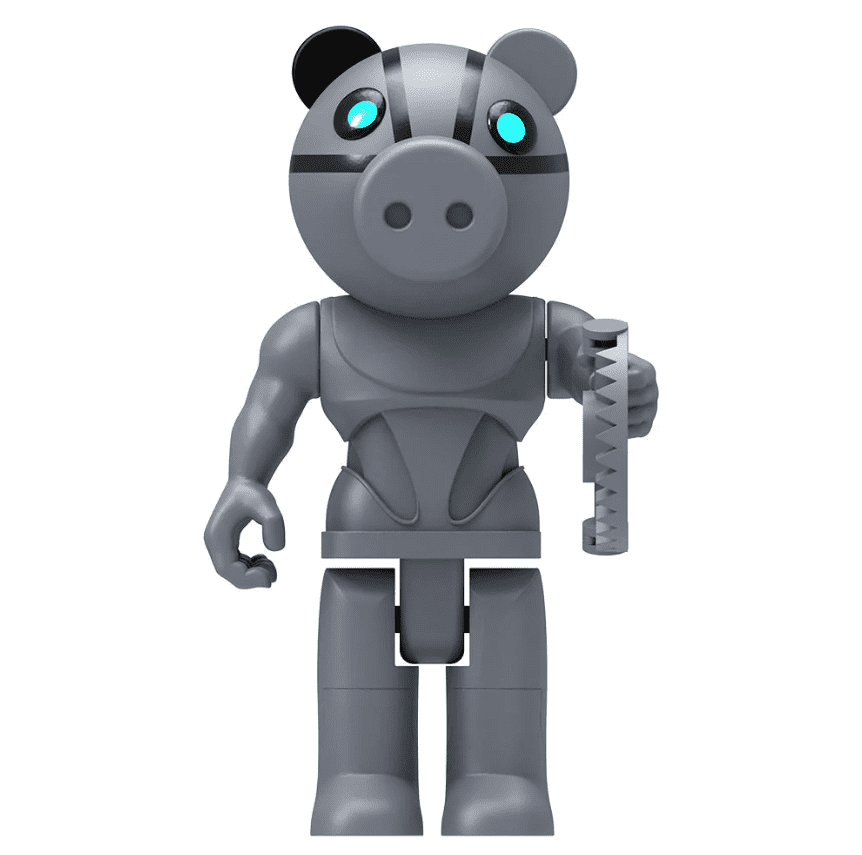 Moving away from the first series of official Piggy action figures, we have the latest series with the Friendly Robby figure. Series 3 has a ton of detail and quality that provides some of the best possible figures out there. Friendly Robby is a lesser-known character, but the detail here is unparalleled.
You have the Piggy figure recreated nicely with the metal-style look and the various touches here and there of borders and the glowing blue eyes. Like others from this series, it comes with a signature accessory for you to equip Friendly Robby with.
Pros
The level of detail on this figure is unmatched
Friendly Robby is an underrated Piggy character
Cons
Friendly Robby's included accessory is a little lackluster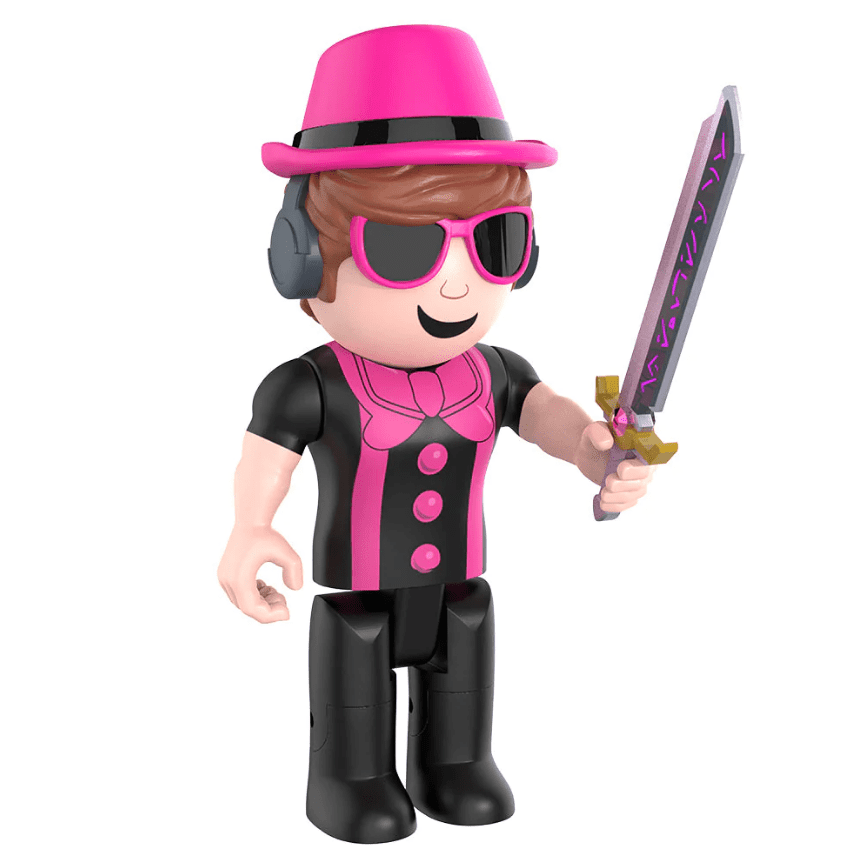 In the second series of the Piggy official action figures, they tried something a little bit unique with one of them. This MiniToon action figure isn't for one of the many Piggy killers and characters but actually for the creator of the entire Roblox horror hit.
MiniToon is the avatar name of the Piggy creator, and his avatar was recreated in nearly perfect form here, from the purple and black suit right down to his signature sunglasses. Plus, you get such a highly detailed sword accessory that will add to your roleplaying sessions. Though, this figure is more of a collector's item.
Pros
Perfect for Roblox collectors
MiniToon's figure looks just like his avatar
Hat and wonderfully crafted sword accessories are brilliant
Cons
They are not as notable as some of the actual Piggy characters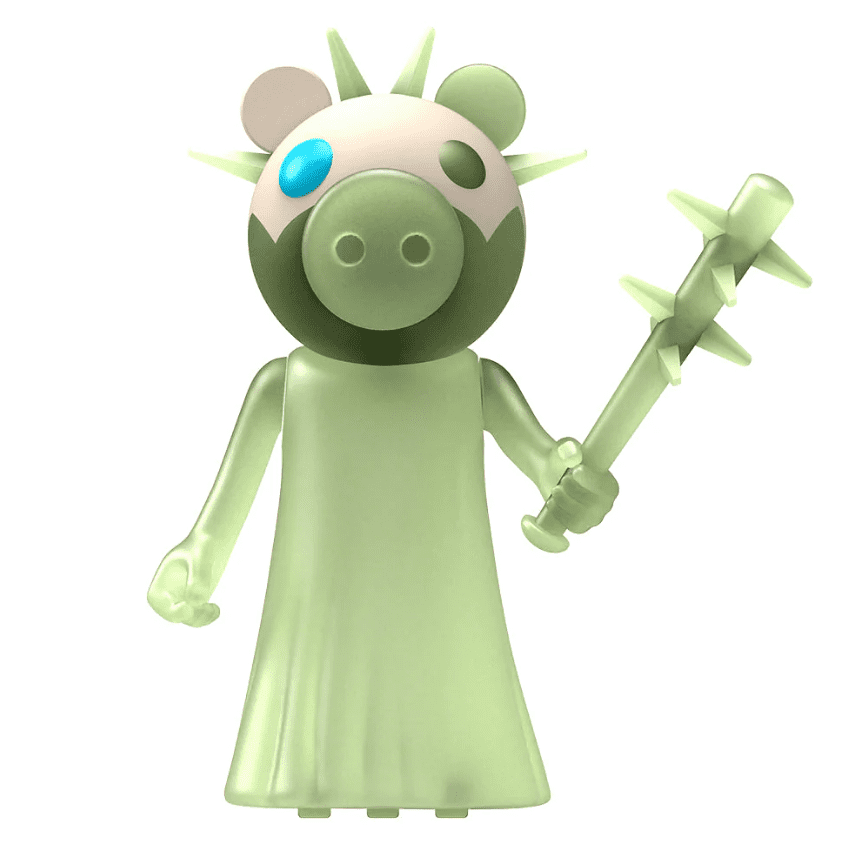 As you likely already know, there are so many different Piggy killers, and one of the latest ones is Frostiggy. This is what happens when you take the base Penny Piggy model, throw her in the frozen tundras to get her all frostbitten, and then infect her with the virus at the heart of the Piggy storyline.
Frostiggy may not be my favorite character in the game, but the killer was recreated in a pretty well-thought-out manner here. You even get the same weapon the killer uses in the game with the frozen spiked bat. I wish the coloration on the character was a little different in this figure.
Pros
Fans of newer killers like Frostiggy will enjoy this
Nice weapon accessory
Cons
The coloration on this action figure isn't my favorite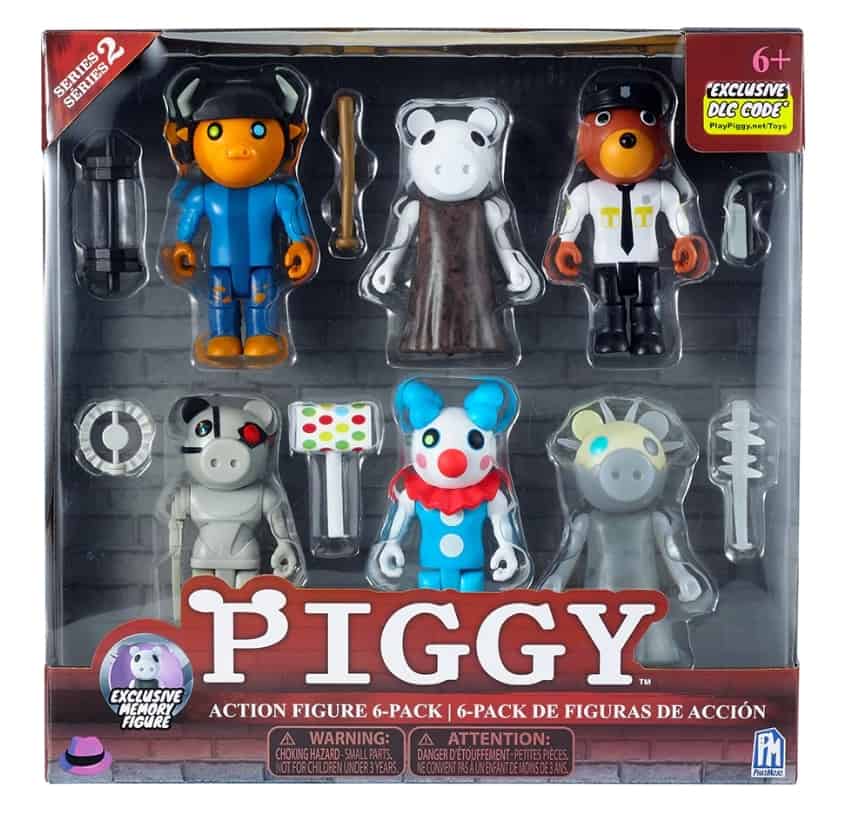 For the collectors out there, one of the best ways to immediately have a load of items in your collection is through this six-pack of action figures from the second series. What I appreciate here is that the set comes with six of the best Piggy action figures altogether in a single package.
You have the clown killer, Doggy, Frostiggy, and some of the others mentioned on this list. What's even more interesting is that their designs seem slightly different than the ones previously mentioned. It isn't cheap for this set, but you get your money's worth in the long run.
Pros
Made for the collectors out there
Six of the best and biggest Piggy characters in one package
Some designs look better than the individual figure versions
Cons
This boost to your collection will undoubtedly cost you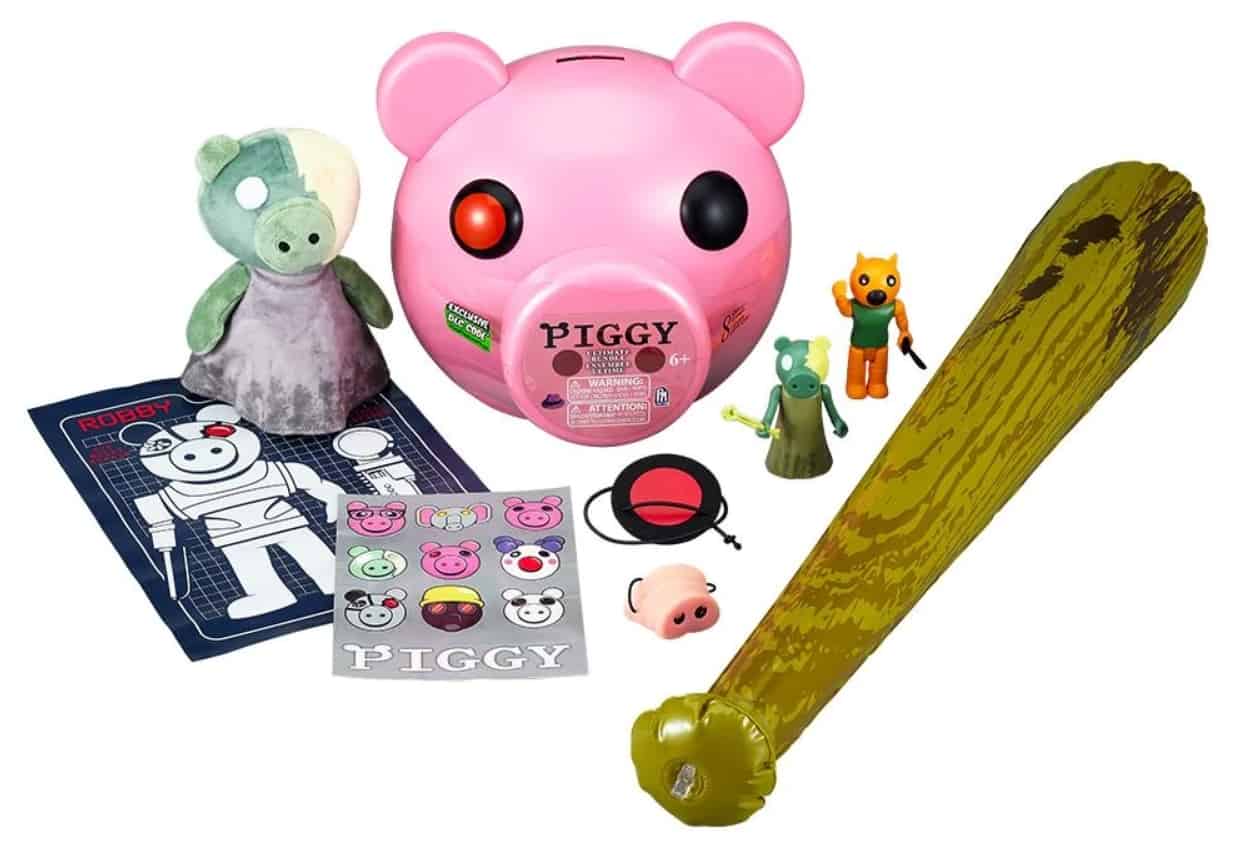 Sure, you could buy each of the various head bundles individually to add to your collection, or you could pick all of them up at the same time. This set includes three of the Piggy heads, including Zompiggy, Piggy, and Willow, all at the same time. These heads each include around ten items for a grand total of 30 themed items.
Many of the items you'll get in this set include various action figures to add to your collection. But the best part is that if you want plenty of action figures and a place to put them, these head bundles are the ones for you. However, I can only recommend this complete set to those who already plan on getting all of them.
Pros
You get all of the heads for a much cheaper price than buying them separately.
Many action figures are included in the head bundles
You get other items alongside the figures
Cons
Not for the relaxed collectors or players out there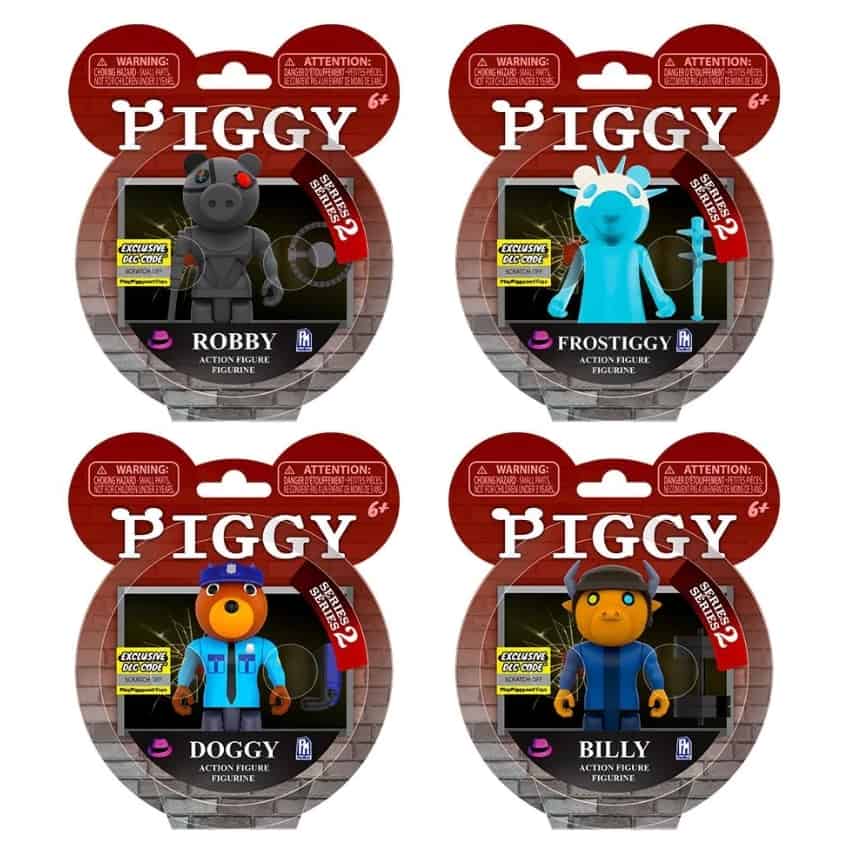 Speaking of collections, we now have the impressive set of the Series 2 action figures themed around Piggy. Like the last entry on this list, this is the perfect alternative toy for those who want more than just a single figure. If you can afford it, there is no better way to get these Series 2 figures.
With this set, you get all of the Series 2 figures in one package, including Robby, Frostiggy, Doggy, Billy, and much more. They also come with their various accessories and any DLC items that are with them. Since you're buying them together, you'll even get them for an impressive discount.
Pros
Much cheaper, in the long run, to buy these all together
You get all of the amazing Series 2 official figurines
Tons of DLC and other bonuses included
Cons
If you don't like all of the figures in this set, it may not be worth it for you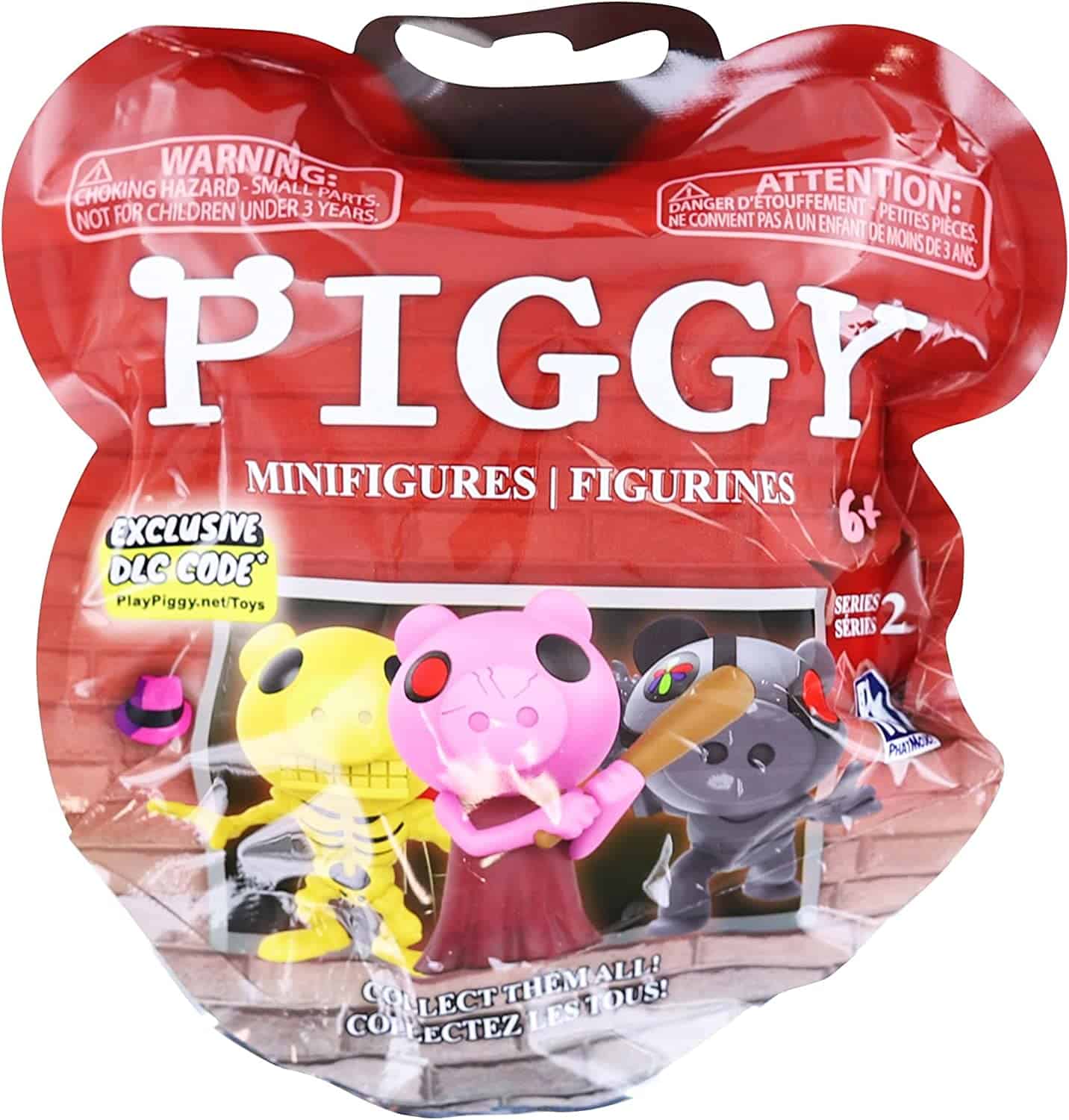 One of the joys of collecting Piggy action figures is the surprise that comes from opening up to see what's inside. This is doubly true for gifts for someone's birthday or a special holiday. These Piggy Surprise Mini, 3 Inch Figures, are the best example of surprising someone with a Piggy action figure.
When you buy one of these, it is like a cheap mystery package. You have no idea what figure is inside, so half the fun is finding out and the other half is collecting and playing with the figure. This is one of those cheaper, go-to figures I recommend as an excellent stocking stuffer. Plus, every one of these packages even comes with a free DLC code.
Pros
Inexpensive stocking stuffer
Half the fun is the surprise of what you get
It still comes with a DLC item
Cons
These are really small figurines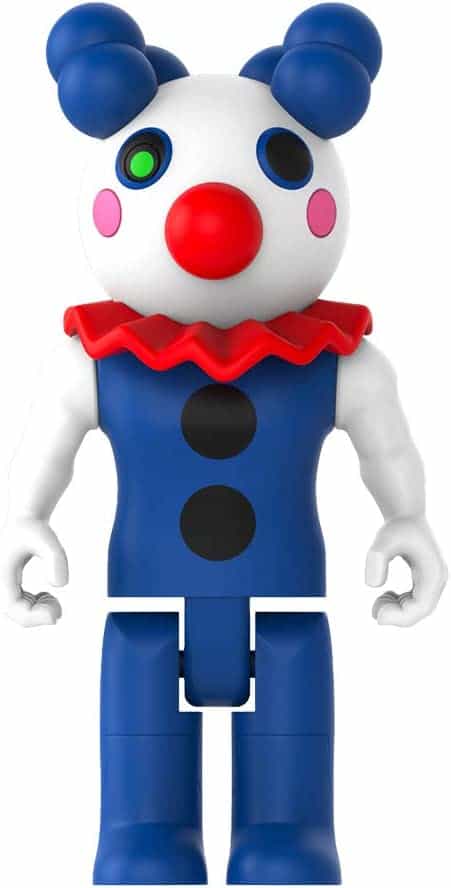 The horrifying nature of Piggy is seen no greater than in Clowny, the killer. If you're like me and hate clowns, you might want to tread carefully around this one. But, otherwise, Clowny is one of the most iconic killers in Piggy for a reason, and you couldn't go wrong with collecting him.
Given the simplistic clown humanoid animal design of the killer, he fits pretty well with the figure form. It helps, too, that his rainbow polka dot hammer weapon is included in its recreated version. This is the figure to get if you want to roleplay those classic Carnival map killer moments.
Pros
One of the best Series 1 figures
Even as a clown hater, I can't deny it's one of the best-looking figures
The clown hammer is precisely the same
Cons
Clown scaredy cats like myself should be careful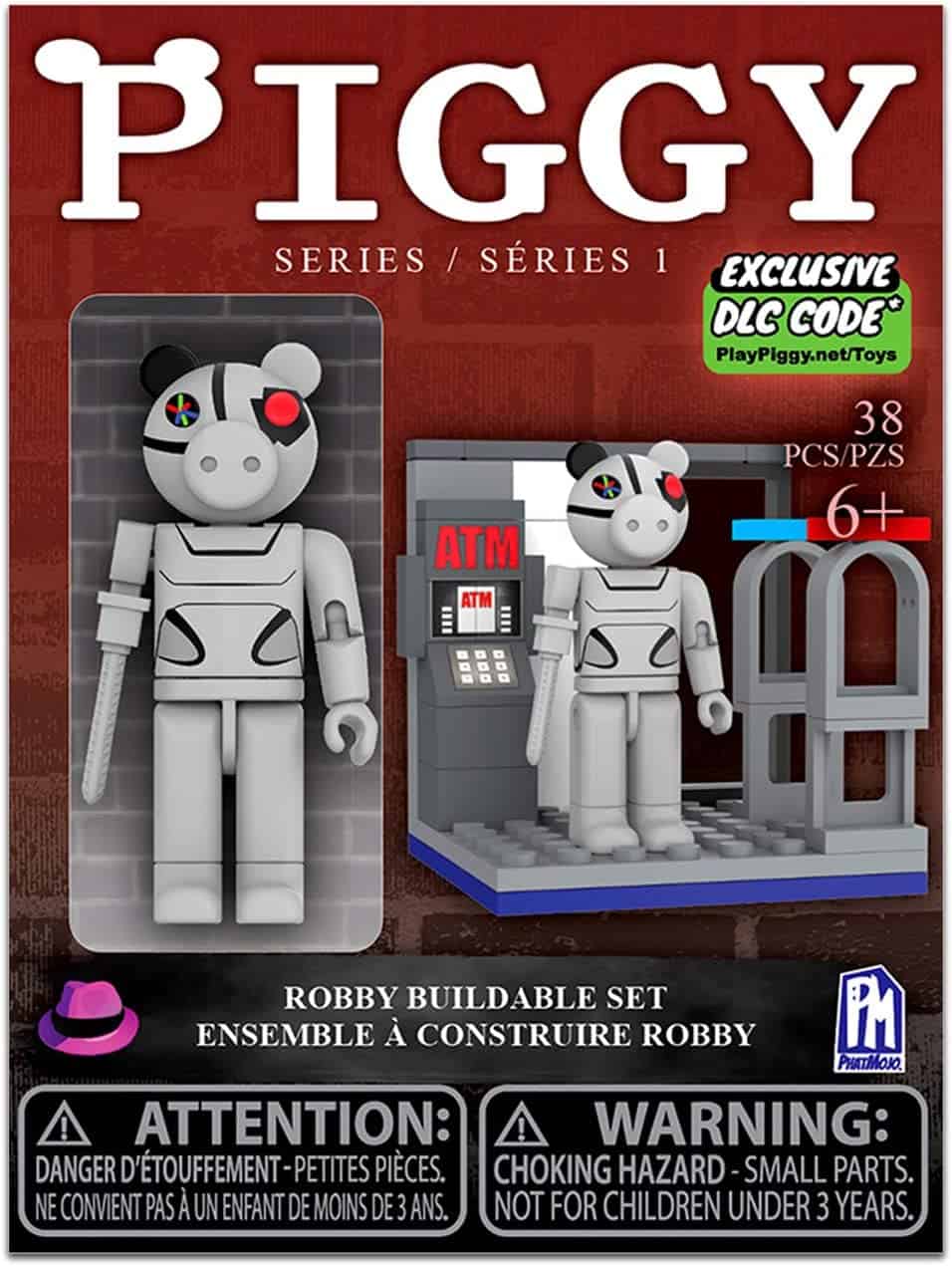 One of the most memorable killers in Piggy is Robby, the robotic and metallic-looking version of the classic pig killers. Complete with his single red eye and mechanical, other eye, Robby looks well-made in this particular buildable set.
While not as detailed as some of the other figures, this is intentional as Robby is more in a Lego-style form. He is meant to connect with the rest of his buildable set, which includes the bank map scene. This is an excellent starter figure that promotes roleplaying in the real world with your figures.
Pros
A buildable figure so great for the creators out there
Also lovely for roleplaying since the figure comes with a map area
Cons
One of the older figures, so not necessarily as detailed as some of the newer ones, but still great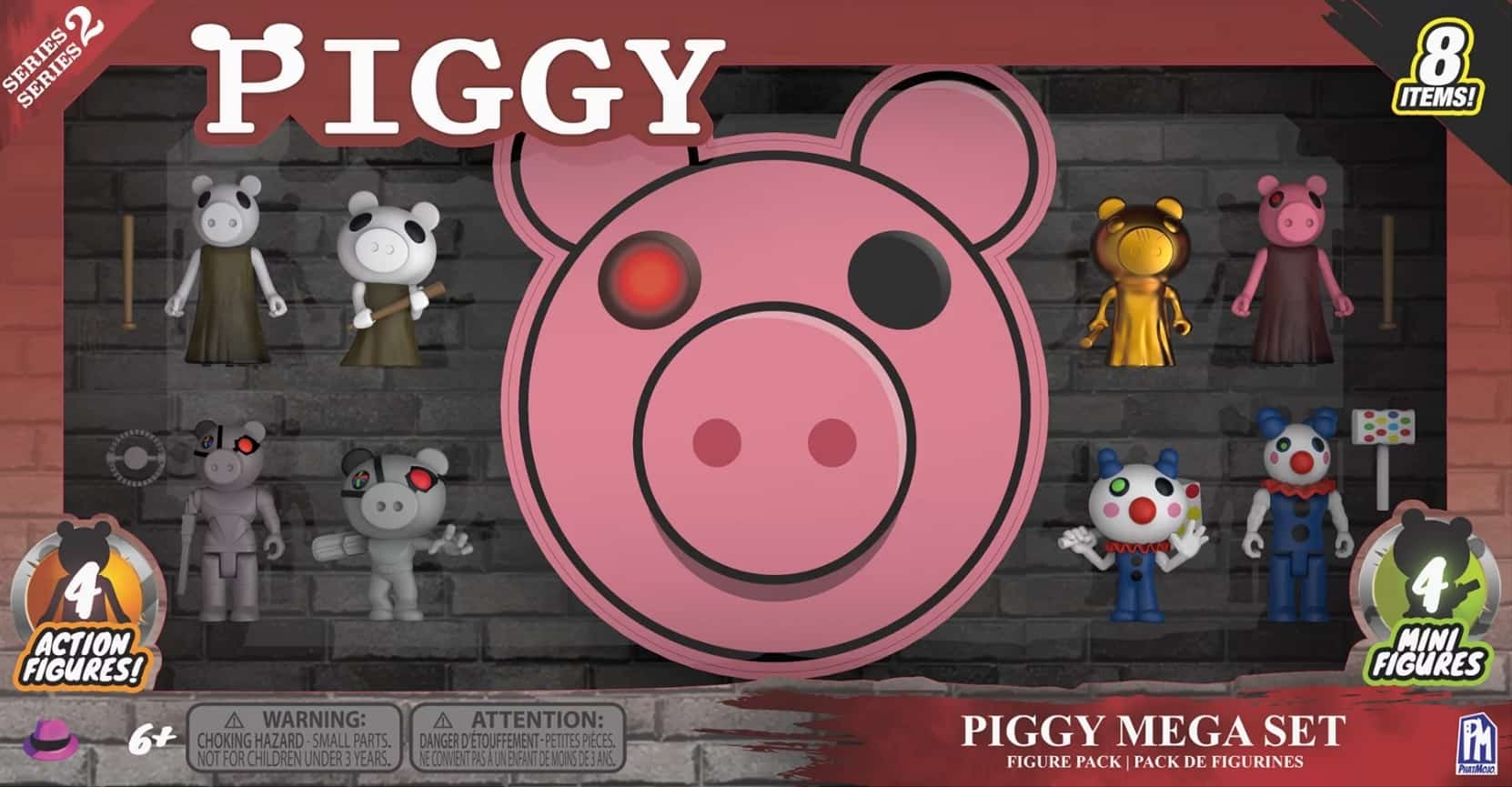 When it comes to getting the most bang for your buck for Piggy figures, this Piggy Mega Pack Value Box is one of the strongest ways of doing so. It is a little pricier than an individual figure, but, in turn, you get around eight different mini-figures for the price of what you might pay for two or three.
The best part is that it features some of the classics like Clowny and Piggy. What I find the most fascinating is that the set comes with different versions of the same characters, such as the full figure for Robby and a chibi-style mini version. This set doesn't just give you value but also the choice between the creepier full figure and the cutesy smaller one.
Pros
A value-packed set of some of the best Piggy characters
You get the whole figure and chibi version of some killers
Cons
Some fans may have preferred eight different killers instead of double figures for the same character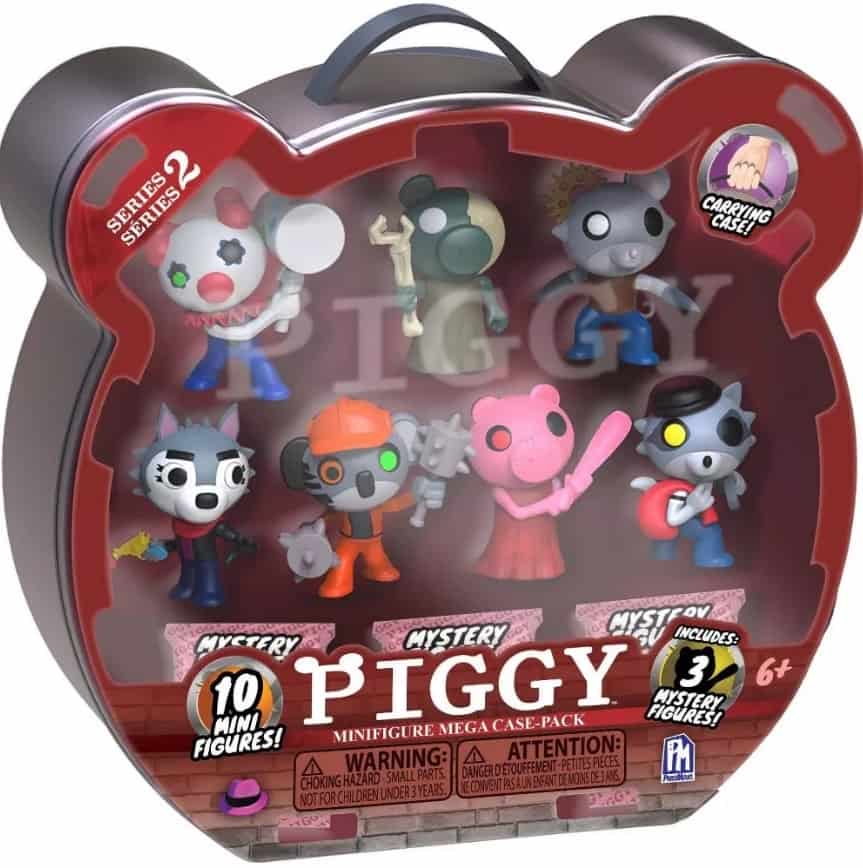 One of the best parts about this Piggy 10 Pack Mini Figure Set is that it comes with an entire Piggy head-shaped metal tin for you to collect all of its various mini figures in. There is something also to be said about the precious cutesy version of the characters in these tiny mini-figure versions.
The mini figures add a necessary level of goofs and fun to what is otherwise a super serious and spooky horror Roblox game. You get ten figures in total, including both the killers and the main protagonists. They all look fantastic in this form, including even Clowny, who is somehow less sinister here.
Pros
Pack of 10 of the best characters from Piggy
All of the characters, including even the worst killers, have a fresh new style in these mini figures
Cons
There are three mystery surprise figures that you won't know the identities of until you open the package (might be a positive for some owners)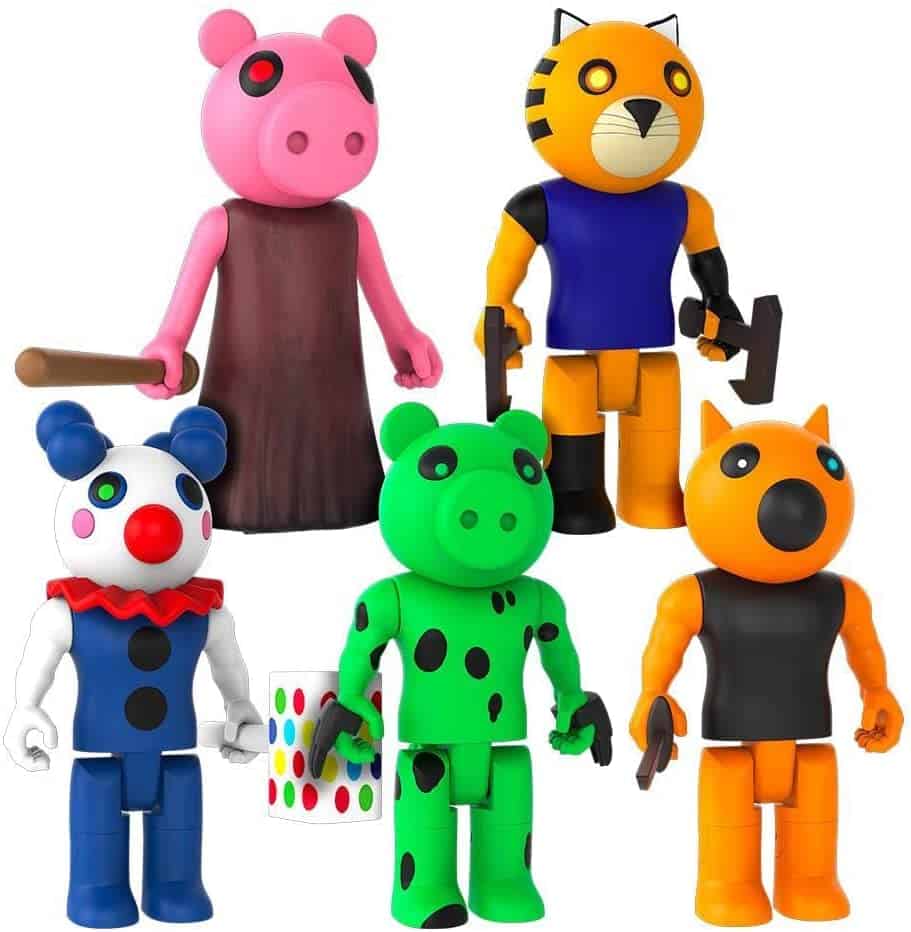 The buildable toys, as you've already seen on this list, are among the best official Piggy toys out there, and this set collects many of them together into a single set. This set is notable compared to others because it is a true collector's bundle with nothing but toys from the Series 1 lineup.
Series 1 was the initial release for the Piggy toys, and many of these figures are hard to find these days, let alone in a complete set. There are some real deep cuts like Dinopiggy and Tigry, so you can see some of your favorites in your collection. Each of them comes with some extras, too, to add some to the value of this collection.
Pros
You get some of the most famous characters as well as some more niche ones in this set
One of the easiest ways to get some of the hardest-to-find Piggy Series 1 figures out there
Cons
As Series 1 figures, they are a bit simpler than later figures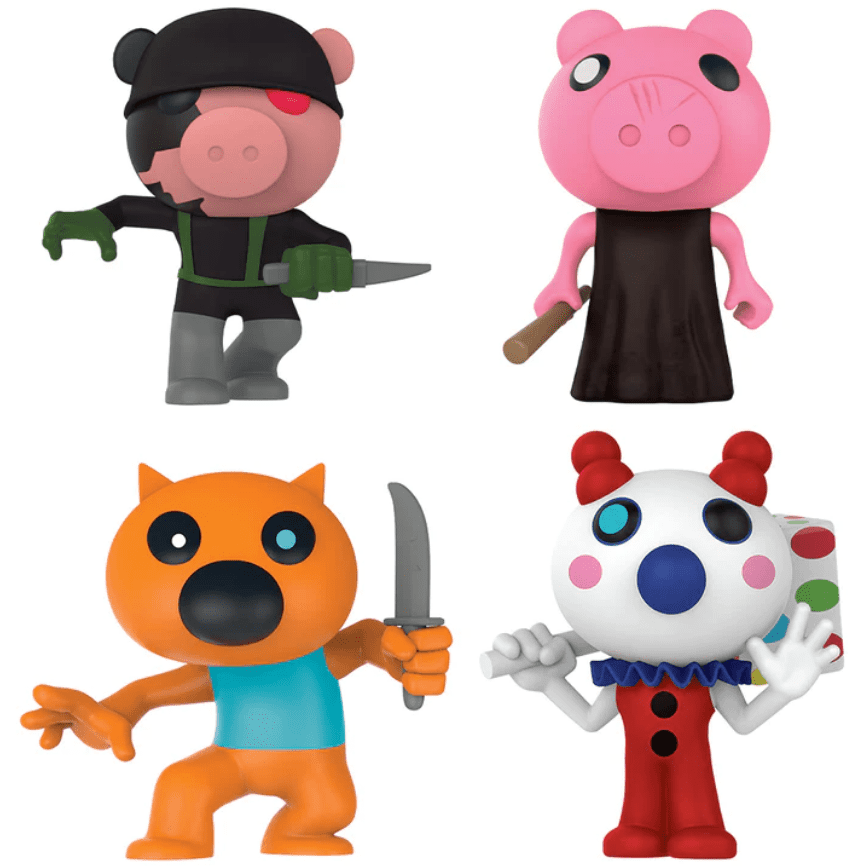 For those who want to get a solid start on their action figures collection but without breaking the bank, this Mini Figure Pack Series 1 is the perfect place for you. It comes with four figures instead of just one or even 10, so you have a manageable number that is relatively affordable and worth it.
The Piggy developers carefully selected these, too, including a mix of some of the fan favorites like Foxy and Piggy, plus some of the more niche characters like Soldier. As mini three-inch figures, they are tiny but adorable with their small bodies and lumbering circular heads.
Pros
The most affordable starting point for collectors
Includes a mix of fan favorites and lesser-known characters
Cons
You get the characters but little else in this set other than a DLC code; no collectible tins or accessories here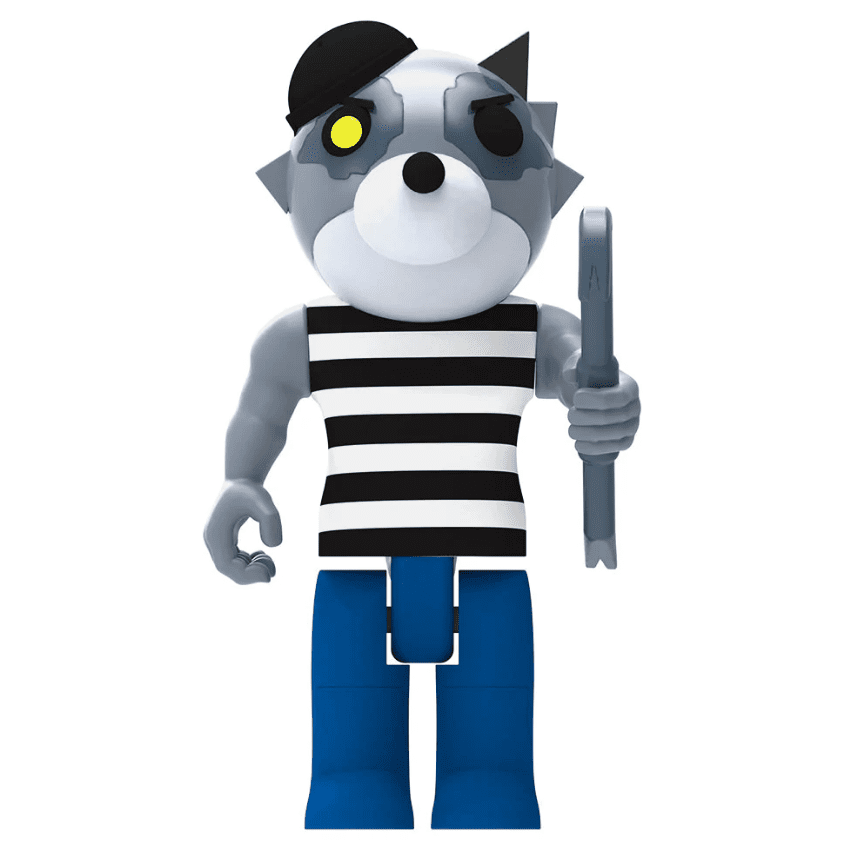 Finally, we have one of the latest action figures in the entire Piggy lineup with Rash. Due to his placement in the story, Rash has shot through the ranks to be one of the most popular characters in recent memory. This newer series figure version recreates him about as well as you can.
The striped shirt and the glowing right eye he has is fully representative of his in-game character. Furthermore, he is a buildable figure, so that means he has many body parts you can remove and swap out with the other Series 3 characters if you'd like. Plus, the DLC code, as always.
Pros
Rash is quickly becoming one of the most popular recent Piggy characters
As part of Series 3, he has some of the most impressive detail.
Cons
I'd like a detailed accessory item to go along with Rash
FAQs
Question: What is the best Piggy action figure for boys?
Answer: Every boy is different, so figuring out the best Piggy action figure for them is hard. That said, here are a couple of the recommendations I have for you. I think many boys would be interested in either the Clowny action figure or the Robby one, with some crossover between the two.
Question: Is there a Willow Piggy toy?
Answer: Yes, there is a Willow Piggy toy. You can purchase the action figure version of Willow in a few different forms. There is the separate Series 2 figure, the massive Willow head toy, and its inclusion in some of the collections out there.
Question: Where are the Piggy Series 4 toys?
Answer: The Piggy toys only go up to Series 3 at this time, so Series 4 Piggy toys don't exist just yet. However, if they continue to be successful, both in the real world and in Roblox, I wouldn't be surprised at all if we get some Series 4 action figures sooner rather than later.

What Piggy Merch to Pick Up Next
Whether you are buying one of the Piggy toys for yourself or someone else that loves the horror Roblox game, I have a final recommendation for you. I know that most people can't go out and buy all 15 of the items on this list, so if you can afford it, the single best recommendation I have is the Piggy Head Bundle 30-Piece Set.
This massive set comes with three collector's heads that each come with multiple items inside, including some of the best Piggy action figures. What I love about this set is that you get so many options for the Piggy fan to enjoy, plus some other items in each head collection, like plushies and more.
When you're ready to find even more Piggy-themed merch items besides action figures, we've got you covered on that, too. For instance, check out this Piggy plushie guide for the most cuddly and adorable (or creepy) Piggy characters.
Recommended Reads: