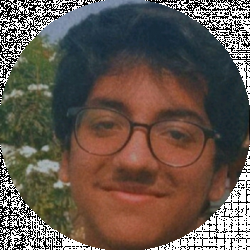 Latest posts by Nishant Thakkar
(see all)
The meteoric rise in popularity of Piggy has made it possible for MiniToon to build a full-fledged business around it. Since its release a few years ago, the survival horror game has risen through the charts and now has over 10.9 billion visits, demonstrating its tremendous appeal within the community.
If you are an ardent Roblox player, you must have surely heard of or played Piggy in the past. The experience involves the participants escaping the map by utilizing the available tools while also trying their best to avoid the evil Piggy.
Being a major fan of Dead by Daylight, I had a fantastic time playing Piggy on Roblox with my friends. Since each match is fast-paced and engaging, you could easily spend countless hours playing the game.
Over the course of time, as Piggy's fame has risen, a range of merchandise focused on the Roblox experience, such as clothing, toys, accessories, plushies, and more, have been made available for purchase. Fans generally wish to get their hands on these items and eventually look for the finest available options.
You've come to the right place if you want to find the best Roblox Piggy Toys. The article below gives a full rundown of the top picks to buy.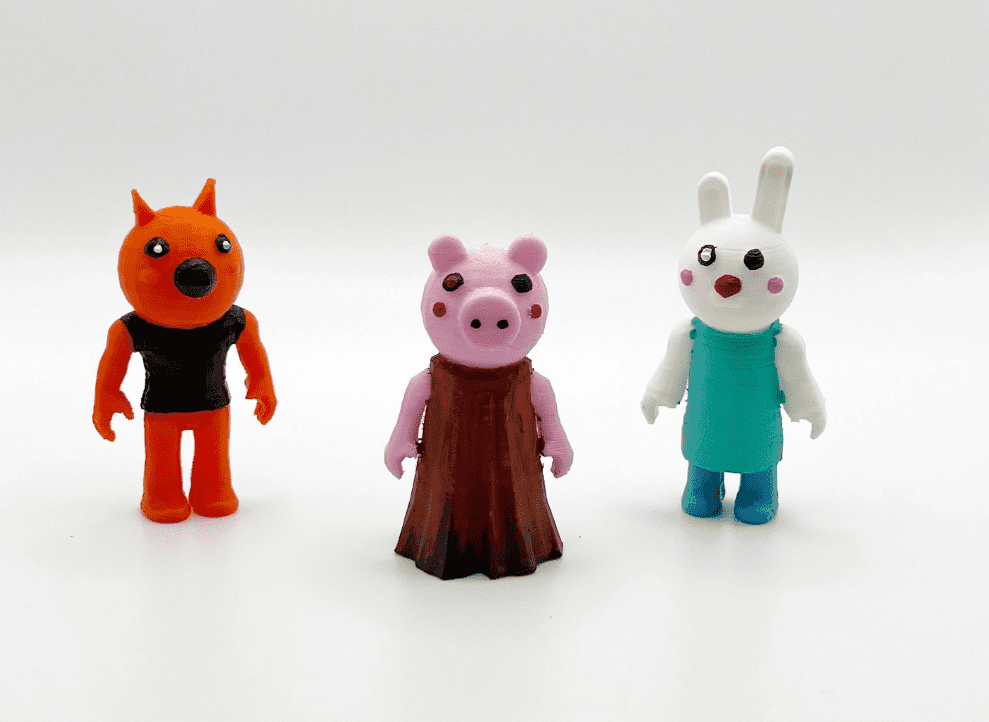 Details about Piggy Toys Up Front
There is a wide selection of one-of-a-kind Piggy Toys available for purchase on the official Piggy Store, as well as on Amazon and a few other online retailers.  Action Figures are generally the top-sold products available, with fans avidly interested in acquiring them. 
The various "Series" of collectibles are mainly themed around the many characters from the Piggy Universe. In addition to the toys, you can also buy accessories and apparel with the game's theme incorporated into them.
My Top Picks at a Glance
In case you just want to breeze through the best available selections, here are my top three picks for the best toys you should be aware of:
PIGGY – Ultimate Head Bundle – The Ultimate Bundles arrives with a total of 8 unique items. This would be the finest choice for you to make if you are seeking to purchase a range of game-related products to add to your collection.
PIGGY – Action Figures (3.5″ Figures, Series 1) – This collection of 5 Action Figures provides the different characters included in Series 1. You can acquire the complete set to get the figures for Clowny, Dinopiggy, Foxy, Piggy and Tigry.
PIGGY Deluxe Carnival Construction Set – The Construction Set is a lot of fun to play with and will keep you occupied for hours. You may assemble the various components to create the look of a carnival, as seen in Chapter 8 of Piggy.
Selection Criteria
Given the breadth and depth of the available choices, it can be challenging for anybody to draw out the best toys. I was in the same dilemma while choosing the options, and it took me a while to pick out the options listed below. The following are the different selection criteria's: 
The list is basically based on my general opinion of the most popular Piggy characters.

There 

was 

consideration 

given 

to 

the 

pricing 

of 

the 

items.

The selections are also based on the "Series" of the different Toys.

I 

chose 

the 

top-selling 

toys 

due 

to 

their 

overall 

popularity.
Also, the selections below are presented in no particular sequence, and you are free to proceed with making a purchase of whatever option resonates most strongly with you.
Best Piggy Toys to Purchase
Finding the finest Piggy Toys on the market may seem a daunting task. Here is a list of the top 10 Roblox Piggy Toys, in no specific order, to save you some time: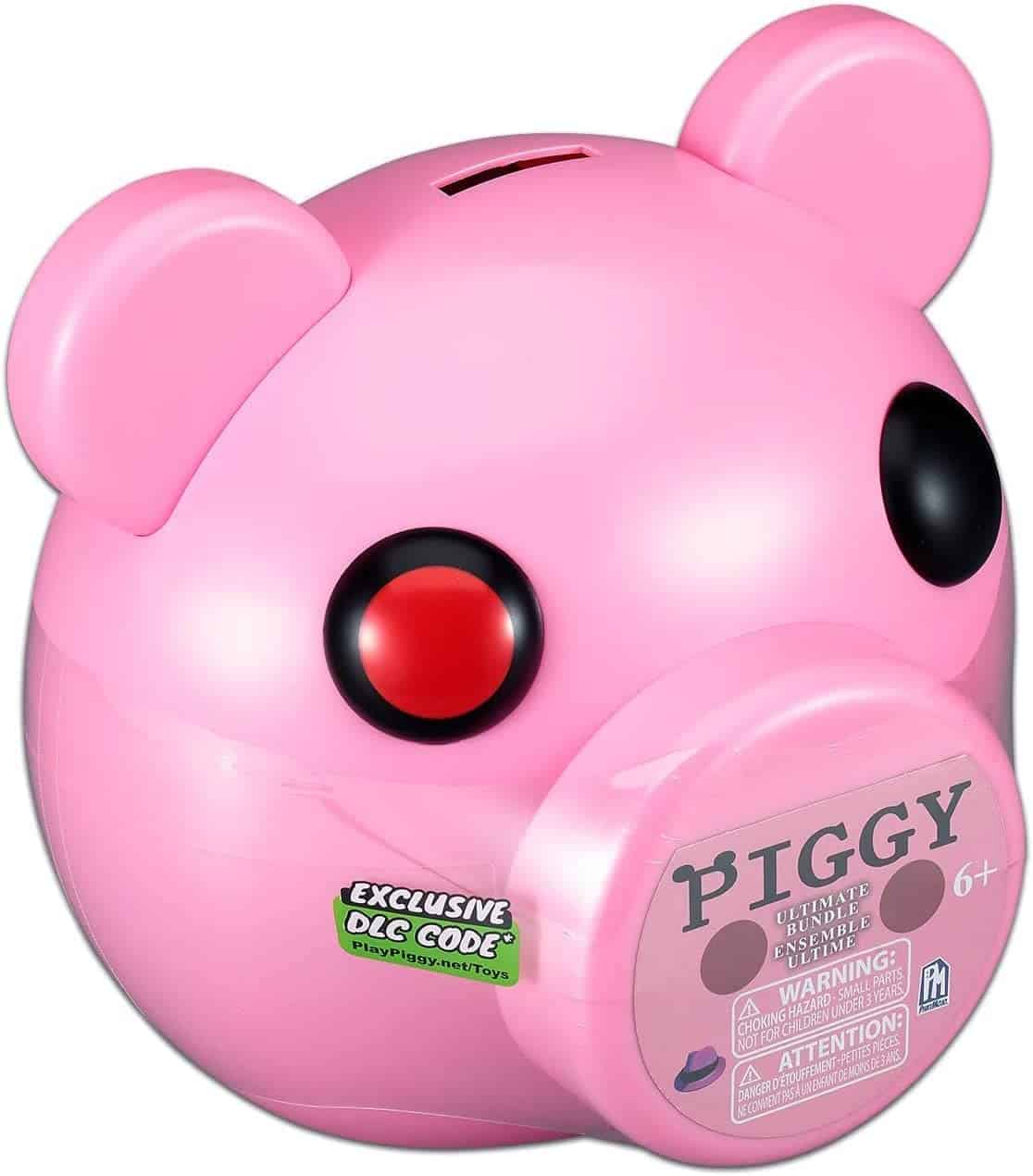 When discussing merchandise related to Piggy, the "PIGGY – Ultimate Head Bundle" is often regarded as the finest acquisition that you could make. The complete bundle contains numerous Action Figures, Stickers, a Piggy Eyepatch, a Piggy Nose, a Large Piggy Head, Blueprints, and an Inflatable Baseball Bat.
I think it's a great idea to purchase this since, along with the regular action figures, you will also receive some unique goodies like Cosplay Props and Stickers. The younger audience of the Roblox experience would definitely love to get their hands on the complete bundle.
Pros
PIGGY – Ultimate Head Bundle includes a set of premium items such as Posters, Action Figures, and more.

The outer case in which the objects are offered can function as a piggy bank.
Cons
Comes with eight items, and you must keep all of them even if you do not desire a particular one.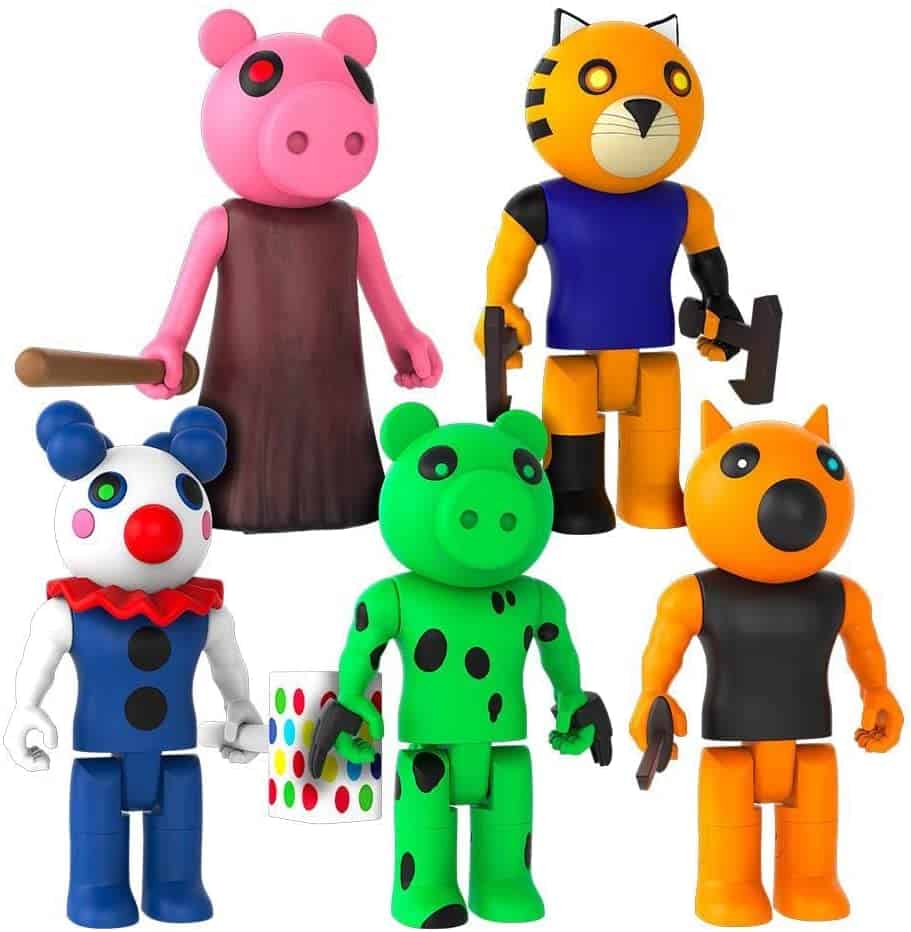 The PIGGY – Action Figures are number two on my list of best Piggy toys. These come in at the height of 3.5 inches and have modular components that can be swapped out, allowing you to mix and combine these toys in anyway you see fit.
While these appear to be far from flashy, they are an excellent choice owing to the fact that the collection contains all of the figures from Series 1. Furthermore, getting all of them at once lowers the total cost compared to purchasing them separately.
Pros
It is a set of 5 action figures, bringing your average cost down to $7.5.per figure.

Features swappable modular parts that can be used for other Piggy Action figures, thus opening the doors to endless creations.
Cons
The swappable parts raise questions about the durability of the toy.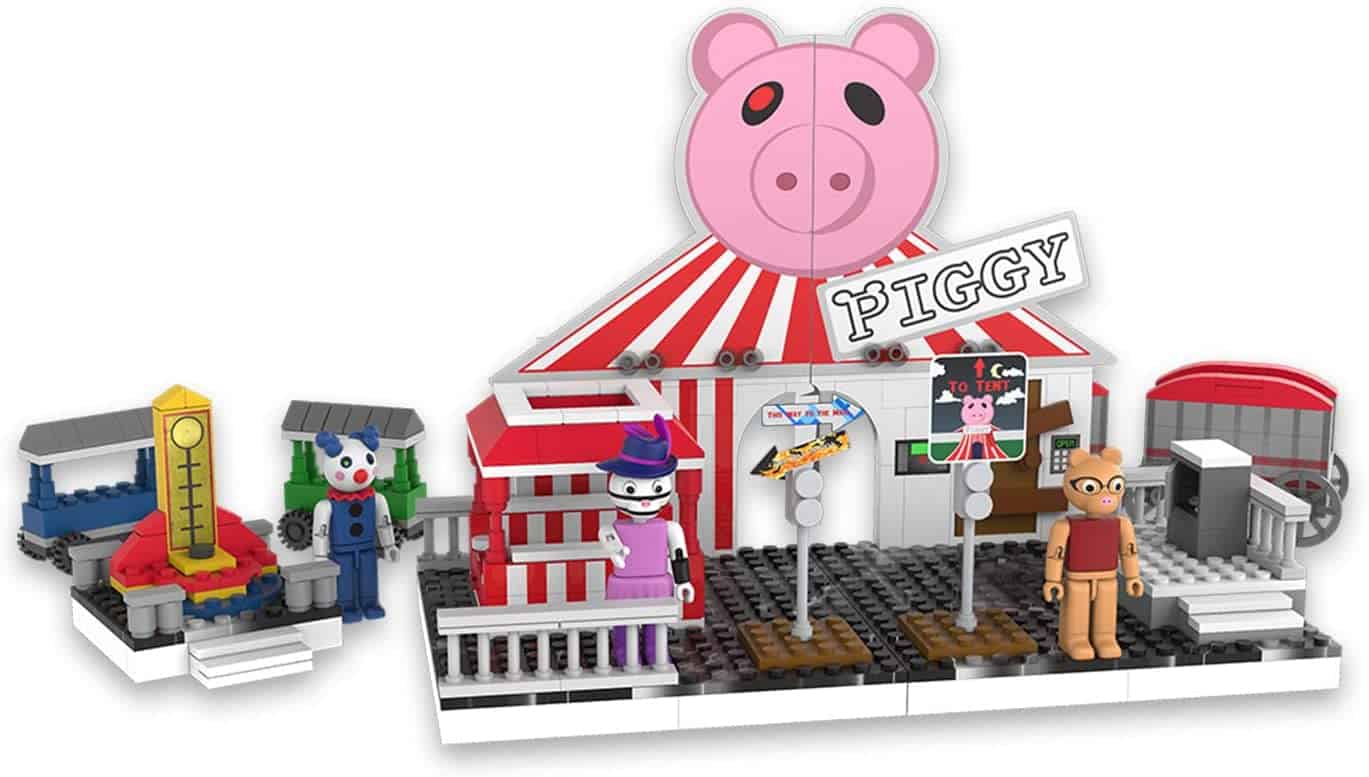 PIGGY Deluxe Carnival Construction Set is something that you can spend hours working on. There are 356 individual pieces included in the whole set, and using those parts another allows you to build a Carnival based on the game's Chapter 8.
As a huge fan of Legos, I would suggest this toy since it can keep children occupied for a long period of time. They would love this far more than the Action Figure which they would end up building within a few minutes. 
Pros
You can create a Piggy-themed Carnival, as seen in "Chapter 8."

A fun activity-based toy that allows you to enjoy quality time with your children.
Cons
Small pieces in the PIGGY Deluxe Carnival Construction Set pose a choking threat to children.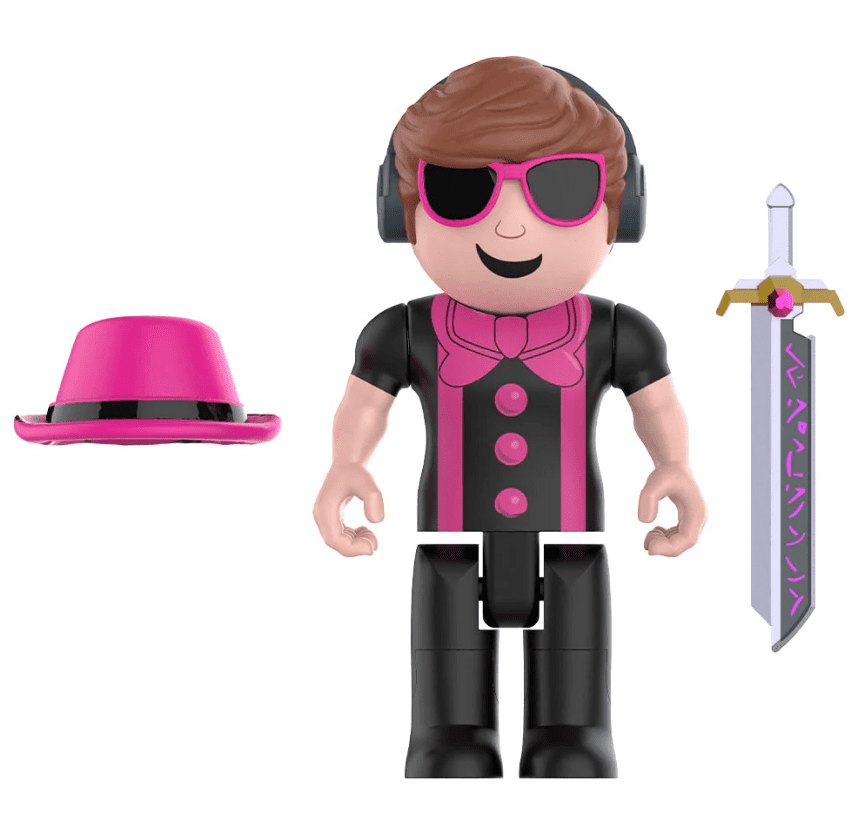 Imagine for a moment how cool it would be to own an Action Figure of the person who was responsible for creating Piggy. Actually, you can do so as a specific toy based on MiniToon is up for grabs.
Even if it isn't based on a Piggy character, I believe it is a wonderful choice for anyone who loves the game and enjoys collecting. Hence, adding the toy to your collection would be a good decision.
The buildable figure primarily has a black and pink main theme, making it appear quite stunning. It also features different accessories such as a hat and a sword that can be attached to improve its look.
Pros
Based on one of the creators of Piggy itself.

It has a fantastic aesthetic and is perfect for being used as a display item on tables.
Cons
It doesn't relate to any Piggy characters, reducing its overall appeal.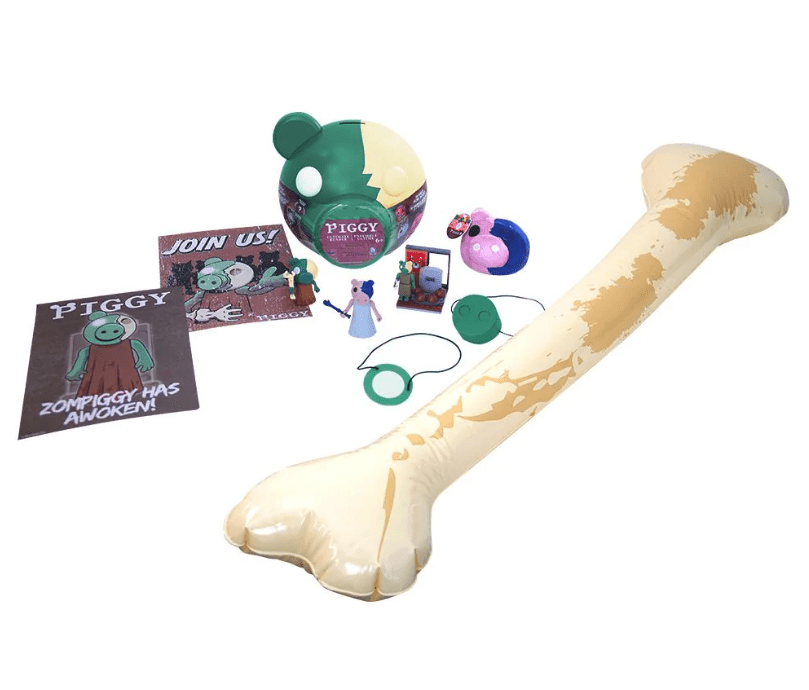 In alternative to the Ultimate Head Bundle, there's also the PIGGY – Zompiggy Head Bundle which you can purchase. It comes with a variety of unique and rare things from Series 2, and the exterior of the box is designed to appear like the beloved Zompiggy.
Children who are enthusiastic to get Piggy-related merchandise would be delighted to receive the bundle, which makes it an ideal gift option. In general, any fan of the Piggy universe would be overjoyed to get ten unique things related to the game.
Pros
PIGGY – Zompiggy Head Bundle brings 10 unique items from the Series 2 of the Roblox Piggy Toys.

It is wonderful for collectors and provides one-of-a-kind items such as stickers, posters, and more.
Cons
It's a bit pricey, and buying single toys for children would probably be more cost-efficient.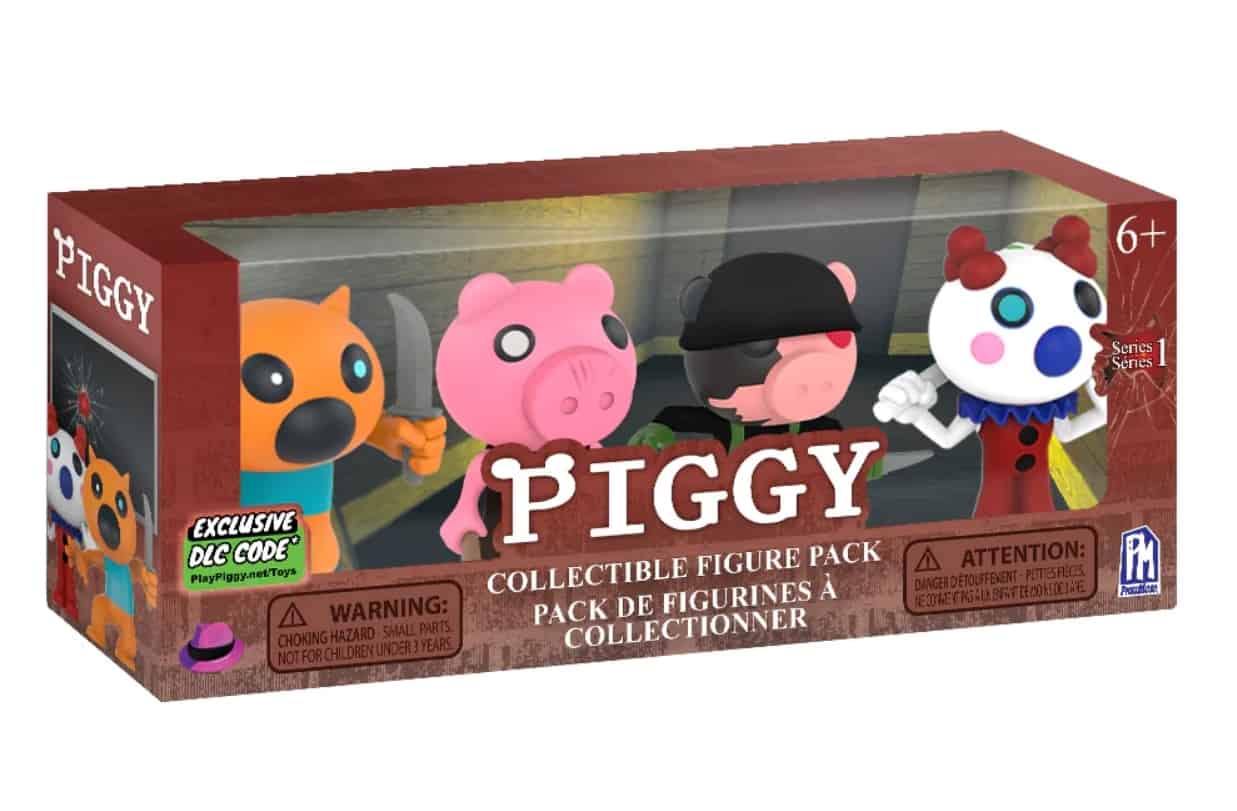 Acquiring the Minifigure Pack is an ideal buy for anyone who does not want the toys to take up a lot of space in their room. This pack essentially includes four different characters from the Piggy universe: Foxy, Piggy, Soldier, and Clowny.
Although I dislike small toys like most other youngsters, the four figures included end up making it a superb acquisition. Anyhow, the Minifigures would be perfect for smaller kids, and they would have a great time playing with them.
Pros
Figures included in the Minifigure Pack take up less place due to their smaller size.

Includes iconic Piggy characters that everyone knows and loves.
Cons
Not everyone likes small figures; compared to regular figures, they are a little shorter.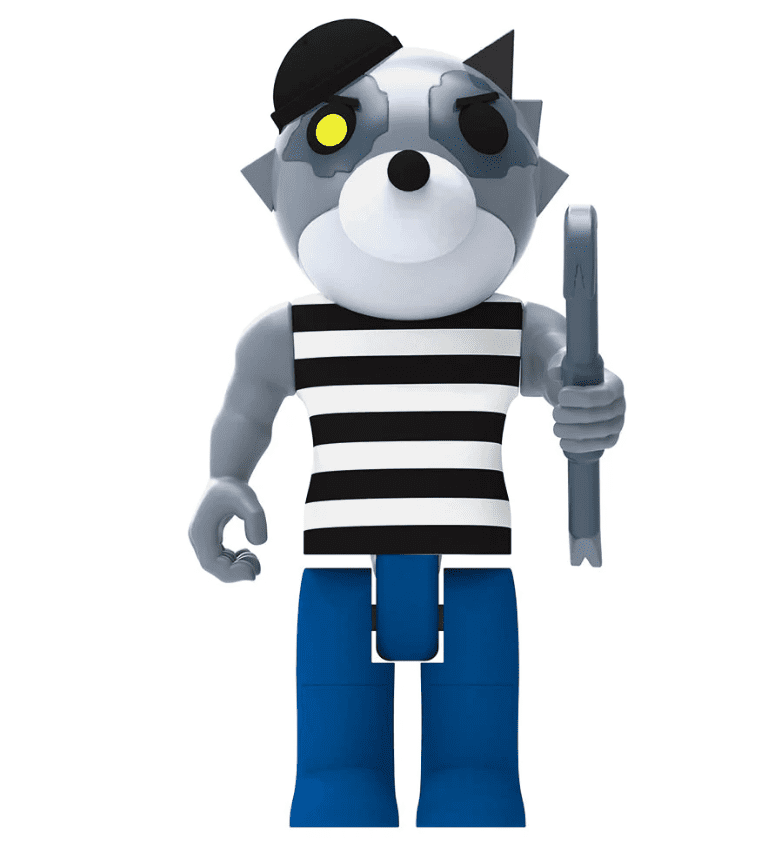 If you like the character Rash, you could be interested in purchasing the "PIGGY – Rash Action Figure," which is a fantastic options. It is the same size as the majority of the other action figures, which is 3.5 inches, and it features interchangeable parts, which means that you can use the parts in any of the other figures as well.
Moreover, the figurine comes with an extra accessory called the Crowbar which further enhances its overall appearance. Later, you can also put this on the table as a centerpiece or decoration.
Pros
Based on the beloved Rash character from the Piggy universe.
PIGGY – Rash Action Figure comes with a special Crowbar accessory
Cons
It costs $14.99, and there are a couple other better Action Figures available.
FAQ: Best Roblox Piggy Toys
Question: Where can I buy Piggy Toys?
Answer: There are multiple online stores where you may get Piggy Toys. I recommend using Amazon or the Piggy website to get them owing to their familiarity and user-friendliness. Regardless, you may employ the one you believe is ideal and offers you authentic products at the best price.
Keep in mind that shipping times and overall rates may differ between the different stores.
Question: How to choose the best Piggy Toys?
Answer: The Piggy Universe contains many different characters, and the collectibles you can buy are based on those characters. Accordingly, the character that you like the most will be the best option for you to acquire.
Even though there could be a preferred option among the community as a whole, I would advise you to buy the one that appeals to you the most. Nevertheless, getting the Best-Selling options is often considered to be the go-to option.
Question: What is DLC Codes on Piggy Toys?
Answer: The official Piggy Toys typically come with a DLC Code that can be used to gain access to special virtual items. Therefore, following the acquisition of a toy, you can use these DLC Codes to get further virtual goodies in PIGGY: Hunt, a stand-alone game that can be downloaded on Steam.
Question: Is it worth buying Bundles?
Answer: Bundles basically provide a set / collection of items. If you like collecting stuff, you can surely go ahead with purchasing the distinct Bundles that are available for purchase. Meanwhile, if you are just interested in buying only one or two Piggy Toys, then I would advise you to steer clear of purchasing any Bundles. Instead, you may go for individual Action Figures.

Conclusion
After reviewing the list above, you should be able to identify a handful of the top Piggy Toys to buy. I suggest you go to the official Piggy Store and scroll through all the available selections to find the one that feels and appears to be the optimum match for you.
Also, if you are looking to purchase Plushies, I suggest having multiple smaller ones rather than the large ones because they will take up a lot of space, and you will have to make place for them.
If you enjoyed this list, you could also check out our list of the best Roblox Hoodies to see some of the top Hoodies you can get related to Roblox.
Recommended Reads
You may also find the following articles helpful in expanding your knowledge on a variety of other topics: