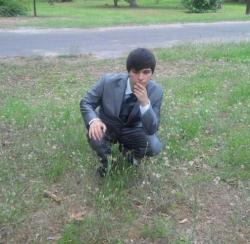 Latest posts by Cody Perez
(see all)
The joy of being a kid couldn't be more felt than when you're sticking random stickers all over everything you find in the house. Though it can be frustrating for parents, stickers are among some of the favorite items you could ever give a kid, doubly so if they are modeled after something they love, such as these best Roblox stickers.
I compiled this list of the best Roblox stickers that you could ever find on the internet. Many focus on specific games, while others are more general Roblox stickers. I've spent a fair bit of time looking for stickers to give to my loved ones over the years, so I thought I'd share with you my findings.
Bottom Line Up Front
The best Roblox stickers are the ones that fit the kid's interests the most. There are so many different stickers out there for Roblox, some just showing off the logo in neat ways while others focus on characters from specific Roblox games. There are even massive collections of stickers that contain plenty of variety for someone to sift through and use. If I had to pick one from this list, it would be the black and gold Roblox sticker with its stylish looks.
My Top Picks at a Glance
Here are just a few of my top picks from among the best Roblox stickers:
Tips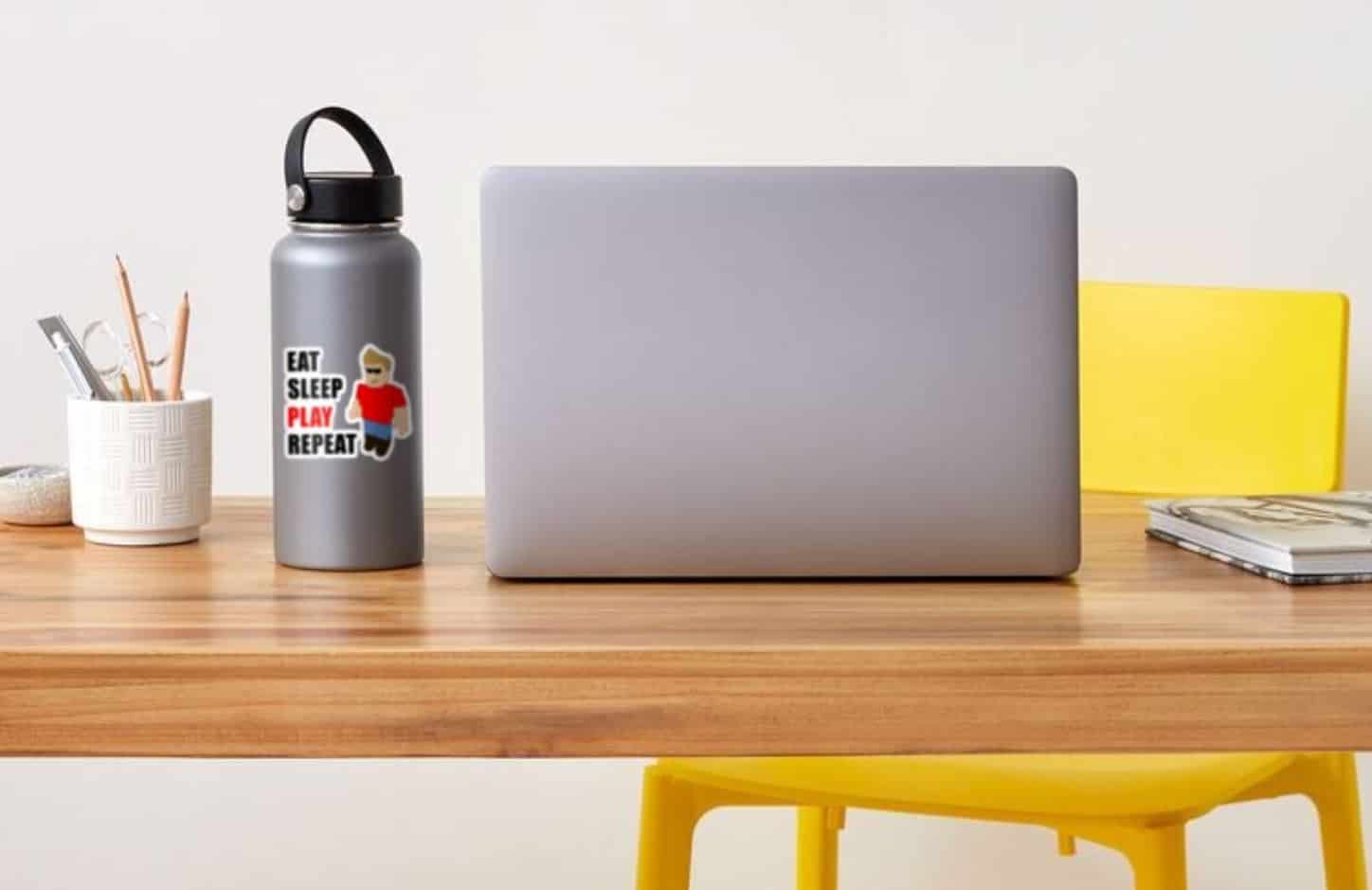 Here are some of the tips that I have for picking out the best Roblox stickers:
A tried and true advice: always shop around; don't just stick to one place.
Make sure that the design quality looks good in the images. If you even slightly question it, chances are it won't look good in person.
Don't be afraid to use these as ideas for making custom stickers, which is relatively easy to do online.
If you're buying for someone, ask them for their favorite Roblox games. Chances are, if it's a popular one like Adopt Me or Piggy, there might be stickers based on it.
Selection Criteria
When selecting the best Roblox stickers around, I kept a few things in mind:
For one, it had to be smartly sized. Having something too large or too small would render it useless as a sticker.
The design needed to be fantastic.
Price is always going to be an essential factor.
How many stickers do you get in the specific collection?
How it ties back to Roblox in one way or another.
Keeping a diverse collection of stickers that can appeal to the most players.
It met my standards for me to own the sticker or give it to someone I love.
Best Roblox Stickers List
Without further ado, let's dive right into the best Roblox stickers you'll ever find. There are plenty of options to look through. Just bear in mind that this list is in no particular order whatsoever.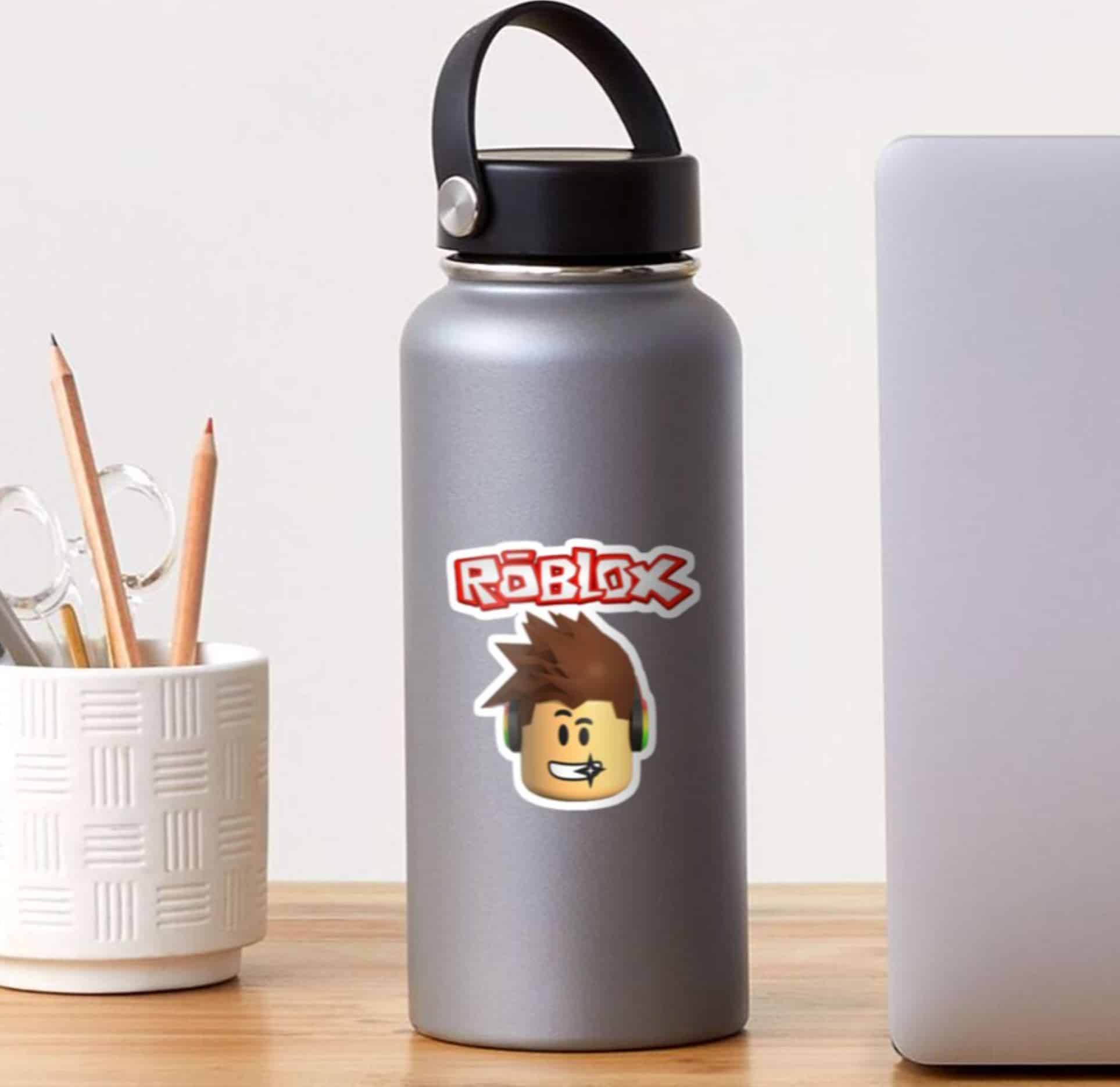 One of the favorite avatar characters in Roblox is Jack, the dude with the headphones and sparkly smile. If you want a sticker of his shiny face and the older Roblox logo that you can stare at all day long, you are in the right place. This sticker from Redbubble will only cost you less than $3 to purchase (excluding shipping).
Pros
Perfect for a Jack fan
Welcome sticker design if you like the older logo
Cons
Not a great sticker design if you don't like the old Roblox logo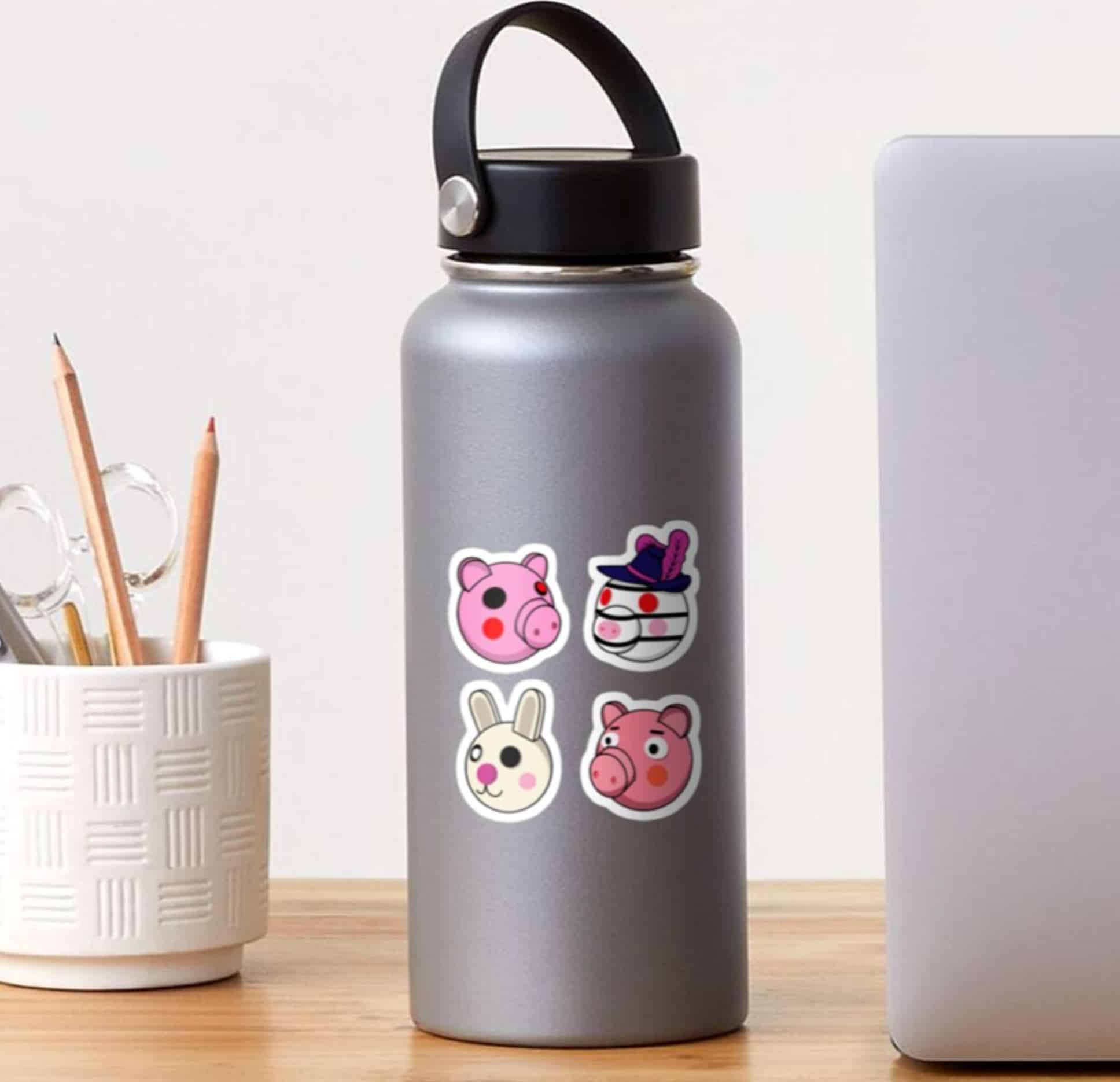 This next sticker set comes with not one but four stickers in one from one of the Redbubble artists. It is also the first on this list to hone in on a specific game, in this case the horror experience Piggy. If you've ever wanted to stick evil Peppa Pig on your computer or water bottle, this is the sticker set to get. I appreciate the adorable chibi take on the characters.
Pros
Piggy fans rejoice
The cutesy chibi heads of the characters look great
Cons
This is a horror game, so not suitable for all families
A little bit pricey for only four stickers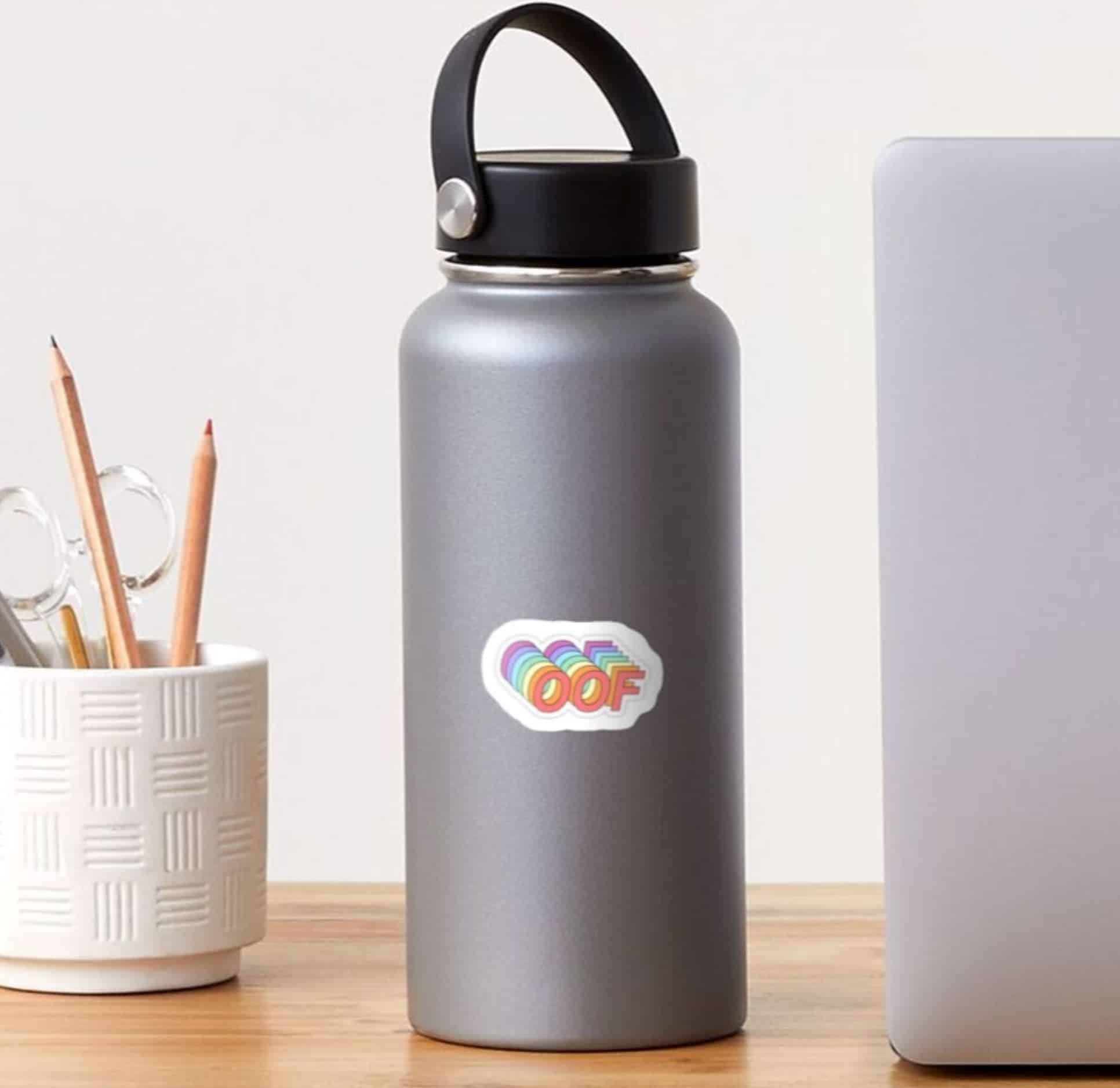 We are all oof now and again in Roblox (and honestly, real life) so this sticker is an apt friend to carry around with you on your phone case, computer, and so on. It is literally the word "oof" repeated three times in a row, with that retro style of each word being a different set of colors.
Pros
This sticker is a vibe
Nice color choices
Oof
Cons
Oof alone might not be enough for some players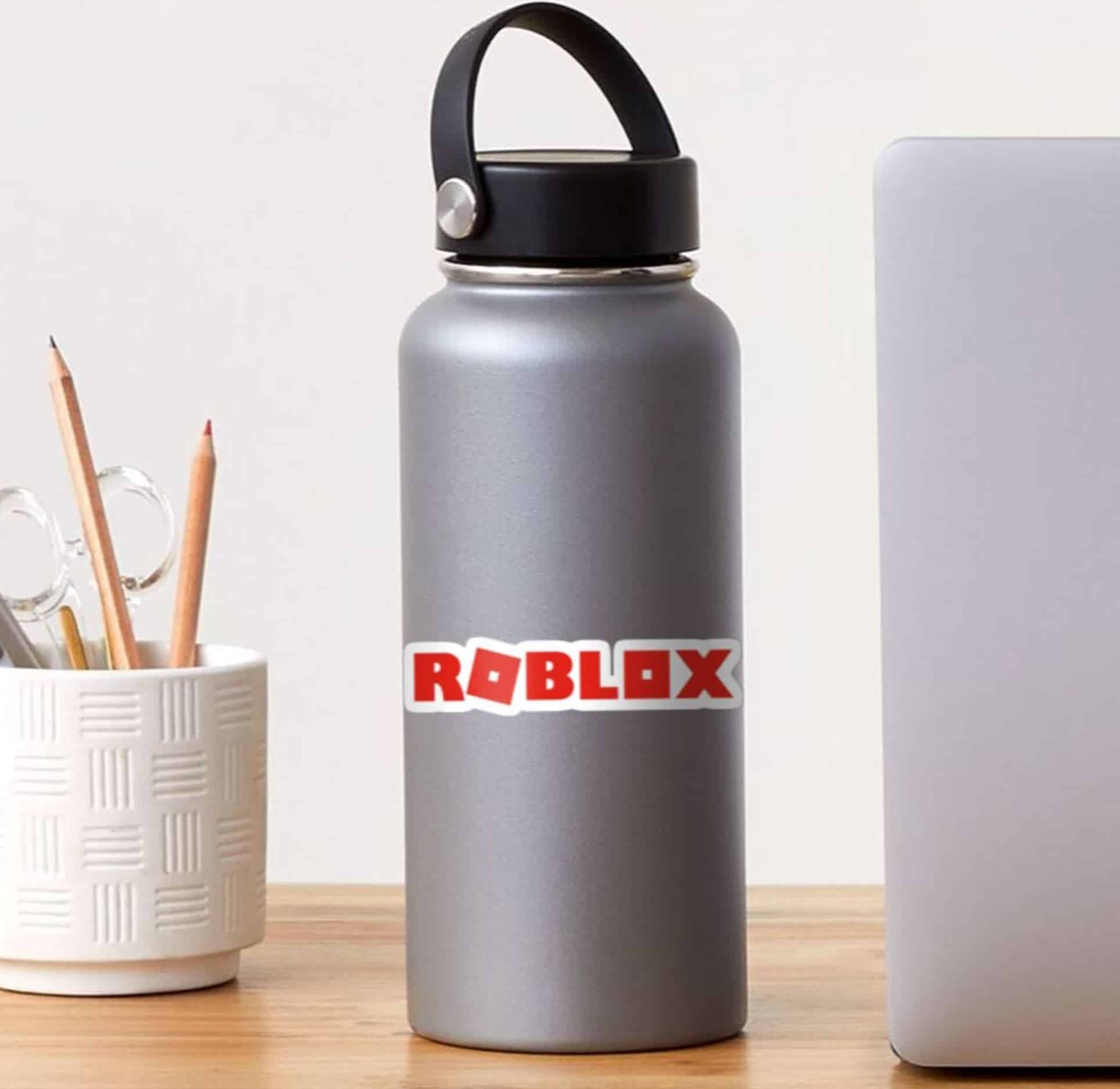 Oh, you thought we were done with the Roblox logo stickers? Too bad because that is the bulk of the good ones that exist out there. This one is yet again just the primary Roblox logo, and nothing else going on with it. The change this time is that it is red, white, and almost silver-ish. This adds an intriguing touch, plus the very thin border that goes around the letters.
Pros
A very unique color scheme for the logo
A plain and simple design other than that
Cons
Probably too dull for some kids

This particular sticker feels like a true throwback to me. The real OG Roblox players (or at least the ones who have been around for more than five years) will likely remember the "Powering Imagination" slogan that Roblox used. I honestly forgot about it entirely until I saw this sticker. Mixing it with a red version of the current Roblox logo is a nice touch, too.
Pros
For the OG Roblox players out there
A slight mix of old and new
Cons
Still quite simplistic, so might not be for most younger kids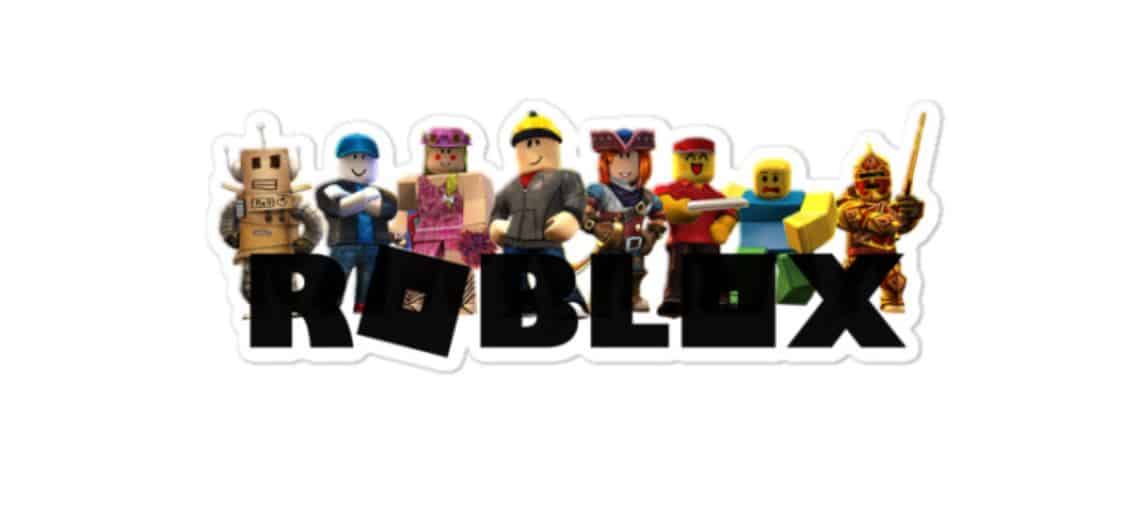 This particular sticker is a follow-up to the previous entry on this list but greatly expanded upon. You have the standard version of the current Roblox logo. In addition, there is a lineup of various Roblox avatar characters who are hanging out with one another, showing you the possibilities that exist in the game.
Pros
It shows the diverse characters you can make in Roblox
This is one of the better forms of the old Roblox logo
Cons
I might have made these two separate stickers, honestly; it's a little too big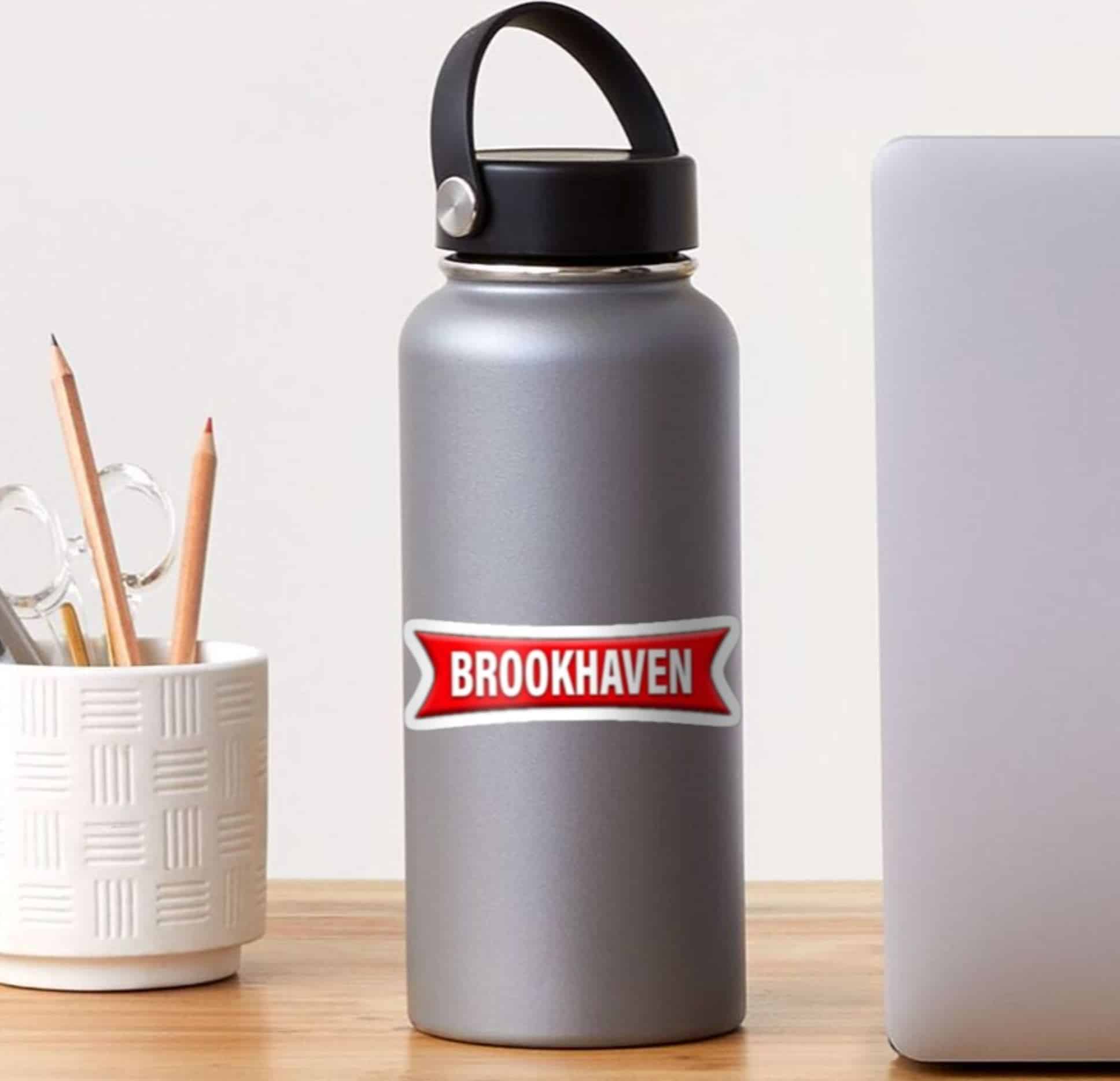 Brookhaven is one of the largest games that you can find in Roblox. I can't tell you how many hours I spend playing this game with some loved ones. If you know someone who also spends an unholy amount of time in this Roblox experience, you are in the right place with this simplistic Brookhaven sign sticker.
Pros
Brookhaven fans will appreciate this
Cons
There isn't much going on with this sticker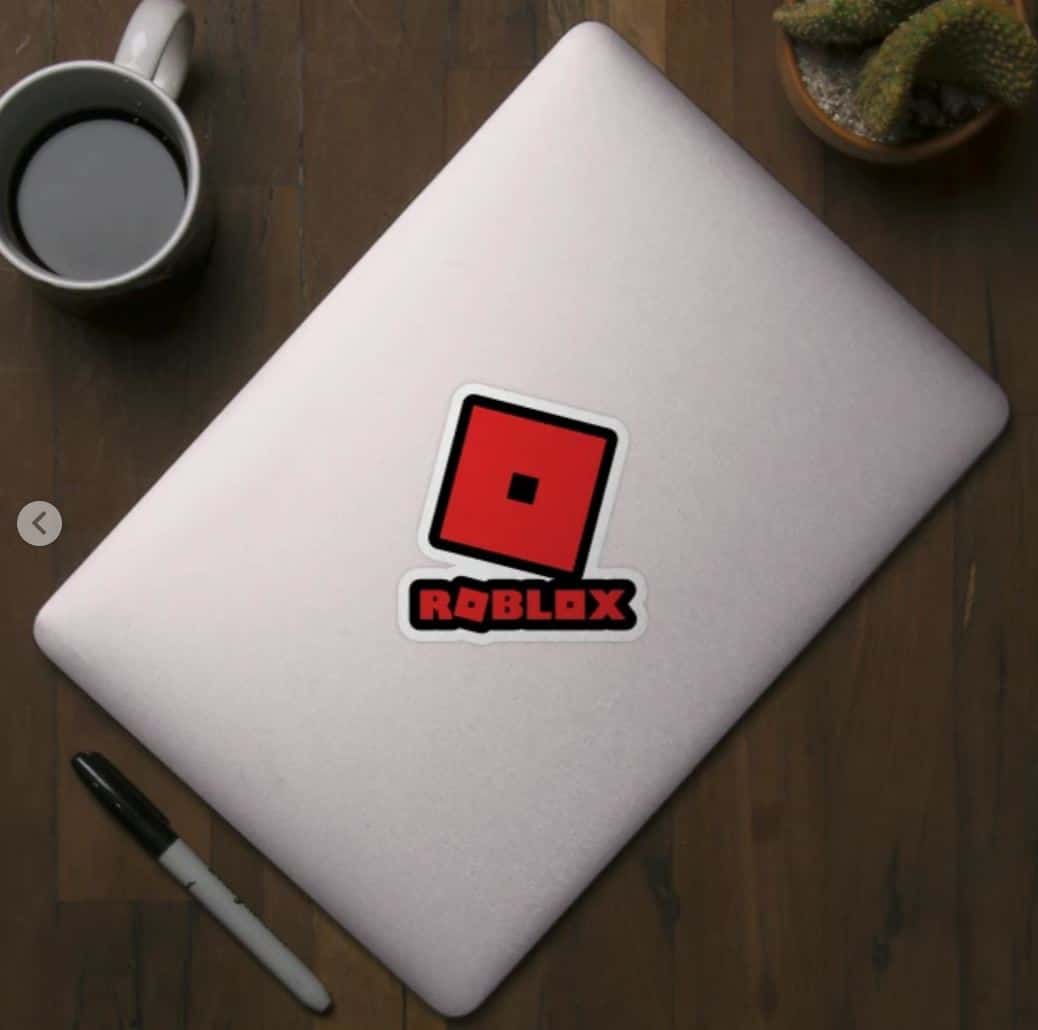 This is mainly similar to the previous logo and symbol sticker but the much classier version, in my opinion. We have the standard Roblox logo, and then there is a massive version of the classic Roblox square symbol on top of it. These are seemingly two different stickers, unlike the other version, at least. I also appreciate that while they are black, they appear to have some sort of gradient thing going on.
Pros
The colors are simple but classy
They appear to be two different stickers
Cons
It might be too dull for some kids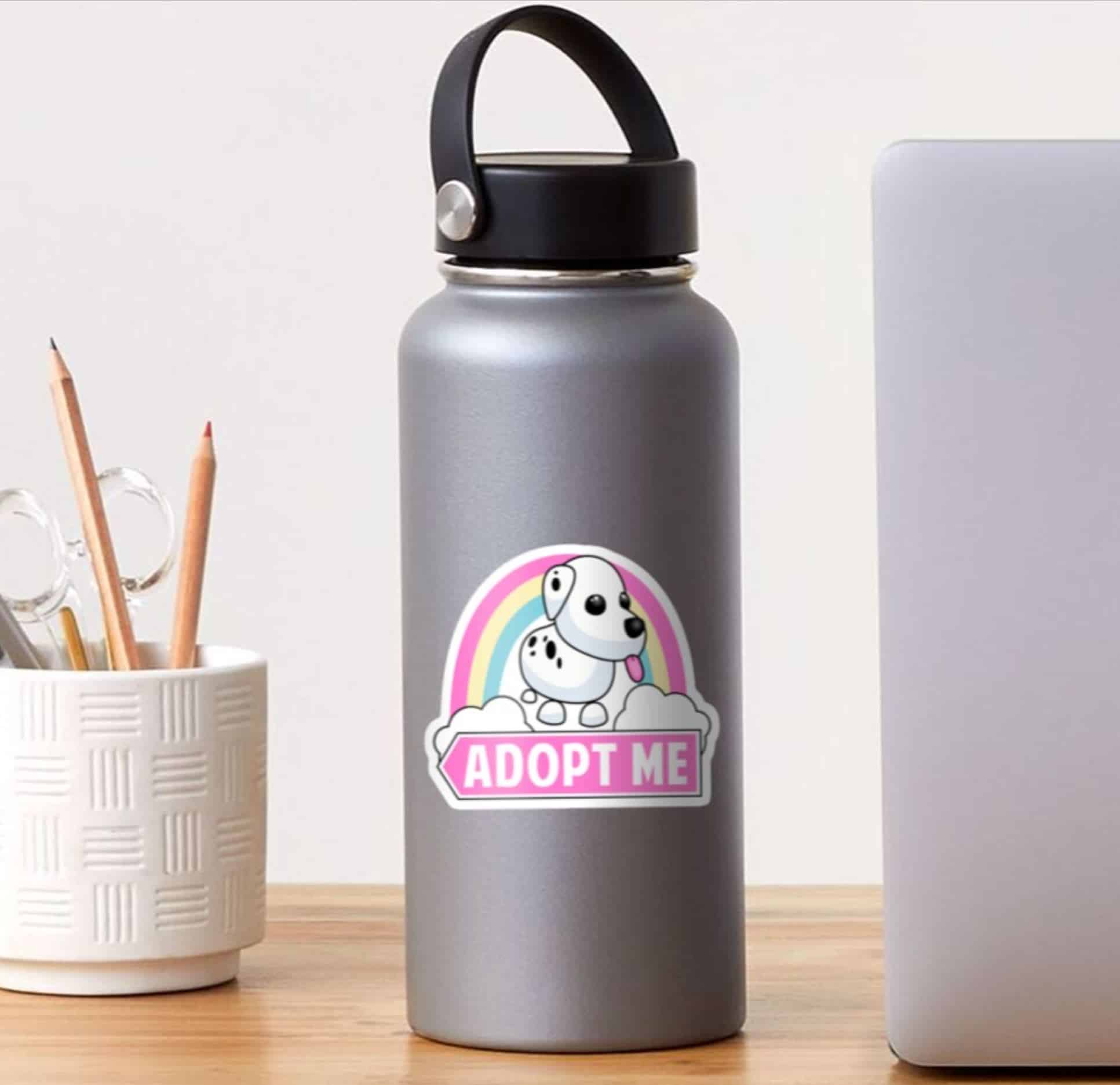 This is some kids' dream right here for a sticker. We have an adorable little puppy from Adopt Me, the logo for the biggest Roblox game of all time and a cutesy rainbow behind them. Kids are waiting right now to have countless of these stickers to put on everything that they own.
Pros
A mosaic of adorableness
Adopt Me is always a fine choice
The color scheme is wonderful
Cons
Fans of not-cute stuff will probably not like this
Why only this dog?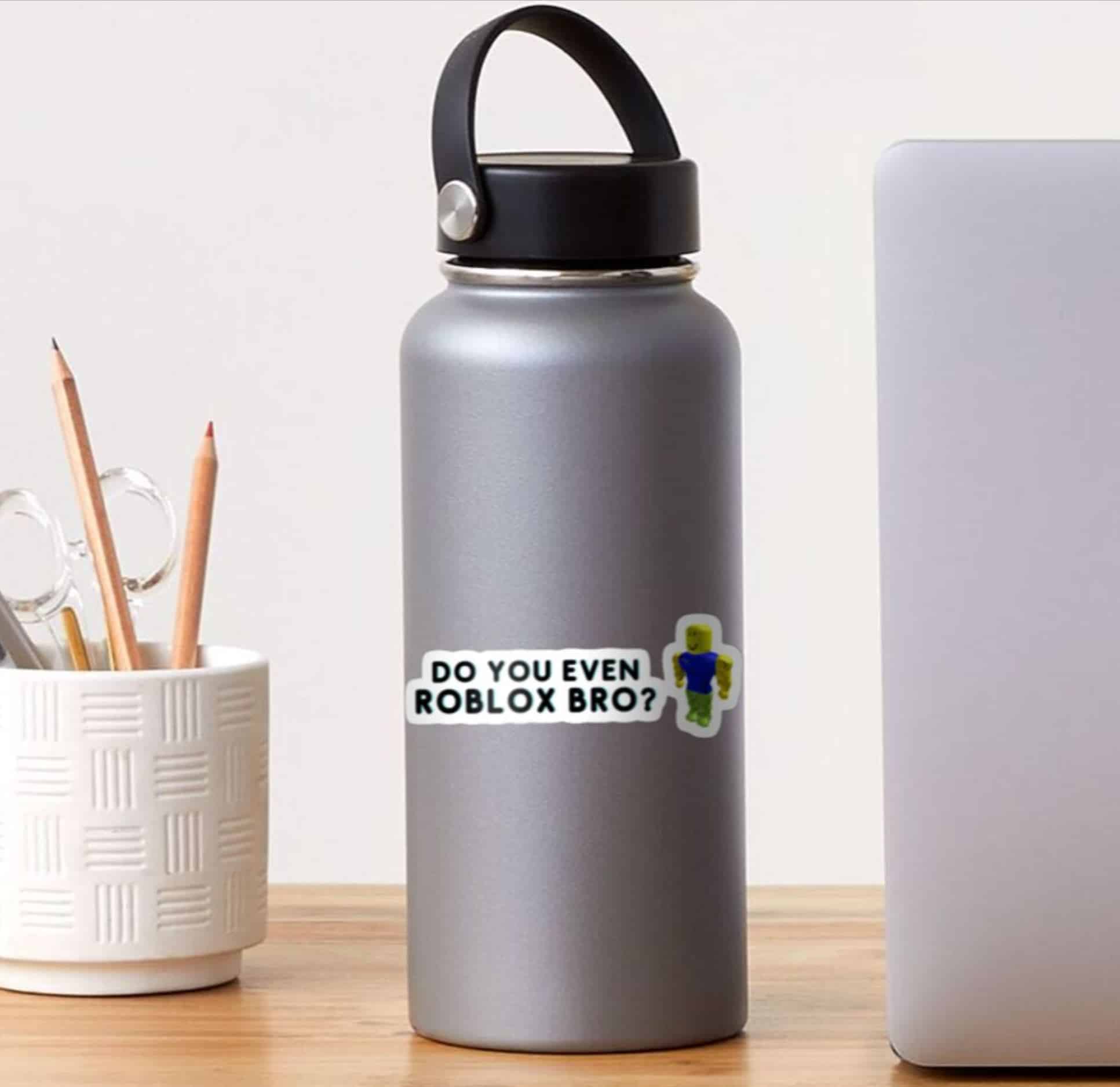 This sticker says everything that you need to know about it right from the start. Do you even Roblox bro? For all my bros out there, this is the perfect sticker for you. The slogan on its own is hilarious enough, but then you have the ultimate giga Chad over here flexing his insanely thiccc (with all the c's) muscles over whatever you put him on.
Pros
Do you even need to ask bro?
Giga Chad Roblox avatar is our king
Cons
Definitely not for every bro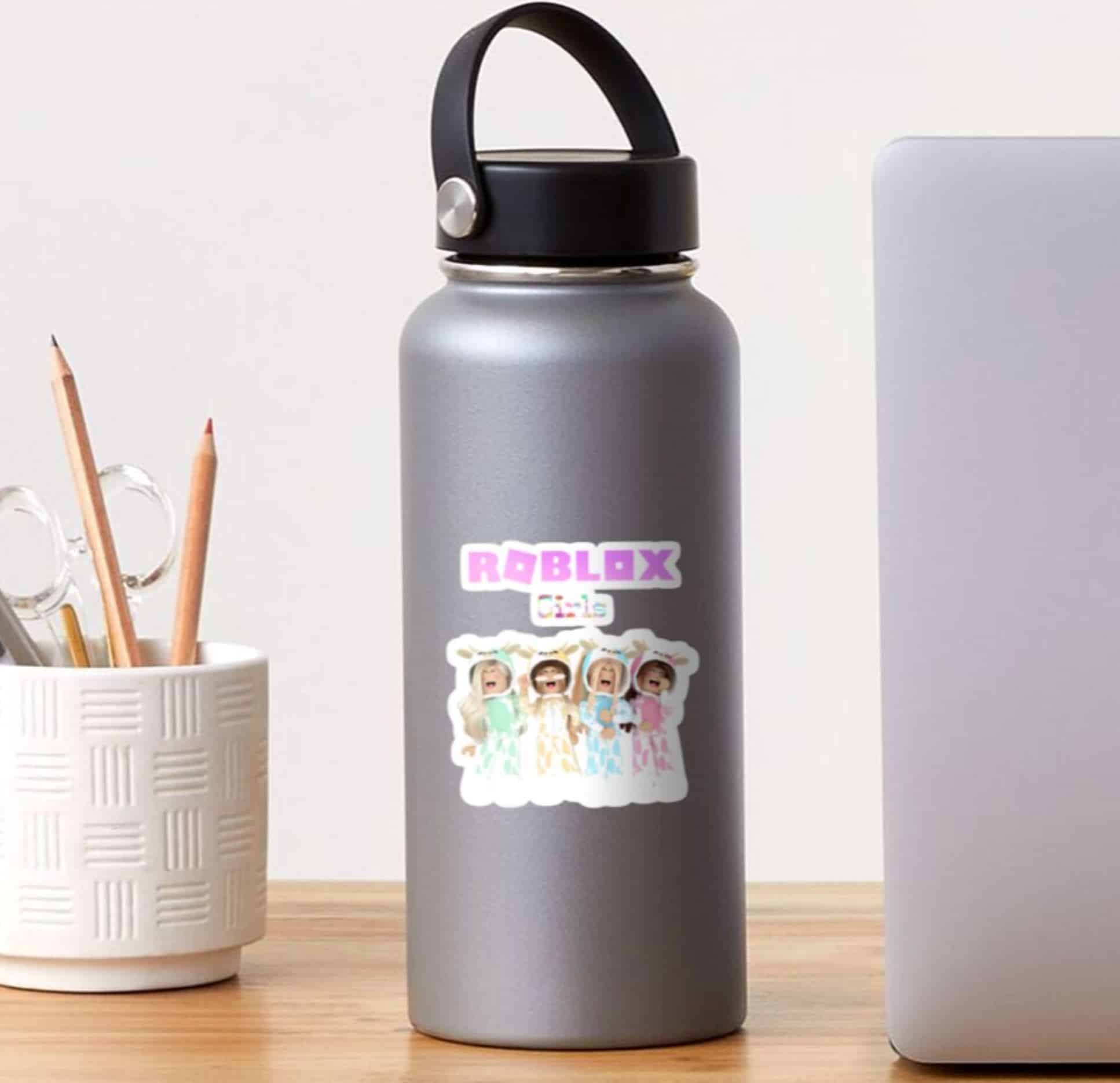 That last one was for the bros, now it is time for the girls to take the spotlight. The Roblox girls sticker features four different characters that you could theoretically make with your friends. I love how they have different colored outfits, but they are coordinated so nicely together. For all lovers of pink and pastel colors, this is the one for you.
Pros
Fans of pink and pastel colors will love this
Great stickers to buy for you and your friends
Cons
The font of the girl's part is a little weird and messy.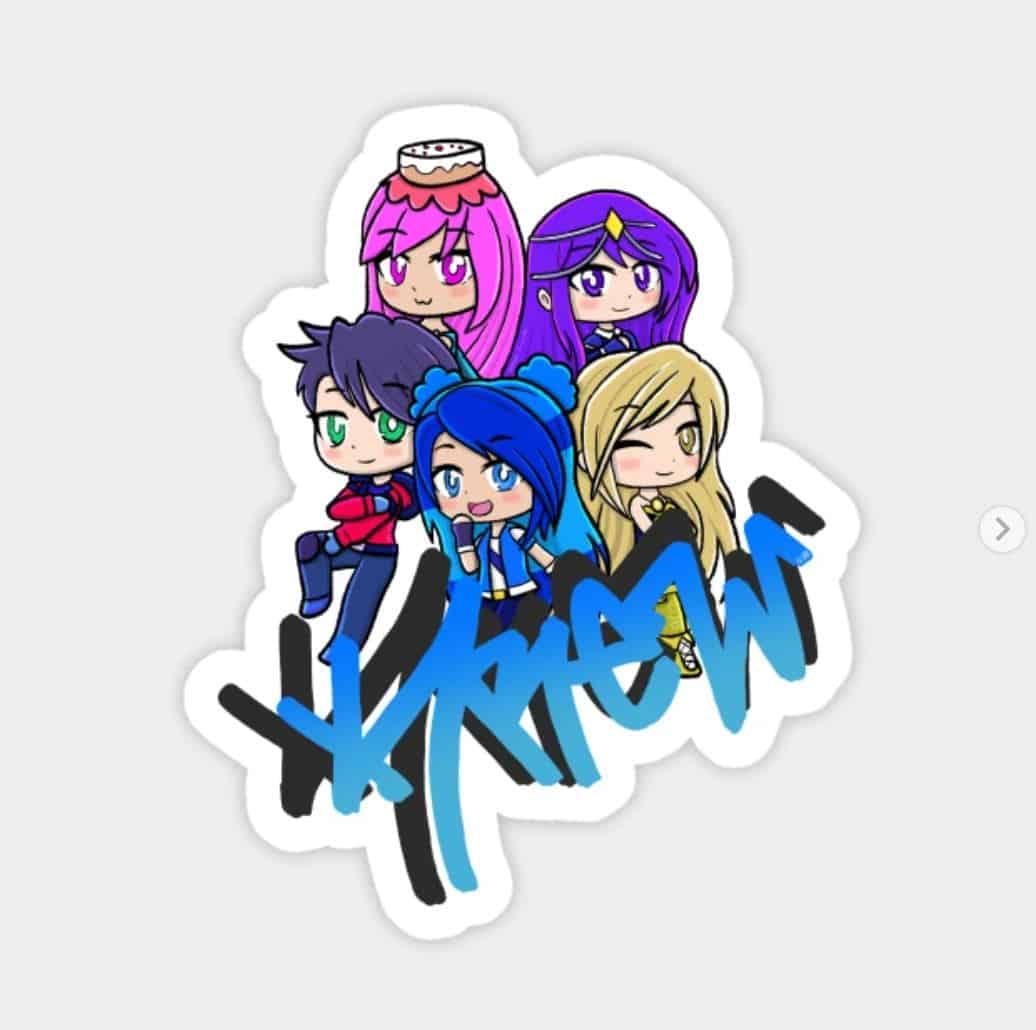 There's this little game called Gacha Life that is quite popular with kids these days. Technically its own separate mobile game, it invaded Roblox not too long ago and has its own versions there. While I would recommend any parent to look more into this game before letting their kids play even the Roblox version, this sticker captures the chibi anime art of the characters you can create and roleplay as nicely.
Pros
Gacha Life character style is captured perfectly
I love the graffiti font for "krew"
Cons
Krew can be a little cringey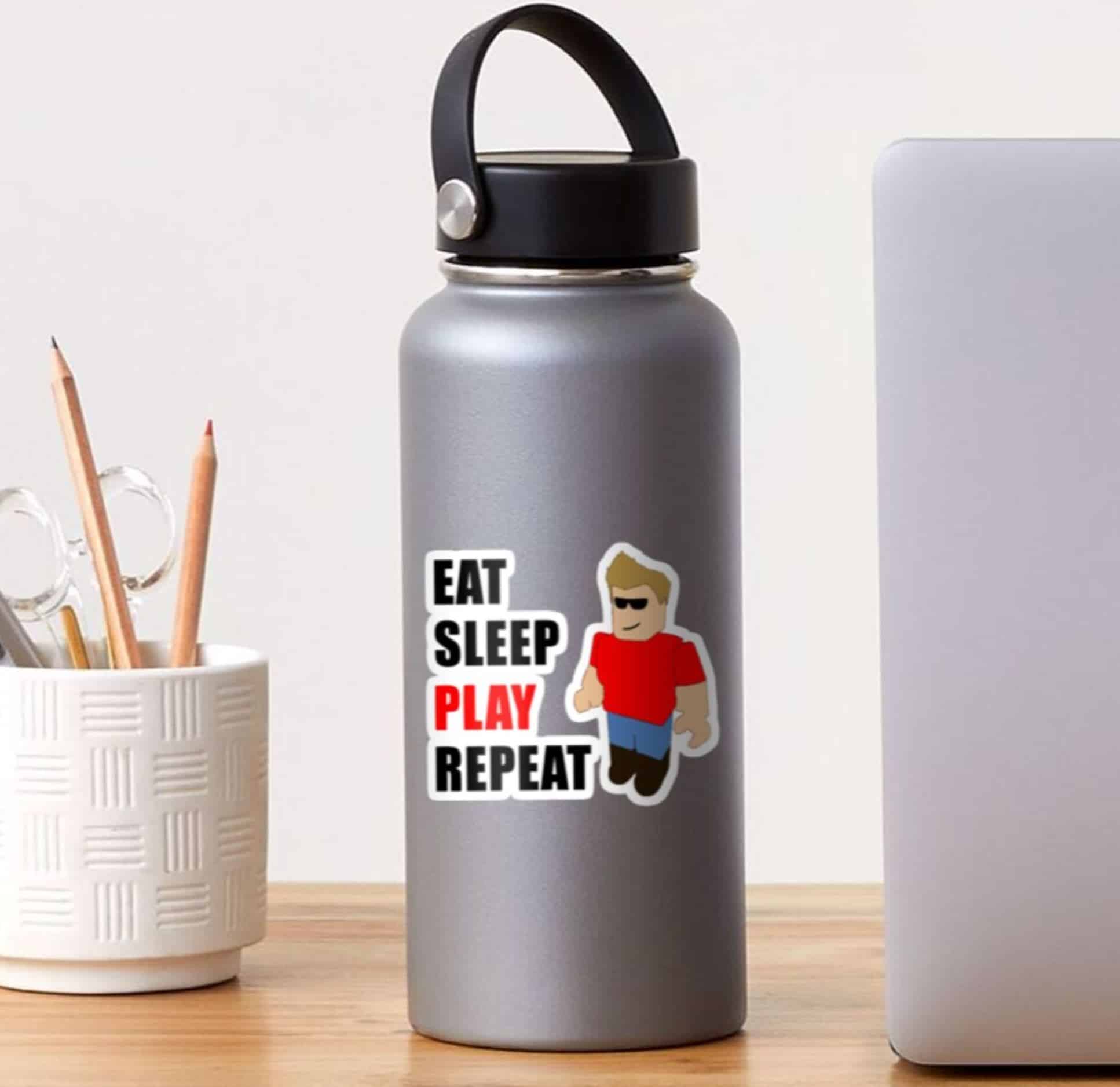 You know we can't go an entire merch post without mentioning one of the greatest trends in the history of anything merch-related. This particular sticker fits into the eat, sleep, play, and repeat trend. Of course, we are talking about doing nothing else but eating, sleeping, playing Roblox, and repeating. It even comes with an additional sticker that shows off a male avatar.
Pros
For the kids who do nothing but eat, sleep, and play Roblox
Nice additional boy avatar sticker
Cons
The less obsessed Roblox players may not like this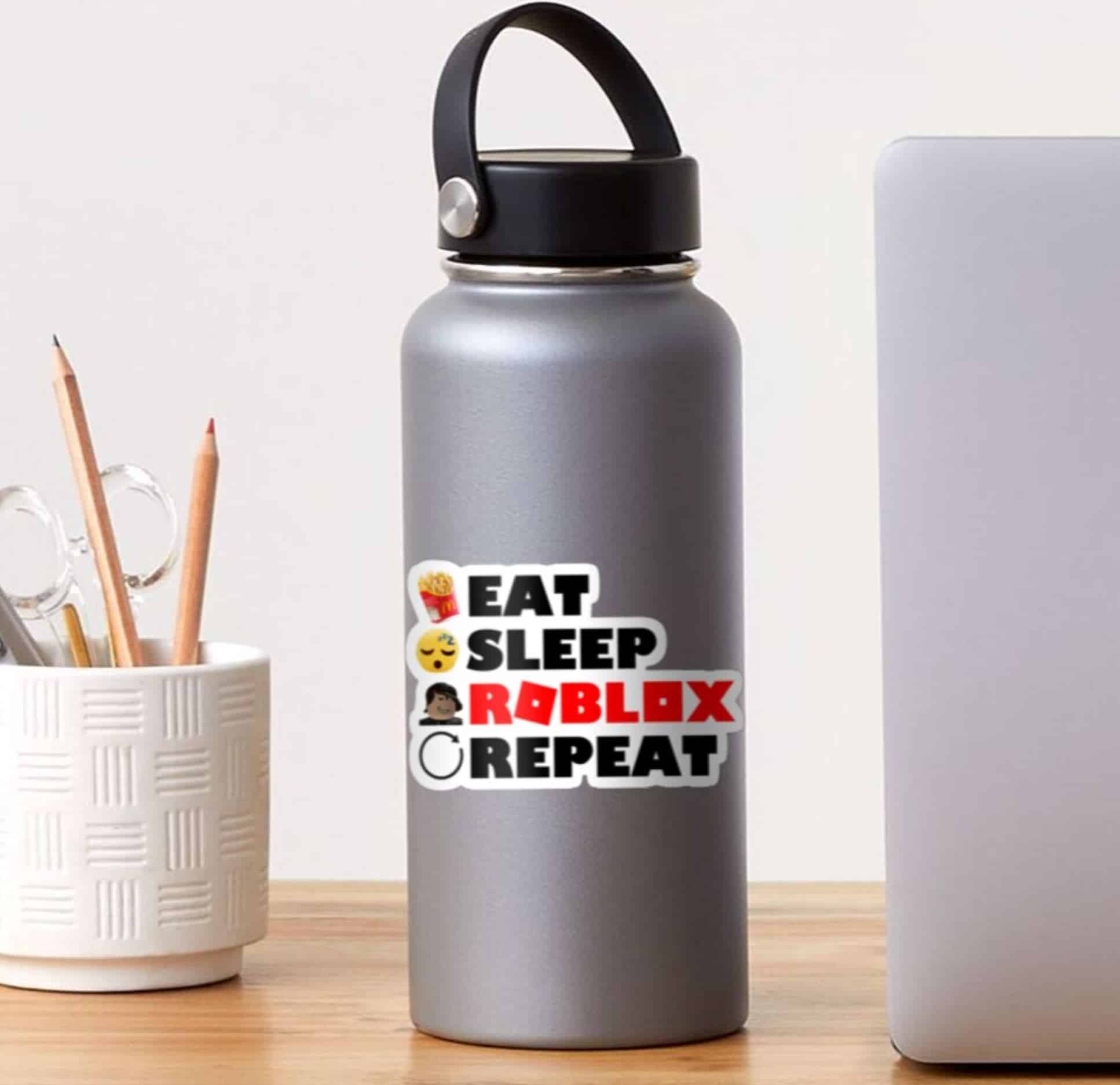 In some ways, this sticker is essentially a copy and paste of the last one. But they both have their edges over the other. In the former's case, it has the extra sticker of the male character. But in this particular version's case, it changes the play part to Roblox, which I vastly prefer. The Eat, Sleep, Roblox, and Repeat slogan is more fun with the cute images next to each word.
Pros
Eat, sleep, Roblox, and repeat sounds better
The lovely little symbols next to the words are nice
Cons
Who thought some of these font color choices were a good idea?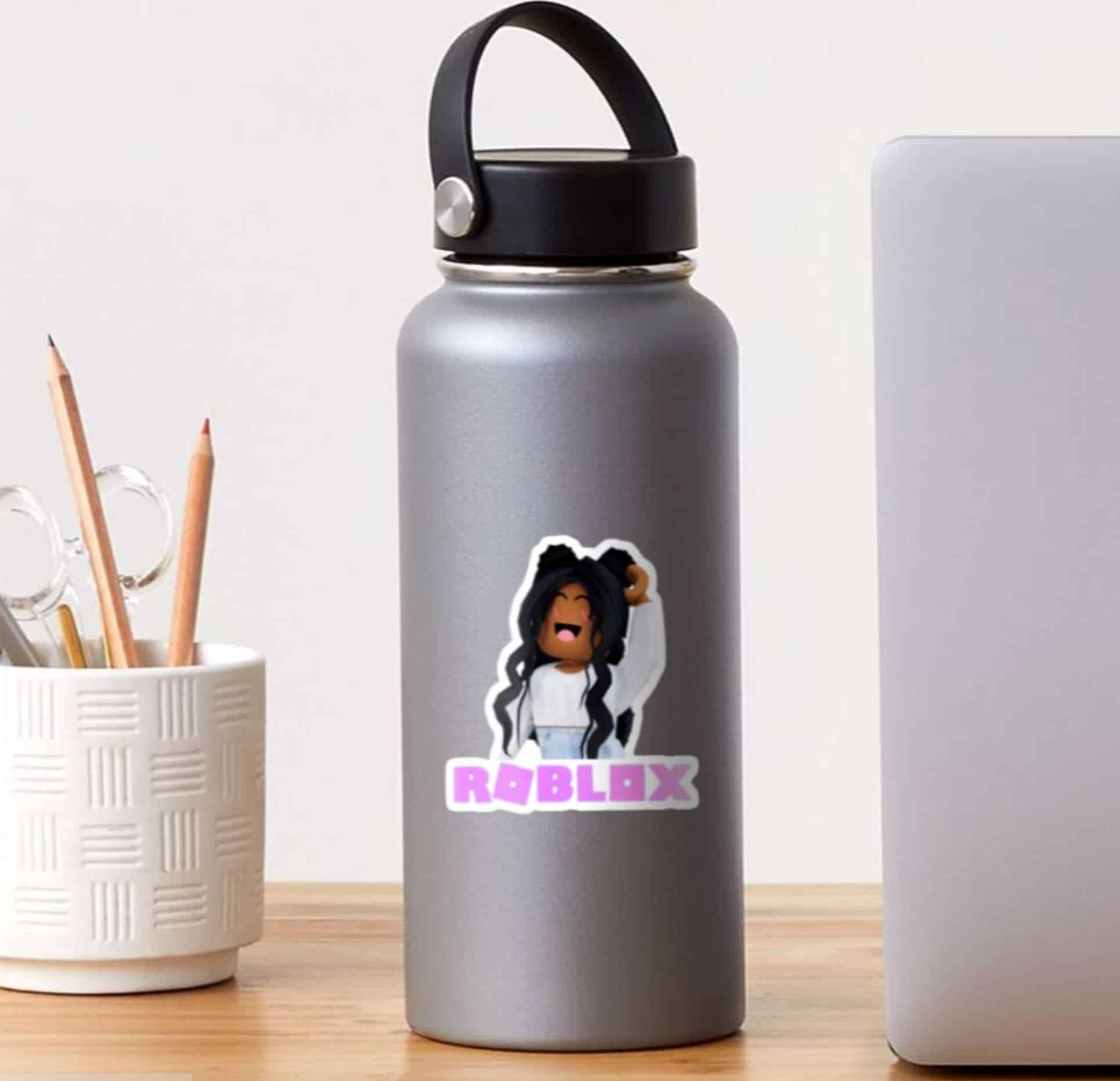 When it comes to this sticker, it is its straightforward nature that I appreciate. We have the pink Roblox logo, which looks great, and a single avatar that is above it. She looks great, too, with such a huge smile, like she is having the time of her life. And that is how Roblox should make players feel, which is why this sticker can lighten up even the most annoying situations like being in class.
Pros
Her smile is infectious
The pink Roblox logo is always welcome
Cons
Her outfit might be a little too plain for some extravagant players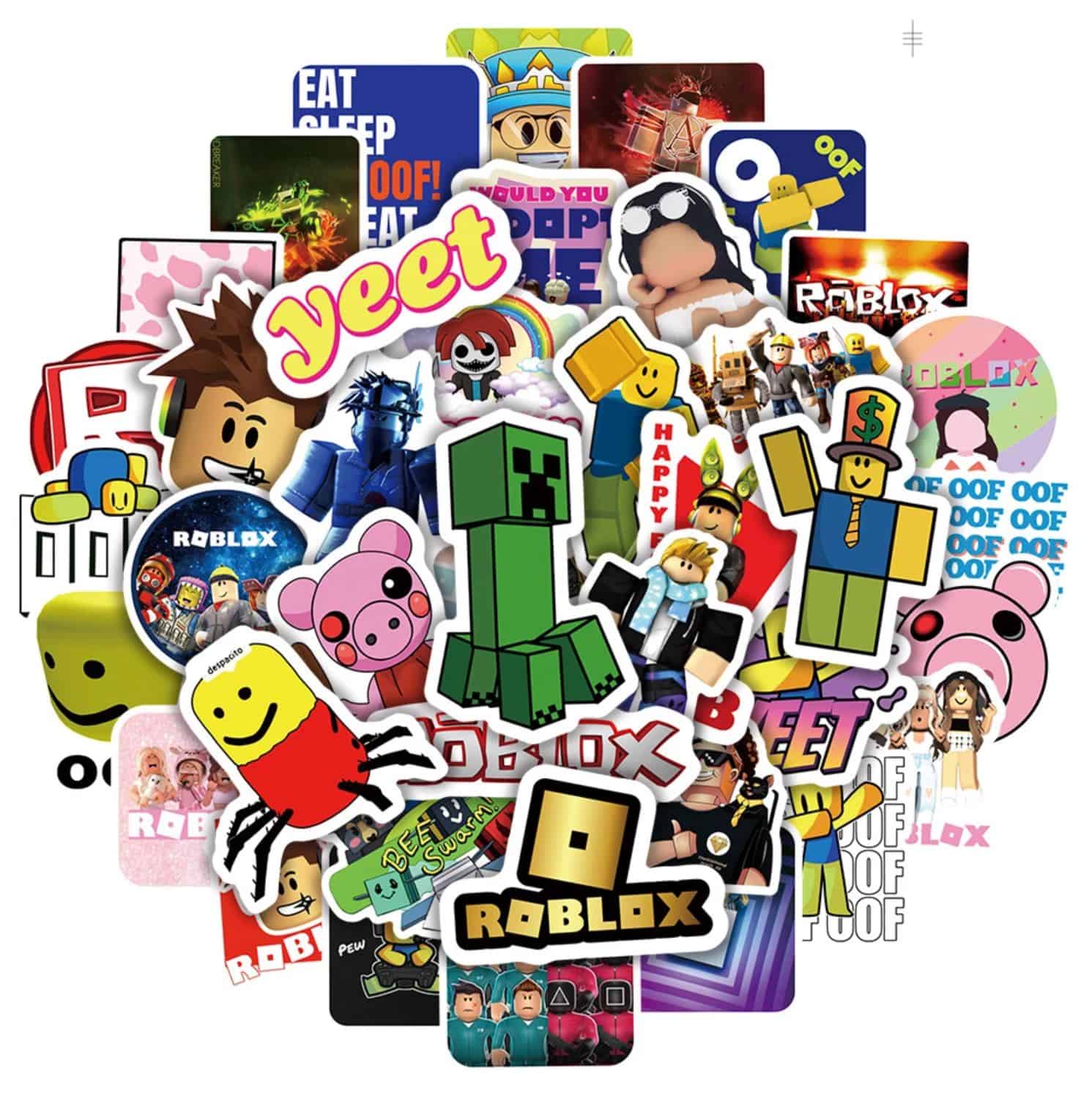 Thus far, most of these stickers have been one or a few in a pack. But what if you could have an entire pack of about 50 waterproof Roblox-themed stickers? Well, that is exactly what you get in this extra value pack. This is a brilliant starter sticker set with logos, symbols, oofs, characters, Adopt Me pets, Piggy villains, and so much more. And the best part is its pennies on the dollar price.
Pros
50 stickers in one package!
And it's only for a fraction of the price of a few of the previous stickers on this list
There are so many varied characters and stickers that come with this set
Cons
Parents might regret buying this when they come home to find waterproof stickers on everything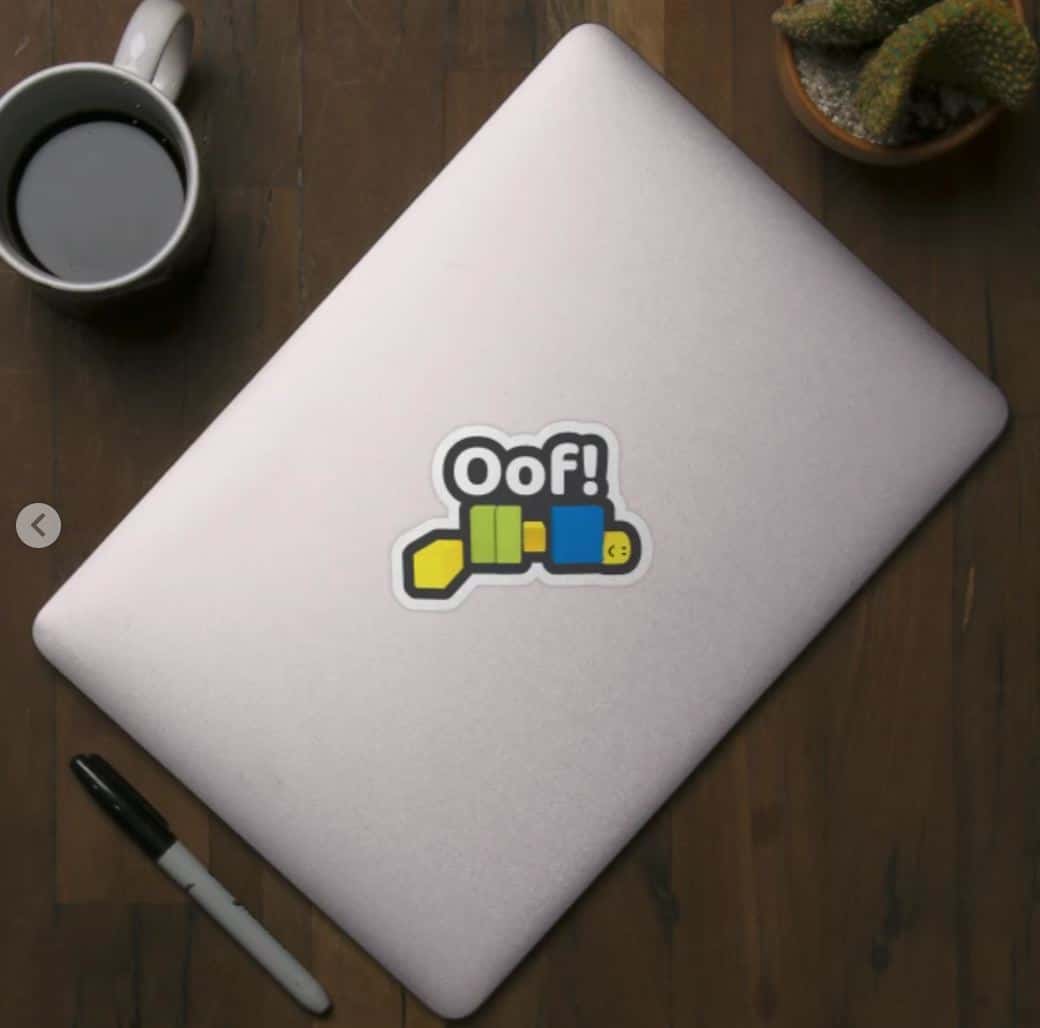 We return to the old faithful with yet another oof sticker to check out. This time around, though, this one features not just the classic oof word but an avatar who is acting out the idea. We see that the avatar has completely fallen apart, just like in the game when you die in a match or experience.
Pros
Oof is always a fine choice
The addition of the fallen avatar adds to this idea nicely
Cons
The actual layout of the fallen avatar is a little weird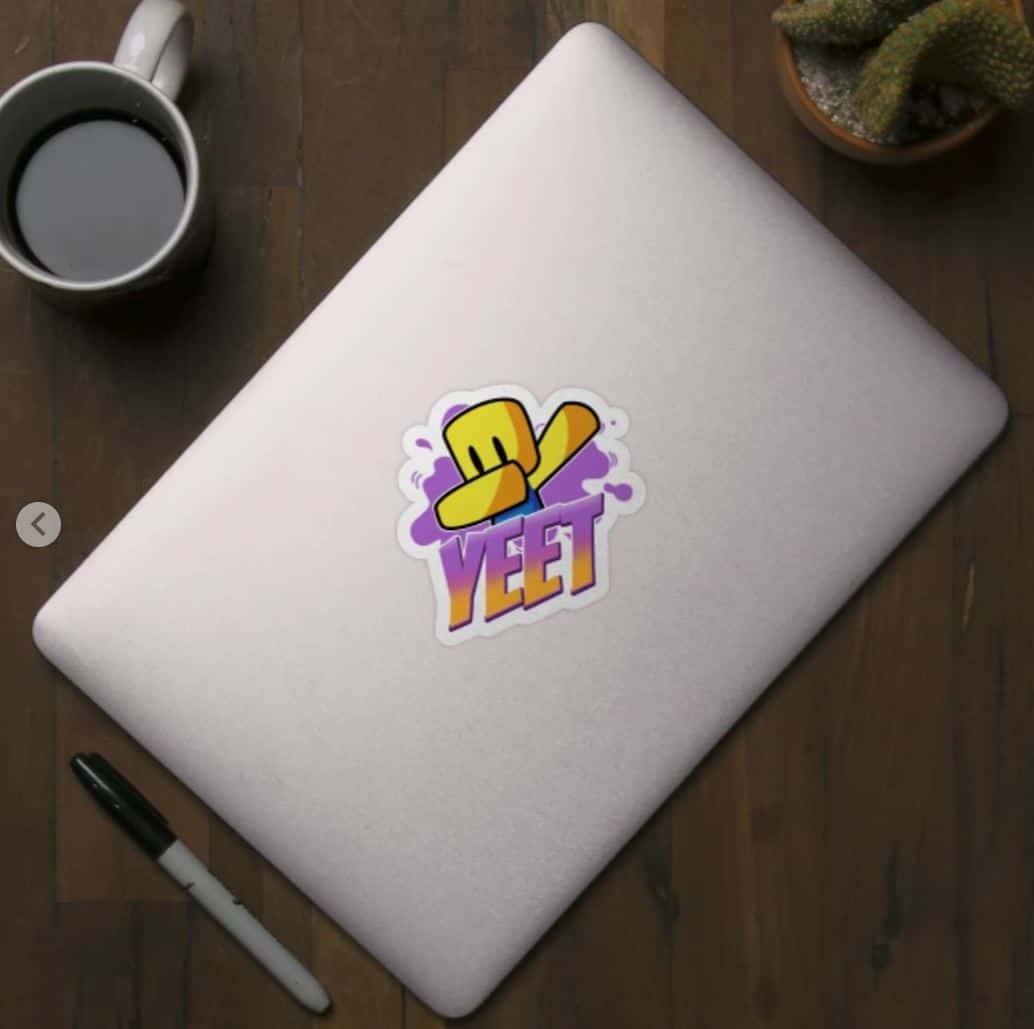 When you want to yeet something, maybe you also want to dab at the same time. At least, that is what this sticker is showing us. We see an adorable version of the default Roblox avatar who is in a chibi form, dabbing while there is purple slime or whatever splashing around behind him. In addition, there is a yeet in front, with orange and purple lettering.
Pros
Yeet
The chibi form of the avatar is so cute
Cons
What exactly do these concepts have to do with one another?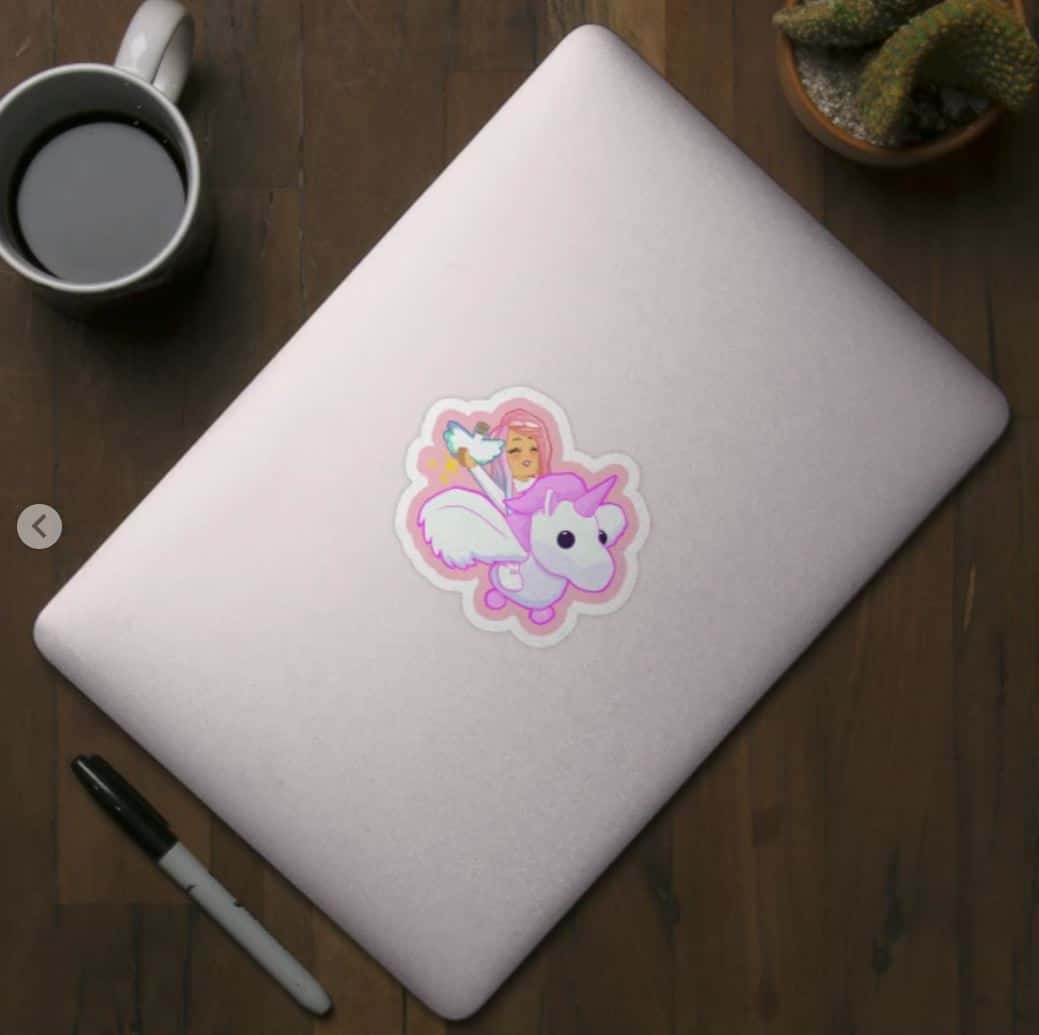 If there is any Adopt Me-style sticker that you should purchase, it's this one. Though it doesn't say that it is modeling its characters after Adopt Me, it's pretty clear in the same exact design for this flying unicorn as that game. The unicorn is recreated in 2D perfectly alongside the pink-haired girl who owns the pet. This is such a lively mix of colors that it is just too precious.
Pros
The flying unicorn is perfectly recreated
The pink avatar and background are a nice match
Cons
It might be too cute and charming for some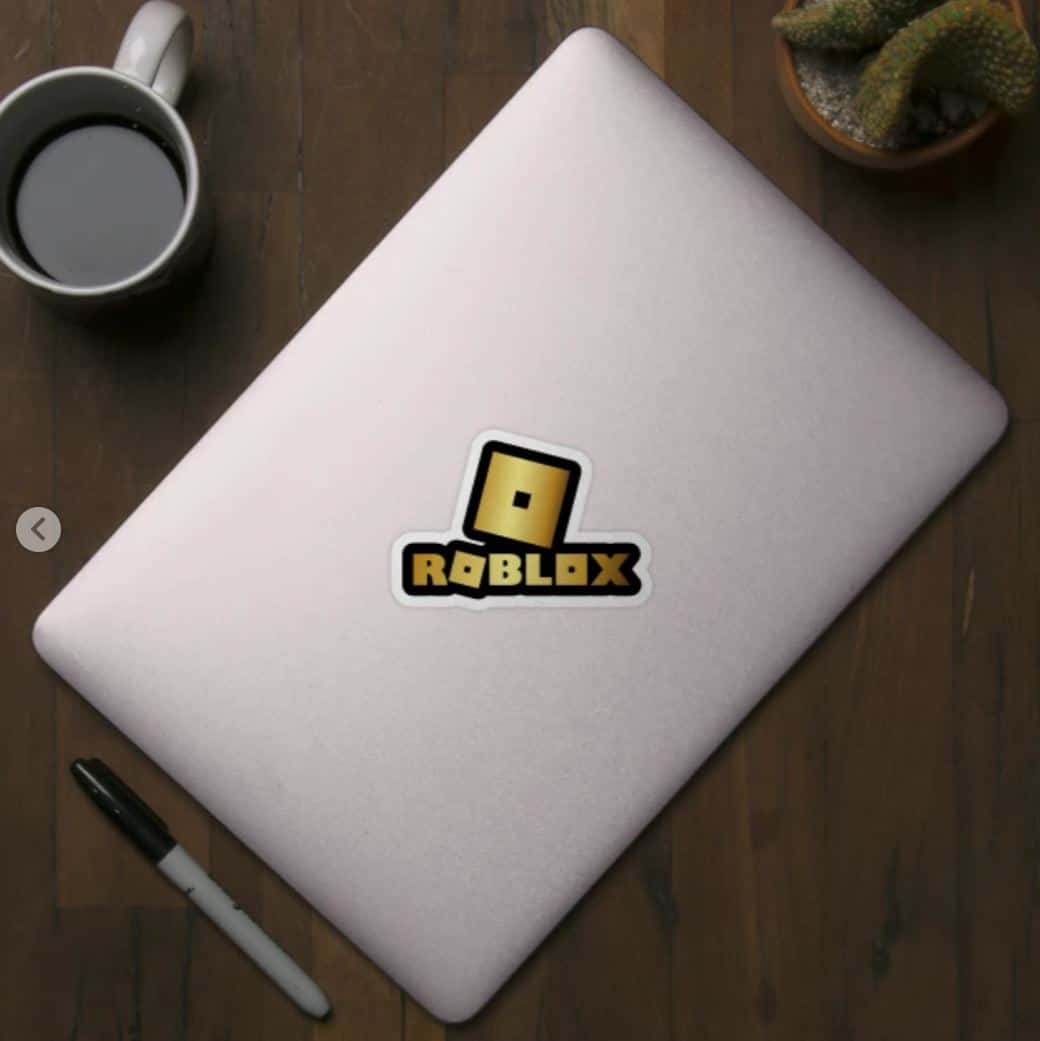 What would you say if I were to ask you what the flashiest and classiest pair of colors are together? I know that one of the first combos I would come up with would be black and gold. Here we have those two together in a stylish Roblox sticker. This sticker is just the Roblox logo and symbol in one, but the intelligent choice of gold gradient letters with a rounded black border is priceless.
Pros
Black and gold go together so well
The rounded edges are nice
Cons
Younger fans might not like this sticker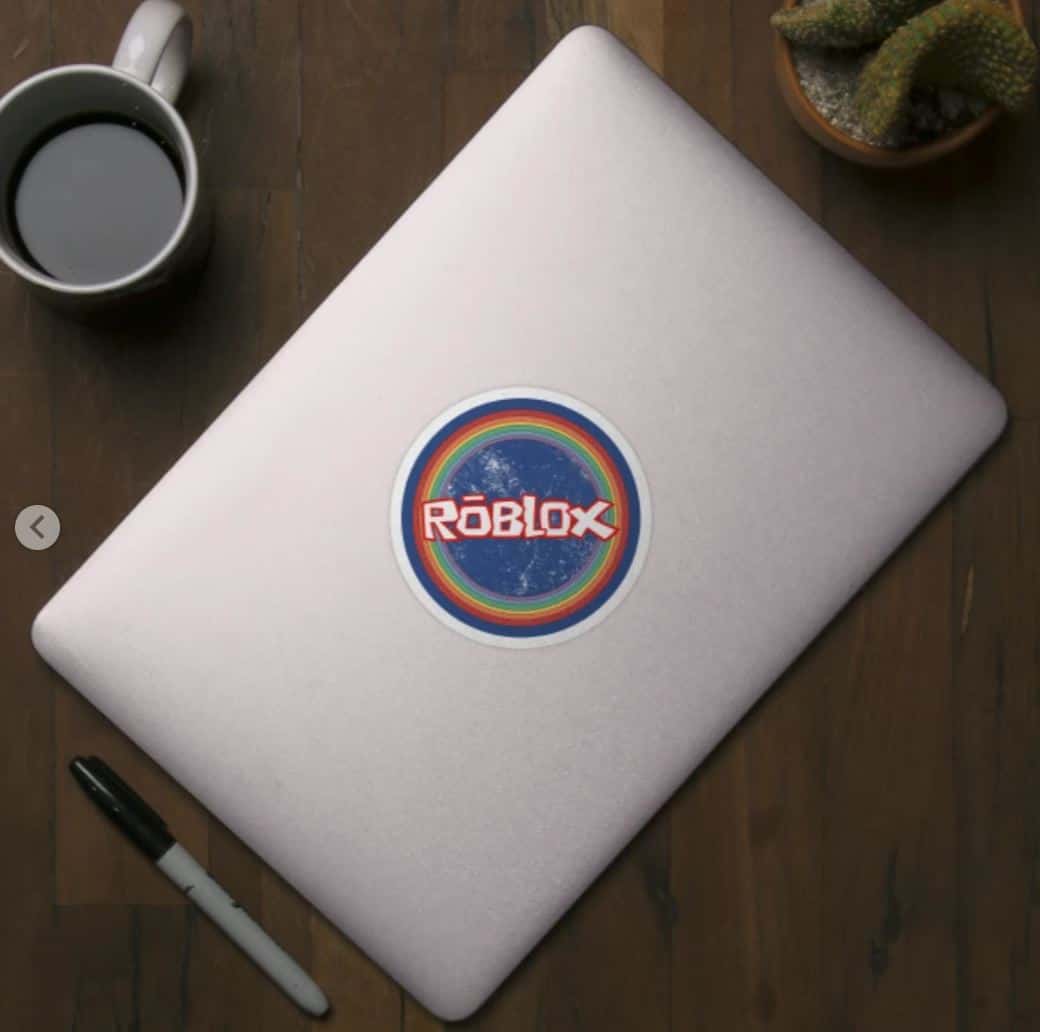 For all the times that I hate Roblox's old-school logo, I have to admit that it has some charm. In fact, there is no greater example of this than our final entry with this vintage rainbow sticker. It takes the old logo in its red and white form and mixes it well with a starry blue sky behind it and a rainbow circling the entire sticker. It is almost psychedelic in a way, and I think this is the best way to pay homage to Roblox's past.
Pros
The vintage, nostalgic style is impressive
This is the best way to show off the older Roblox logo
The rainbow, starry sky, and red and white logo are so in sync with one another
Cons
Newer fans might not have the appreciation or like of this old-school sticker.
FAQs – Best Roblox Stickers
Question: What are the best Roblox stickers for a girl?
Answer: Every girl is different, but one that I think might be worth considering as the best Roblox sticker for a girl would be the pink flying unicorn Adopt Me sticker. That is if she likes pink and Adopt Me.
Question: What are the best printable Roblox stickers?
Answer: As mentioned, you can make your own printable Roblox stickers. My recommendation is VistaPrint, a site I've not used for custom stickers, specifically, but I have used it in the past for my business cards, which turned out great. I can vouch for their quality. It turns out they make stickers, too.
Question: What are the best Roblox birthday stickers?
Answer: There weren't any Roblox birthday-themed stickers that I would consider the best. Instead, I recommend grabbing one of the other ones, like the Adopt Me stickers or vintage rainbow Roblox sticker, depending on what they like. Or make a custom Roblox birthday sticker yourself through a printing company!
What Roblox Items to Buy Next
At the end of the day, you only have so much money you can spend on stickers and the like. Whether it's a present for someone else or just an excellent way to treat yourself, you might only have the chance to buy a single set of stickers. In that case, I will say that the best overall sticker has to be the black and gold Roblox logo one.
There is something so wonderful about the simplicity of this particular sticker. It shows just the logo itself in that classic black and gold color scheme that works wonders, making it nice for all ages and many Roblox fans. And when you're entirely done picking out your stickers, it is time to move on to some other Roblox items. I recommend sticking to the best Roblox merch of all time that includes keychains and posters, both of which I think goes quite well with stickers as an additional gift or part of your collection.
Recommended Reads: